I was prancing through Festival Food's produce section the other day (what... you've never seen a grown man prance?), like Augustus Gloop scampering around a chocolate river, just waiting to dive into the bounty before me... Only to be foiled by a Wonka-esque produce clerk who kept shouting things like, "Get out of the potato bin!", "Don't lay on the lettuce!", & "The apple stack is NOT a slide!"

With my fun foiled by the curmudgeon of the carrots, I turned my focus to all of the tantalizing meal possibilities that lie before me. A stack of gorgeous bell peppers, blemished in all their glory, caught my eye and I knew they were perfect to feature in a Philly Cheese Steak Omelette!
I love seeing produce sold with minor cosmetic imperfections because they are almost certainly grown and sourced locally, which I know Festival does whenever possible. Throughout most of the year the produce sections around the Fox Valley are stocked with perfectly proportioned produce without a dent, ding, or hint of discoloration. It is boring. Industrial farm raised produce is the Stepford Wives of the food pyramid. But come summer and fall, if you know where to look, you can find all sorts of delicious, and fresher, local options in many area grocery stores. Take advantage of it while you can!
If you are like me and love a scrumptiously juicy Philly cheese steak, then you will likely agree there is no better way to start your day than with a cheesy, juicy, and flavorful Philly Cheese Steak Omelette! It has all the classic cheese steak flavors that you love, wrapped in a delicate egg blanket!
For all you Philly purists who believe cheese steaks need cheese wiz, you are mistaken. This is Wisconsin. We know cheese, and we can take it from here. Provolone is the way to go.
The best way I have found to slice steak thin for a cheese steak is using a mandoline. For the longest time I would par-freeze the steak and then cut it super thin with my Wüsthof knives, but that that is fairly time consuming and requires a great deal of precision. Pick up a good mandoline and it will make this recipe much easier, plus it is a great multitasker you can use in a million other recipes!
The above link is an affiliate link. Any Amazon purchases made through this link helps support FoxValleyFoodie.com without any additional cost to you.
If you really want to go all out for breakfast. Pair this with my crispy homemade shredded hash browns. You will never need to go to a diner again for a great breakfast!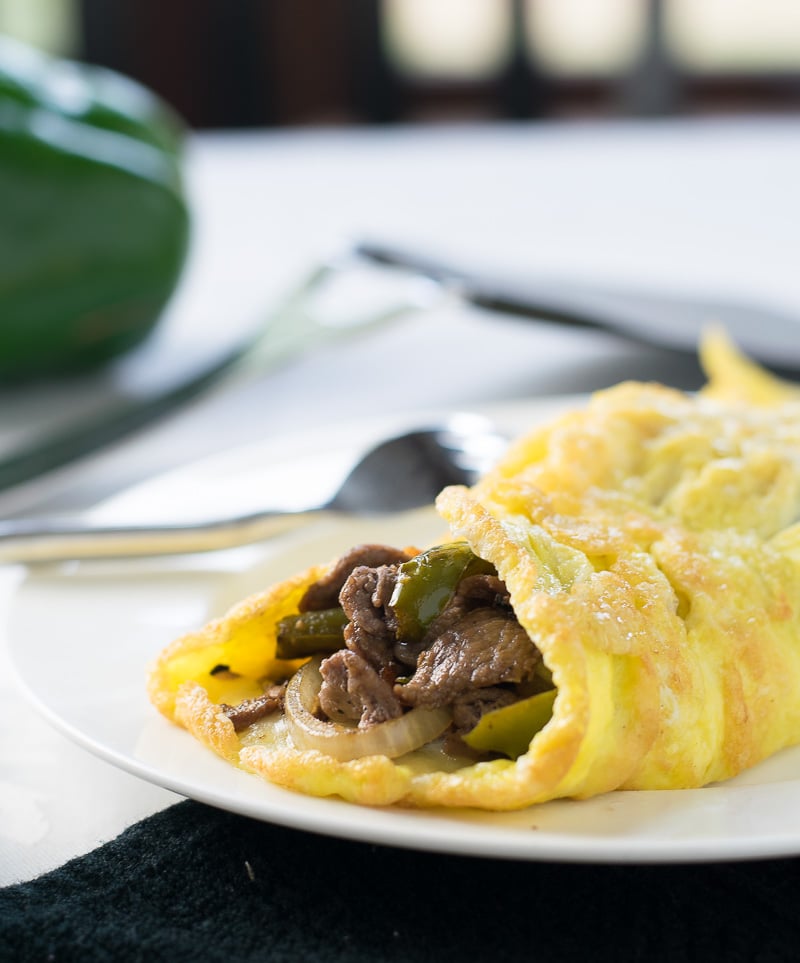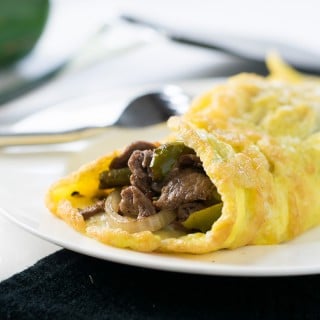 Philly Cheese Steak Omelette
This Philly Cheese Steak Omelette has all the classic Philly cheese steak flavors wrapped up in a delicious egg!
Print
Pin
Rate
Save
Saved
Ingredients
6

eggs

8

oz

Ribeye steak

sliced very thin

1

Green Bell Pepper

sliced

1

Medium Onion

sliced

½

cup

Provolone cheese

shredded

Salt and Pepper
Instructions
Slice the steak very thinly, cutting against the grain. This will make it more tender.

Brown the steak in a pan on medium high heat, adding salt and pepper to taste.

At the same time saute peppers and onion in butter till tender.

Add 2 eggs to a bowl with salt and pepper and whisk till blended.

Heat non-stick skillet on medium high heat and add butter.

Once butter has stopped foaming add eggs to the skillet and stir quickly with a spatula for 5 seconds then rotate and tilt the pan to allow any liquid on the top to run off the side to cook.

Let the omelette finish cooking with no movement.

Add the cheese to the omelette and about ⅓ cup of steak and pepper filling per omelette.

Fold the omelette and slide onto a plate to serve.

Continue working in batches until all omelettes have been made.
Notes
Par-freezing the steak allows you to cut it easier. I recommend using a mandolin.
If you enjoyed reading my Philly Cheese Steak Omelette recipe then you should probably like me on Facebook and follow me on Pinterest too. That's what I would do at least, because if you don't get to know me but you still use my recipe it is kind of like taking candy from a stranger, and your mom taught you not to do that. Don't disobey your mom, subscribe to Fox Valley Foodie today.