This spicy chicken noodle soup will warm your soul on a cold winter day, or any time of year you crave spoonfuls of spicy chicken broth. This creamy soup is loaded with tender shredded chicken, chunky vegetables, and just enough chipotle peppers to make your tastebuds sing! My grandma never made it like this.
Ingredients you will need
Bone-in Chicken thighs - I think chicken thighs are the best cut of meat for soups because darker meat can withstand more cooking without becoming dry than white meat. I also recommend getting bone-in thighs because the skin is still attached and we can render it down to add a TON more flavor! However, you can also use leftover chicken or rotisserie chicken too. Avoid using skinless chicken breasts if you can. They lack moisture and flavor, making them a poor choice for this great soup.
Onion - Any sweet or yellow onion is fine. Red onions have a stronger flavor, but they would work well as a substitution.
Carrots - Slice the carrots about ¼" thick. You will need 1 cup, which is about three carrots.
Garlic cloves - Its garlic, add more if you want, measure that stuff with your soul.
Chicken stock - You can substitute chicken broth if you have that on hand. Both of these are better options than water because they add far more flavor.
Cream cheese - This makes the soup wonderfully creamy! Alternatively, using coconut milk would be a great option too for both creaminess and flavor.
Chipotle peppers in adobo sauce - Check the link if you don't know what these are. They are typically found in the Mexican food aisle. Alternatively, you can use crushed red peppers as well. If you crave some sweetness to balance the heat you can add red bell peppers as well.
Egg noodles - I personally prefer wide egg noodles or curly egg noodles, but you can get your favorite style.
Salt - If you use unsalted chicken stock you will need to be very liberal with the salt, if you use salted stock, you may not need any, but sometimes I find using only salted stock can make the soup too salty.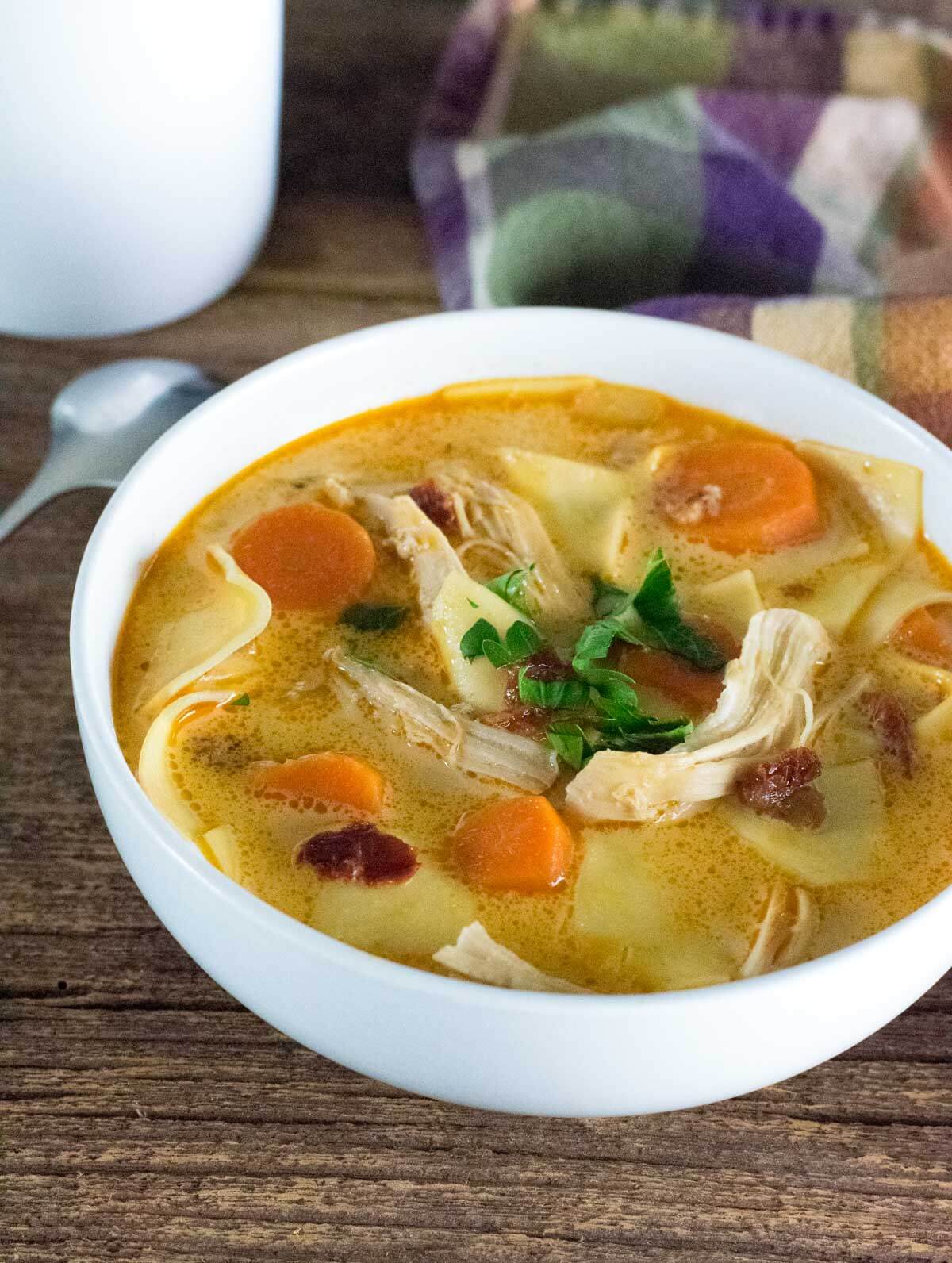 How to make it
Grab a large pot and set it over medium heat and add your chicken thighs, skin side down. You want to crisp the skin until enough fat renders out to coat the bottom of the pot, this will be approximately three tablespoons of chicken fat.
Remove the chicken from the pot and set it aside. Add the carrots into the pot and saute in the rendered chicken fat for two minutes, then add the chopped onions. Cook until the onions are tender, then add minced garlic and cook an additional minute.
Add the chipotle peppers and your chicken stock, scraping the bottom of the pot to ensure any cooked-on bits are incorporated into the liquid. Once the stock has heated in the soup, temper the cream cheese, adding the stock a few splashes at a time to the cream cheese while stirring. Then add into the pot.
Remove the skin from the chicken and add the meat to the pot. Let everything simmer uncovered for 30 minutes. This should be long enough to make the chicken tender enough to separate from the bone. Remove the chicken and let cool prior to doing this and add the noodles at the same time. The noodles will be done cooking about the time you have shredded the meat off the chicken bones.
Different ways to make it spicy
My chicken soup recipe calls for two tablespoons of chipotle peppers in adobo sauce, which is enough to create a noticeable gentle heat. However, that spice level can be amped up. I personally like three tablespoons added to mine, but I also like things hotter than most people.
Other ways to increase the heat, while adding additional flavor include a dusting of crushed red pepper flakes, or dribbles of hot sauce. Tabasco has a chipotle hot sauce that would work well, Sriracha sauce is a classic, or reach for Yucateco Black Label Reserve which has a wonderful roasted flavor.
Can you make chicken noodle soup in advance?
The biggest problem with making any type of chicken noodle soup in advance is the noodles will soak up additional moisture and get soggy when not eaten right away. If this isn't a concern to you, then yes, you can make this a few days in advance and store it in the refrigerator, or you can freeze it for longer-term storage. Making soup in advance typically improves the flavor the next day because the ingredients meld together.
Alternatively, you can make the soup without the noodles and add them prior to serving. Just bring the soup back to a simmer and cook the noodles in the broth long enough to become tender.
Any leftover soup should be stored in an airtight container in the refrigerator and enjoyed within three to five days.
More Chicken Soups
Can you do me a favor? If you enjoyed my post would you mind sharing it with your friends? You can see more of my recipes by liking me on Facebook and follow me on Pinterest too. Otherwise, stay up to date by getting each new post sent directly to your inbox by subscribing today.
Spicy Chicken Noodle Soup
Loaded with chipotle peppers, tender chicken, and hearty chunks of vegetables, this spicy chicken noodle soup will warm your soul.
Print
Pin
Rate
Save
Saved
Ingredients
2

pounds

bone-in chicken thighs

(with skin)

1

cup

carrots

(sliced ¼" thick)

1

medium

onion

(chopped)

2

garlic cloves

(minced)

2

tablespoons

chopped chipotle peppers in adobo sauce

8

cups

unsalted chicken stock

8

ounces

cream cheese

4

ounces

egg noodles

salt to taste
Instructions
Heat soup pot over on stovetop over medium heat then add chicken thighs, skin side down. Let the skin brown, until enough fat renders out to coat the bottom of the pot. This will be approximately three tablespoons of fat.

Remove the chicken pieces and set aside on a plate, leaving the rendered fat in the pot.

Add carrots to the pot and let saute for two minutes, then add chopped onions. Cook until onions are tender, stirring occassionally, then add garlic and cook for an additional minute.

Add chipotle peppers to the pot along with the chicken stock, scrapping the bottom of the pot to loosen any burnt on bits so they can incorporate into the liquid. Then return chicken to the pot, removing and discarding the skin.

Once the stock has heated in the pot, ladle a couple of spoonfuls at a time and stir into the cream cheese to temper it. Continue to repeat until the cream cheese is a warm creamy liquid, then add into the soup pot.

Let the soup simmer uncovered for thirty minutes, then remove the chicken, setting on a plate to cool.

Add the egg noodles to the soup and simmer until they are tender. While the noodles cook, separate the chicken meat from the bone, shred, and return the meat to the pot.

Taste soup for salt, adjust as needed, and serve.
Notes
When using unsalted stock you can expect to use a couple of big pinches of salt when finishing the soup.
Nutritional Information
Calories:
616
kcal
|
Carbohydrates:
31
g
|
Protein:
34
g
|
Fat:
39
g
|
Saturated Fat:
14
g
|
Cholesterol:
193
mg
|
Sodium:
697
mg
|
Potassium:
793
mg
|
Fiber:
2
g
|
Sugar:
8
g
|
Vitamin A:
4193
IU
|
Vitamin C:
4
mg
|
Calcium:
77
mg
|
Iron:
2
mg