Fried wonton strips are quick and easy to make in five minutes or less, and perfect for dipping into your favorite appetizer or snacking on them alone. Skip the traditional bag of chips and impress your guests by making these satisfyingly salty snacks on your own!
The great thing about these is how effortless this recipe is. There are only 3 ingredients needed, and they cook up in about 30 seconds per batch. This is a great recipe for a novice because you can watch the wonton wrappers cook and pull them out as soon as you see them browning.
What are wonton wrappers?
Traditionally made of flour, eggs, and water, Wonton wrappers is the thin sheet of dough used to encapsulate a variety of fillings in a Chinese dumpling. The wrappers can be found pre-made and ready for use in any Asian grocery or traditional supermarket. You will find them in the refrigerated case.
What ingredients do I need?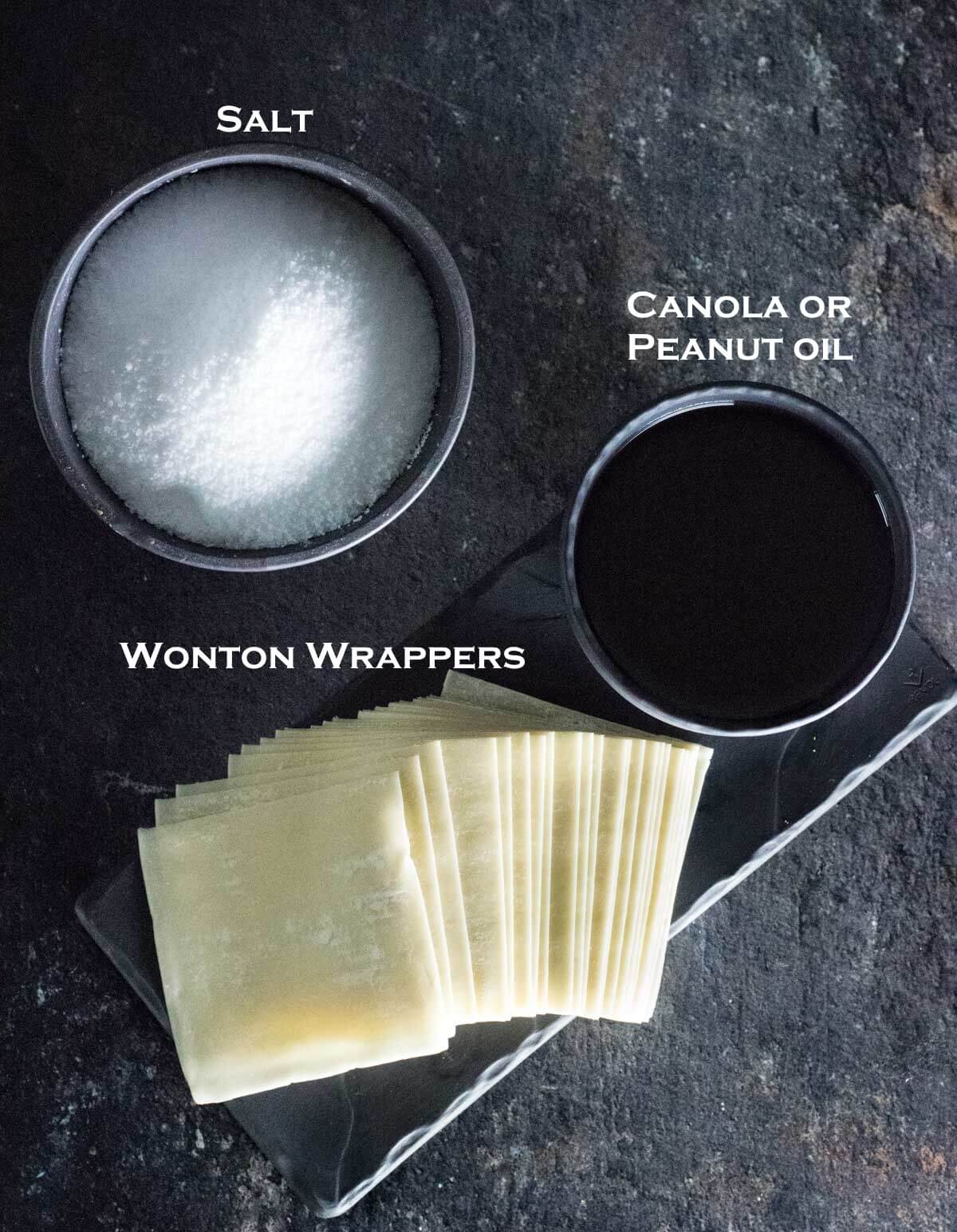 This recipe only requires wonton wrappers, frying oil, and salt. I recommend a high-temperature oil such as canola for frying. It also has a neutral flavor, which is important.
Any fine grain salt, such as table salt, will work well. I would avoid larger grain salts, like Kosher salt, because the big granules don't adhere to the fried strips as well.
What equipment is needed?
How to make them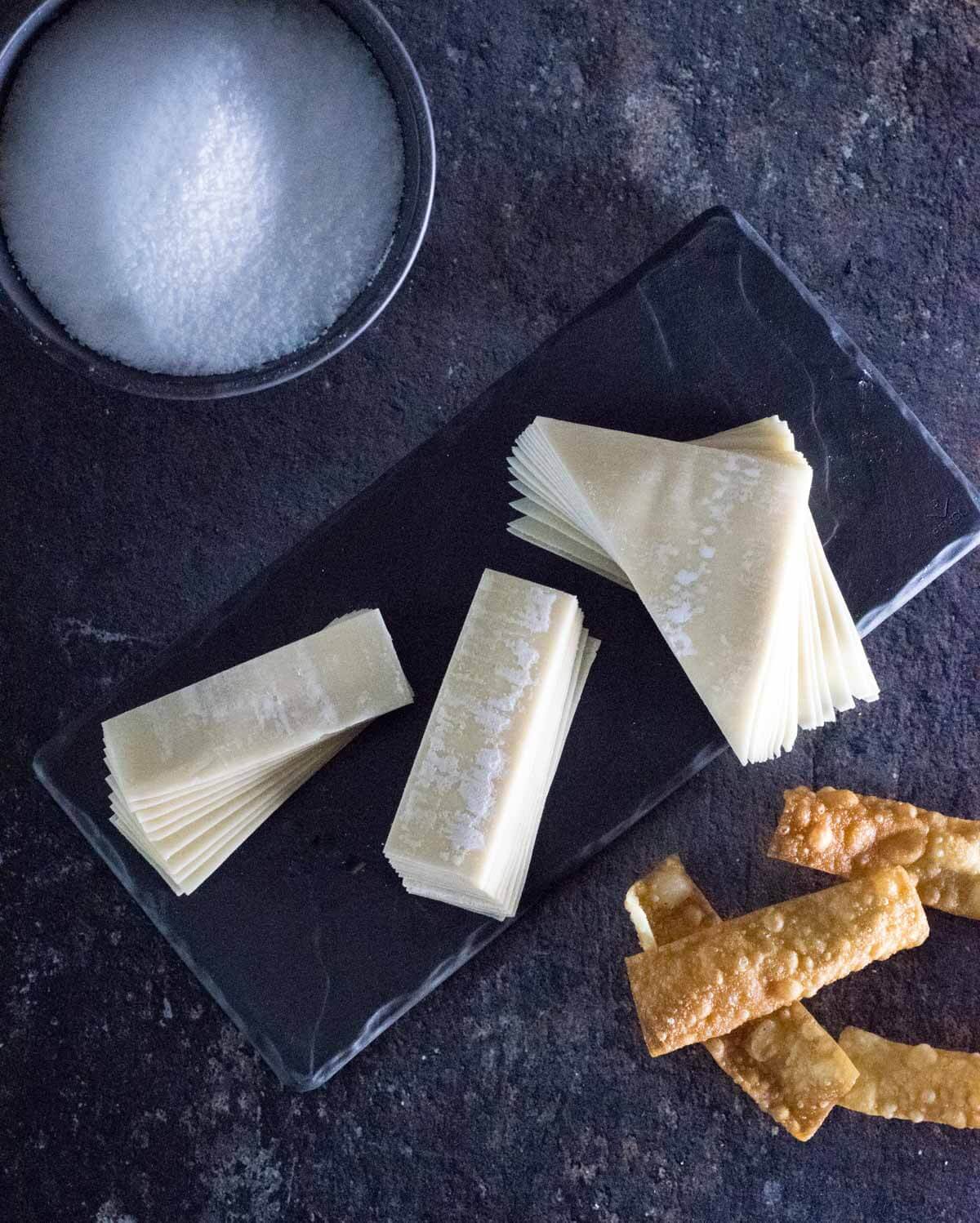 Begin by cutting your wrappers into strips. However, if wonton chips are more your thing, there is no reason you cannot cut them into triangles instead. The recipe is the same either way.
Add enough oil to a heavy-bottomed pot to fill it at least one inch deep. Set the heat over medium and let the oil come to temperature. You are aiming for 350 degrees.
You will need to work in batches. Add the wonton strips to the oil and move around with the spider strainer to ensure separation and even oil coverage. After approximately 30 seconds they will turn a light brown. Remove them from the cooking oil at this time, as they will continue to darken while resting.
Set fried wonton strips on a paper towel or wire rack and dust lightly with salt. Let cool for a few minutes, then serve.
Ways to serve them
Dipping sauce - Serve these with a dipping sauce, such as duck sauce, or hot mustard.
Salad topping - These add a wonderful crunch to any salad in place of croutons.
On their own - This is a satisfying salty snack when you are craving something with a crunch!
How to store them
These do not need to be eaten right away. Store them in a ziploc bag, or airtight container. They will stay fresh for a few days.
Expert Tips and Tricks
Check your oil temperature through cooking, and certainly in between batches. The temperature will drop each time a new batch is added, and it will continue to rise as it sits on the burner, so the heat setting may need to be adjusted.
Small grain salt, such as table salt, works better for seasoning wonton strips than larger grain Kosher salt.
The strips will continue browning even after they are pulled from the hot oil, so aim to remove them as soon as they turn a light brown.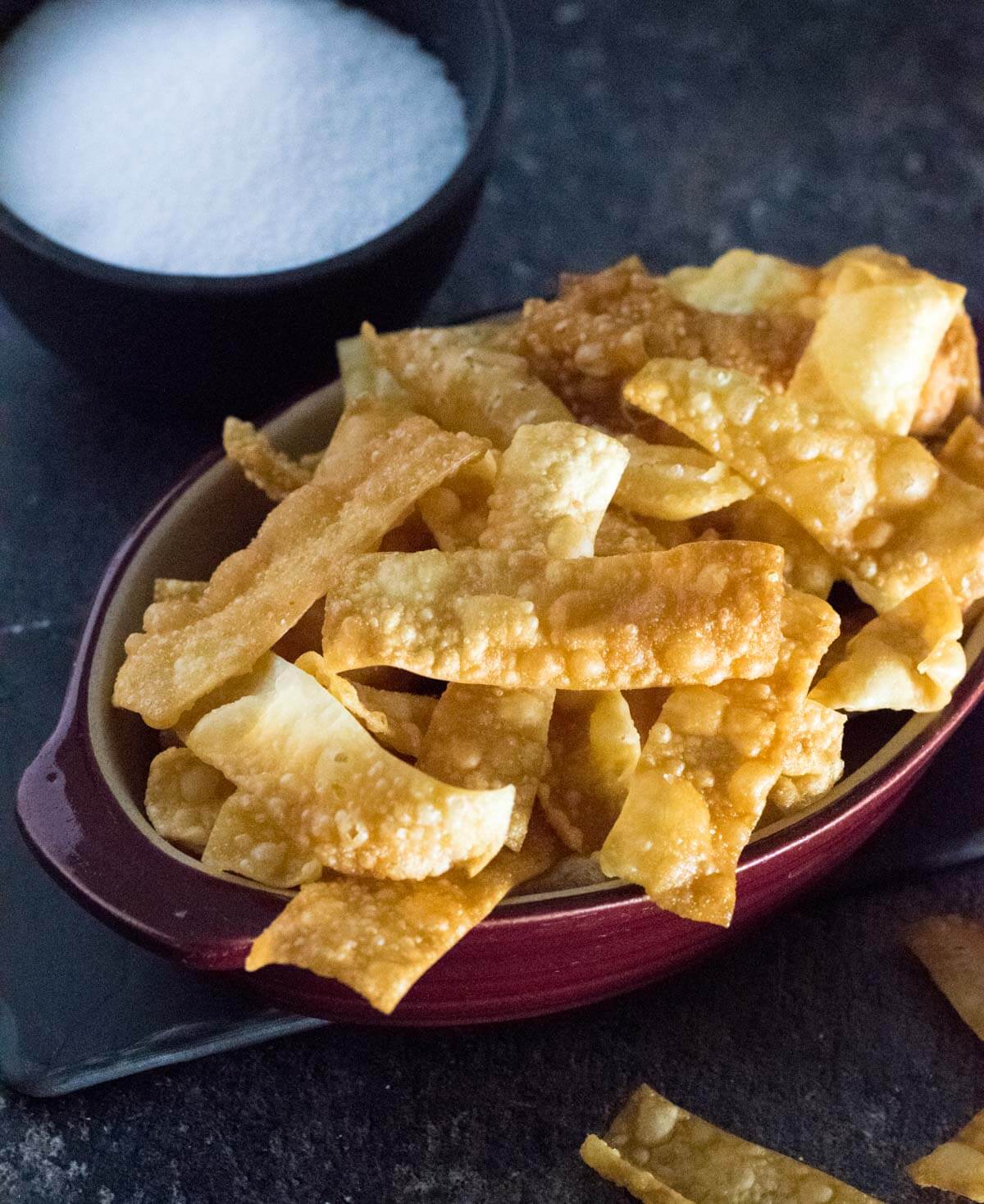 FAQs
Can you buy wonton wrappers?
Yes, you will find pre-made wonton wrappers in the refrigerated section of your grocery store.
Can you buy wonton strips?
Wonton strips are often sold at many American-Chinese restaurants. However, they can also be purchased at some grocers.
What is a wonton?
A wonton is a Chinese dumpling that wraps a thin noodle dough around a variety of flavorful fillings.
Related Recipes
Fried Wonton Strips
Fried wonton strips are quick and easy to make and perfect for dipping into your favorite appetizer or snacking on them alone.
Print
Pin
Rate
Ingredients
6

ounces

wonton wrappers

(any size package will work)

2

cups

frying oil

(or as needed)

table salt
Instructions
Add enough oil to a heavy bottomed pot to fill it at least once inch deep.

Set pot over medium heat and bring frying oil to 350 degrees.

While oil is heating cut the wonton wrappers into strips.

Working in batches, add the strips to the hot oil and fry for approximately 30 seconds per batch, or until the wontons begin to turn a light brown.

Remove the wonton strips from the cooking oil and drain on a paper towel or wire rack. Immediately sprinkle lightly with salt.
Notes
Any size package of wonton wrappers will work fine. You can cook up as many, or as few, as you like.
Canola oil and peanut oil are my two top recommendations to use for frying.
It is important to sprinkle the strips with salt shortly after removing them from the oil because the oil will help the salt adhere better.
Nutrition
Calories:
80
kcal
|
Carbohydrates:
8
g
|
Protein:
1
g
|
Fat:
5
g
|
Saturated Fat:
4
g
|
Cholesterol:
1
mg
|
Sodium:
81
mg
|
Potassium:
12
mg
|
Fiber:
1
g
|
Calcium:
7
mg
|
Iron:
1
mg