Smoked eggs are easy to prepare and add a delectably smoky twist to all of your favorite hard-boiled egg recipes!
I like being efficient with my time and cooking. When I have my smoker or grill fired up I aim to cook multiple dishes in one session to make use of the coals while they are still burning. Often this is as simple as throwing eggs into the smoker to saturate them with delicious smoky flavor, then storing them in the fridge for meals or a healthy snack throughout the week. It is effortless, and you likely always have eggs on hand anyhow, give it a try!
What are Smoked Eggs?
Smoked eggs are hard boiled eggs that get infused with smoke from your smoker or grill. These are easiest to make on the smoker, but there is no reason they cannot be prepared on the grill instead. You just need low heat and your favorite wood chips for smoking.
What you need to make them
Smoker - I used an electric smoker, but this recipe works equally well with a charcoal, propane, or pellet smoker.
Eggs - My recipe calls for a dozen eggs, but you can really use any amount of eggs you wish, as long as they fit in your smoker.
Wood chips - The wood you'll use for smoking is entirely up to your own personal preference. Eggs have a very mild flavor so they are perfectly suited to take on your favorite smoke flavor.
How to Smoke Them
I tested out this smoked eggs recipe using multiple cooking strategies. The best way to smoke eggs is using peeled hard-boiled eggs. Of each method I tested, these had the best flavor by far.
I recommend smoking eggs at a low temperature to minimize cooking. Even though we are hot smoking, you aren't looking to cook the eggs further, you just want the smoke flavor to sink into the flesh while turning the eggs a light bronze color during the cooking process. My recipe calls for smoking these at 225 degrees for 30 minutes because that temperature is easy to obtain on most smokers and grills, but you could cold smoke these as well.
Smoking Eggs in the Shell
One of the methods I tested when preparing this recipe was smoking the raw eggs in their shell. This worked well enough for cooking the eggs, but the shell blocked most of the smoked flavor from penetrating.
Admittedly smoking eggs in their shell is the easiest way to prepare this recipe, since you can literally grab them out of the fridge and toss them in the smoker. If you wish to do this, smoking them for 2 hours is sufficient to hard-cook the egg. I would also pierce the shell in multiple places halfway through cooking, to allow more smoke flavor to penetrate into the egg whites. Otherwise, the shell becomes a barrier that prevents flavor saturation from your smoking wood chips.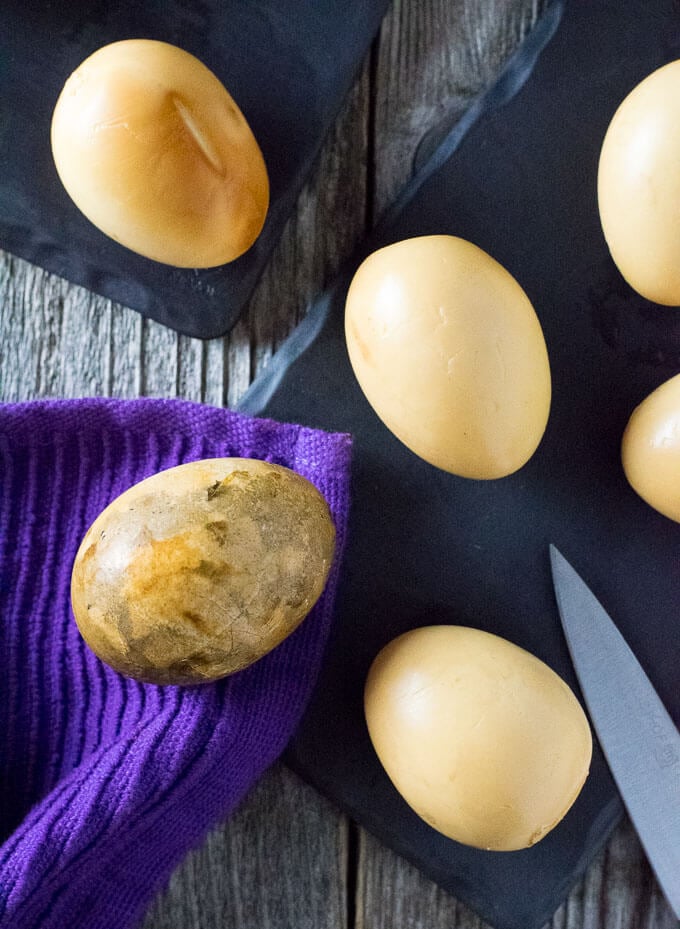 Smoked Eggs on the Grill
If you wish to make these smoked eggs on the grill, you can easily do this as well. Simply pile the charcoal on one side of the grill and add a couple of wood chunks on top of the charcoal and wait until the wood begins smoking. Then add the eggs to the far side of the grill grates away from the coals, cover the grill, and allow the eggs to soak in the flavor for 30 minutes.
What to do with Smoked Eggs
Smoked hard boiled eggs are a perfect snack to enjoy simply with salt and pepper, or even a sprinkling of BBQ Dry Rub and hot sauce. However, these flavor-infused eggs really shine when you use them as an ingredient in dishes like a classic egg salad (which would make an incredible egg salad sandwich!) ham salad, potato salad, or even smoked deviled eggs. Get creative and let me know what other ideas you come up with!
More Recipes with Hard Boiled Eggs
Can you do me a favor? If you enjoyed my post would you mind sharing it with your friends? You can see more of my recipes by liking me on Facebook and follow me on Pinterest too. Otherwise, stay up to date by getting each new post sent directly to your inbox by subscribing today.
Smoked Eggs
Smoked eggs are easy to prepare and add a delectably smoky twist to all of your favorite hard-boiled egg recipes!
Print
Pin
Rate
Save
Saved
Ingredients
12

Hard Boiled Eggs

(or as many as desired)

Wood Chips/Chunks for Smoking

(Such as Cherry Wood, Hickory, etc...)
Instructions
Preheat smoker to 225 degrees and add wood chips or wood pellets.

Peel the hard boiled eggs to remove the egg shells and place them on the smoker racks when wood chips are smoking.

Let eggs smoke for 30 minutes, then remove from smoker and let cool in the refrigerator until ready to enjoy.
Notes
If your grill grates are dirty, I recommend wiping off the exterior of the eggs after smoking to ensure they are clean. You can also cool and wash them in an ice bath full of cold water after smoking.
For tips on how to perfectly prepare hard boiled eggs, check out my write-up on How to Boil Eggs.
Nutritional Information
Calories:
77
kcal
|
Protein:
6
g
|
Fat:
5
g
|
Saturated Fat:
1
g
|
Cholesterol:
186
mg
|
Sodium:
62
mg
|
Potassium:
63
mg
|
Vitamin A:
260
IU
|
Calcium:
25
mg
|
Iron:
0.6
mg