Incredibly meaty and tender, these smoked beef short ribs are exceptionally flavorful and easy to prepare.
It is hard not to feel like Fred Flintstone when wielding a meaty beef short rib pulled out of the smoke. This deliciously primal dish is always a show-stopper at any cookout, yet it is one of the easiest meats to smoke, in my humble opinion. Yabadabadoo my hungry friends!
Smoked Beef Short Ribs
Smoked beef short ribs are particularly popular in Texas barbecue where they are often dusted with what is called a "dalmatian rub", which is simply a mixture of salt and pepper.
Although I can respect any seasoning concoction that allows the flavor of the meat to be the main star, I do prefer to introduce more flavors when smoking short ribs myself. Paying homage to the traditional dalmatian rub, my short rib seasoning is heavy on the black pepper, but also adds garlic, mustard, and onion powder, paprika, brown sugar, and a dash of cayenne to round out the flavor. If you prefer a sweeter, more traditional BBQ seasoning, try my BBQ Dry Rub for Ribs recipe.
What Temperature to Smoke Short Ribs
I prefer to smoke beef short ribs at 225 degrees. I have tested the recipe at 250 degrees but the meat came up to temperature faster than I would have liked, which means it can overcook and become dry before it is sufficiently tender. Dropping the temperature to 225 degrees allows more time for the connective tissue to break down while the meat is slowing coming to temperature.
Using an electric smoker is probably the easiest way to maintain a steady temperature, however, charcoal smokers have the best flavor. (affiliate links) I like using both varieties depending on my mood.
How Long to Smoke Beef Short Ribs
I've seen short rib recipes online vary in cooking length from 2 hours to 11 hours. That is quite a range! Personally, I don't find 2 hours to be enough time to break down the connective tissue in the meat sufficiently, so your meat will not be as tender as possible. On the flip side, 11 hours is going to be overkill.
I find 4-5 hours typically to be sufficient, however, as is true with any barbecue dish, let the meat tell you when it is done! The exact time will vary depending on how thick your meat is. The meat should still hold together but offer little resistance when pierced with a knife or fork.
Note: Cutting the ribs individually will allow them to cook faster. If you are smoking a large group of attached ribs, it will take considerably longer.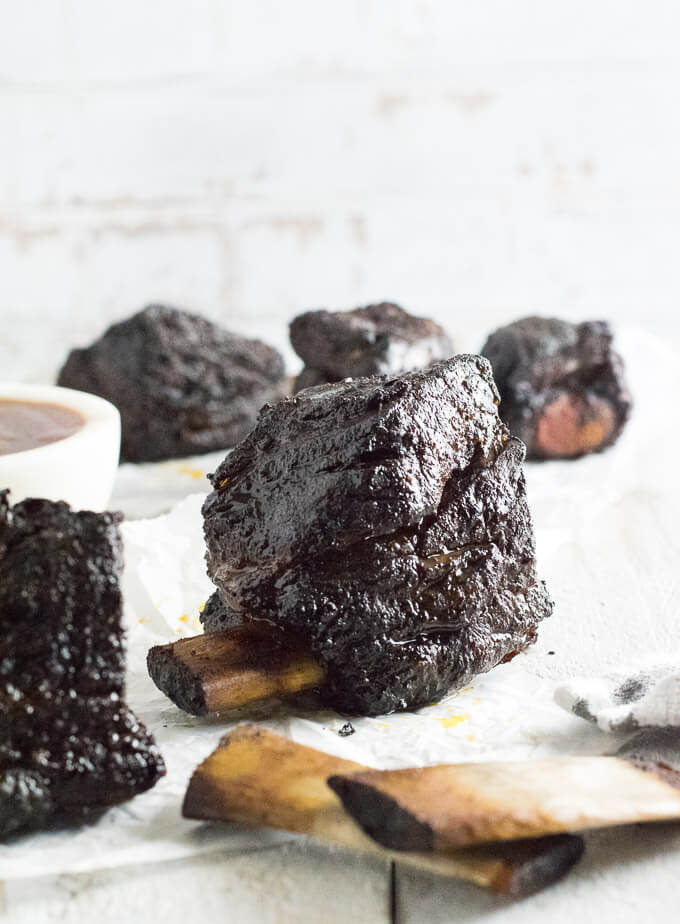 When are Beef Short Ribs Done
Beef short ribs are done when the internal temperature reaches 203 degrees. When properly smoked low and slow the meat will be exceptionally tender and ready to eat. However, I do recommend letting the meat rest for 10 minutes, give or take, to allow the juices to redistribute.
Beef Short Ribs Recipes
Smoking short ribs is not the only way to enjoy them. Beer Braised Short Ribs in a Dutch Oven are an exceptionally flavorful way to enjoy them, otherwise slow cooker beef short ribs are probably the easiest way to prepare them.
Print Recipe
Smoked Beef Short Ribs
Incredibly meaty and tender, these smoked beef short ribs are exceptionally flavorful and easy to prepare.

Ingredients
4

pounds

beef short ribs

(individually cut)

prepared yellow mustard

(as needed)

wood chips for smoking

(hickory is a good choice)
Short Rib Seasonings
1

tablespoon

coarsely ground black pepper

1

tablespoon

kosher salt

1

tablespoon

granulated brown sugar

1

tablespoon

onion powder

1

tablespoon

garlic powder

1

tablespoon

paprika

1

teaspoon

mustard powder

1/2

teaspoon

cayenne pepper
Instructions
Preheat smoker to 225 degrees.

Mix all rib seasoning ingredients together.

Optional: Remove the membrane from the bone side of the short ribs. Alternatively, you can score it instead.

Rub the short ribs on all sides with mustard. This adds flavor and helps the seasonings to stick better.

Liberally dust the beef with seasoning mixture on all sides.

Place the short ribs in the smoker along with wood chips for smoking.

Smoke for 4-5 hours, or until the internal temperature reaches 203 degrees and meat is tender. The exact time will vary depending on how thick the meat is.

Let rest for 10 minutes then serve.
Notes
Note: The seasoning mixture should yield enough to dust up to 6 pounds of short ribs.
If desired, you can add my homemade BBQ sauce during the final hour of cooking.
Loved this recipe?

Be sure to rate it and share you thoughts below!
*Calories listed are a vague estimate and accuracy should not be assumed.
Can you do me a favor? If you enjoyed my post would you mind sharing it with your friends? You can see more of my recipes by liking me on Facebook and follow me on Pinterest too. Otherwise, stay up to date by getting each new post sent directly to your inbox by subscribing today.