Incredibly meaty and tender, these smoked beef short ribs are an exceptionally flavorful main course, and easy to prepare!
It is hard not to feel like Fred Flintstone when wielding a meaty beef short rib pulled out of the smoker that suspiciously resembles dino ribs! The large bones protruding from this deliciously primal dish are always a show-stopper at any cookout, yet it is one of the easiest meats to smoke. Yabadabadoo my hungry friends!
What are they?
Smoked beef short ribs are particularly popular in Texas barbecue where they are often dusted with what is called a "dalmatian rub", which is simply a mixture of salt and pepper, which allows the beefy flavor to shine through.
Although I can respect any seasoning concoction that allows the flavor of the tender meat to be the main star, I do prefer to introduce more flavors when smoking short ribs myself. Paying homage to the traditional dalmatian rub, my short rib seasoning is heavy on the black pepper, but also adds garlic, mustard, and onion powder, paprika, brown sugar, and a dash of cayenne to round out the flavor. If you prefer a sweeter, more traditional BBQ seasoning, try my BBQ Dry Rub for Ribs recipe.
Ingredients & Substitutions
Beef short ribs - Look for short sections of short ribs at the grocery store that are individually cut rather than whole. I recommend buying extra and also making beer braised short ribs. I prefer using ribs on the bone, but you can smoke boneless short ribs too.
Prepared yellow mustard - Olive oil also works to help the rub stick to the meat.
Wood chips for smoking - Hickory or mesquite wood are great options.
Fresh ground black pepper
Kosher salt
Brown sugar
Paprika - Smoked paprika and sweet paprika are both great substitutes.
Ground mustard powder
Cayenne pepper
How to make them
Begin making this smoked beef short ribs recipe by preheating your smoker to 225 degrees. Add your wood chips and wait for a steady stream of smoke.
Note: I prefer to smoke beef short ribs at 225 degrees. I have tested the recipe at a higher temperature. However, when smoked at 250 degrees the meat came up to temperature faster than I would have liked, which means it can overcook and become dry before the meat becomes sufficiently tender. Using the lower temperature of 225 degrees allows more time for the connective tissue to break down during the cooking process while the meat is slowly coming to temperature.
Prep your short ribs by removing the silver skin membrane underneath, or score it with a sharp knife. You can also trim down excessively large chunks of the fat cap on top of the meat.
While the smoker heats up combine your dry rub ingredients in a small bowl. Then evenly coat each short rib with a thin layer of mustard and liberally apply the seasonings on all sides of the meat.
Place the short ribs in your smoker and let cook for 4-5 hours. However, the exact cooking time will vary depending on the thickness of the meat. The way you will know the meat is done is when the internal temperature reaches 203 degrees when tested with a meat thermometer, the meat is tender, and there is a nice bark on the surface of the ribs.
Remove your juicy beef short ribs from the smoker and let rest for ten minutes, then serve with a side of barbecue sauce.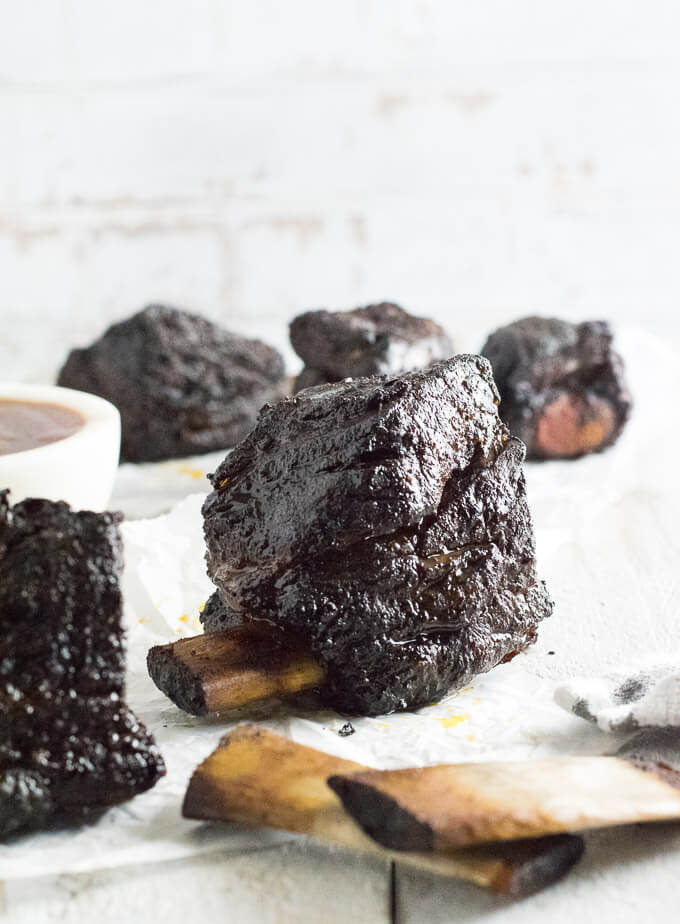 Serving Smoked Short Ribs
It is always best to let the ribs rest a bit before serving, but sometimes when smoking meat you need to keep it warm for a longer period of time prior to serving.
You can keep the short ribs warm in a slow cooker, but the meat will continue to cook and begin to fall apart. Instead, I recommend wrapping it in aluminum foil or butcher paper and placing it in a cooler filled with towels to keep warm and hold in the heat.
Can you do me a favor? If you enjoyed my post would you mind sharing it with your friends? You can see more of my recipes by liking me on Facebook and follow me on Pinterest too. Otherwise, stay up to date by getting each new post sent directly to your inbox by subscribing today.
Smoked Beef Short Ribs
Incredibly meaty and tender, these smoked beef short ribs are exceptionally flavorful and easy to prepare.

Print
Pin
Rate
Save
Saved
Ingredients
4

pounds

beef short ribs

(individually cut)

prepared yellow mustard

(as needed)

wood chips for smoking

(hickory is a good choice)
Dry Rub Seasonings
1

tablespoon

coarsely ground black pepper

1

tablespoon

kosher salt

1

tablespoon

granulated brown sugar

1

tablespoon

onion powder

1

tablespoon

garlic powder

1

tablespoon

paprika

1

teaspoon

mustard powder

½

teaspoon

cayenne pepper
Instructions
Preheat your smoker to 225 degrees and fill the water pan in the smoker.

Mix all rib seasoning ingredients together.

Optional: Remove the membrane from the bone side of the short ribs. Alternatively, you can score it instead.

Rub the short ribs on all sides with mustard. This adds flavor and helps the seasonings to stick better.

Liberally dust the beef with seasoning mixture on all sides.

Place the short ribs in the smoker along with wood chips for smoking.

Smoke for 4-5 hours, or until the internal temperature reaches 203 degrees and meat is tender. The exact time will vary depending on how thick the meat is.

Let rest for 10 minutes then serve.
Notes
Note: The seasoning mixture should yield enough to dust up to 6 pounds of short ribs.
If desired, you can add my homemade BBQ sauce during the final hour of cooking.
Nutritional Information
Calories:
594
kcal
|
Carbohydrates:
4
g
|
Protein:
64
g
|
Fat:
34
g
|
Saturated Fat:
14
g
|
Cholesterol:
195
mg
|
Sodium:
1963
mg
|
Potassium:
1263
mg
|
Fiber:
1
g
|
Sugar:
1
g
|
Vitamin A:
965
IU
|
Vitamin C:
0.4
mg
|
Calcium:
37
mg
|
Iron:
7.8
mg
This recipe was originally published here on June 14, 2019.