This luxurious venison stew is brimming with tender chunks of seared venison, Yukon gold potatoes, and mushrooms in a rich and silky sage infused broth.
Venison loin gets all of the attention. It is like the charismatic star quarterback of the high school football team that everyone can't stop fussing over. Cuts like venison stew meat are shunned from the limelight until you find your freezer is running low and you have to use up the leftover cuts of meat before freezer burn sets in. Only then does stew meat get a chance to shine.
Well, that changes now. You will soon see why this is called the best venison stew recipe ever. I expect it will quickly become one of the most requested recipes in your repertoire.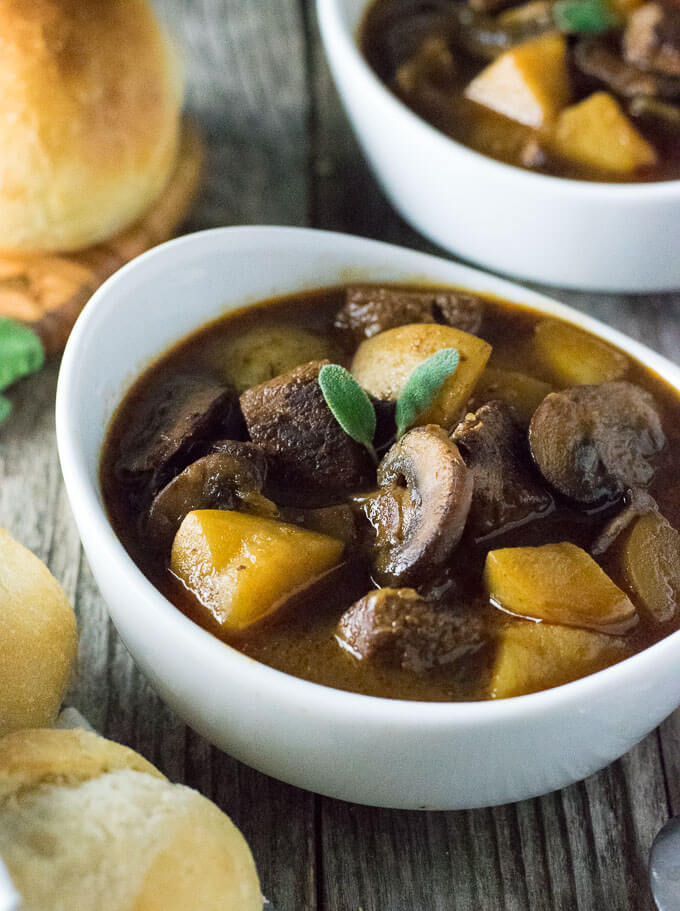 I promise you, this deer stew is a winner. The sauce is thick and rich, the ingredients are tender, and the sage adds a subtle floral note. This hearty meal is as flavorful as it is well-balanced.
Ingredients and Substitutions
Venison Stew Meat - The shank is my favorite for soups and stews, but you can use any part of the deer.
Cooking Oil - Olive oil or any other vegetable oil will be fine. Bacon fat can be used instead to add a smoky component.
Yukon Gold Potatoes - Yukon golds hold up better to longer cooking times, staying tender and creamy, compared to baking potatoes like Russets potatoes, which become mealy and fall apart. Baby red potatoes can be substituted for Yukon golds if needed.
Baby Bella Mushrooms - Button mushrooms, wild mushrooms, or sliced portabellas can all be substituted.
Onion - Yellow onion is my first choice, but sweet onion or red onion (for a stronger flavor) would also work. You could even use shallots.
Garlic - Fresh is highly prefered but you can use garlic powder in a pinch.
Butter
Flour
Tomato Paste
Beef Stock - Beef broth can be used instead. Alternatively, you can even substitute some red wine or beer.
Worcestershire sauce
Fresh Herbs - Bay Leaf and sage.
How to Customize this Recipe
This hearty stew is easily customizable to fit anyone's taste, and adding your favorite vegetables is a great way to do it. For example, if you are not a fan of mushrooms, you can easily omit them from the recipe. Alternatively, you can also add ingredients like carrots, celery stalks, and peas to the stew if desired.
The herbs used can also be adjusted. Personally, I think sage is a phenomenal pairing with venison (which is why I also use it in my venison meatloaf), however, you could substitute a sprig of rosemary or a couple of sprigs of fresh thyme instead.
My recipe calls for simmering this flavorful stew for two hours. That is enough time to ensure the meat and potatoes are tender and gives the flavors a chance to meld a bit. However, there is no reason why you can't let it simmer all afternoon, like a good venison chili, if needed. Simply add a bit more liquid to the pot if too much simmers off during an extended cooking session.
Best Cut of Meat for Venison Stew
I know most hunters aren't professional butchers, so they don't always separate the cuts of deer meat into 'stew meat', 'steak meat', etc... If that sounds like you, don't worry, you can use any meat in a venison stew and still get great results.
However, there are some cuts of venison meat better suited for stewing than others. In particular, I save the shanks for my stews. The shank is the meat found on the upper leg. It is a meaty cut that is laced with quite a bit of connective tissue and sinew (or silverskin). Many hunters add this to the grinding pile for venison burgers and other such dishes, when processing their own meat. Don't do that!
The silverskin found on the shank will slowly melt away when added to a delicious stew, leaving you with clean, tender, chunks of venison in the final dish. As a general rule, if I can see through the silverskin, it is safe to leave on the meat. If it is too thick to see through, it gets trimmed off.
If you don't have any shanks available, the least tender cuts of deer typically make the best stews, so just grab whatever you have on hand.
How to make it
Begin making this mouthwatering deer meat stew by searing the venison in a large skillet with oil set over medium high heat. You are looking for a brown crust to form, then set the meat aside with a slotted spoon.
Tip: Pat cubed venison dry with paper towels prior to cooking for a better sear.
Next, drop the temperature to medium heat and saute the onions and mushrooms, adding more oil if needed. Cook until the mushrooms are tender and the onions are turning golden brown. Add your minced garlic towards the end and saute until fragrant.
The mushrooms, onion, and garlic can also be removed from the pan and placed with the venison. For maximum flavor, we want to deglaze the bottom of the skillet with a half cup of beef stock so the burnt-on browned bits incorporate into the liquid. Be sure to whisk the liquid and scrape the fond from the bottom of the pan until it is all incorporated. This too can be poured off and set aside.
Now we start building the stew in your large Dutch oven or large pot by first creating a roux from the flour and butter. It is important to use low heat when making your roux or the flour will quickly burn, adding an undesirable flavor to the stew. Once the butter is melted in the pot add the flour and whisk continually for five minutes. The mixture should begin to darken in color.
Liquid can now be added to the roux. Start with a little beef stock and stir it into the flour mixture before adding more. This ensures lumps won't form. Continue until all of the stock has been added, then deglazing liquid, venison, mushrooms, onion, and garlic can be returned to the pot as well. Add all remaining ingredients (except for fresh sage) to the pot at this time and stir to combine.
The pot can now be covered and left to simmer for two hours. The longer it simmers the more tender the venison becomes and the more the stew will thicken. Add sage ten minutes prior to serving so the flavor doesn't cook out.
How to Make Venison Stew in the Slow Cooker
I prefer to make this recipe in a Dutch oven, and let it simmer on the stove top. However, slow cooking is great for letting your venison stew simmer all afternoon.
You will still want to sear and saute the ingredients prior to adding them to your crock pot, to develop maximum flavor. Additionally, you cannot make a proper roux in the slow cooker which is needed to thicken the strew. Therefore you will also want to make a roux in a skillet and then add it to the slow cooker.
Basically, to make this a slow cooker venison stew follow steps 1-5 of the recipe as written, then once everything is ready to be combined and simmered you can add it to the slow cooker and let it sit all afternoon until you are ready to eat.
What to serve with your stew
Hot dinner rolls
Homemade bread
Salad greens
Venison Stew
This luxurious venison stew is brimming with tender chunks of seared venison, Yukon gold potatoes, and mushrooms in a rich and silky sage infused broth.
Print
Pin
Rate
Save
Saved
Ingredients
2

lbs

Venison Stew Meat

(cubed)

2

tablespoons

Cooking Oil

1 ½

lbs

Yukon Gold Potatoes

(large chop)

16

ounces

Baby Bella Mushrooms

(sliced)

1

Onion

(chopped)

2

cloves

Garlic

(minced)

¼

cup

Butter

¼

cup

Flour

2

tablespoons

Tomato Paste

6

cups

Beef Stock

(divided)

1

tablespoon

Worcestershire sauce

2

Bay Leaves

2

sprigs

fresh Sage

(divided)

1

teaspoon

fresh ground Black Pepper

Kosher salt
Instructions
Working in batches as necessary, heat oil in a large skillet over medium-high heat and sear venison on all sides until a brown crust forms. Remove from skillet and set aside.

Add additional oil if needed, drop the temperature to medium heat and saute the onions and mushrooms in the skillet until tender and onions begin to brown. Add minced garlic and cook for an additional 2 minutes, or until fragrant.

Remove onions, mushrooms, and garlic from the skillet and deglaze with ½ cup of beef stock. Whisk and scrape the bottom of the pan to incorporate all of the burnt on fond into the liquid. Pour off and reserve deglazing liquid with venison and vegetables.

Melt butter in a soup pot or Dutch oven over low heat and sprinkle in flour to form a roux. Whisk continually for 5 minutes, to prevent scorching, or until roux turns from blond to a light brown.

Slowly incorporate beef stock into the roux, mixing to combine as it is added.

Add venison, potatoes, mushrooms, onions, and garlic to the soup pot along with the reserved deglazing liquid, tomato paste, Worcestershire sauce, bay leaves, one sprig of sage, and fresh ground pepper.

Cover the pot and let simmer for two hours, or until the venison is fork tender. 10 minutes before serving, add an addition sprig of fresh sage and taste for salt, adjusting as needed.

Serve with hot dinner rolls or crusty bread.
Notes
The searing of the meat and sauteing of the vegetables can be done in the Dutch Oven if desired. However, I find I often get a better sear if using a metal or cast iron skillet.
This recipe can be made a day prior, allowing the flavors to meld in the refrigerator overnight. Bring stew back to temperature and serve.
IF YOU LIKED THIS RECIPE you will love my Beer Braised Venison Neck recipe too.
Nutritional Information
Calories:
329
kcal
|
Carbohydrates:
21
g
|
Protein:
34
g
|
Fat:
12
g
|
Saturated Fat:
5
g
|
Cholesterol:
111
mg
|
Sodium:
530
mg
|
Potassium:
1376
mg
|
Fiber:
3
g
|
Sugar:
3
g
|
Vitamin A:
255
IU
|
Vitamin C:
12.1
mg
|
Calcium:
70
mg
|
Iron:
7.8
mg
Don't forget to check out the rest of my mouthwatering venison recipes too!