Loaded scalloped potatoes is a decadent twist on the traditional side dish, loaded with creamy potatoes, smoky bacon, and a crispy cheese crust. Yep, that's right, no creamy cheese bites here, we burn the cheese to perfection!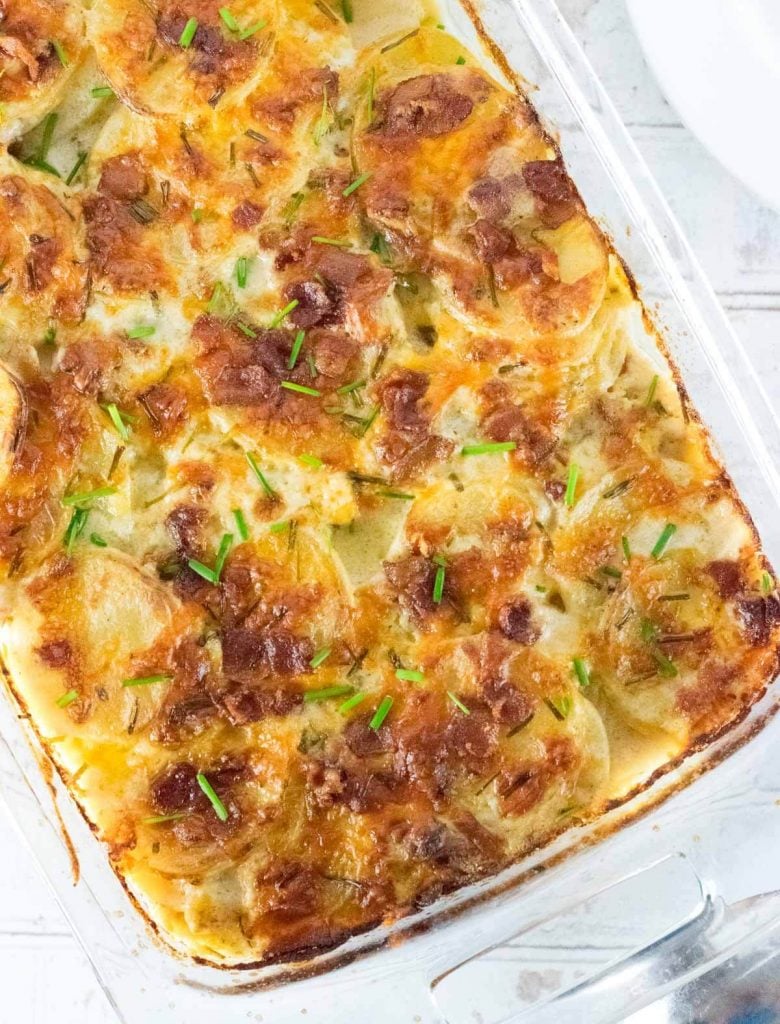 What are scalloped potatoes?
The name "scalloped potatoes" refers to how the potatoes are thinly sliced. A traditional scalloped potatoes dish features thinly sliced potatoes baked with milk-based sauce. Although not required, meat such as ham is often added to this dish.
Scalloped potatoes are similar to Au Gratin Potatoes, but au gratin potatoes feature more cheese. Admittedly, there are recipes commonly found for scalloped potatoes that also include cheese, including my own. However, I would define au gratin dishes as being the heaviest on cheese.
Ingredients for my loaded scalloped potatoes
Yukon gold potatoes - Russets can be substituted, but waxy potatoes such as Yukon hold their shape better when cooked.
Flour - When combined with the bacon grease, this forms a roux, which is the thickener for the sauce.
Milk - Milk is added to the roux to create the sauce. You can use cream instead.
Sour cream - Feeling creative? Try swapping out sour cream with "Top the Tater" for even more chive and onion flavor.
Bacon - I like to cut the bacon into pieces before cooking, as it seems to crisp more evenly.
Chives - Green onions can also be substituted.
Sharp Cheddar cheese - You can use medium or mild, but sharp will have the most pronounced flavor.
Salt and pepper - I use Kosher salt for my measurements and recommend fresh ground pepper.
How to make it
First, you will need to prep your ingredients, which includes crisping your bacon and thinly slicing the potatoes. The easiest way to slice your potatoes quickly and evenly is to use a mandoline. You won't use it every day in your kitchen, but when you need it it is a lifesaver!
You need to create a roux for the sauce. A roux is a combination of fat and flour that is cooked together. You can use butter, if desired, as that is typically my first choice. However, since we just cooked up 12 ounces of bacon, you can just use the bacon fat instead. It works just as well and adds a smoky bacon flavor throughout!
The roux is cooked by whisking the flour and bacon grease in a large skillet over medium-low heat until the raw flour taste is removed. This only takes a couple minutes. Then the milk can be added. However, it is important to only add it a few splashes at a time to ensure it incorporates evenly.
I recommend using the warmed sauce to temper the sour cream prior to adding it so it doesn't curdle. Place the sour cream in a bowl, and ladle hot sauce into it while stirring together. Once the sour cream is warm, combine it all with the sauce. Finally, add the bacon, cheese, and chives and add it to a large bowl to coat the potatoes.
Pour the whole mixture into a 9x13 baking dish and bake covered in foil at 350 degrees for 30 minutes, then uncovered for 45 minutes to allow a crust to form. Let cool for 5-10 minutes then serve.
How to reheat this dish
You can reheat individual portions in your microwave easy enough, but if you are reheating a larger serving it is best to use your oven. Recover the potatoes in foil and bake in your oven for about 35 minutes at 350 degrees, or until warmed through.
Loaded Scalloped Potatoes
Loaded scalloped potatoes is a decadent twist on the traditional side, loaded with creamy potatoes, smoky bacon, and a crispy cheese crust.
Print
Pin
Rate
Save
Saved
Ingredients
2

lbs

Yukon gold potatoes

(sliced ¼" thick)

12

ounces

bacon

(reserve ¼ cup rendered bacon grease)

¼

cup

Flour

2

cups

Milk

1

cup

sour cream

1

cup

shredded sharp Cheddar Cheese

¼

cup

chopped chives

1 ½

teaspoons

kosher salt

½

teaspoon

fresh ground Black Pepper
Instructions
Preheat oven to 350 degrees.

Cook the bacon in a large skillet until crisp, then remove and crumble.

Leave ¼ cup of bacon grease in the skillet and set the heat to low. Sprinkle in the flour and whisk for two minutes. Slowly add splashes of milk, while still whisking, until all milk has been added.

Place sour cream in a medium sized bowl and then temper it with the warmed sauce by stirring in a few splashes of sauce at a time until the cream has transformed into a warm liquid, then combine entirely with the sauce.

Add cheese, bacon, chives, salt, and pepper to the sauce, then pour over the potatoes in a large dish. Toss gently to ensure the potatoes are fully coated then add everything to a 9x13 baking dish.

Cover the baking dish with foil and bake for 30 minutes. Remove the foil and bake for an additional 45 minutes.

Remove from oven, let cool slightly, and serve.
Nutritional Information
Calories:
428
kcal
|
Carbohydrates:
27
g
|
Protein:
14
g
|
Fat:
29
g
|
Saturated Fat:
13
g
|
Cholesterol:
64
mg
|
Sodium:
861
mg
|
Potassium:
697
mg
|
Fiber:
3
g
|
Sugar:
5
g
|
Vitamin A:
435
IU
|
Vitamin C:
23
mg
|
Calcium:
218
mg
|
Iron:
1
mg