Smoked hot dogs are easy and delicious to make. Add them to your smoker when cooking other meats, or cook them by themselves to infuse them with another layer of flavor.
I love smoked hot dogs, not only because when smoked at a low temperature they get infused with delicious smoke flavor, but the simple process makes these an effortless way to ensure my picnic offers food everyone will enjoy when I am smoking meats. I can smoke ribs or pork shoulder and add hot dogs in the final hour without any additional effort or cleanup. Best of all, the delicious smoky flavor will quickly make these tasty hot dogs a family favorite.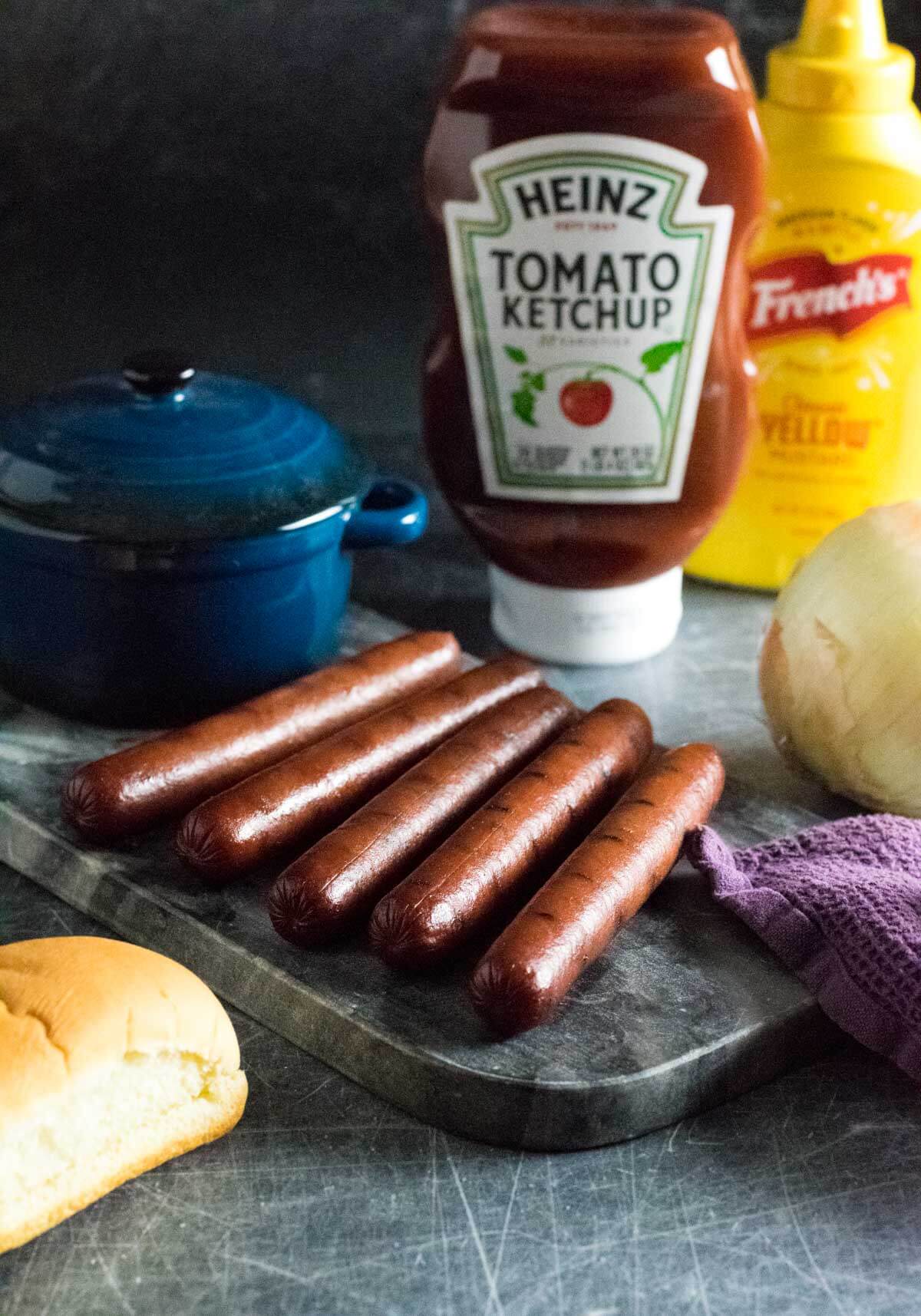 Ingredients & Equipment
Hot dogs - My smoked hot dog recipe is designed for standard thickness hot dogs. However, you can also smoke the thick hot dogs as well, but plan on it taking an additional 30 minutes. The best hot dogs to use are natural casing dogs from your local butcher. However, I equally enjoy Nathan's brand dogs.
Smoker - You obviously need a smoker to smoke hot dogs. Electric, propane, charcoal, or pellet smokers will all work equally well. You can use a charcoal grill in a pinch, but you will have a harder time controlling the temperature.
Wood chips - You need wood for smoking. Most woods will pair nicely with hot dogs, so I wouldn't stress about your selection too much. The best wood will be whatever you are using to smoke other meats, but oak wood chips or pellets are a great choice. Another type of wood I also love is the deep flavor of hickory.
How to smoke them
Begin making your smoked hot dogs by preheating your smoker to 225 degrees and adding water to your smoker's water pan. 225 degrees is the best temperature for smoking hot dogs because the slow smoke gives the dogs enough time to soak in the incredible flavor. Increasing the temperature to a higher heat limits how long they will be bathing in the smoke.
Add your wood chips or wood pellets. Once the wood is smoking place the hot dogs on the grill grates and close the smoker and let the smoke flavor sink in.
Let the hot dogs smoke for one hour. Smoke an additional thirty minutes if you are smoking thicker hot dogs. Then remove from the smoker and serve immediately.
Tip: Some people like to score the ends of the hot dogs, or cut them in a spiral slice. The score marks create more surface area and allow the smoke to penetrate better. This is optional.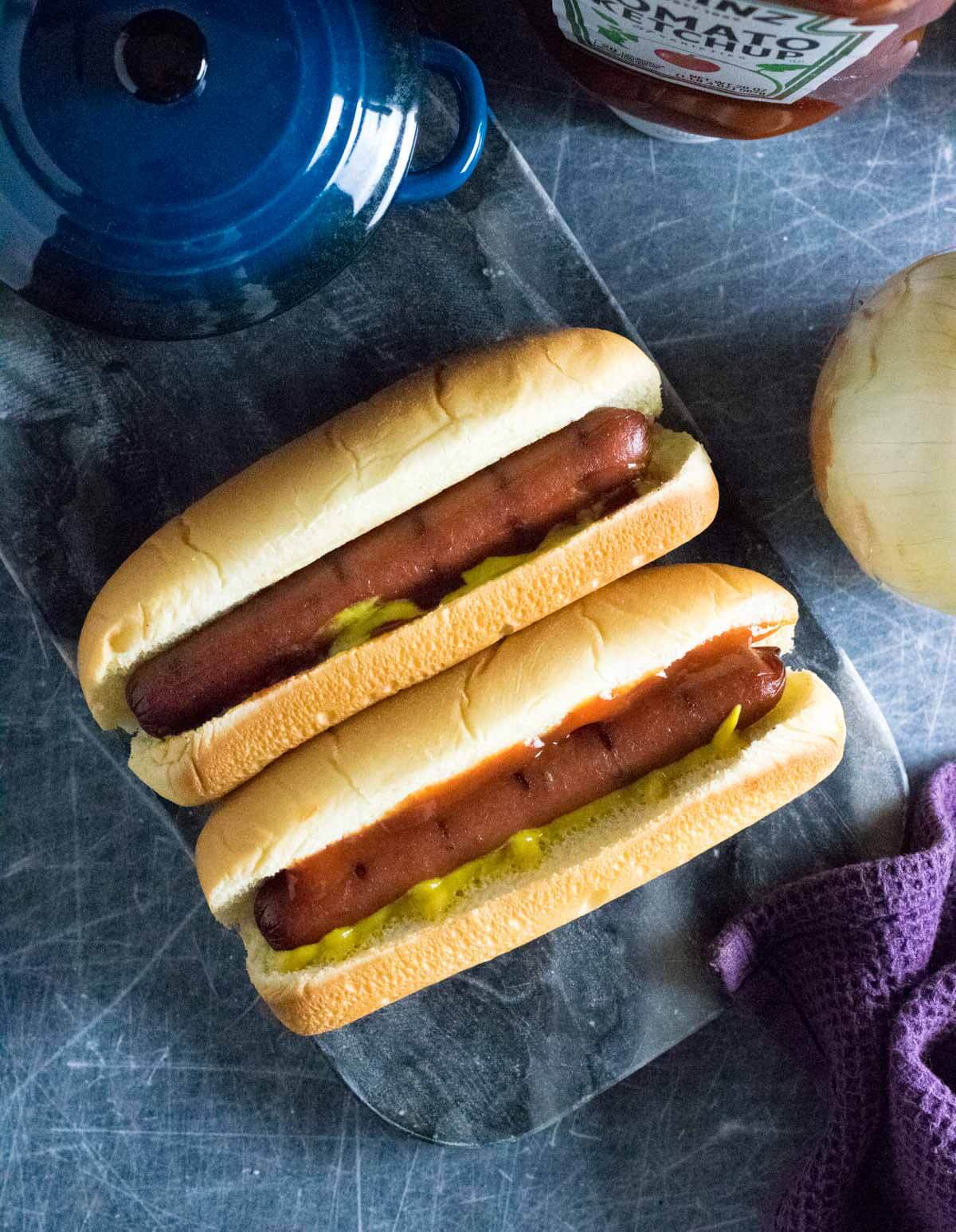 Hot Dog Toppings
Your smoked hot dogs will taste great with all of your favorite hot dog fixin's. I recommend trying any combination of the following:
Storing & Reheating Leftovers
This is a great recipe to make a bunch at once. The leftover hot dogs should be stored in an airtight container in your refrigerator to prevent your whole fridge from smelling like a smoker. The hot dogs are best enjoyed within five days.
You can easily reheat your smoked hot dogs in the microwave. I recommend heating one at a time for thirty seconds at a time. Microwave power varies, so adjust the cook time as needed.
Can you do me a favor? If you enjoyed my post would you mind sharing it with your friends? You can see more of my recipes by liking me on Facebook and follow me on Pinterest too. Otherwise, stay up to date by getting each new post sent directly to your inbox by subscribing today.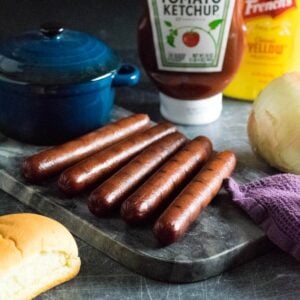 Smoked Hot Dogs
Smoked hot dogs can be added to you smoker when cooking other meats, or cook them by themselves to infuse them with another layer of flavor.
Print
Pin
Rate
Save
Saved
Ingredients
6

hot dogs

6

hot dog buns

Desired hot dog toppings
Instructions
Preheat your smoker to 225 degrees and add your wood chips.

Once the wood chips are smoking place the hot dogs on the grates and close the smoker.

Let smoke for one hour, or until heated through. Then serve immediately in a bun with your favorite toppings.
Nutritional Information
Calories:
230
kcal
|
Carbohydrates:
30
g
|
Protein:
9
g
|
Fat:
8
g
|
Saturated Fat:
3
g
|
Polyunsaturated Fat:
2
g
|
Monounsaturated Fat:
3
g
|
Cholesterol:
20
mg
|
Sodium:
518
mg
|
Potassium:
118
mg
|
Fiber:
1
g
|
Sugar:
3
g
|
Vitamin A:
1
IU
|
Vitamin C:
1
mg
|
Calcium:
72
mg
|
Iron:
3
mg