Crafting mouthwatering homemade beef jerky is much simpler than you think. With minimal effort, you can enjoy better than store-bought beef jerky at a fraction of the price.
Whenever I go backpacking, my favorite snack to pack is beef jerky. It is pretty much the only time I buy it. At upwards of $20 a pound, it just doesn't make the final cut on the everyday shopping list very often. Yet, it still remains one of my favorite treats. However, I enjoy making my own homemade beef jerky far more often, which is more affordable and tastes every bit as good!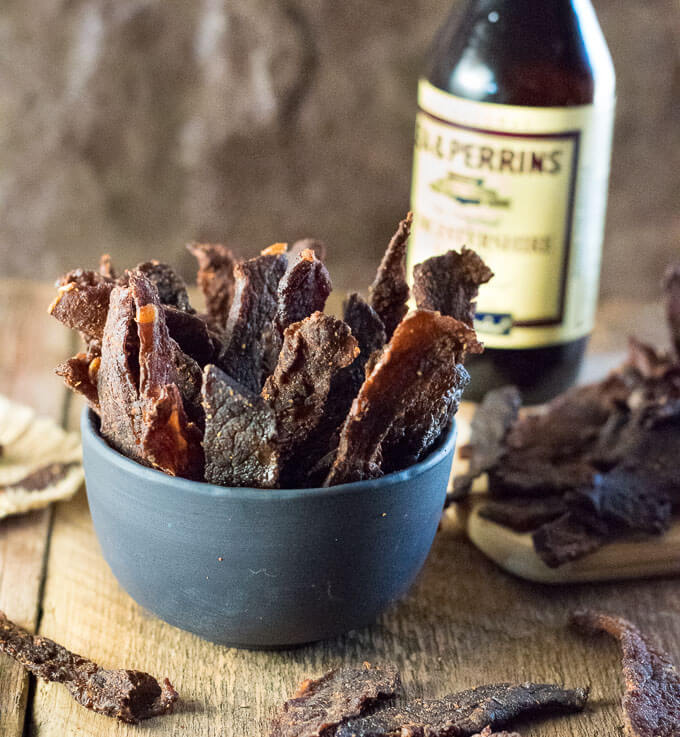 Homemade Beef Jerky
There are two ways to make homemade beef jerky. You can make ground beef jerky using a jerky gun, or you can use thinly sliced lean beef for traditional beef jerky. This is a fairly simple beef jerky recipe using thinly sliced lean beef.
Not only does using thinly sliced beef not require specialized tools, like a jerky cannon, but it is also healthier because you aren't using fatty cuts of meat.
What cut of beef for jerky?
The best cut of meat for jerky is any type of round roast. This includes the eye or round, top, and bottom round roasts. They are nice and meaty, reasonably priced, and almost fat-free! Fat adds flavor to many dishes, but in beef jerky it just gets stuck in your teeth! I like leaner cuts like round roasts because each bite is consistently meaty.
How to make Jerky
To make homemade beef jerky you simply slice the beef thin, let it marinate in the refrigerator overnight to soak up flavor, and then dry it in a dehydrator or oven. My recipe is a great "original flavor" recipe that can easily be customized to fit your tastes. For example, if you want a spicy beef jerky recipe just add another teaspoon of cayenne pepper.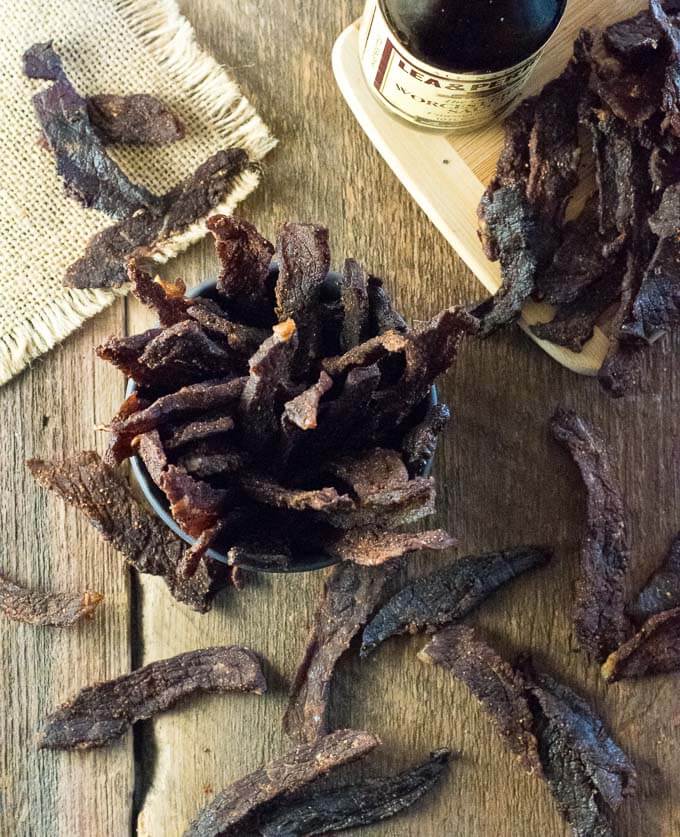 When is beef jerky done
Beef jerky is done when it is no longer moist to the touch and does not bend without cracking. The jerky should bend slightly and then break, having an internal temperature of at least 160 degrees. If it breaks immediately, like a cracker, it is overdone. You should check the jerky throughout the cooking process to check for doneness. If you cut your jerky sufficiently thin it should finish cooking in under four hours.
How to make beef jerky in a dehydrator
Using a dehydrator is a great option for making homemade beef jerky. Set the dehydrator at 160 degrees, or up to 175 if your model allows you go to go higher. Rotating the racks hourly will ensure all of your jerky cooks evenly. Your jerky will be done in about 4 hours.
How to make beef jerky in the oven
Some ovens will have a dehydrate setting, though even if they do not, your convection feature will work spectacularly as long as your oven lets you bake at low temperatures. Set your oven on convection at 175 degrees, and your jerky should be done in around three hours. The beef jerky can simply be dried on wire baking racks. It is still recommended to rotate the racks in case your oven has any hot spots.
Tip: I have found ovens have difficulty maintaining consistent temperatures when set extremely low, such as 175 degrees. I use a digital oven thermometer to monitor the temperature swings and open the door slightly as needed to let heat out when it gets too hot.
Does Beef Jerky Need to Be Refrigerated?
According to the National Center for Home Food Preservation, when properly prepared beef jerky does not need to be refrigerated. It is best stored in an air-tight container.
More Snack Recipes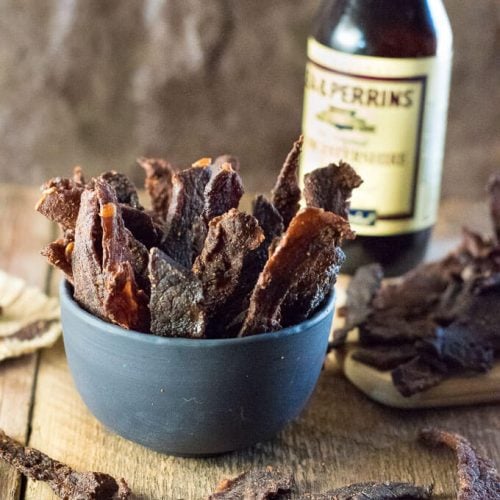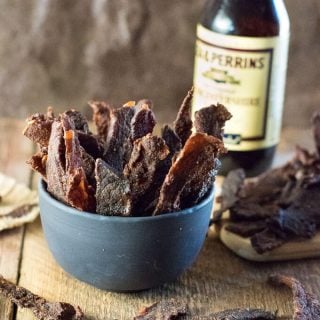 Homemade Beef Jerky
Crafting mouthwatering homemade beef jerky is much simpler than you think. With minimal effort, you can enjoy better than store-bought beef jerky at a fraction of the price.
Print
Pin
Rate
Ingredients
2

pounds

beef round roast

(thinly sliced)
Marinade
⅔

cup

Worcestershire sauce

⅔

cup

Soy sauce

1

teaspoon

Liquid smoke

1

tablespoon

Smoked paprika

1

tablespoon

Brown sugar

2

teaspoons

Freshly ground black pepper

1

teaspoon

Cayenne pepper

1

teaspoon

Garlic powder

1

teaspoon

Onion powder
Instructions
(Optional) Place beef in freezer for two hours. This will make it easier to slice thinly.

Slice beef thinly against the grain. (approximately ⅛")

Add all ingredients for the marinade into a bowl and mix to combine.

Place sliced beef in ziplock plastic bag (gallon sized) and pour in marinade. Ensure it is evenly coating the meat and place in the refrigerator overnight.

Remove beef from bag and pat dry with a paper towel (this will speed cooking time).

Lay in a single layer on dehydrator sheets and set the dehydrator at 160 degrees. (this can be done on wire racks in the oven as well)

Dehydrate, rotating racks each hour, for 4 hours, or until the beef jerky is dry and cracks when you bend it.
Nutrition
Calories:
250
kcal
|
Carbohydrates:
8
g
|
Protein:
33
g
|
Fat:
8
g
|
Saturated Fat:
3
g
|
Cholesterol:
88
mg
|
Sodium:
1348
mg
|
Potassium:
505
mg
|
Sugar:
4
g
|
Vitamin A:
555
IU
|
Vitamin C:
3.1
mg
|
Calcium:
37
mg
|
Iron:
4.6
mg