My homemade pork jerky is marinated in a sweet and spicy sauce and dried in a dehydrator until chewy and delicious! Making your own jerky is a great snack to enjoy in the outdoors or an everyday treat.
I recommend making your homemade pork jerky in a dehydrator, but for those who don't have one I will also explain how to make jerky in your oven, or smoker instead.
If you are craving more snack ideas, try my honey roasted chickpeas too.
Ingredients and Substitutions
Pork tenderloin - You can substitute pork loin instead.
Worcestershire sauce & Soy Sauce - This is the base of the marinade and adds saltiness to the jerky. I don't recommend making substitutions for these.
Brown sugar - You can substitute white sugar instead, or even mirin for more of an Asian flare.
Chili paste - This adds your heat, but you can also use hot sauce instead.
Lime - Fresh lime juice brightens up the flavor and adds acidity. Feel free to use oranges instead, or even grapefruit.
Garlic - I recommend using whole cloves of garlic rather than garlic powder, but crush them to release more flavor.
Black peppercorns - The black pepper does not need to be ground, the whole peppercorns will release their flavor while soaking in the marinade.
Liquid smoke - This adds a welcomed smokiness to the jerky when not using a traditional smoker.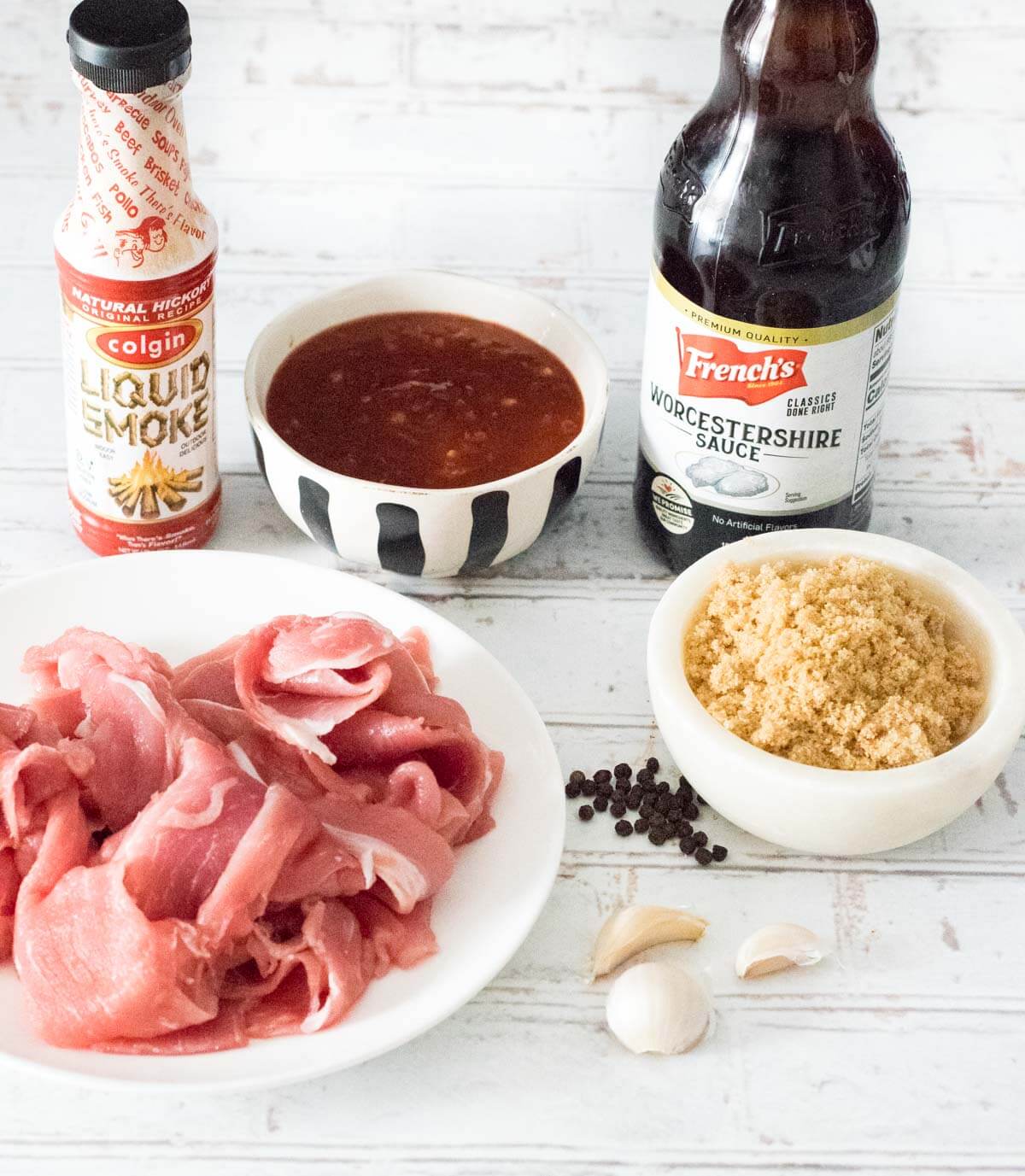 Preparing your meat
The best jerky is made from thin slices of meat. You want to avoid cutting thick slices because it will take much longer to cook and the texture won't be as good.
The easiest way to cut your jerky properly is by partially freezing the meat. This firms it up so it is easier to work with. I recommend cutting your pork tenderloin in long quartered strips. By quartering the meat you allow it to partially freeze more consistently than if you left the tenderloin whole.
Let the meat sit in the freezer for two hours, then cut thinly with a chef's knife or use a deli slicer instead. You want the strips to be approximately ⅛" thick.
The jerky marinade
You will notice there are no spices and seasonings called for in the jerky marinade, such as I use in my beef jerky recipe. I found the seasoning dries to the exterior of the jerky, giving it a sandier texture. It is still delicious, but I wanted to make this recipe a bit cleaner.
All of the ingredients of this marinade will soak together to form one harmonious flavor, with many different notes. The marinade should be combined in a small bowl and added to a saucepan and simmered for 5-10 minutes to dissolve the brown sugar and allow the flavors to meld. Once simmered, cool off the marinade in the refrigerator at least to room temperature prior to adding the meat.
Tip: Adding the pork to a hot marinade will cook it and ruin the texture of your jerky.
Once the marinade has completely cooled add the pork to it and let marinate overnight. If you don't have time to let it sit overnight, I recommend marinating for at least two hours. Any excess marinade can be discarded.
I recommend marinating your meat in sealable gallon storage bags. Using a plastic bag makes it easier for the marinade to fully cover the meat.
How to make dehydrator pork jerky
When making pork jerky in the dehydrator it is important to spread the meat apart evenly in a single layer. You want all of the pork strips to get airflow. Set the dehydrator to 160 degrees and cook for 4 hours. Once an hour each tray should be rotated to ensure everything cooks evenly.
Start checking the jerky for doneness at 3 hours. The total cooking time will vary depending on how thin your jerky was sliced.
How to make it in the oven
Pork jerky can be made in the oven as well, but the problem is most ovens aren't able to be set at a low enough temperature to dehydrate properly. If you have a convection oven you will definitely want to turn on the convection fan to create air movement.
Pork jerky can be baked on the bottom rack of the oven at 180 degrees for 2 - 3 hours, or until the thin strips are dried and cooked through. If your oven temperature goes lower than 180 degrees you can cook it like using a dehydrator.
Tip: Place the jerky on parchment paper to avoid it sticking to your baking sheet as it dries.
How to make smoked pork jerky
Smoked pork jerky may be the most flavorful way to make it as each strip gets infused with a wonderfully smoking flavor. If smoking your jerky, there is no need to use liquid smoke in the recipe. Smoke your jerky at 160 degrees for four hours, just like using the dehydrator.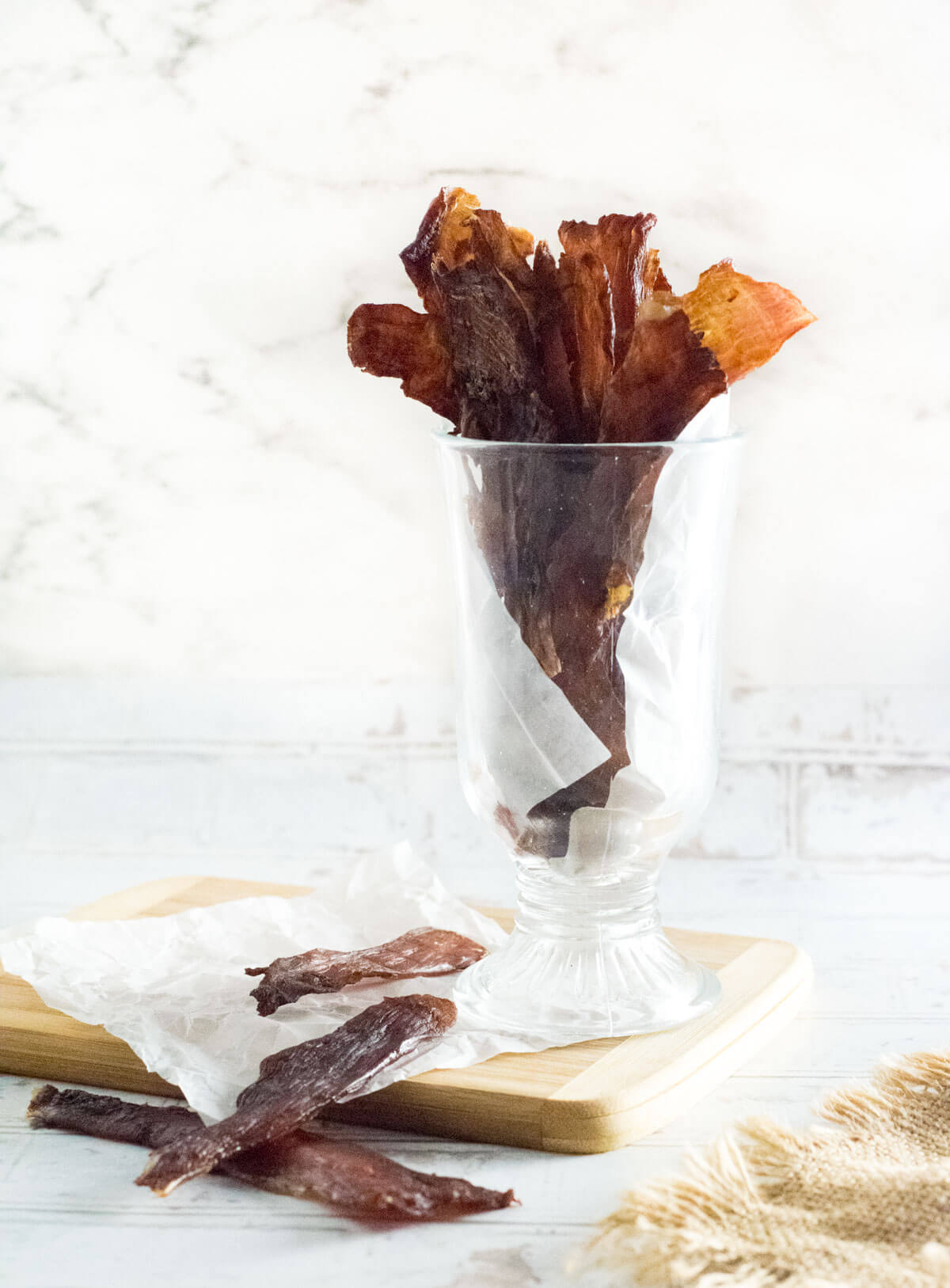 Expert Tips & Tricks
This recipe will also work with wild game.
The exact drying times will vary depending on the thickness of your jerky strips.
Tenderloin is naturally lean, but there is often some silverskin left on it which should be trimmed off.
Any rendering fat pooling on the pork pieces while cooking should be blotted up with paper towels. This shouldn't be much of an issue when using lean meat.
Jerky FAQs
When is pork jerky done?
Your jerky is done when it reaches 160 degrees. The jerky should feel dry to the touch and the meat should no longer be soft or spoungy.
How to store pork jerky?
When properly dried jerky can be stored in a cool dry place in an airtight container for one to two weeks. To increase the shelf life the jerky can be stored in the refrigerator or freezer.
Is it safe to make pork jerky?
Yes, pork jerky is safe to make as long as it is prepared properly. Since most homemade recipes don't use preservatives reduce the risk of foodborne illness, it is best to fully cook your jerky in four hours or less to ensure the meat does not linger in the temperature danger zone where bacteria can form. Once the jerky is dried out it is safe to eat.
Can you do me a favor? If you enjoyed my post would you mind sharing it with your friends? You can see more of my recipes by liking me on Facebook and follow me on Pinterest too. Otherwise, stay up to date by getting each new post sent directly to your inbox by subscribing today.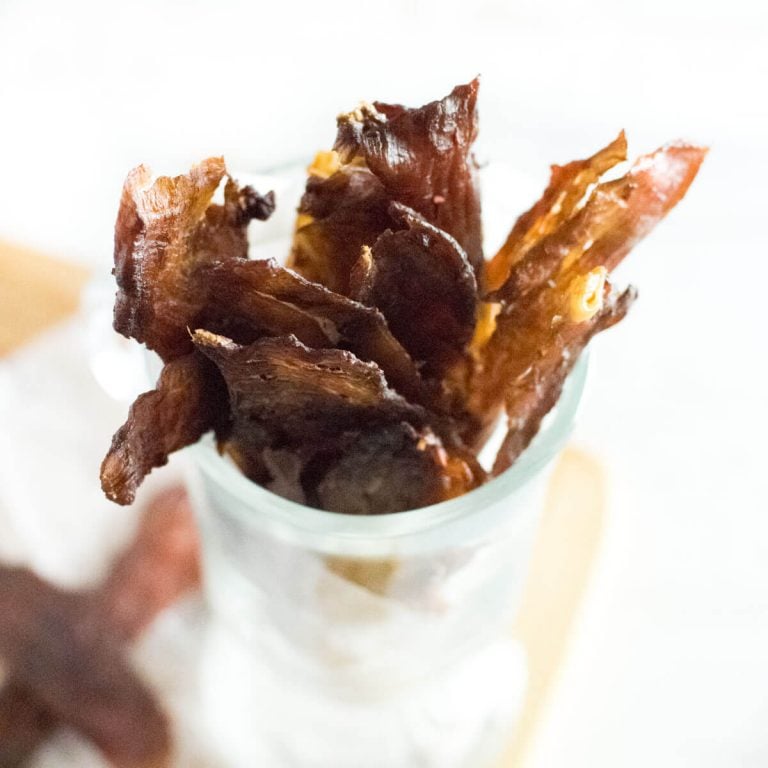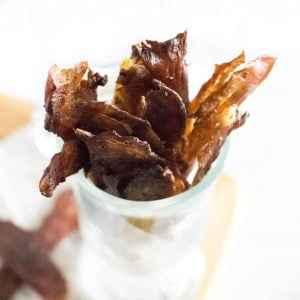 Sweet and Spicy Pork Jerky
My homemade pork jerky is marinated in a sweet and spicy sauce and dried in a dehydrator until chewy and delicious!
Print
Pin
Rate
Save
Saved
Ingredients
Marinade
⅓

cup

Worcestershire sauce

⅓

cup

Soy Sauce

¼

cup

brown sugar

2

tablespoons

Chili paste

3

cloves

garlic

crushed

¼

teaspoon

black peppercorns

(leave whole)

¼

teaspoon

liquid smoke

1

lime

juiced
Instructions
Cut the tenderloin in half lengthwise twice so it is in long, quartered, strips. Set these strips on a baking sheet and place in your freezer for two hours to firm up.

Slice your meat into ⅛" thick strips, or as thinnlyas possible.

Mix together all of the marinade ingredients in a small saucepan. Bring to a simmer and cook for 5-10 minutes, or until all of the brown sugar has been dissolved. Then remove from the heat and cool completely.

Once cooled, pour the marinade into a large sealable bag with the sliced pork. Let marinate overnight, or at least a minimum of two hours.

Remove pork from the marinade and pat dry. Lay strips of pork evenly on dehydrator trays and set the dehydrator to 160 degrees.

Dehydrate for four hours, or until the pork jerky dries out.

Store in an airtight container in a cool dry place.
Notes
The jerky marinade can accommodate up to 1 ½ pounds of sliced meat.
Partially freezing the meat is important to be able to slice it thinly.
Nutritional Information
Calories:
115
kcal
|
Carbohydrates:
11
g
|
Protein:
13
g
|
Fat:
2
g
|
Saturated Fat:
1
g
|
Trans Fat:
1
g
|
Cholesterol:
37
mg
|
Sodium:
685
mg
|
Potassium:
365
mg
|
Fiber:
1
g
|
Sugar:
8
g
|
Vitamin A:
19
IU
|
Vitamin C:
2
mg
|
Calcium:
27
mg
|
Iron:
2
mg