This pulled pork finishing sauce transforms delectably tender shreds of smoked pork into the most mouthwatering barbecue you'll ever wrap your mouth around! This vinegar-based BBQ sauce is quick and easy to prepare and is the perfect finishing sauce to juice up any pulled pork sandwich with a tantalizing sweet and spicy kick.
Types of Finishing Sauces for Pulled Pork
Vinegar-Based - A thin vinegar-based sauce is the traditional, and dare I say, authentic sauce to pair with pulled pork. Particularly, if you were to ask anyone in North Carolina. This is also the type of sauce we are paying homage to in this recipe.
Mustard-Based - Mustard-based sauces are less common, but very popular in pockets of the United States like South Carolina and Georgia. It is easily recognized by its bright yellow color.
Molasses-Based - A traditional thick and sticky BBQ sauce is typically your standard molasses-based sauce. This is the most popular style found at your grocery store. It goes well on most any form of barbecue, including pulled pork sandwiches.
Regional Variations of Vinegar-Based Sauces
Even within North Carolina, where the thin sauce reigns supreme, there isn't a uniform standard by which the sauces adhere. Eastern North Carolina produces an almost clear simple sauce made of vinegar, sugar, salt, and peppers. Using tomatoes, such as ketchup is downright forbidden.
However, the western side of the state is a bit more relaxed about which ingredients can be added. While still being heavily dependent on vinegar, you will typically find ketchup added to the mix. This is the type I've previously replicated with my North Carolina BBQ sauce recipe.
The finishing sauce I am creating today borrows from the east and west side of the state, as well as stealing a touch of mustard from South Carolina. Some may call this a Piedmont-style sauce, which often blends neighboring regions, I just call it delicious.
Ingredients Needed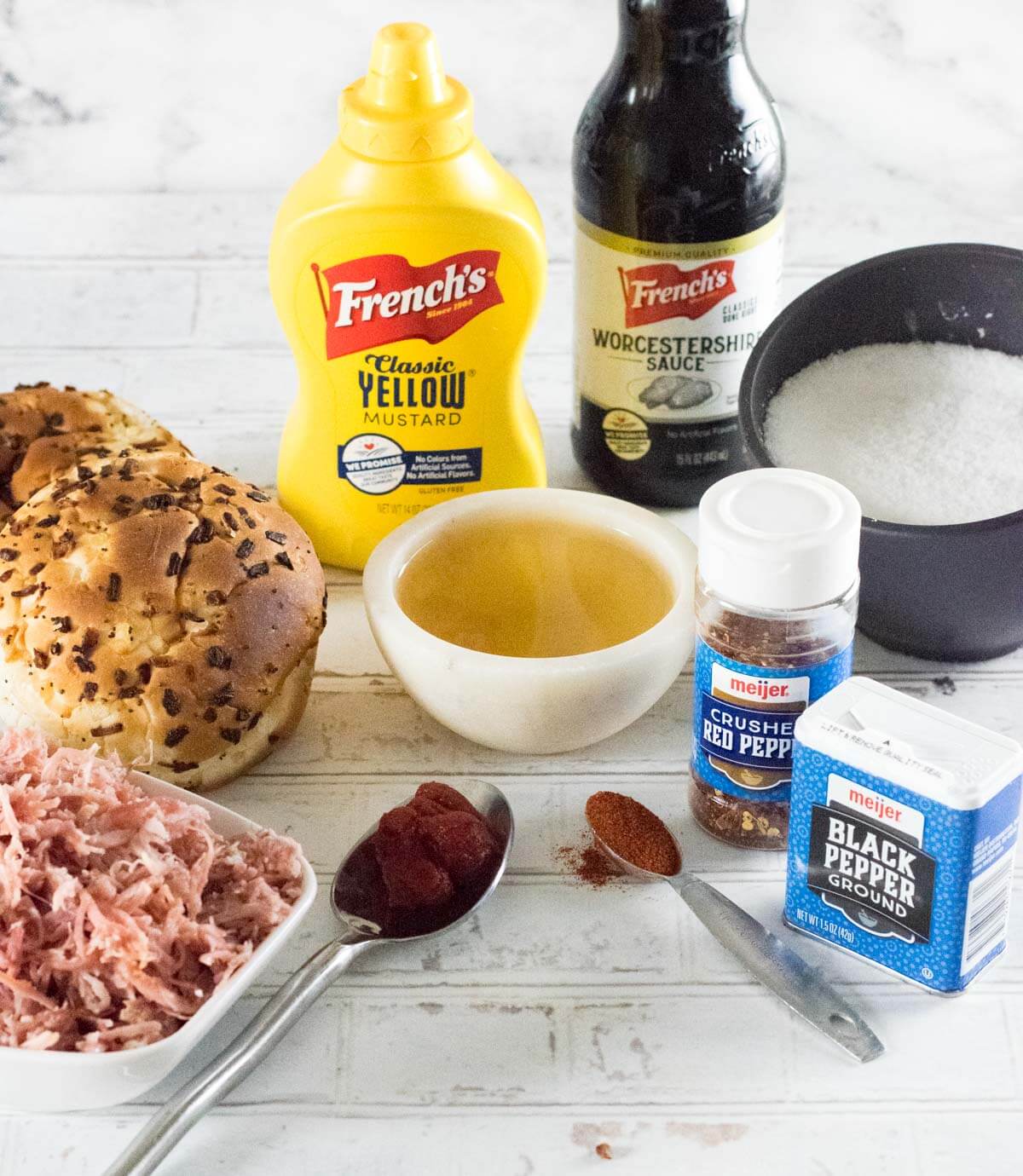 Apple cider vinegar
Brown sugar - Other sweeteners you can use include white sugar, honey, or maple syrup.
Yellow mustard
Tomato paste - For more sweetness, ketchup is an acceptable substitute to use instead.
Worcestershire sauce - This is my secret ingredient to add more complexity to the sauce.
Vinegar-based hot sauce - Tabasco sauce is one such example, but any of your favorites will work.
Red pepper flakes - Kick up the heat of the sauce even more by swapping out Ghost pepper flakes. Otherwise, cayenne pepper is commonly used as well. The flakes can be omitted altogether to lower the heat.
Seasonings - Black pepper, salt, smoked paprika.
How to make it
This thin barbecue sauce is easy to prepare. Simply add all of the ingredients into a two quart saucepan and bring to a simmer. You want to simmer it for 5-10 minutes to ensure the sugar and salt have dissolved and the ingredients are melding together.
The sauce can be used right away but it is best to let it cool first. The flavors will continue to meld as it rests in the refrigerator, making it a great sauce to prepare in advance.
The pulled pork
The most authentic, and best way to prepare your pulled pork is to smoke it. Grab a Boston butt, or pork shoulder, from your butcher and throw it in the smoker with some hickory wood chunks. Let it smoke for 1-2 hours per pound, or until it is easily shredded with a fork. It is done when it reaches an internal temperature of 195 degrees. I recommend checking out my smoked pork shoulder recipe for more tips and tricks.
A cheater version is to make pulled pork in the slow cooker. This isn't as flavorful as smoking it, so I add a couple of dashes of liquid smoke to compensate. Expect a 4 pound shoulder to take approximately six hours on high heat.
As an honorable mention, I will say you can also make Instant Pot pulled pork, but it is my least favorite way to do it.
Tip: You can use this sauce as a mop sauce as well to moisten the pork as it cooks. Some people even add a half stick of butter to the sauce to fatten it up a bit since modern pork is so lean.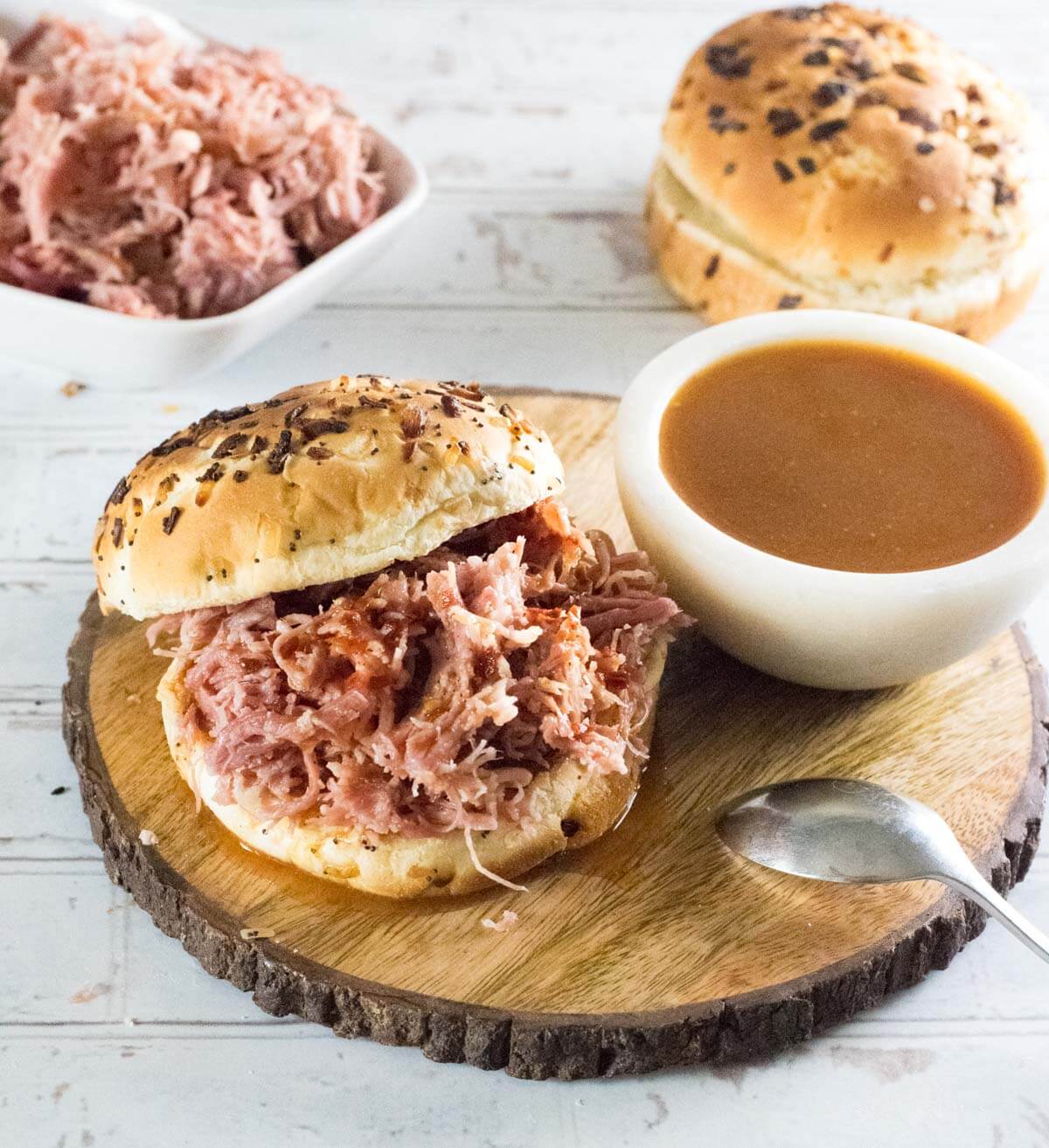 What side dishes to serve with pulled pork?
If you are serving a full barbeque picnic, you are going to want all of the fixin's to serve with the pork. I recommend the following spread:
Coleslaw - This makes a phenomenal topping on a pulled pork sandwich too!
FAQs
What is a finishing sauce?
A finishing sauce is used to add moisture and additional flavor to meat dishes after they are served. This sauce "finishes" the pulled pork by being added after the meat has been shredded.
How to store this sauce?
Your finishing sauce should be stored in the refrigerator in an airtight plastic storage container or squeeze bottle. You want to ensure it is air-tight or the odors in your fridge will soak into the sauce and develop off-flavors.
Can this be made in advance?
Yes! Actually, it is best to make in advance because the flavors will continue to meld as it sits in the refrigerator, creating a more complex sauce.
More BBQ Pork Recipes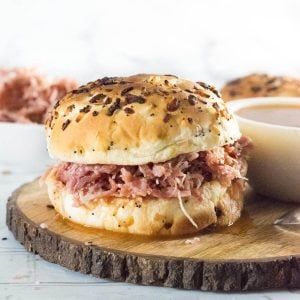 Ingredients
1 ½

cups

apple cider vinegar

2

tablespoons

brown sugar

1

tablespoon

yellow mustard

1

tablespoon

tomato paste

1

tablespoon

Worcestershire sauce

1

tablespoon

vinegar based hot sauce

1

teaspoon

red pepper flakes

1

teaspoon

ground black pepper

1

teaspoon

kosher salt

½

teaspoon

smoked paprika
Instructions
Add all ingredients into a 2 quart saucepan and bring to a simmer.

Simmer for 5 minutes, ensuring that the brown sugar is well dissolved.

Place sauce in the refrigerator to cool and use within a week.
Notes
You can store this in any air-tight container, but a simple squeeze bottle works best.
Nutritional Information
Calories:
15
kcal
|
Carbohydrates:
2
g
|
Protein:
1
g
|
Fat:
1
g
|
Saturated Fat:
1
g
|
Sodium:
200
mg
|
Potassium:
50
mg
|
Fiber:
1
g
|
Sugar:
2
g
|
Vitamin A:
87
IU
|
Vitamin C:
1
mg
|
Calcium:
7
mg
|
Iron:
1
mg