If you want to make Gumbo from scratch, this recipe will compete with the best on Bourbon street! Using a gumbo roux and okra for thickening, this hearty stew will give you a taste of the Big Easy!
I've been making gumbo from scratch since I first learned how to cook. For whatever reason, I have always been enamored by creole and cajun cuisine. Once I even planned a road trip down to New Orleans just to enjoy all of the great food, but the week before I left I got a notice from the IRS saying they adjusted my tax return by $1000. Needless to say, it wasn't in my favor.
Someday I will make it down to Bourbon street, but in the meantime, my kitchen can whip out food just as good as any restaurant in the Big Easy. I've been tweaking my Red Beans and Rice, Jamabalya, and Gumbo recipes for years. Oh, and not to mention, my homemade creole seasoning recipe.
Gumbo is a traditional Lousiana stew served with rice. To make a gumbo from scratch you need to understand how to thicken it properly. After all, who wants to eat a runny gumbo? Traditionally gumbo is thickened with file powder, okra, or a gumbo roux. Personally, I find it is easiest to thicken with okra or a roux. My recipe calls for both.
Okra is a great natural thickener because its slimy nature actually has powerful thickening properties, plus the chunky vegetable adds great texture and flavor to the stew.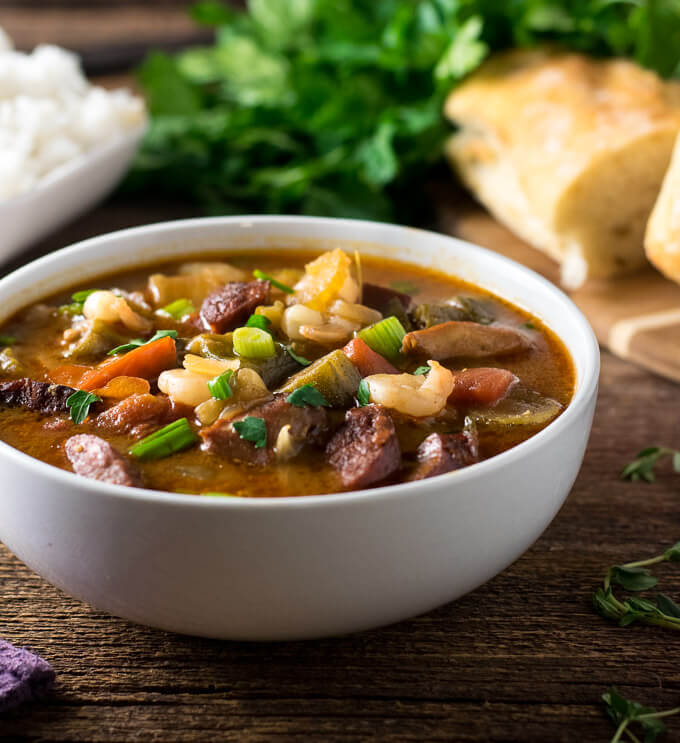 Gumbo Roux
To thicken a gumbo with a roux isn't difficult, however, it takes more attention as you don't want it to burn. Basically, a roux is a mixture of equal parts flour and fat that is cooked together prior to incorporating into a stew. The fat can be butter, oil, lard, or even bacon grease. It is used so frequently in cajun cooking it is often referred to as "Cajun Napalm".
A roux can be blond colored, or cooked until a deep brown. The more it is cooked, an increasingly nuttier flavor is imparted. However, if you wish to create a lightly colored roux you still need to make sure you heat it long enough to cook out the raw flour taste. I heat my roux for a minimum of 5 minutes every time.
Finally, it is very important you pay close attention to the roux as it cooks. You need to whisk continually so it doesn't burn. If the roux burns you need to dump it out and start the roux again or your Gumbo will have a bitter burnt taste.
Did you know you can buy Gumbo Roux? Personally I recommend making it, however, it is a nice shortcut if you are looking for one.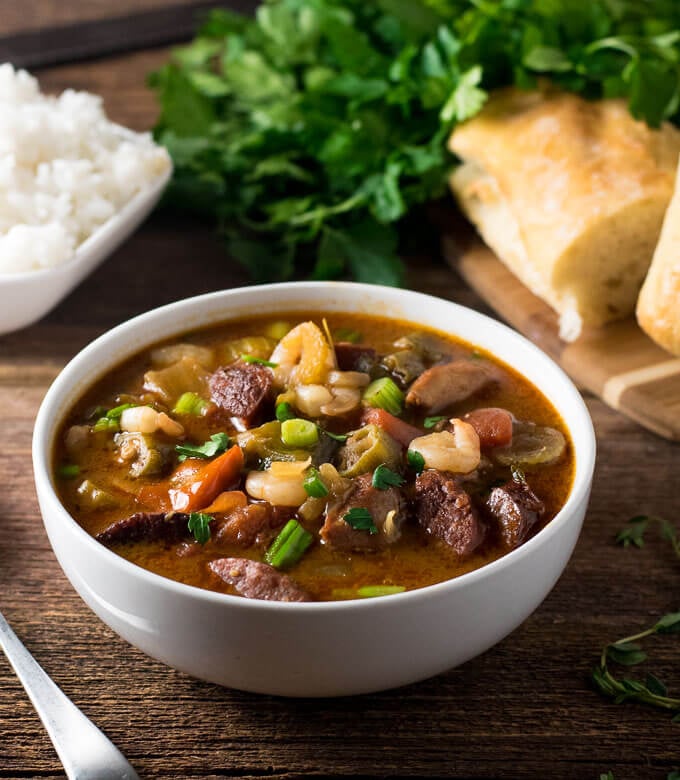 Gumbo from Scratch - Ingredients
To make a good Gumbo from scratch you need to know the Holy Trinity. No, not the Father, Son, and Holy Ghost. Though they are important too, I am actually referring to onions, celery, and peppers. This is a staple in cajun cuisine. You can't make traditional gumbo without it.
Next, you get to choose your protein. This Gumbo recipe calls for chicken, andouille sausage, and shrimp. However, you can use any combination of these with great results. I often make a chicken and sausage gumbo instead. If you aren't familiar with it, Andouille sausage is a popular smoked pork sausage in Louisiana, however, you can find it at grocery stores around the country. Like much of cajun cuisine, Andouille sausage has it roots in French cooking.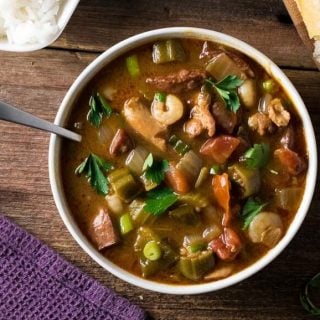 Gumbo from Scratch with a Gumbo Roux
If you want to make Gumbo from scratch, this recipe will compete with the best on Bourbon street! Using a gumbo roux and okra for thickening, this hearty stew will give you a taste of the Big Easy!
Print
Pin
Rate
Save
Saved
Ingredients
3

large boneless skinless chicken thighs,

chopped

1

pound

Andouille sausage,

halved lengthwise and cut into ¼-inch slices

¼

cup

vegetable oil

½

cup

all-purpose flour

5

tablespoons

butter,

divided

1

large onion,

chopped

6

cloves

garlic,

minced

1

green bell pepper,

seeded and chopped

3

stalks celery,

chopped

Salt and pepper

¼

cup

Worcestershire sauce

2

Bay leaves

1

bunch fresh Thyme

1

tablespoon

Paprika

3,

14.5oz cans

Beef Stock

1,

14 oz can

diced tomatoes with juice

2

cups

frozen sliced okra

4

green onions

sliced, white and green parts

¼

cup

flat leaf parsley

stems and leaves, coarsely chopped, plus chopped leaves for garnish

½

pound

small shrimp

optional, peeled, deveined
Instructions
Heat small amount of oil in heavy-bottomed pot, such as a Dutch Oven. Add the sausage and cook until browned, then remove. Quickly brown chicken and remove.

Add rest of oil and sprinkle the flour over the oil, add 2 tablespoons of butter and cook over medium heat, stirring constantly, to make the gumbo roux. Cook until brown (peanut butter colored), about 10 minutes (roux will appear chunky at first but it will thin out as it cooks). Adjust oil as needed to make roux. Let the roux cool (i.e. stop it from cooking further) by removing it from heat.

Add the remaining 3 tablespoons butter and the onion, garlic, green pepper and celery (this should cool roux) and return to heat and cook for 10 minutes. Add Worcestershire sauce, salt and pepper, to taste.

Add stock, chicken, sausage, thyme, paprika, and bay leaves, whisking constantly. Bring to a boil, then reduce the heat, cover, and simmer for 45 minutes. Add tomatoes, and okra; cover and simmer for an additional 1 hour.

Remove bay leaf and bunch of thyme. Add the green onions, shrimp, and chopped parsley.

Flavors intesify if refrigerated overnight.

Serve over rice.
Nutritional Information
Calories:
435
kcal
|
Carbohydrates:
14
g
|
Protein:
26
g
|
Fat:
31
g
|
Saturated Fat:
12
g
|
Polyunsaturated Fat:
4
g
|
Monounsaturated Fat:
12
g
|
Trans Fat:
1
g
|
Cholesterol:
154
mg
|
Sodium:
739
mg
|
Potassium:
625
mg
|
Fiber:
2
g
|
Sugar:
3
g
|
Vitamin A:
1240
IU
|
Vitamin C:
25
mg
|
Calcium:
86
mg
|
Iron:
3
mg
If you enjoyed reading my Gumbo from Scratch recipe then you should probably like me on Facebook and follow me on Pinterest too. That's what I would do at least, because if you don't get to know me but you still use my recipe it is kind of like taking candy from a stranger, and your mom taught you not to do that. Don't disobey your mom, subscribe to Fox Valley Foodie today.