Your family will love these sweet and sticky Ginger Peach Glazed Chicken Thighs. Peach jam, orange juice, and ginger are reduced into a mouthwatering sauce, then lacquered onto these chicken thighs before baking to mouthwatering perfection. The skin is then briefly broiled to make it delectably crisp.
This Sticky Ginger Peach Glazed Chicken Thighs recipe was given to me by a good friend of mine. I think pretty much every recipe I've tried from her has been a hit, so I was eager to try this one as well. I am in love with this sauce. It not only is perfect for chicken thighs but any cut of chicken. It would even be excellent on pork or shrimp. Or even just on my fingers.
I love chicken thighs because they are such an inexpensive cut of meat. Despite their low cost, they really pack a lot of flavor. Actually, you will find I use them instead of chicken breasts in many recipes such as my Easy Crock Pot Honey BBQ Chicken, the dark meat is not only more flavorful it doesn't dry out as quickly making it perfect for the slow cooker.
My recipe for these Sticky Ginger Peach Glazed Chicken Thighs calls for baking and broiling. The baking cooks the chicken evenly, while the broiling at the end crisps the skin. If you are looking to save effort, you can certainly bake the chicken and skip the broiling. However, I think crisp chicken skin is worth the extra step!
In my opinion, the best way to bake chicken thighs is to place them on a wire rack. This elevates the chicken to allow it to cook more evenly. It will cook faster if you let them rest directly on the baking pan.
The above links are affiliate links. Any Amazon purchases made through these links help support FoxValleyFoodie.com at no additional cost to you.
Finally, if you aren't able to find peach jam at the store. You can substitute preserves or another similar product. Any will work well in the sauce. The key to creating the sticky sauce is ensuring it is reduced down enough. It takes about 15 minutes depending on the heat, but if it still looks excessively runny let it cook longer. If you find you reduced it too much, and you can't spread it on the chicken, add a splash of water to thin it out slightly.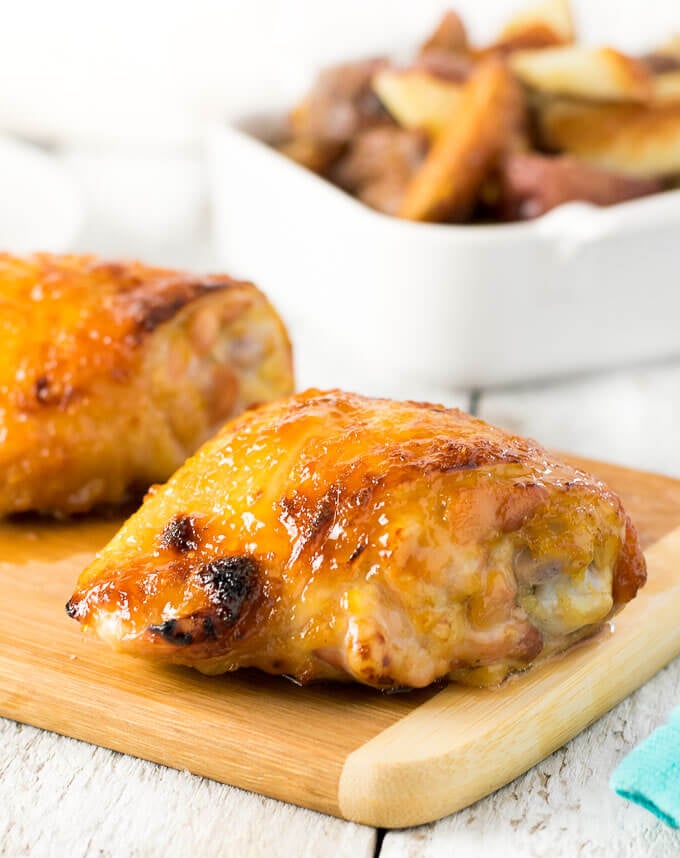 Print Recipe
Sticky Ginger Peach Glazed Chicken Thighs
Your family will love these sweet and sticky Ginger Peach Glazed Chicken Thighs. Peach jam, orange juice, and ginger are reduced into a mouthwatering sauce and then lacquered on these chicken thighs before baking.

Ingredients
5

chicken thighs

salt

pepper
Sauce
1/3

cup

peach jam

1/2

cup

orange juice

2

tbsp

apple cider vinegar

1

tbsp

dijon mustard

2

tsp

fresh ginger,

minced
Instructions
Preheat oven to 425 degrees.

Lightly salt and pepper the chicken thighs and set aside.

In a small saucepan add all sauce ingredients, bring to a boil and then reduce to a simmer. Continue cooking until it is reduced into a sticky syrup, ~15 minutes. Stir as needed.

Paint chicken thighs with sauce on all sides and set on wire rack on a baking pan.

Bake for 30 minutes, or until internal temperature reads 145 degrees, then turn on the broiler and finish cooking till the internal temperature reads 165 degrees with chicken 6" from broiler (second oven rack level), about 5-10 minutes. Watch closely and rotate as needed during broiling to prevent burning.

If you have leftover sauce, you can add an additional layer of sauce right before broiling.

Let cool slightly and serve.
Loved this recipe?

Be sure to rate it and share you thoughts below!
*Calories listed are a vague estimate and accuracy should not be assumed.
If you enjoyed reading my Sticky Ginger Peach Glazed Chicken Thighs recipe then you should probably like me on Facebook and follow me on Pinterest too. That's what I would do at least, because if you don't get to know me but you still use my recipe it is kind of like taking candy from a stranger, and your mom taught you not to do that. Don't disobey your mom, subscribe to Fox Valley Foodie today.