This post is sponsored by Michelob Ultra but the content and opinions expressed here are my own.
Tender stalks of perfectly grilled asparagus dotted with flame-kissed marks of char is certainly one of the most tantalizing cookout side dishes of all time.
As a kid, I remember glaring suspiciously at these strange green stalks that my father would pick from the yard and nearby ditches. He claimed asparagus was the ultimate treat, but I was sure it was nothing more than a cleverly disguised alien probe. Luckily, since he enjoyed them so much, he never forced us to share them with him.
I guess my father planted the seed, but it wasn't until I was an adult that I realized how downright delectable asparagus could be. As soon as I discovered How to Roast Asparagus in the Oven, I was hooked. It quickly became one of my favorite side dishes. Over the years we often return to my dad's house for family events and cookouts, and soon grilled asparagus became a regular feature when in season. It turns out, sometimes dad's do know best.
With Father's Day fast approaching it is time to celebrate the man in your life that shaped you into who you are today. Whether it was teaching you to ride a bike, catch a fish, or simply enjoy a strange new vegetable be sure to thank the ULTRA Dad in your life. Invite your dad over for a cookout, invite him fishing, or simply hang out and share some great memories together this coming weekend.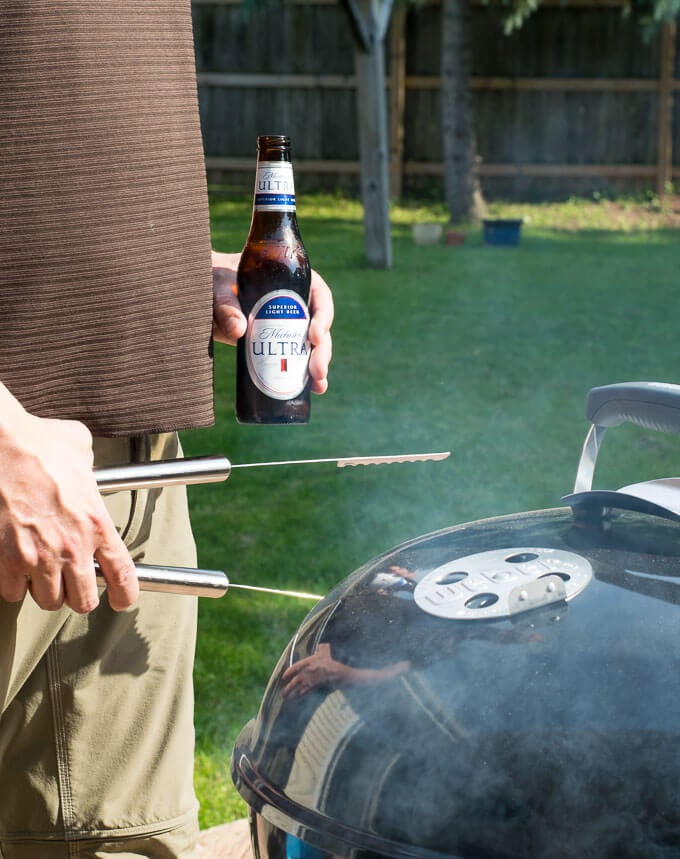 When gearing up for your father's day cookout, whether grilling burgers, grilling a whole chicken, or smoking ribs, be sure to pick up some Michelob ULTRA for everyone to enjoy as well. After all, is it really grilling without a beer in your hand?
Right now Michelob ULTRA has all of the beer gear you need to celebrate the father in your life. Check out these cool aprons, shirts, and other beer swag at ShopBeerGear.com. If they only sold fresh stalks of asparagus, it could be a one-stop Father's Day shop!
How to Trim Asparagus
When cooking asparagus it is important to trim the woody ends off the stalks.  The ends become overly fibrous and tough to chew, so they are best discarded. Typically you are safe to trim the final 1-2" of the stalk to remove the unwanted portion. However, if you are unsure where to cut exactly, try bending the stalk of asparagus. The portion that does not want to bend is the portion you need to trim.
How to Grill Asparagus in Foil
The easiest way to grill asparagus is in foil.  Cooking asparagus in foil on the grill is great because you don't have to worry about burning the asparagus, or having it fall through the grates. You simply wrap the asparagus in foil with your seasonings and oil and place it over the heat on the grill. The heat from the grill will cause the moisture from the asparagus to release, steaming the stalks inside the tightly sealed pouch.
How to Grill Asparagus
My favorite way to grill asparagus is without the use of foil. Grilling asparagus on the open grates is the most flavorful method. The stalks take on a mouthwatering char, and the smoke from the grill flavors each bite. The biggest pitfall you need to avoid is the stalks are often unruly, having a tendency to fall into the grill when you move them around.
The easiest way to avoid this is to place the asparagus on skewers. This holds them steady as they are flipped and turned on the grill. This works best with fat stalks of asparagus, or rather thin skewers. 
Asparagus grills quickly. Simply place it over high heat and let it char slightly. The stalks are typically perfectly tender before the asparagus burns. They only needs to grill 1-2 minutes per side.
Grilled Asparagus
Tender stalks of perfectly grilled asparagus dotted with flame-kissed marks of char is certainly one of the most tantalizing cookout side dishes of all time.
Print
Pin
Rate
Save
Saved
Ingredients
1

pound

fresh Asparagus

2

tablespoons

Olive Oil

Salt and Pepper to taste

(or your favorite seasonings)
Instructions
Trim the woody ends off the asparagus stalks.

On a large pan, drizzle oil, salt, and pepper over the asparagus stalks and toss to evenly coat.

Pierce the asparagus in a line with 2 skewers. This makes them more stable on the grill so they can be easily flipped without falling through the grates.

Place them on grill grates directly over charcoal, or high heat on gas grill. Let grill for 1-2 minutes per side, or until tender and char marks begin to form.
Notes
Feel free to get creative with your flavorings, for example, Old Bay Seasoning or  Balsamic Vinegar are also great to sprinkle on your asparagus before grilling.
Grilled Asparagus is the perfect side dish to serve with a grilled steak. Check out my How to Grill Steak write-up too!
Nutritional Information
Calories:
84
kcal
|
Carbohydrates:
4
g
|
Protein:
2
g
|
Fat:
7
g
|
Saturated Fat:
1
g
|
Sodium:
2
mg
|
Potassium:
229
mg
|
Fiber:
2
g
|
Sugar:
2
g
|
Vitamin A:
855
IU
|
Vitamin C:
6.4
mg
|
Calcium:
27
mg
|
Iron:
2.4
mg
If you enjoyed reading my Grilled Asparagus recipe then you should probably like me on Facebook and follow me on Pinterest too. That's what I would do at least, because if you don't get to know me but you still use my recipe it is kind of like taking candy from a stranger, and your mom taught you not to do that. Don't disobey your mom, subscribe to Fox Valley Foodie today.