This post is sponsored by Sparkling ICE but the content and opinions expressed here are my own.
A lively mixture of bright fruity flavors mingles with mint, rum, and Sparkling Ice in this Mystery Melon Skinny Cocktail.
Who doesn't love a good mystery? Like, when you put two socks in the dryer and only one comes out, or when there is a cookie missing and your child has chocolate chips smeared all over their face, but they swear they didn't steal any... I guess some mysteries are never meant to be solved.
However, Sparkling Ice has unveiled a new mystery fruit flavor that requires your discerning taste buds to figure out what the heck it is! I suspect D.B. Cooper himself crafted this drink, but vanished before telling anyone what is in it. I can tell you one thing though, it makes a great skinny cocktail, and if you can figure out what the flavor is you can win some great prizes! OK, I guess that was 'two' things actually.
What is a Skinny Cocktail
A skinny cocktail is a term for any cocktail where a primary flavoring is substituted for a low-calorie alternative. In the case of this Mystery Melon Skinny Cocktail, zero calorie Sparkling Ice is used instead of a more caloric filler like lemon-lime soda. Will drinking skinny cocktails make you skinny? Probably not, but a man can dream...
What is Sparkling Ice
Sparkling Ice flavored water is a colorful concoction, full of fizziness, flavor, and fun. Actually, you need to bring your own fun. I just needed another word that starts with "F" because I have a thing for alliterations. However, it does have a bunch of other good stuff like natural flavors, vitamins and antioxidants, and zero sugar - that is kind of like fun, isn't it? 
What is the Sparkling Ice Mystery Fruit Flavor 
I have my guess, but I am not going to tell you! Instead, you need to run to the store, pick up a few bottles of Sparkling Ice Mystery Fruit Flavor and have your own taste test with your friends. Once you figure it out, head to Sparkling Ice's Facebook Page to submit your guess and be entered to win one of 450 prizes, including a 'Grand Mystery Trip'... Just hope D.B. Cooper didn't concoct that too...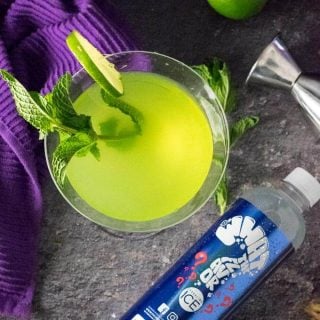 Mystery Melon Skinny Cocktail
A lively mixture of bright fruity flavors mingles with mint, rum, and Sparkling Ice in this Mystery Melon Skinny Cocktail.
Print
Pin
Rate
Save
Saved
Ingredients
4

oz

Sparkling Ice Mystery Flavor

(or to taste)

2

oz

White rum

1

oz

Lime juice

(1 small lime)

½

oz

Melon liquor

(such as Midori)

1

sprig

Mint
Instructions
Add lime juice and mint to a glass or shaker and muddle the mint to release flavor. Remove the mint.

Add melon liquor, rum, and Sparkling Ice, stir and enjoy.
If you enjoyed reading my Mystery Melon Skinny Cocktail recipe then you should probably like me on Facebook and follow me on Pinterest too. That's what I would do at least, because if you don't get to know me but you still use my recipe it is kind of like taking candy from a stranger, and your mom taught you not to do that. Don't disobey your mom, subscribe to Fox Valley Foodie today.