These crock pot Italian beef sandwiches are done right, Chicago style! Each tender sandwich is infused with Italian seasonings and served on a hoagie dripping with juice and loaded with crunchy giardiniera! Not only are they perfect for serving a crowd, they are effortless to make with a crock pot!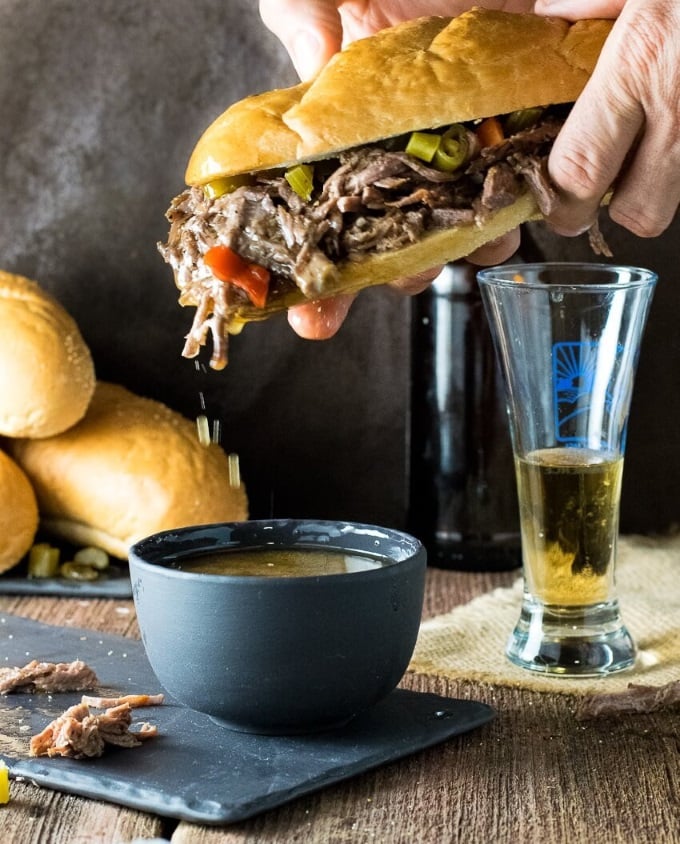 Warning – This sandwich is best enjoyed reminiscing about the '85 Chicago Bears and waxing nostalgically about Mike Ditka. Actually, if da coach were a food blogger an Italian Beef Sandwich recipe would likely be published each week, along with a buzzing Instagram feed of whatever William Perry is eating.
What is a Chicago Italian Beef Sandwich?
More than likely Chicago natives are ready to chastise me for using a slow cooker and shredding the meat for this Chicago specialty. If you are wondering what authentic Italian Beef sandwiches are, traditionally Chicago-style Italian Beef recipes feature an oven-roasted rump roast that is cut into thin slices with a deli slicer, then piled onto a hoagie roll, loaded with crunchy giardiniera, and dipped in the savory au jus!
However, since I suspect most of you don't have a deli slicer at home, shredding these crock pot style is a worthy compromise. However, if you do buy a home deli slicer, get two and share with me. You'll be my favorite reader for a day.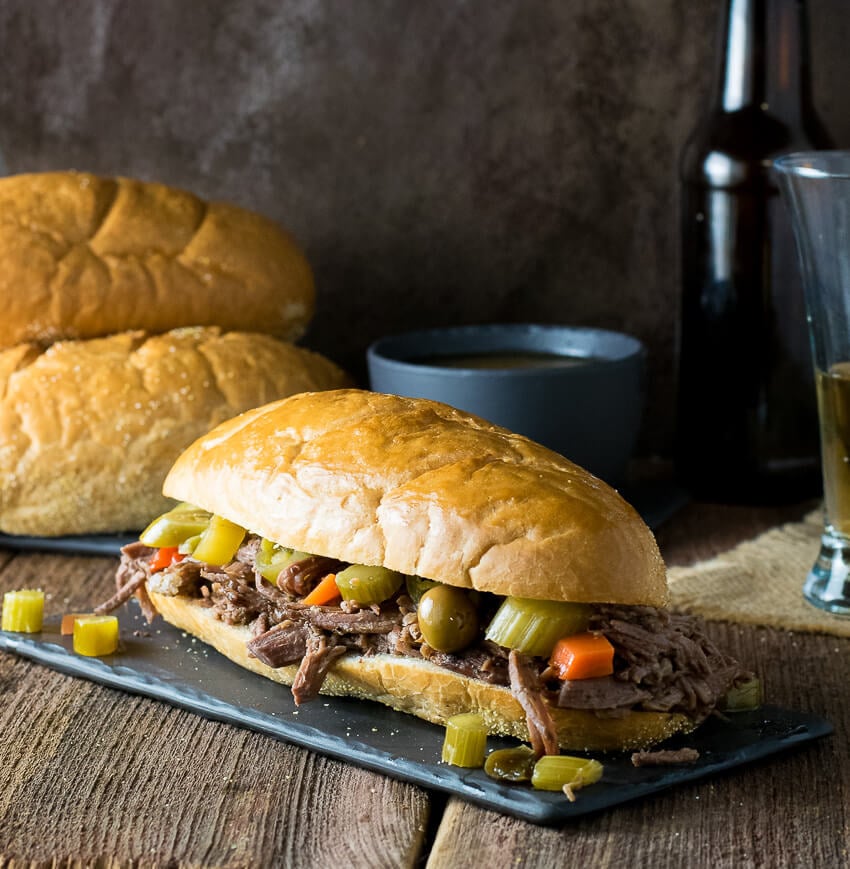 Ingredients and Substitutions
Rump roast - Another cut of beef, such as most any beef stew roast can be substituted. Boneless beef chuck roast is a great option.
Beef broth - Beef stock works perfectly well too. If you want more control over the salt content use low sodium beef broth or stock.
Pepperoncini peppers - You want the peppers in a jar, these are typically found by the pickles in the grocery store. Banana peppers are also a great substitute.
Bay leaves
Italian dressing mix - Italian dressing seasoning mix is typically found near the salad dressings in the grocery store.
Ground Black Pepper
Dried Oregano - You can substitute Italian seasoning.
Dried Basil - You can substitute Italian seasoning.
Onion Powder
Garlic Powder
How to make it in the slow cooker
Crock Pot Italian Beef Sandwiches are the perfect set-it-and-forget-it meal. It takes a few minutes to load up the slow cooker with your large roast, broth, peppers, and seasonings. Then you simply go about your day as your home gets filled with the most fragrant aromas!
I have my recipe set to cook on high for four hours, however, you can certainly leave it on low and let it simmer all day. You don't have to worry about crock pot Italian beef overcooking, it just gets more tender and flavor-infused. Once the beef is fork tender, shred beef with a fork and pile the shredded meat on a bun with a ladle of the cooking liquid.
Since no Italian beef recipe is complete without it, I considered including a giardiniera recipe with this post. However since it is a multi-day process to prepare, I figured that defeated the purpose of having an easy crock pot Italian beef sandwiches recipe.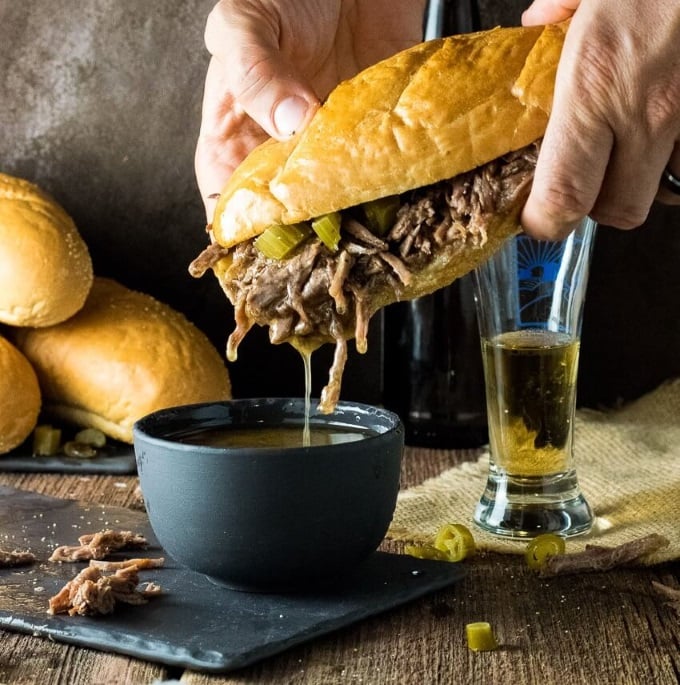 What is the best bun for Italian beef sandwiches?
A classic Chicago-style Italian beef sandwich is dipped in the cooking juices so it is important your bun of choice can stand up to the liquid. An overly light and airy bun is no match for these hearty sandwiches, as they will quickly become saturated and begin falling apart. Instead, look for slightly chewy (rather than overly hard and crusty rolls) hoagie buns, or French / Italian baguette, that can soak up the juice and still maintain its structure.
More Slow Cooker Sandwiches
Storing and Reheating Leftovers
Your leftover Italian beef should be placed in an airtight container and stored in your refrigerator. It is best eaten within five days. Alternatively, your Italian roast beef can also be frozen. Simply place it in a freezer bag, or similar freezer-safe container and freeze up to three months.
The leftover beef can easily be reheated in the microwave or gently simmering it with au jus in a saucepan.
Note: This is a great recipe to make in advance for a party or game day because the flavor of the beef will improve the next day as everything melds together.
Can you do me a favor? If you enjoyed my post would you mind sharing it with your friends? You can see more of my recipes by liking me on Facebook and follow me on Pinterest too. Otherwise, stay up to date by getting each new post sent directly to your inbox by subscribing today.
Crock Pot Italian Beef Sandwiches - Chicago Style
These Chicago-style crock pot Italian beef sandwiches are piled with tender beef and served on a hoagie dripping with juice!
Print
Pin
Rate
Save
Saved
Ingredients
4

pounds

Rump roast

(Any stew roast can be substituted, like Chuck Roast)

2

cup

Beef broth

1

cup

sliced Pepperonchini peppers

drained

2

Bay leaves

2,

Italian dressing seasoning packets

(each packet is typically .7 ounces)

1

teaspoon

Fresh Black Pepper

1

teaspoon

Dried Oregano

1

teaspoon

Dried Basil

1

teaspoon

Onion Powder

1

teaspoon

Garlic Powder

1

teaspoon

salt

or to taste
Instructions
Add all ingredients to your slow cooker and set on high.

Cook 4-5 hours, or until the beef roast is easily shredded, then shred with a fork.
Serving
This is meant to be a juicy sandwich. Either ladle out some juice to dip your sandwich in, or add the beef to the hoagie along with a generous splash of juice.

Top meat with giardiniera and enjoy.
Nutritional Information
Calories:
261
kcal
|
Carbohydrates:
1
g
|
Protein:
41
g
|
Fat:
9
g
|
Saturated Fat:
3
g
|
Polyunsaturated Fat:
0.4
g
|
Monounsaturated Fat:
4
g
|
Cholesterol:
112
mg
|
Sodium:
534
mg
|
Potassium:
658
mg
|
Fiber:
0.2
g
|
Sugar:
0.03
g
|
Vitamin A:
7
IU
|
Vitamin C:
0.1
mg
|
Calcium:
45
mg
|
Iron:
4
mg