These Easy Crock Pot French Dip Sandwiches are as simple as adding the ingredients to your slow cooker and letting it infuse your house with the intoxicating aroma of beef simmering in a richly seasoned au jus until it reaches mouthwatering perfection.
There is something about the aroma of a crock pot wafting through the air as the snow falls outside your window. Am I right? Crock pots are great during summer because they won't heat up your kitchen on sultry days, but they really encapsulate the idealistic winter day when a comforting meal is spitting and sputtering away in a bath of bubbling broth.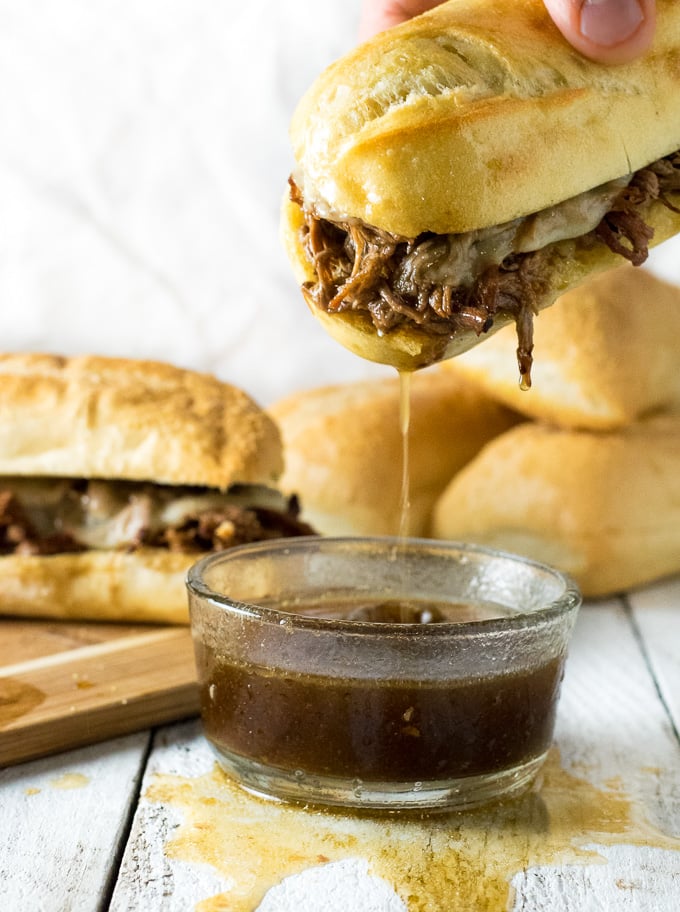 Crock Pot French Dip Sandwiches
During the heart of January, nothing will quite warm up your house like the smell of this easy Crock Pot French Dip cooking on your countertop! And the wait is certainly worth it, the hours transform a simple chuck roast into succulent shreds of flavor-infused beef. Perfect for dunking in a seasoned au jus broth!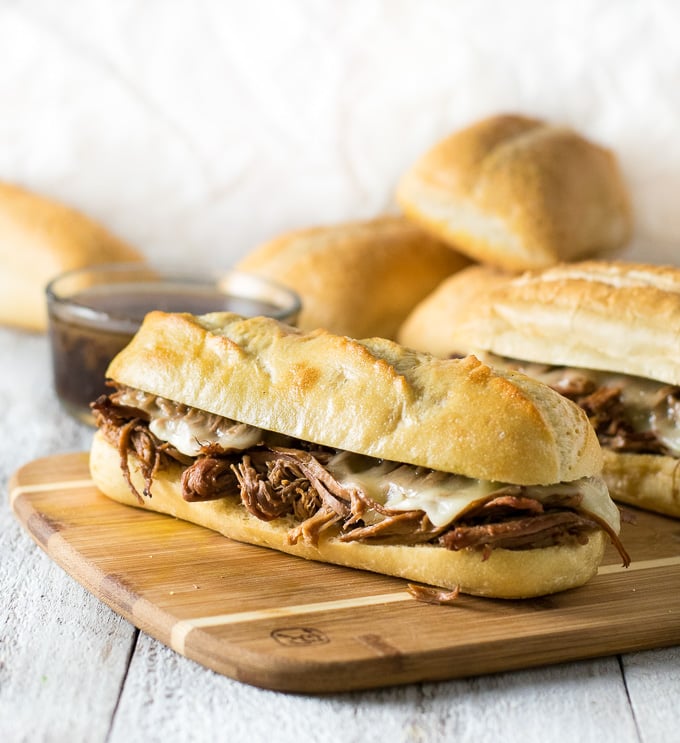 There are two ways you can make this: An authentic French Dip Sandwich is made with thinly sliced beef. However, the easier way is just to let the beef continue to cook in the crock pot until it is easily shreddable. This way is easier because you don't have to monitor the meat to make sure you carve it before it begins to fall apart.
Needless to say, you will need a slow cooker to make these Crock Pot French Dip sandwiches. When buying a slow cooker there are only a couple features I look for: Does it have high, low, and keep warm? And if you plan on bringing it to pot-lucks it is nice to have a latching lid. Beyond that, I see no reason to get overly extravagant with your purchase.
The above link is an affiliate link. Any Amazon purchases made through this link helps support FoxValleyFoodie.com at no additional cost to you.
Best Cheese for French Dip Sandwiches
A mild and creamy cheese is preferred for French Dip Sandwiches, with Provolone cheese being the best. Mozzarella cheese and Monterey Jack cheese would both be acceptable substitutions if needed. Stay away from strongly flavored cheeses like sharp cheddar which will mask the flavors of your 'jus'.
Best Cut of Beef for These Sandwiches
If you are thinly slicing the beef for an authentic French Dip Sandwich, I would recommend using rump roast. However, a less expensive chuck roast is ideal for a shredded Frech Dip Sandwich in the slow cooker. As it cooks the slow cooker will slowly break down the tough cut of meat into delectably tender morsels perfect for piling high on a French roll.
What is Au Jus?
Au Jus literally means, "with juice". All of the best French Dip recipes will call for dunking the sandwich in the cooking liquid. It's what makes a French Dip a French DIP.
Beer, condensed onion soup, and beef consomme combine to make an exceptionally flavorful jus for dipping. Even better, when using a chuck roast for Crock Pot French Dip Sandwiches the fat will create a more luxurious dipping liquid as it renders out.
Best French Dip Bun
Since a French Dip is obviously dipped, you need a bun that can withstand a bit of liquid without completely falling apart. For this reason, you will want to stay away from buns that feel excessively light an airy. A small French Baguette is a great choice for this sandwich or even a chewy hoagie roll.
What to Serve with French Dip Sandwiches?
Any decent greasy-spoon diner will offer to serve you french fries with your French dip sandwich, but don't forget about baked sweet potato fries for a flavorful twist. Alternatively, you can go with a lighter side such as my Kale and Broccoli Salad, or simply potato chips for a hassle-free option.
More Slow Cooker Sandwich Recipes
Easy Crock Pot French Dip Sandwiches
These Easy Crock Pot French Dip Sandwiches are as simple as adding the ingredients to your slow cooker and letting it infuse your house with the intoxicating aroma of beef simmering in a richly seasoned au jus until it reaches mouthwatering perfection.
Print
Pin
Rate
Save
Saved
Ingredients
4

pounds

beef roast

(rump roast for slicing or chuck roast for shredding)

10.5

oz

can beef consomme

(found by condensed soups)

10.5

oz

can condensed French onion soup

12

oz

Guiness beer

1

tablespoon

worchestershire sauce

1

teaspoon

black pepper

2

cloves

of garlic

salt to taste
Sandwich
6

French rolls

6

slices

Provolone cheese
Instructions
Add beef and all liquid/seasoning ingredients to the crock pot and set on high.

If you prefer to slice the beef, cook 3-4 hours, then remove beef from crock pot while still slightly firm and slice very thinly.

If you prefer shredded beef (easier), cook for 5 hours and shred with forks when tender, removing chunks of fat.

Preheat oven to 350 degrees.

Remove meat from crock pot, reserving juices, and pile meat on buns, topped with cheese.

Bake buns in the oven for 5 minutes, or until cheese has melted and buns warm.

Serve immediately with reserved juices (au jus) for dipping.
Nutritional Information
If you enjoyed reading my Easy Crock Pot French Dip Sandwiches recipe then you should probably like me on Facebook and follow me on Pinterest too. That's what I would do at least, because if you don't get to know me but you still use my recipe it is kind of like taking candy from a stranger, and your mom taught you not to do that. Don't disobey your mom, subscribe to Fox Valley Foodie today.