Seasoned liberally with smoked paprika, Hungarian Beef Goulash is a hearty central European stew perfect for warming you up on cold winter evenings.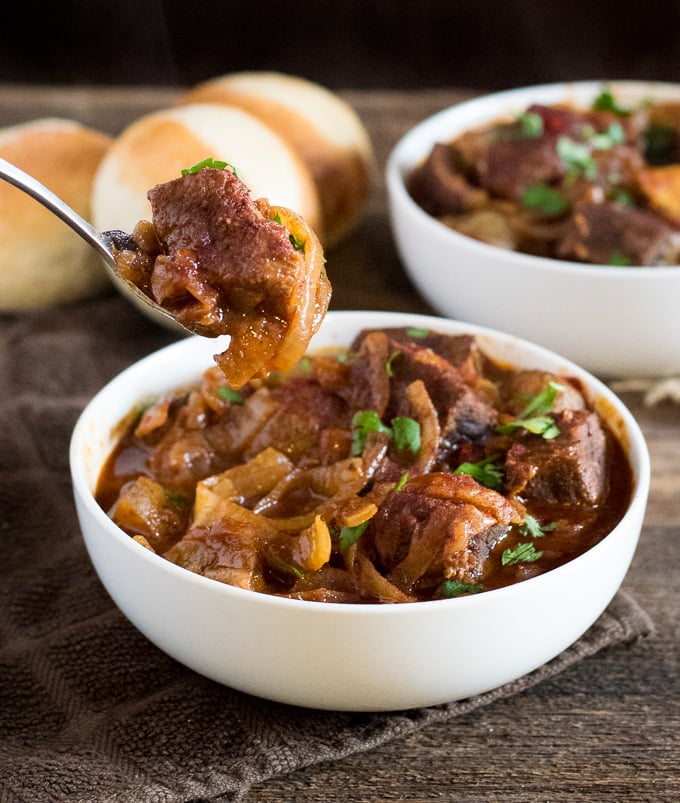 My stepson has now reached the age where he wants to hang out at his friend's houses, which means my wife and I have to be social with strangers to get to know his friend's parents... You know, to make sure they aren't secretly mobsters, druggies, or vegans. I'm not going to lie, I'm not looking forward to it. Don't we already know enough people? Introverted parenting problems I guess.
That is the great thing about running a website, I can be social from a distance!
However, if I have to be social and have strangers over for dinner I can make them this Hungarian Beef Goulash. It is a great social dish because most of the prep work is done in advance, leaving it to simmer on the stove while you make awkward small talk in the living room. Plus this stew is brimming with seared beef so you can quickly determine if your new found friend are vegan, without directly confronting them.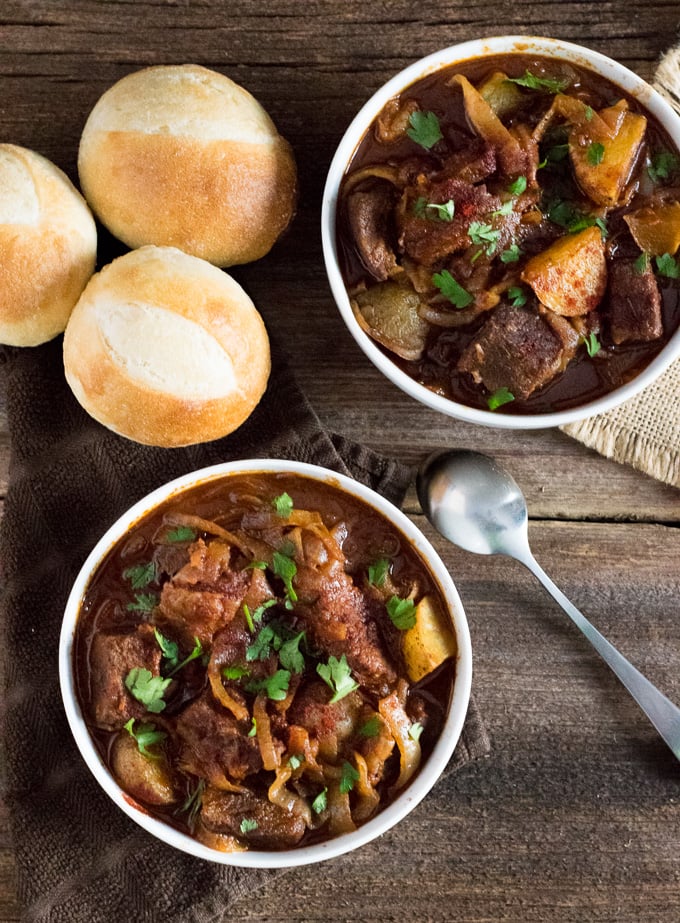 I originally discovered this recipe quite a few years ago in a cookbook called Art of the Slow Cooker. It is really a great cookbook for anyone looking to bring your slow cooker meals to the next level. This cookbook goes beyond the simple dump and cook method and helps you add layers of flavor to your meals.
As you can tell by my Hungarian Beef Goulash recipe, I eliminate the slow cooker and adapted the recipe for use on the stove top. You are however welcome to use a slow cooker to simmer the stew instead.
The above links are affiliate links. Any Amazon purchases made through these links help support FoxValleyFoodie.com at no additional cost to you.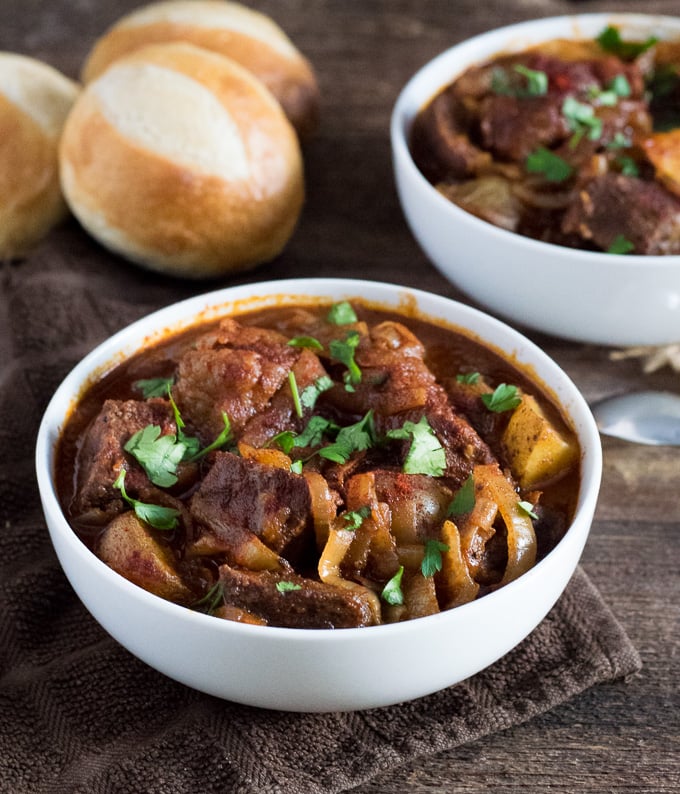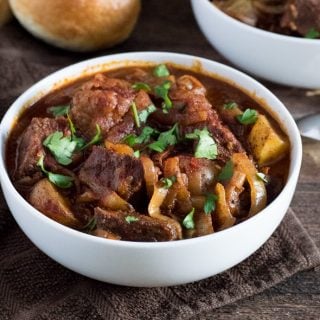 Hungarian Beef Goulash
Seasoned liberally with smoked paprika, Hungarian Beef Goulash is a hearty central European stew perfect for warming you up on cold winter evenings.
Print
Pin
Rate
Save
Saved
Ingredients
6

slices

large yellow onions,

halved and cut into ¼"

2

lbs

golden/red potatoes,

cut into 1" chunks

4

tablespoon

vegetable oil,

divided

2 ½

lbs

beef chuck,

cut into 1" chunks

1

cup

beef stock,

divided

3

tablespoon

flour

1

teaspoon

caraway seeds

3

tablespoon

smoked paprika,

divided

1

teaspoon

kosher salt

1

tablespoon

brown sugar

1

tablespoon

ketchup

1

tablespoon

cider vinegar

1

tablespoon

fresh parsley
Instructions
Preheat the oven to 375. Toss the onions and potatoes in 1 tablespoon of oil each, separately. Place them in the oven on separate racks and roast onions until lightly browned, about 45 minutes, tossing halfway through. Roast potatoes until exterior has formed a nice crust and interior is easily pierced with a fork.

Remove pans from oven and scrape up any brown bits clinging to the pans using ½ cup of the beef stock.

Add onions stock pot. Reserve potatoes.

While onions and potatoes roast mix flour, caraway seeds, 1 tablespoon paprika and salt in a bowl. Add beef chunks and toss to coat. Shake off extra flour and reserve the flour mixture.

Heat 1 tablespoon of oil in skillet and add beef in batches to brown. Add additional oil with each batch as needed. Add each batch to stock pot once browned.

Add any remaining flour to the skillet and stir till lightly browned. Add in remaining ½ cup of beef stock, brown sugar, ketchup, vinegar, and 1 tablespoon paprika. Bring to a boil and add to slow cooker.

Cook everything for 4 hours, or until beef is fork tender. Potatoes can be added in the last hour.

5 minutes prior to finishing add remaining tablespoon of paprika and chopped parsley.
Nutritional Information
If you enjoyed reading my Hungarian Beef Goulash recipe then you should probably like me on Facebook and follow me on Pinterest too. That's what I would do at least, because if you don't get to know me but you still use my recipe it is kind of like taking candy from a stranger, and your mom taught you not to do that. Don't disobey your mom, subscribe to Fox Valley Foodie today.