Refrigerator pickled sausage is a tangy treat featuring smoked sausage soaked in a tangy brine to pickle, then stored in your refrigerator to develop flavor.
I love this recipe because it is a great way to create a really versatile tasty snack. It is excellent on its own as a bar snack, similar to my bar pickled eggs, but these tangy cooked sausages are also great to grab on the go when you just need a quick bite to eat, or you are just craving their delectable sour flavor.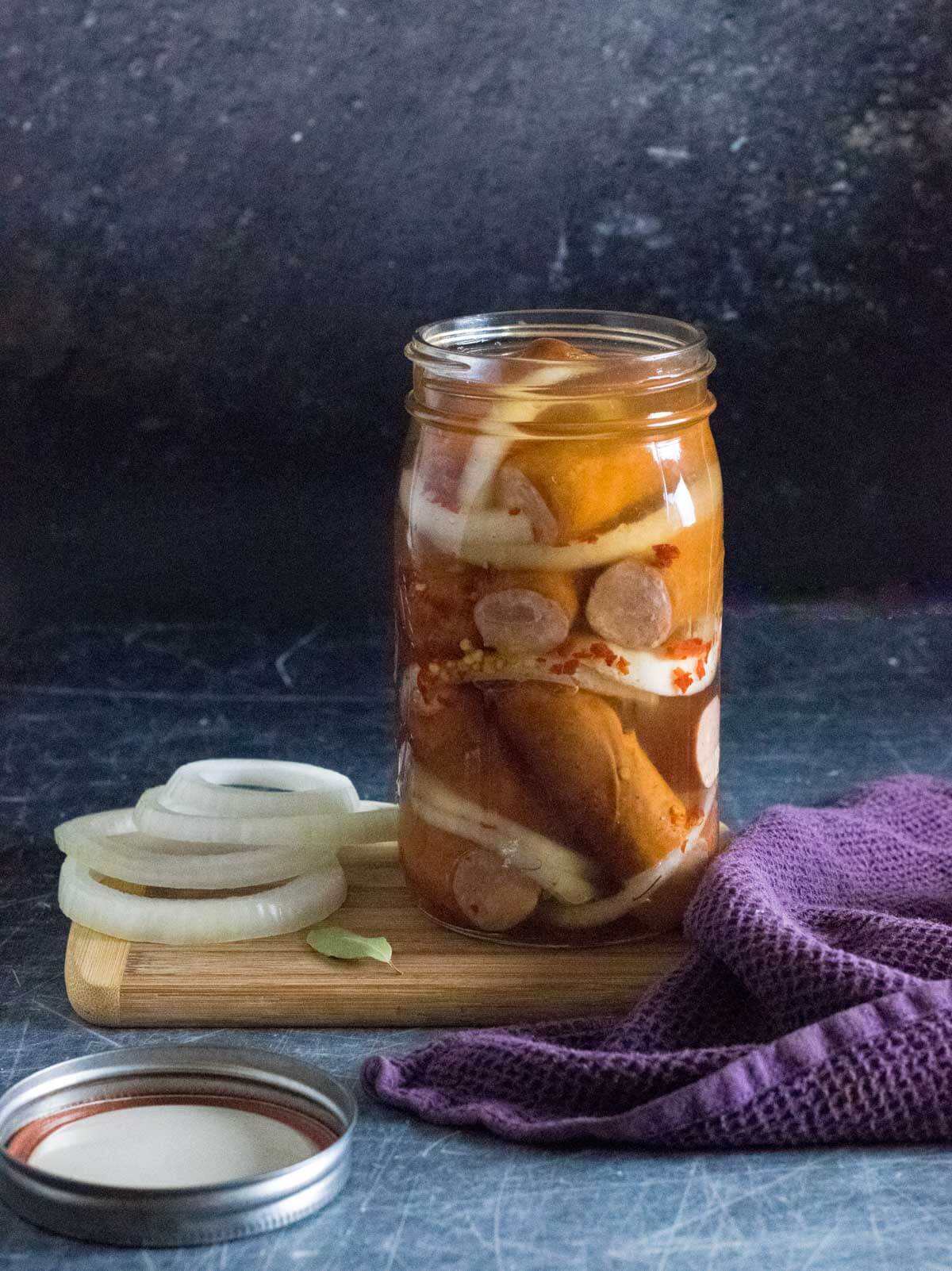 Best of all, the pickling process is exceedingly simple. Using only simple ingredients and fully cooked sausage, you only need to prepare the brine, cool it, and then place the sausages in the mason jar to soak!
What is it?
Pickled sausage consists of fully cooked smoked sausages that are soaked in a flavorful vinegar brine with onions, garlic, herbs, and seasoning, similar to traditional pickled eggs. This easy pickling recipe is flexible, leaving you with quite a few great options on which sausages to use, and which herbs and seasonings you would like to include in the pickling liquid. You can even pickle sausage with eggs.
Ingredients and Substitutions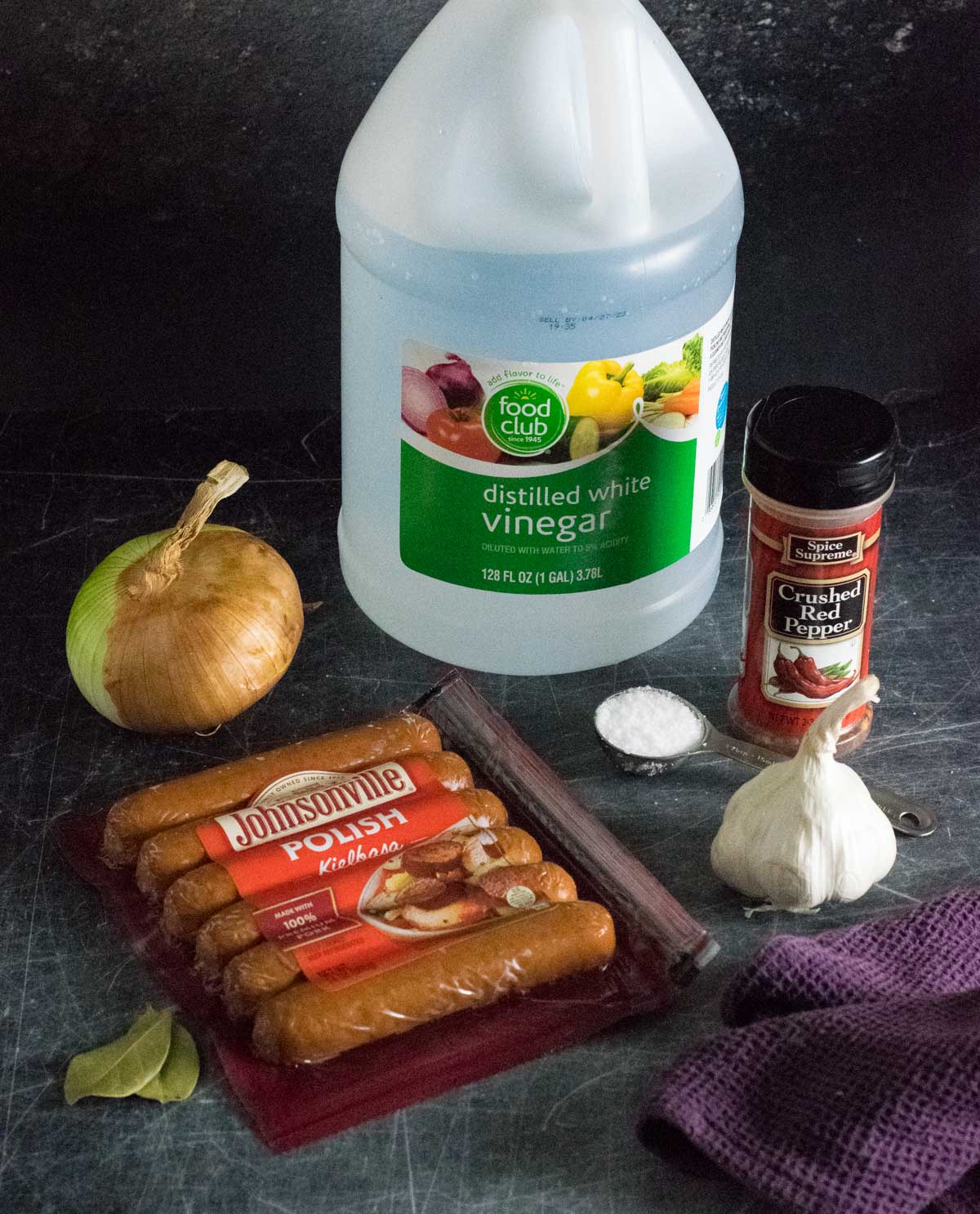 Smoked sausage - You can use any fully cooked smoked sausage you find at the grocery store. I like using a small Polish sausage, like Kielbasas because they have a mild flavor that allows the brine to shine. Otherwise, little smokies work great too! Avoid overly large sausages as they will take longer to soak up flavor.
Yellow onion - A sweet onion can be substituted.
White vinegar - You can also use apple cider vinegar for a different flavor.
Salt - Table salt will work, but pickling salt will give you a more clear brine because it does not contain iodine.
Crushed red peppers - These add a subtle heat, and can be omitted if you are heat adverse.
Garlic cloves
Bay leaves
Other additions: Feel free to customize this recipe with different flavors by using your favorite herbs and seasonings such as fresh thyme, allspice, black peppercorns, hot sauce, or a homemade pickling spice blend. If you want your sausages to be visually like a copycat recipe of Penrose sausages, you can add some red food coloring to create a red brine, but I don't do that personally.
How to make it
This easy pickled sausage recipe is pretty effortless to make because it is refrigerator pickled rather than canned and processed in a water bath. To begin, cut up the sausage links into pieces that are no more than a couple of inches long.
Add the vinegar, water, salt, crushed red pepper flakes, garlic, and bay leaves to a small saucepan and set on the stovetop. Turn the burner on medium-high heat and bring the mixture to a boil, then reduce the heat to control the simmer. Let simmer until the salt has dissolved.
Cool the hot vinegar mixture to room temperature and layer your sausages and sliced onion in quart jars. Pour the cooled brine into the quart jar to cover the sausages completely, then seal the jars and place them in your refrigerator. Let the sausages sit in the pickling brine for a week and then enjoy.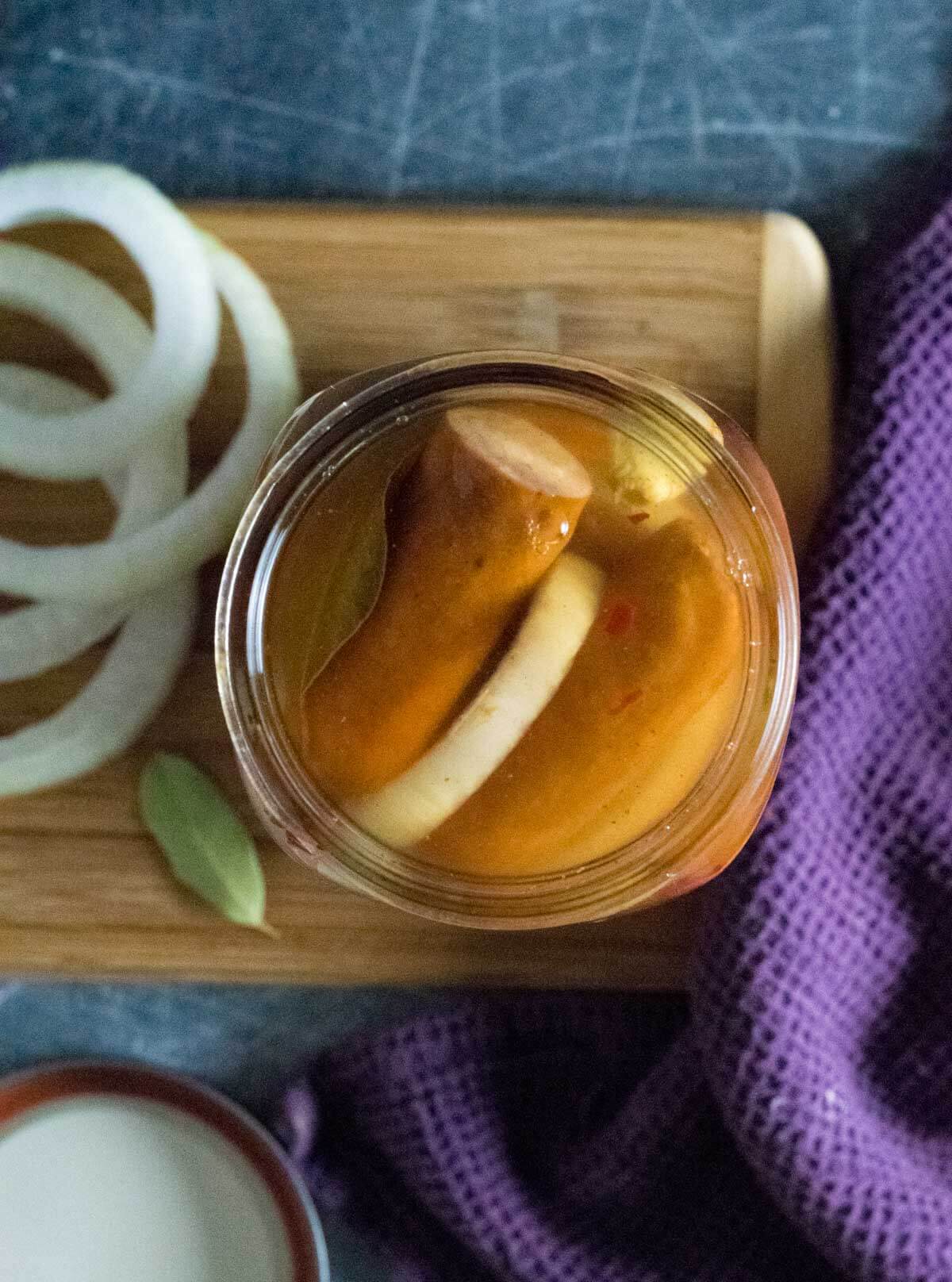 Storing Pickled Sausages
This is a refrigerator pickle recipe, not a canning recipe. Do not attempt to process these pickled sausages for canning because this recipe has not been tested for long-term storage at room temperature. Your mason jars of pickled sausages should be stored in your refrigerator. For best flavor, I recommend letting them soak for a week prior to eating them, or three days at a minimum.
Recipe FAQs
Do pickled sausages need to be cooked?
No, you do not need to cook the sausage prior to pickling them because you should be using smoked sausages that are already fully cooked when they are purchased at the grocery store.
Do pickled sausages need to be refrigerated?
Yes, even though your pickled sausages are in a vinegar brine, they still need to be refrigerated when not being eaten.
What sausages can be pickled?
You can use any fully cooked sausage for pickling. Smoked sausages will have the best flavor. Smaller kielbasa sausages are a great option, as are lit'l smokies, and beef sticks.
More Pickling Recipes
Can you do me a favor? If you enjoyed my post would you mind sharing it with your friends? You can see more of my recipes by liking me on Facebook and follow me on Pinterest too. Otherwise, stay up to date by getting each new post sent directly to your inbox by subscribing today.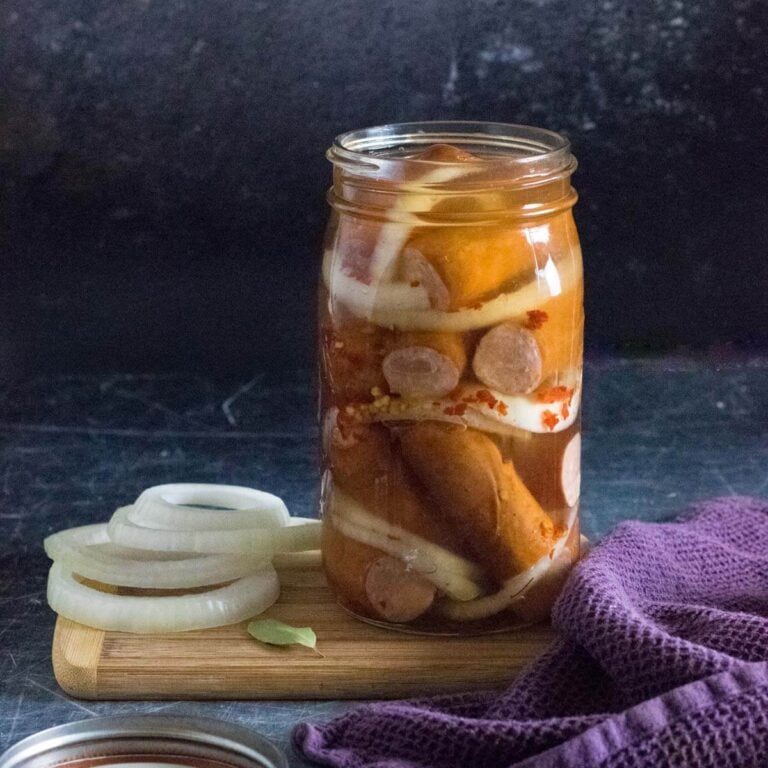 Pickled Sausage
Refrigerator pickled sausage is a tasty treat featuring smoked sausage soaked in a tangy vinegar brine with seasonings to pickle.
Print
Pin
Rate
Save
Saved
Ingredients
2

pounds

smoked sausage

1

yellow onion

sliced

2

cups

white vinegar

1

cup

water

1

tablespoon

salt

1

teaspoon

crushed red peppers

2

cloves

garlic

2

bay leaves
Instructions
Cut the smoked sausage into bite-sized pieces no more than a couple of inches long.

Add vinegar, water, salt, crushed red peppers, garlic, and bay leaves to a small saucepan. Set the saucepan over medium-high heat and bring to a boil, then reduce the heat and simmer for up to ten minutes, or until the salt has fully dissolved.

Remove the saucepan from the heat and let cool to room temperature. It can be placed in the refrigerator or freezer to cool faster.

When the brine has almost completely cooled, place your cut sausages in the quart jars, layering in onion slices with them. Then pour the cooled brine over the top to fill completely. Ensure each jar gets one bay leaf and clove of garlic.

Seal the jars and store them in your refrigerator for at least three days prior to enjoying, however, it is a good idea to wait a full week to allow the vinegary flavors more time to fully penetrate the meat.
Notes
Add 1-2 teaspoons of Louisiana-style hot sauce to the brine if you want a little more kick.
Your sausages should be purchased fully cooked and smoked, so they will not need to be cooked prior to placing them in the pickling jars.
Nutritional Information
Calories:
240
kcal
|
Carbohydrates:
3
g
|
Protein:
9
g
|
Fat:
20
g
|
Saturated Fat:
7
g
|
Polyunsaturated Fat:
2
g
|
Monounsaturated Fat:
9
g
|
Cholesterol:
54
mg
|
Sodium:
1225
mg
|
Potassium:
159
mg
|
Fiber:
1
g
|
Sugar:
1
g
|
Vitamin A:
1
IU
|
Vitamin C:
1
mg
|
Calcium:
12
mg
|
Iron:
1
mg