This sweet and sticky bourbon glaze is perfect for painting over chicken, shrimp, steak, burgers and more!
Think of this bourbon glaze, not so much as a cooking sauce, but as a magic potion to get the man in your life to eat whatever you put in front of him. Just prepare your favorite protein and slather on a bit of this magic sauce, and voila! It will magically be consumed by a happy husband!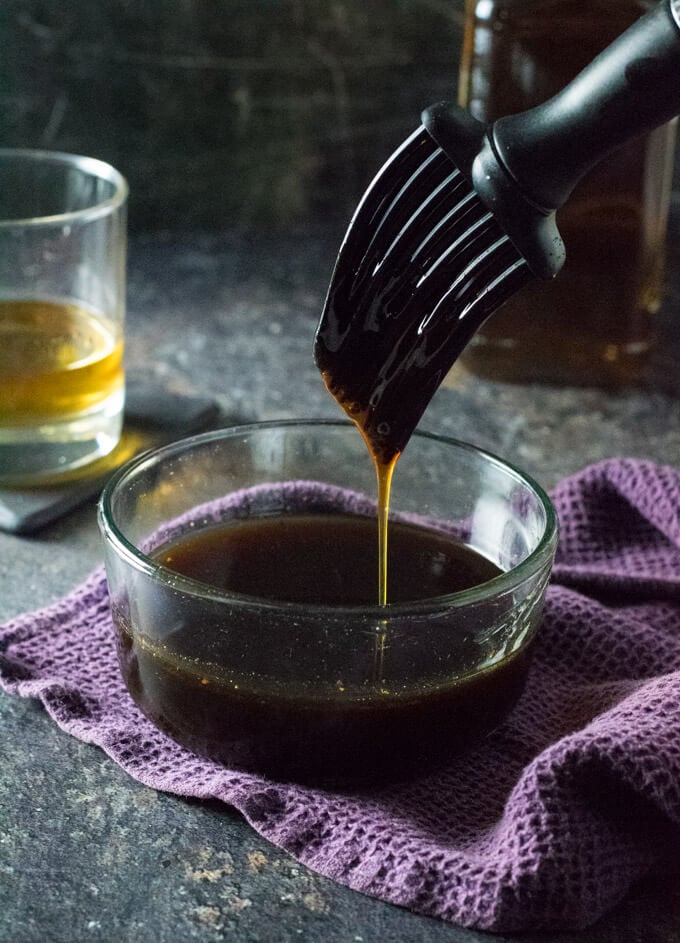 Bourbon Glaze
Bourbon glaze is a reduction of bourbon whiskey mixed with flavorings such as pineapple juice, brown sugar, and molasses. It packs a balanced sweet and deep smoky flavor. This versatile glaze can be prepared in advance and stored in the refrigerator until ready to be used.
How to Make a Bourbon Glaze
Reducing a sauce can be intimidating for novice cooks, but it is actually dead simple. Basically, the longer the sauce cooks, the more water evaporates. The more water that evaporates, the thicker the sauce gets. Easy peasy, right?
To make this bourbon glaze you simply add all of the ingredients to a small saucepan (affiliate link) and bring to a boil. As the mixture boils the sauce will thicken. It is done when it is the consistency of maple syrup.
TIP: If a reduction gets too thick you can thin it out by adding a couple of dribbles of water. If it is too thin, just simmer it longer to evaporate more liquid.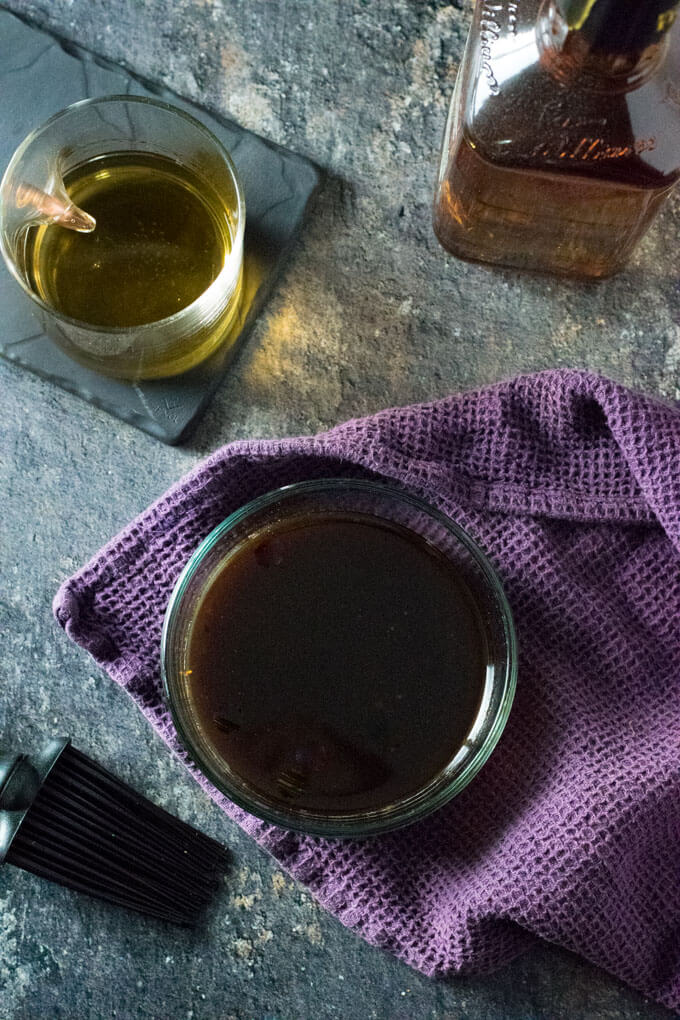 How to Use a Bourbon Glaze
This bourbon glaze can be painted on your favorite meat prior to baking or grilling, but keep in mind it is a sugar-based sauce which can burn easily at higher temperatures (such as when searing) if you don't watch it.
My favorite way to use it is to paint it on the meat as it cooks, adding additional layers. Entrees such as homemade burgers, grilled chicken, or grilled steak are a perfect pairing with this glaze. However, it can also be used to coat grilled corn on the cob as well!
Bourbon Recipes
If you are looking for more great ways to enjoy bourbon whiskey, try my Whiskey Steak Marinade, Blackberry Bourbon Lemonade, or Whiskey Cider recipes too!
Print Recipe
Bourbon Glaze
This sweet and sticky bourbon glaze is perfect for painting over chicken, shrimp, steak, burgers and more!


Ingredients
1

cup

bourbon whiskey

1/2

cup

brown sugar

1/2

cup

pineapple juice

1

tablespoon

soy sauce

1

tablespoon

molasses

1/4

cup

cider vinegar

1

clove

garlic

(minced)

1/4

teaspoon

fresh ground black pepper

1

pinch

cayenne
Instructions
Add all ingredients to a saucepan, mix to combine. Bring to a boil and reduce to a rapid simmer until the liquid reduces to 3/4 – 1 cup in volume. It will be the consistency of maple syrup. (approximately 15 minutes, depending on heat)

Let glaze cool before use. It can be made in advance and stored in the refrigerator.
*Calories listed are a vague estimate and accuracy should not be assumed.
If you enjoyed reading my recipe then you should probably like me on Facebook and follow me on Pinterest too. That's what I would do at least, and if you are willing to take my advice on the food you put into your body you should probably follow my advice on that too.