This is a sponsored conversation written by me on behalf of Meijer. The opinions and text are all mine.
BBQ chicken wings are a popular game day appetizer, but there is no reason they can't be enjoyed all summer, hot from the grill! Personally, I enjoy grilled wings as much as traditional deep fried wings, if not more. That smoky flavor is hard to beat!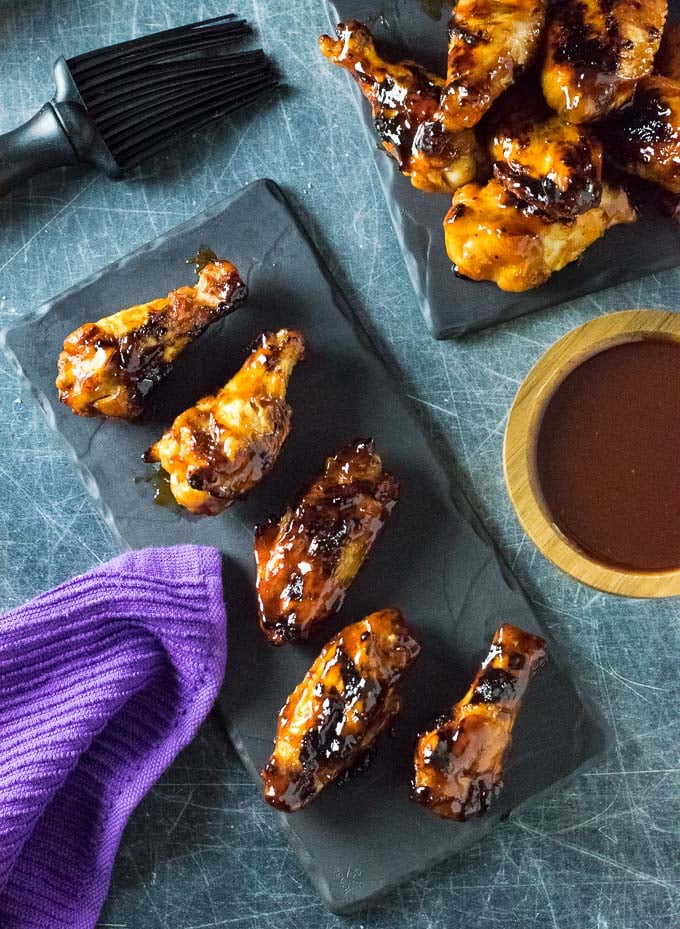 When it comes time to char some chicken, Meijer has me covered with every cut and variety I could ever want to grill. I love the assortment of Meijer chicken because it is 100% natural, and easy on the budget. You will also find Smart Chicken organic options and True Goodness chicken which is 100% natural and antibiotic-free.
Grilled BBQ Chicken Wings
Grilling chicken wings is one of the most wallet-friendly cookout options you have available, and when painted in your favorite BBQ sauce, it is also one of the most flavorful.
Many people are intimidated to grill chicken, but chicken wings, in particular, are easy to grill. Their small size ensures they cook quickly, and unlike grilled chicken breasts, they still taste great if you overcook them.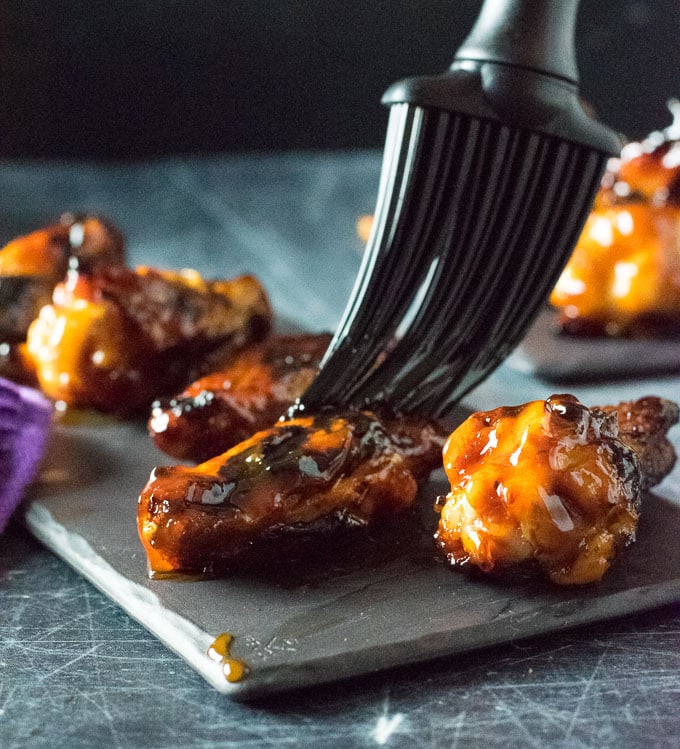 Testing This Recipe
I tested these grilled BBQ chicken wings by marinating them in BBQ sauce, painting them with sauce on the grill, and grilling them without sauce and adding it afterward.
Grilling them without sauce was the least flavorful option since the BBQ sauce didn't drink up any additional smoke flavor from the grill. Also, the skin was no more or less crisp than the other methods, which was the main goal for this cooking method.
Marinating the wings for a few hours in BBQ sauce was the most flavorful option, followed closely behind by painting the wings with BBQ sauce of the grill. The difference in flavor was minimal enough that I doubt most people would be able to taste the difference.
How to Cut Chicken Wings
Chicken wings are typically sold as full wings and need to be trimmed down into drumettes, wingettes, and tips. The drumette is the piece that resembles a mini drumstick and the wingette is the flat, rectangle-shaped cut. The tip is the very end of the wing. It doesn't contain any meat and can be discarded.
You do not need a big knife to cut the wings, a small knife or even a scissors works well. Slipping the knife in-between the joints separates the drumettes and wingettes with minimal effort.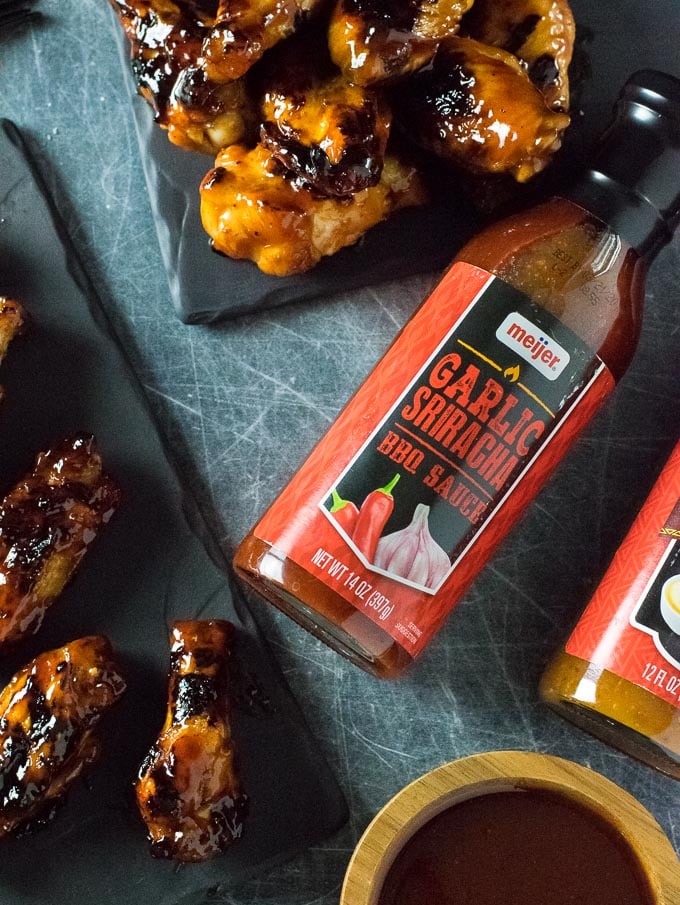 Chicken Wings Sauce
Grilling BBQ chicken wings leaves you with many options for the sauce. If you take pride in crafting your own sauces, give my homemade BBQ sauce, or Honey Hoisin Wing Sauce a try.
Otherwise, the more effortless option is to check out the phenomenal assortment of sauces at Meijer. The seemingly endless selection of Meijer branded BBQ sauces and wing sauces all work well on the grill. If you aren't sure where to start, I really like the Meijer Sweet & Spicy BBQ sauce, otherwise, Caribbean Jerk wings are always right at home on a grill.
How to Grill Chicken Wings
The problem many people have when grilling wings is the exterior burns to a crisp before the meat reaches the proper temperature. This is easily avoided using zone heating.
Start by placing all of the hot coals on one side of the grill, leaving the other half empty. This creates a zone of high heat, and a zone of low heat. The chicken wings are grilled first over the high heat to char and crisp the skin, then they finish cooking over low heat. I also like painting the wings with additional sauce as they cook to ensure I get a thick and sticky layer of glaze when the wings are done grilling.
How Long to Grill Chicken Wings
How long chicken wings take to grill will vary from grilling session to grilling session. The biggest variable is how long you leave the lid off.
When testing this recipe, I had small batches finish cooking in 10-15 minutes because I was able to leave the cover on the grill for long periods of time, trapping the heat inside. However, when grilling bigger batches of wings it took 20+ because the lid stayed uncovered most of the time, as it took me a lot longer to rotate all of the wings and paint them with additional sauce.
Since the grilling time can vary so wildly, I recommend using a digital meat thermometer to test doneness. The chicken wings are finished cooking when they reach 165 degrees. Otherwise, you can also tell the chicken is fully cooked when the meat is no longer soft and springy to the touch. It will firm up as it cooks.
Grilled BBQ Chicken Wings
These flamed kissed grilled BBQ chicken wings are lacquered in a delectably sticky barbecue sauce and grilled to smoky perfection.
Print
Pin
Rate
Ingredients
2

pounds

chicken wings

salt

(as needed)

1 ½

cups

BBQ sauce
Instructions
Trim chicken wings by cutting through the joints to separate the drumette, wingette, and the tip. Discard the tips.

Sprinkle wings lightly with salt and toss in a bowl with BBQ sauce to fully coat. (optionally, you can marinate the wings in BBQ sauce for a few hours prior to grilling)

Charcoal grill: Pour one chimney of hot charcoal on one side of the grill and oil grates to prevent sticking. Place chicken wings over the hottest part of the grill to char and crisp the skin, flipping frequently to prevent burning, while brushing with additional sauce. Finish cooking the chicken wings on the far side of the grill away from the hot coals with the lid covered.

Propane grill: Turn burners on high and brush grates with oil to prevent sticking. Place chicken wings over high heat while frequently rotating and brushing with additional sauce. When the exterior is charred and crisp, turn the burners to low heat and finish cooking with the lid closed.

Chicken wings are done when they reach 165 degrees. This will take approximately 20 minutes, depending on how long the grill lid stays closed.

Remove chicken wings from the grill, let cool slightly and serve immediately.
Nutrition
Calories:
456
kcal
|
Carbohydrates:
43
g
|
Protein:
23
g
|
Fat:
20
g
|
Saturated Fat:
5
g
|
Cholesterol:
94
mg
|
Sodium:
1190
mg
|
Potassium:
439
mg
|
Sugar:
35
g
|
Vitamin A:
420
IU
|
Vitamin C:
1.5
mg
|
Calcium:
50
mg
|
Iron:
1.9
mg
Can you do me a favor? If you enjoyed my post would you mind sharing it with your friends? You can see more of my recipes by liking me on Facebook and follow me on Pinterest too. Otherwise, stay up to date by getting each new post sent directly to your inbox by subscribing today.