If you are looking for a more refined roasted potato recipe, this is it!  These Roasted Fingerling Potatoes with Rosemary and Lemon are delectably tender, infused with the earthy flavor of rosemary and bright punches of lemon! 
I was walking around my house singing the other day and my wife said, "Why are you singing?"  I replied, "Because people need to hear my voice!"  She lovingly reminded me, "This is why you have a blog, not a vlog."  As you can tell, we are very supportive of each other.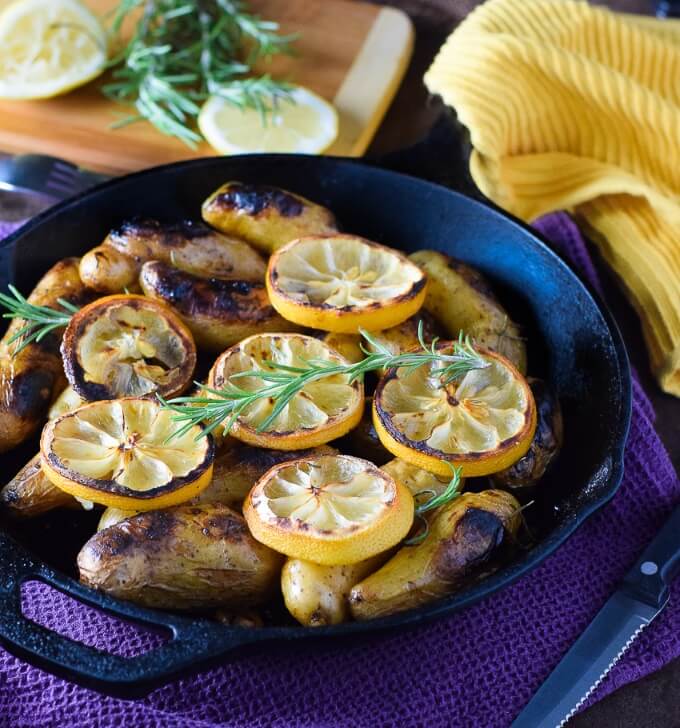 However, this holiday season has given me plenty of reasons to sing. My wife and I recently purchased a cabin which serves as a great getaway when I need a break from this website, my business is booming, and frankly, I feel I am blessed with the greatest family on earth!
A year as great as this necessitates a spectacular meal to crown it!  These Rosemary and Lemon Roasted Fingerling Potatoes are the perfect side dish for such a meal!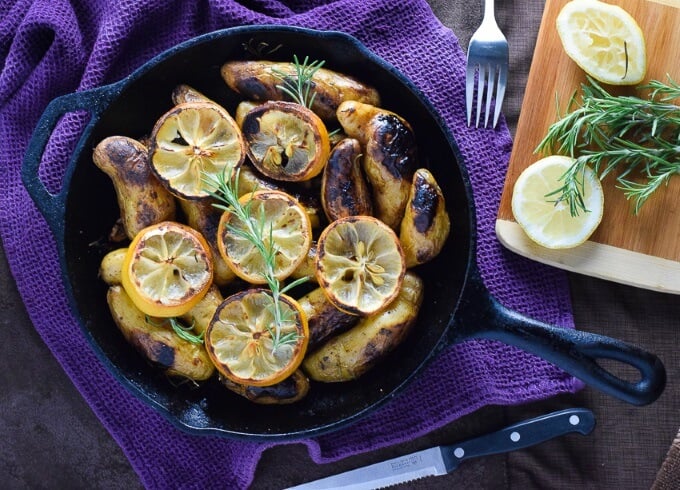 What Are Fingerling Potatoes
If you have never cooked with fingerling potatoes, they are a small, oblong potato, appropriately enough shaped like fingers.  They cook up tender and delicious, and their thin skin makes them ideal for soaking up additional flavors during roasting.  Flavors such as rosemary, garlic, and lemon can really make this dish shine!  If you can't find fingerling potatoes, use 'new potatoes'.  If you can't find new potatoes, Yukon Gold will work in a pinch.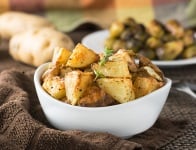 I have previously written about The Secret to Perfectly Crispy Roasted Potatoes, it is a fantastic post that will really help you achieve maximum crunch and delectability on your basic roasted potatoes.  This Roasted Fingerling Potatoes recipe, however, it not meant to replace that recipe, since these are not designed to be cooked up extremely crispy.  That being said, I bet they would taste delicious if I tried to adapt these two recipes together!
How to Roast Fingerling Potatoes
I baked these with spectacular results in my cast iron skillet, however, a baking sheet will work equally well.  Whenever I use a baking sheet I also lay my non-stick baking mat over it (affiliate link).  It is easier to clean than a baking sheet, it is more nonstick, preventing my baking sheets from being damaged from burnt on crud.  
How Long to Roast Fingerling Potatoes
Roast fingerling potatoes for 40 minutes at 400 degrees, or until the exterior is beginning to char and crisp, You will know it is done because the interior will be light and fluffy and easily pierced with a fork.
Rosemary and Lemon Roasted Fingerling Potatoes
These Roasted Fingerling Potatoes with Rosemary and Lemon are delectably tender, with the earthy flavor of rosemary and bright punches of lemon infused throughout!
Print
Pin
Rate
Save
Saved
Ingredients
3

pounds

Fingerling Potatoes

2

Lemons

(sliced into rounds)

7

cloves

Garlic

(smashed, skin on)

3

sprigs

Fresh Rosemary

Olive Oil

(as needed)

Fresh Ground Pepper

(to taste)

Salt

(to taste)
Instructions
Preheat oven to 400 degrees.

Parboil the fingerling potatoes for 5 minutes in salted water, then drain from water and let dry briefly (1-2 minutes).

Drizzle potatoes with oil, add salt and pepper, and toss to coat. (rosemary and garlic can be added during the tossing to help flavors mingle)

Place potatoes in baking dish, in a single layer intermingled with garlic, and topped with rosemary. Place lemon slices on top spaced 1-3 inches apart.

Roast for 40 minutes, or until skins are showing color and interior is tender. Flip potatoes over halfway through cooking.

Squeeze any remaining lemon juice over the potatoes, add additional salt, and serve.
Notes
Recipe adapted from: http://www.cookingchanneltv.com/recipes/roast-potatoes-with-lemon-rosemary-and-thyme.html
IF YOU LIKED THIS RECIPE you will love my BBQ Turkey Loaded Sweet Potatoes too.
Nutritional Information
Calories:
190
kcal
|
Carbohydrates:
44
g
|
Protein:
5
g
|
Sodium:
14
mg
|
Potassium:
1018
mg
|
Fiber:
6
g
|
Sugar:
2
g
|
Vitamin C:
64.8
mg
|
Calcium:
43
mg
|
Iron:
2.1
mg
This recipe was originally published on FoxValleyFoodie.com December 20, 2015.
If you enjoyed my Roasted Fingerling Potatoes with Rosemary and Lemon recipe then you should probably like me on Facebook and follow me on Pinterest too. That's what I would do at least, because if you don't get to know me but you still use my recipe it is kind of like taking candy from a stranger, and your mom taught you not to do that. Don't disobey your mom, subscribe to Fox Valley Foodie today.