This old fashioned beef and noodles dinner features tender chunks of sirloin steak smothered in a luxurious brown gravy and placed on top of a bed of egg noodles.
This week I have been thinking about the delicious steak chili I recently prepared, as well as the creamy chicken noodle soup I made for dinner. This got me craving a hearty beef noodle soup, which I eagerly started working on for my next recipe... until I remember I already published a beef noodle soup recipe a few years ago. Doh!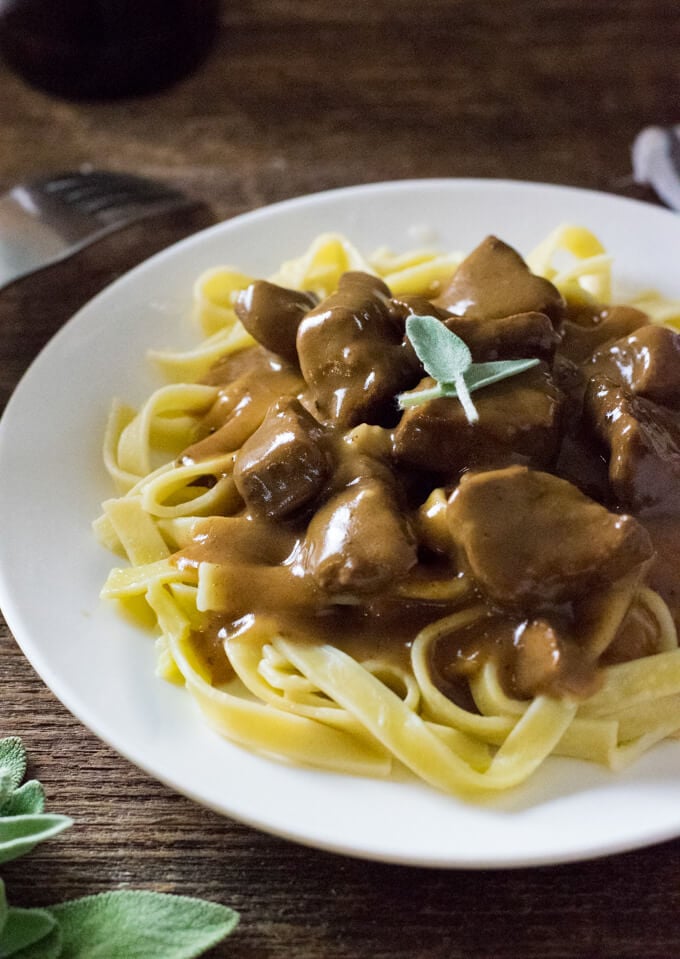 Well, I was still craving some hearty comfort food regardless so I decided to take a spin off beef stroganoff and craft this beef and noodles dinner featuring a hearty beef gravy slathered over a bed of egg noodles. This is a stick to your ribs meal the whole family will enjoy. If you like this recipe, you will want to try my steak noodles too!
What is Beef and Noodles
Tender cuts of steak get smothered in a luxurious sauce and slathered over tender egg noodles. The base of the sauce is a simple old fashioned brown gravy, just like your grandma made... No need for any cream of mushroom soup here! However, I ramp up the flavor by adding fresh sage, Worcestershire sauce, and a bit of soy sauce. This savory combination really takes the gravy to the next level!
Best Cut of Steak for Beef and Noodles
The best steak for this delicious recipe is sirloin steak. It doesn't pay to spend more money at the grocery store on a more expensive cut of steak since the steak chunks will be cooked well done. The steak is also not braised in liquid long enough to warrant a cheaper cut like round steak or chuck, as they will never get sufficiently tender during the short cooking time. Sirloin steak is the sweet spot for this recipe.
Lean meat, like sirloin, is also best because the steak is cut into small chunks. Steak with too much fat will inevitably have some chunks that are excessively fatty when bitten into. Meals like this are best when each bite is consistent.
Ingredients Needed
Sirloin beef steak - Other tender cuts of steak can also be used. I would avoid tough cuts such as a chust roast.
Cooking oil - Olive oil, canola oil, or other vegetable oil.
Flour
Butter
Beef broth - Beef stock can also be used. If you are salt sensative, I recommend using a low sodium beef broth, which will give you more control over how much salt is added.
Worcestershire sauce
Soy sauce
Fresh sage - You can swap out other fresh herbs such as rosemary and thyme as well.
Egg noodles - Regular uncooked egg noodles or any pasta noodle, such as fettuccini can be used. Bonus points if you make your own homemade noodles.
How to Make Beef and Noodles
To make this easy recipe you need to do three things. Cook the noodles, sear the steak, and make the gravy. Simple enough, right? The noodles can be boiled in a large pot while you sear the beef and make the gravy. Simply read the package instructions and cook them accordingly.
Tackle the steak first by searing it with cooking oil in a large skillet set over medium-high heat. Let the steak sit in the pan to develop a good sear and then turn the pieces to brown both sides. Letting a few pieces char slightly will also add great texture.
Next, you need to make the gravy. This begins by making a roux, which is a mixture of butter and flour that is cooked over low heat in a saucepan. Whisk the roux during the three minutes it cooks to ensure the flour does not burn.
At this point, liquid can be added. Dribble the beef broth in a little at a time, stirring it in completely prior to adding more. Repeat until all of the beef broth, soy sauce, and Worcestershire sauce has been added. Finally, add the sage, salt, and pepper. Let the gravy simmer for 10 minutes, or until it has thickened enough to coat the back of a spoon.
Now your hearty dinner is ready to come together. Combine beef steak with the gravy and slather the gravy and beef mixture on top of a plate of egg noodles.
Tips for making this recipe
Searing the steak not only adds more flavor to the meat itself, but it will also fortify the flavor of the gravy as the browned bits get incorporated, so make sure to get a good brown crust on the steak. This is my all-time favorite skillet for searing.
When preparing the gravy it is important to slowly incorporate the liquid into the mixture of butter and flour. If you pour too much in too quickly you could get a lumpy gravy.
Finally, it is important to know if your gravy is too thin, you just need to simmer it longer. It thickens as it simmers. If your gravy gets too thick, the only thing you need to do is dribble a little water or beef broth in it to thin it back out. Gravy consistency is easy to fix, so don't fret.
How to Customize this Beef and Noodles Recipe
The great thing about this recipe is how easy it is to customize. Some obvious changes would be to add 8 ounces of mushrooms, an onion, or change the noodles to your favorite style of pasta. Additionally, if you love garlic, a few cloves or garlic powder will be well suited for this dish.
If the flavor of sage isn't your favorite, you can swap out rosemary or thyme, or even add a bay leaf. Alternatively, there is no harm in leaving out fresh herbs altogether, or simply using some fresh parsley for garnish.
Although I strongly feel this recipe is best when using tender beef steak, you could make this with ground beef instead. Also, if you crave a creamier sauce, you can stir in a little sour cream for some added tang.
Though this is a "beef and noodles" recipe, there is no reason you could not serve this over fluffy mashed potatoes instead if you wish. Heck, it would be really good on top of my French onion mashed potatoes!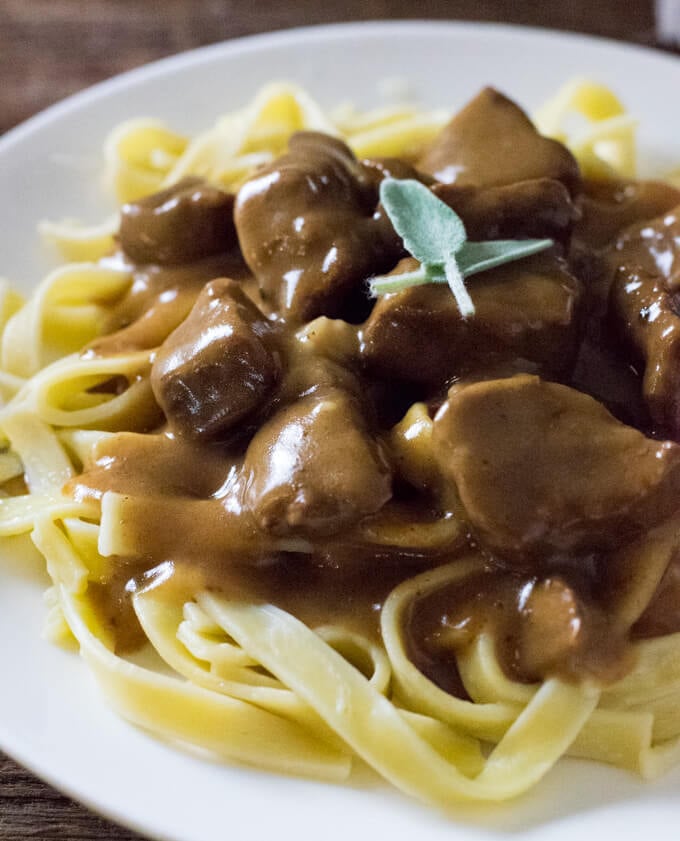 Can you do me a favor? If you enjoyed my post would you mind sharing it with your friends? You can see more of my recipes by liking me on Facebook and follow me on Pinterest too. Otherwise, stay up to date by getting each new post sent directly to your inbox by subscribing today.
Beef and noodles
This hearty beef and noodles dinner features tender chunks of sirloin steak smothered in a luxurious brown gravy and placed on top a bed of egg noodles.
Print
Pin
Rate
Save
Saved
Ingredients
1.5

pounds

sirloin steak

(cut into 1" chunks)

2

tablespoons

cooking oil

¼

cup

flour

¼

cup

butter

2

cups

beef broth

1

tablespoon

Worcestershire sauce

1

teaspoon

soy sauce

¼

teaspoon

black pepper

5

leaves

fresh sage

salt to taste

12

ounces

egg noodles
Instructions
While preparing gravy and searing sirloin, boil the noodles according to package instructions.

Add cooking oil to a large skillet set over medium high heat and sear sirloin chunks until well browned and beginning to char slightly. Remove from heat and set aside.

In a medium sauce pan melt the butter over low heat and sprinkle in flour to form a roux. Mix continually to prevent the roux from burning and begins to turn nutty in color, approximately 3 minutes.

Slowly dribble in beef broth while continuing to stir, ensuring it fully incorporates before additional liquid is added. Continue to add liquid until all beef broth, Worcestershire, and soy sauce has been added. Add fresh ground pepper and sage leaves to the gravy and let gently simmer for 10 minutes, or until it has thickened enough to coat the back of a spoon. The sage leaves can be removed.

Once the gravy has thickened to your liking, taste for salt and adjust if needed. Add sirloin chunks to the gravy and stir to combine.

Serve by placing a bed of egg noodles on a plate and top generously with sirloin chunks and gravy.
Notes
Tip: Deglazing the searing skillet with a couple splashes of beef broth and pouring that into the gravy while it simmers will add additional flavor. 
If the gravy is too thin, just let it simmer long. If the gravy gets too thick a little additional broth can be added to thin it out.
IF YOU LIKED THIS RECIPE be sure to check out my Slow Cooker Beef and Barley Soup recipe too!
Nutritional Information
Calories:
761
kcal
|
Carbohydrates:
68
g
|
Protein:
52
g
|
Fat:
31
g
|
Saturated Fat:
12
g
|
Cholesterol:
206
mg
|
Sodium:
788
mg
|
Potassium:
888
mg
|
Fiber:
3
g
|
Sugar:
2
g
|
Vitamin A:
407
IU
|
Vitamin C:
1
mg
|
Calcium:
93
mg
|
Iron:
5
mg
This recipe was originally published on FoxValleyFoodie.com on September 19, 2019.