This is a sponsored conversation written by me on behalf of Meijer. The opinions and text are all mine.
These tender marinated grilled chicken breasts cook quickly and will be a hit at your next cookout.
People have been grilling chicken breasts on the grill likely since the cavemen days. They are quick and easy to cook, and the mild-flavored meat really soaks in the smoky flavor of the grill. However, we have evolved, and so should our cooking. I doubt the cavemen ever used a marinade like this, if for no other reason than chickens were probably like the size of dinosaurs back then, so it was probably hard for them to find a big enough marinating bag at their local Meijer superstore.
Marinated Grilled Chicken Breasts Ingredients
You, however, are in luck. Meijer has everything you need for this flavorful recipe. Use this list as your shopping list or check it against the items already in your pantry to make sure your cookout isn't missing anything.
Chicken breasts - Smart Chicken brand chicken breasts, which Smart Chicken labels as fully organic, ant-biotic free, pure-air chilled, and vegetarian fed. You can find these in the fresh meat department at Meijer.
Gallon Storage Zipper Bag - I love using bags for marinades because when most of the air is removed you get better meat contact with smaller volumes of liquid than when using solid containers.
Olive oil - I recommend regular, not extra virgin. The subtle flavors fo the higher-priced extra virgin oil will be lost in the marinade.
Light soy sauce - You can substitute regular, but it makes the chicken breasts a tad too salty, in my humble opinion.
Worcestershire Sauce - Adds depth and saltiness to the chicken.
Lemon - You will use the juice of the whole lemon in the marinade.
Black peppercorns - I recommend whole peppercorns, but you can use ground pepper in a pinch.
Crushed red peppers - These dry flakes add just a touch of heat.
Instant read thermometer - Whenever you cook chicken, I always recommend having one of these on hand. Cook the chicken too little and people can get sick. Cook it too much and it is dry and unpleasant to eat. Instant read thermometers ensure you get perfectly cooked meat every time.
How to marinate chicken
Plan on creating your marinade at least 4 hours before you wish to grill the chicken, but if you're pressed for time, an hour or two will still be beneficial. I typically marinate my chicken breasts for ~4-6 hours, but you can even marinate overnight if desired. You don't want to marinate the chicken breasts too long, certainly no more than a day. The acid in the marinade can break down the exterior of the meat and ruin the texture.
Prepare the marinade simply by mixing the ingredients together in a dish. Add the chicken breasts to a gallon zipper bag and pour in the marinade and seal. When sealing, try to remove most of the air from the bag to ensure that the marinade has good surface contact with the meat. Place the bag on a rimmed pan and set in the refrigerator to chill for 4-6 hours.
How to grill chicken breasts
When you are ready to grill your chicken breasts, remove the chicken from the fridge and discard the marinade while you heat up the grill.
Charcoal grill - When using a charcoal grill I prefer to pour a charcoal chimney of hot charcoal to one side of the grill. This creates a hot zone and a cool zone so I have flexibility when cooking the chicken. I start the chicken on the hot zone, directly over the coals, to sear the exterior. Once the exterior is looking good I back it off to the cool side to allow the interior time to come up to temperature if needed.
Propane grill - When using a propane grill you can start the chicken breasts on high heat to sear the exterior and then lower the heat to gently cook the interior of the meat. Alternatively, you can use a similar method as cooking on the charcoal grill by turning the burners on one side of the grill on high and leaving the other side off. Again, start the breasts on high heat to sear, then move them away from the heat to prevent burning as they finish cooking.
When are chicken breasts done?
Your chicken breasts will take about ten minutes to cook, and should be flipped for even cooking. You will know your chicken breasts are done when an instant-read thermometer reaches 165 degrees when inserted into the thickest part of the meat.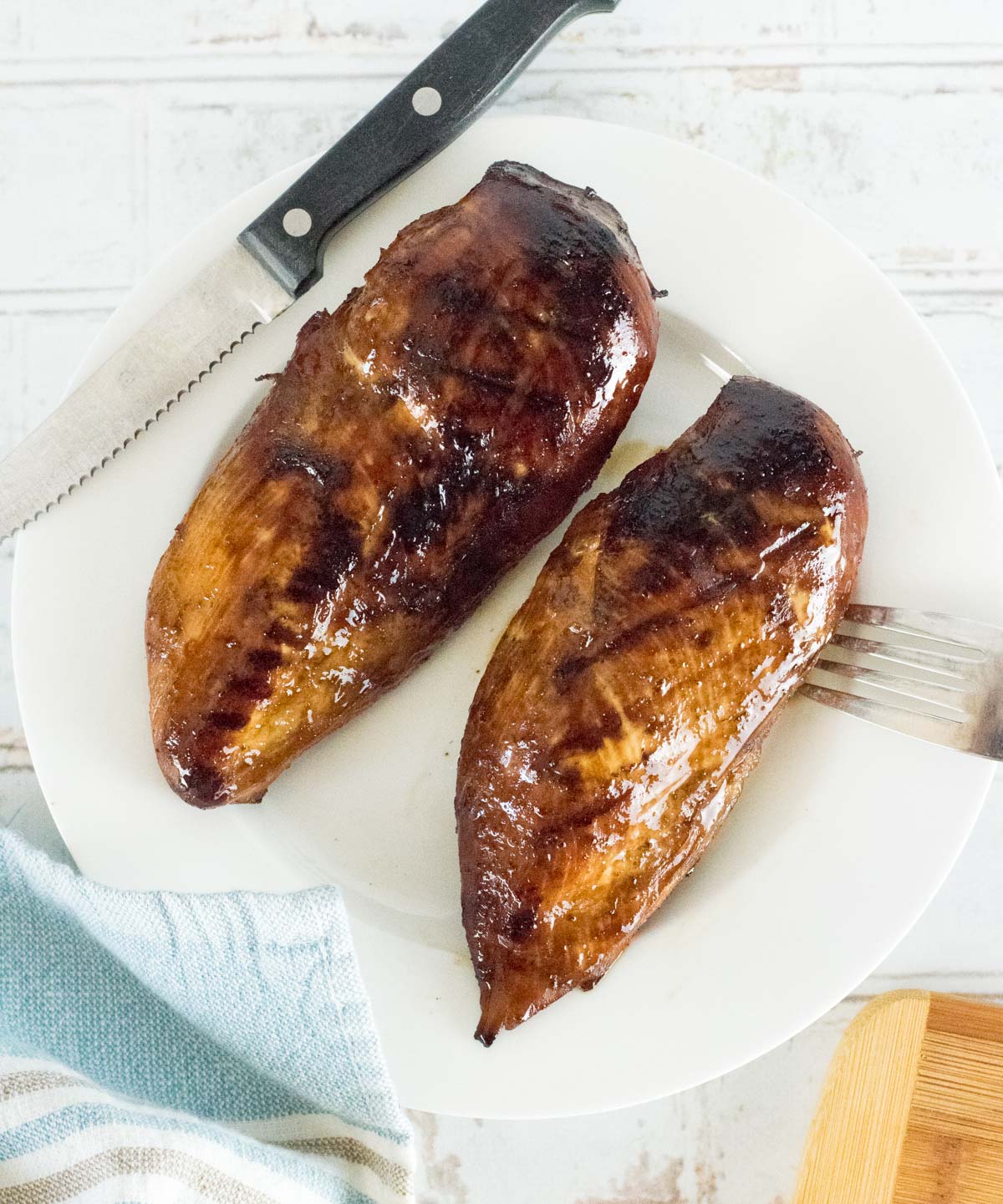 More Grilling Ideas
Marinated Grilled Chicken Breasts
These tender marinated grilled chicken breasts cook quickly and will be a hit at your next cookout.
Print
Pin
Rate
Ingredients
Marinade
¼

cup

olive oil

¼

cup

light soy sauce

¼

cup

Worcestershire sauce

Juice of 1 lemon

3

cloves

garlic

(smashed)

¼

teaspoon

black peppercorns

¼

teaspoon

crushed red pepper
Instructions
Combine all marinade ingredients together in a bowl.

Place chicken breasts in a one gallon zipper bag and pour in marinade. Remove most of the air and seal bag. Set on a rimmed pan in the refrigerator and let marinate for 4-6 hours.

Remove the chicken from the marinade while heating your grill, and discard marinade.

Charcoal - Light a charcoal chimney full of coals and pour all of the hot coals on one side of the grill. Lightly oil the grate to prevent sticking and place the chicken breasts on the hottest part of the grill to sear, flipping to cook evenly. When the exterior is threatening to burn, move the chicken to the cool side of the grill to allow the interior to gently reach 165 degrees.Propane - Set the burner on high and place chicken breast directly over heat to sear, flipping as needed. Turn down heat to low once the exterior threatens to burn and let cook until the interior reaches 165 degrees.

Let the chicken rest for 5 minutes, then serve.
Notes
Grilling chicken breasts should take about ten minutes, however, the exact time can vary wildly depending on the temperature of your cooking surface, which is why I always recommend using a meat thermometer.
Nutrition
Calories:
538
kcal
|
Carbohydrates:
9
g
|
Protein:
52
g
|
Fat:
33
g
|
Saturated Fat:
5
g
|
Cholesterol:
145
mg
|
Sodium:
1889
mg
|
Potassium:
990
mg
|
Fiber:
2
g
|
Sugar:
2
g
|
Vitamin A:
142
IU
|
Vitamin C:
33
mg
|
Calcium:
39
mg
|
Iron:
2
mg
Can you do me a favor? If you enjoyed my post would you mind sharing it with your friends? You can see more of my recipes by liking me on Facebook and follow me on Pinterest too. Otherwise, stay up to date by getting each new post sent directly to your inbox by subscribing today.