A mouthwatering roasted pork sandwich stacked with slow roasted pork loin, caramelized onions, and melted Provolone cheese on a crusty roll slathered with homemade honey mustard.
The fact that roasted pork sandwiches are not more popular is a gol-dang travesty. The fact that nobody says gol-dang anymore is also a gol-dang travesty. Well, hold on to your britches ladies and gentleman, because we are tackling the best gol-dang roasted pork sandwich I reckon your lil' ol' tastebuds ever fancied.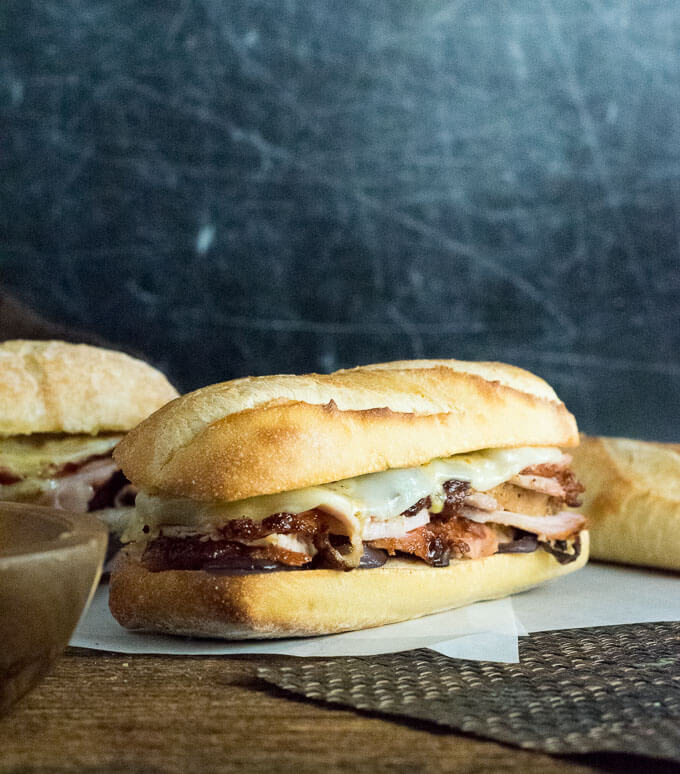 Best Cut of Pork for Sandwiches
The best cut of pork depends on the type of sandwich you wish to make. Pork shoulder is recommended for shredded pork sandwiches, like pulled-pork, however, you will want a much leaner cut for a roasted pork sandwich. Instead, a pork loin is ideal. It is flavorful, yet lean, less expensive than a tenderloin, and perfect for slicing. Though not truly authentic, you can even get away with using a pork loin for the Midwestern classic Breaded Pork Tenderloin Sandwich too, just don't tell anyone I said that.
How to Roast Pork Loin
Pork loin can easily be roasted in the oven by baking at 350 degrees for about an hour. The cooking time will vary depending on the size of the loin, so be sure to use a digital thermometer. It is done when it reaches 145 degrees.
My favorite way to roast pork loin for sandwiches is on the grill. Grilled pork loin isn't much more difficult than oven roasting, yet is infinitely more flavorful. I highly recommend giving it a try.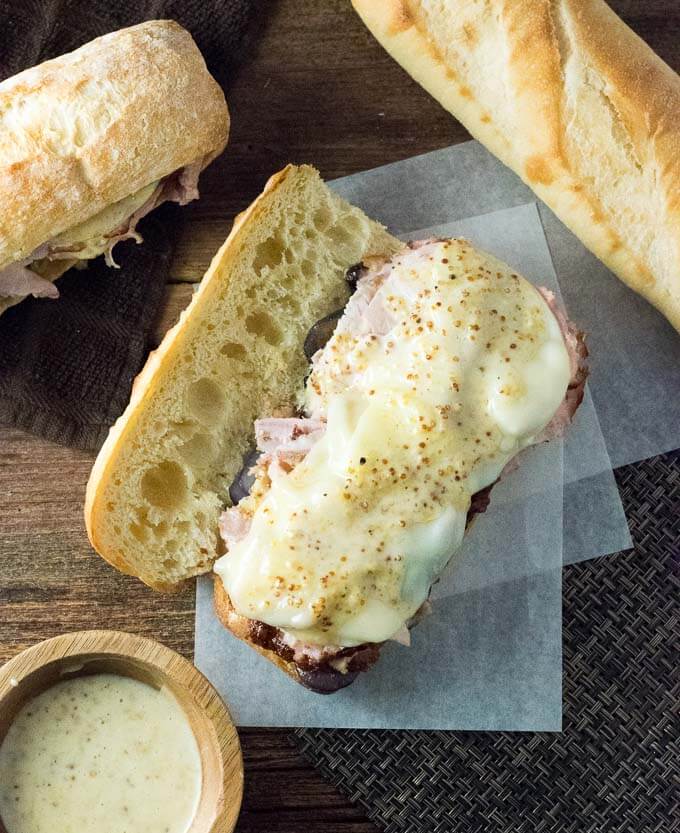 Roasted Pork Sandwich Toppings
You can certainly customize your roasted pork sandwich with the toppings of your choice, however, I will be happy to recommend a few of my favorites. The sweetness of caramelized onions really shine on this sandwich, though simply sauteing or grilling onions is delicious too. I love the flavor of stone ground mustard with pork so I made a stone ground honey mustard to pair with this recipe. However, I often use my Balsamic Peppered Mayo Burger Sauce on my roasted pork sandwiches too.
I think the best cheese for topping this sandwich is Provolone. It provides the creaminess you want, yet is mild in flavor so it will not overpower the other flavors. If you want to go in a completely different direction try Swiss cheese topped with homemade sauerkraut.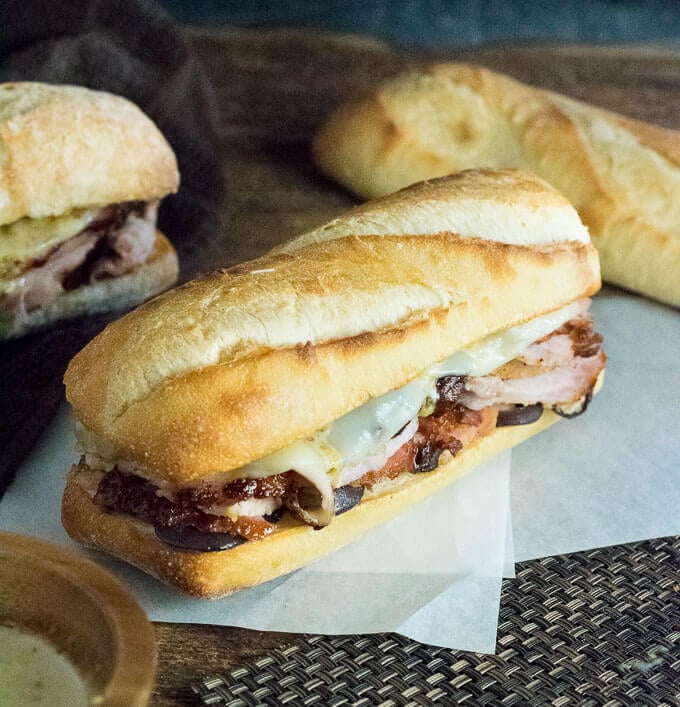 Best Bread for Roasted Pork Sandwiches
A crusty roll, like French Bread, is perfect for roasted pork sandwiches. The crisp exterior lends fantastic texture to the sandwich, and pork loin is a hearty enough protein to stand up to a bit of chewiness in the loaf. This pairing is worthy of the finest bistros!
How to Make Roasted Pork Sandwiches Better
Making a great sandwich is more than just piling ingredients on bread. Taking a few extra steps will really transform your sandwich into a restaurant quality meal. In particular, I recommend toasting the bread as it adds texture and warms the bread for better flavor. I also recommend quickly broiling the sandwich (open faced) to melt the cheese. Be careful to watch it though so it does not burn.
Roasted Pork Sandwich
A mouthwatering Roasted Pork Sandwich stacked with slow roasted pork loin, grilled onions, and melted Provolone cheese on a crusty roll slathered with homemade honey mustard.
Print
Pin
Rate
Save
Saved
Ingredients
2

lb

Pork loin

1

tablespoon

Cooking Oil

Fresh Ground Pepper

Salt

1

medium

Onion

(see notes)

½

pound

Provolone Cheese

(sliced)

Crusty French Bread

(enough for 8 servings)
Stone Ground Honey Mustard
¼

cup

Mayo

2

tablespoons

Stone Ground Mustard

1

tablespoon

Honey

⅛

teaspoon

fresh Ground Pepper
Instructions
Preheat oven to 350 degrees.

Rub the pork loin with cooking oil and dust with salt and pepper, or your desired seasonings.

Place in the oven and roast until digital thermometer reads 145 degrees, approximately 1 hour.

While pork is roasting saute, grill, or caramelized onions. (see note)

Remove pork loin from oven and let rest for 10 minutes.

While pork loin is resting slice open the French Bread and lightly toast the interior until beginning to brown. This can be done in toaster, in a hot skillet, or under the broiler.

Thinly slice the pork and place on the French bread, then top with Provolone cheese. With the sandwich lying open, place briefly under the broiler set on High until cheese is melted.

Remove from the broiler and top with onions and honey mustard and serve immediately.
Stone Ground Honey Mustard
Prepare the honey mustard while pork is roasting by combining mayo, mustard, honey, and ground pepper in a small bowl.
Notes
You can rub the pork loin with your favorite seasonings if desired.
Caramelized onions taste best in my opinion. However, I recommend using sweet onions rather than red onion if you are caramelizing. Check this out to learn How To Caramelize Onions.
I believe Stone Ground Mustard works particularly well with this recipe, however, you are welcome to substitute your favorite mustard, such as my Easy Honey Mustard recipe.
IF YOU LIKED THIS RECIPE you will want to check out my Classic Cuban Sandwich too.
Nutritional Information
Calories:
322
kcal
|
Carbohydrates:
3
g
|
Protein:
32
g
|
Fat:
19
g
|
Saturated Fat:
7
g
|
Cholesterol:
93
mg
|
Sodium:
391
mg
|
Potassium:
468
mg
|
Sugar:
2
g
|
Vitamin A:
250
IU
|
Calcium:
222
mg
|
Iron:
0.8
mg
If you enjoyed my Roasted Pork Sandwich recipe then you should probably like me on Facebook and follow me on Pinterest too. That's what I would do at least, because if you don't get to know me but you still use my recipe it is kind of like taking candy from a stranger, and your mom taught you not to do that. Don't disobey your mom, subscribe to Fox Valley Foodie today.