The pork tenderloin sandwich is a classic in America's heartland. A juicy, pan-fried tenderloin needs only simple ingredients but brings big flavor!
There was a young lady checking me out at the grocery store the other day, right in front of my wife!  I expected to see the ingredients for this Midwestern Breaded Pork Tenderloin Sandwich being hurled from the cart in reply but my wife wasn't nearly as annoyed as I expected her to be. She kept insisting it's the girl's job to check out customers since she is a cashier, but I'm not so sure.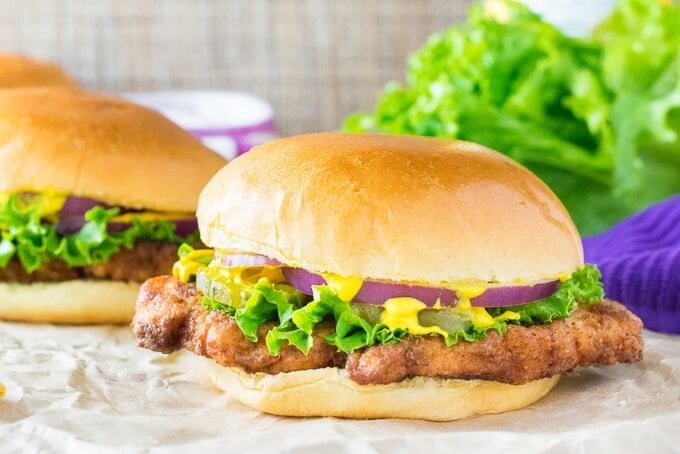 Either way, by the time we got home the only buns I was interested in were the ones that would soon be holding a butterflied and breaded pork tenderloin!
What is a Pork Tenderloin Sandwich
If you are from the Midwest, the breaded pork tenderloin sandwich is quite familiar to you already. A pork tenderloin cutlet is butterflied and coated in a cornmeal breading before being pan-fried to golden brown perfection. Often the meat on this sandwich hangs excessively off the bun on either side.
Pork tenderloin sandwiches are intensely popular in Iowa and Indiana (like the Loose Meat Sandwich), but you will still see it frequently by me in Wisconsin as well. If you live elsewhere in the United States and haven't had this Midwestern classic, you need to head to the grocery store now!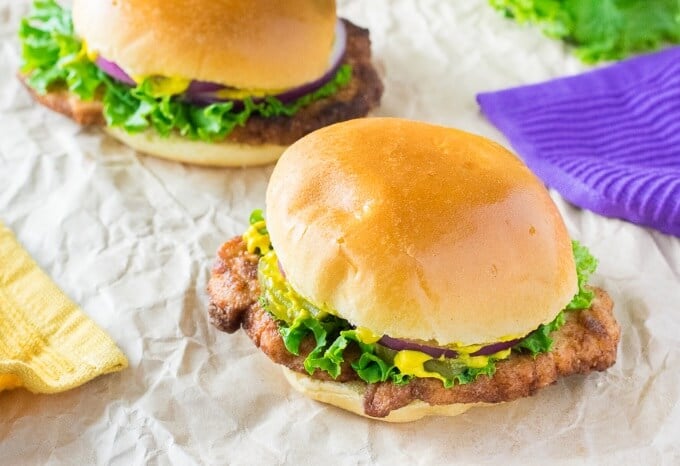 How to Make a Pork Tenderloin Sandwich
You will want to use the flat side of a meat mallet (affiliate link) to flatten the tenderloin.  I find flailing a hammer in the kitchen to be a great stress reliever! The final product should take the shape of a large flattened oval. Don't worry if the patty is considerably larger than the bun it will rest on, it is meant to be!
I have been cooking this particular recipe for years. There are other recipes that utilize a more involved breading method, such as an egg wash, but I find it to be largely unnecessary to overcomplicate this delectable dish.  The crisp, thin coat on my Breaded Pork Tenderloin Sandwich brings a great texture and flavor to the sandwich without being overly bready and dense.
How Long Does it Take to Fry Pork Tenderloin
It should take you only 5 minutes to pan-fry your pork tenderloin. The cooking time, however, will vary depending on thick your tenderloin is. When it is hammered flat, aim for ⅓" - ½" thick ideally.
Best Bun for Pork Tenderloin Sandwich
It isn't necessary to get overly fussy with the bun used on your pork tenderloin sandwich. Like Midwesterners in general, this dish is not overly complicated, so neither is the bun. A simple, inexpensive sack of pre-packaged white hamburger buns is great. You can even go with a cornmeal dusted Kaiser buns as well if you prefer.
If your food snobbery requires you to fancy this sandwich up and can't stand the thought of being seen in public with a basic package of hamburger buns, then I recommend going with brioche buns for a more gourmet version of this sandwich.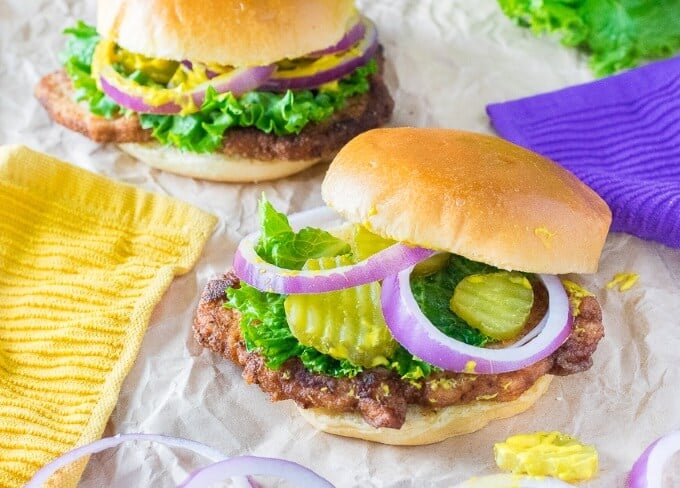 What Toppings on a Pork Tenderloin Sandwich
A breaded pork tenderloin sandwich is topped fairly similarly to a homemade burger, with the exception of ketchup. Mustard is the standard condiment of choice, with mayo being an acceptable addition. Lettuce, onions, pickles, and tomatoes are most commonly found adorning this classic sandwich.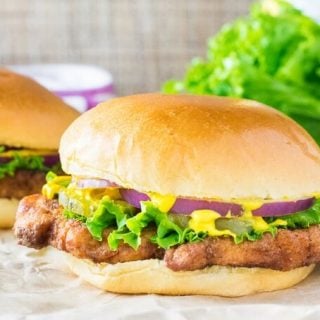 Midwestern Breaded Pork Tenderloin Sandwich
The Midwestern Breaded Pork Tenderloin Sandwich is a classic in America's heartland. A juicy, pan fried tenderloin needs only simple ingredients but brings big flavor!
Print
Pin
Rate
Save
Saved
Ingredients
1

lb

Pork Tenderloin

½

cup

Milk

½

cup

Flour

¼

cup

Cornmeal

(or unseasoned breadcrumbs)

~1

teaspoon

Salt

½

teaspoon

Pepper

Cooking Oil

(such as canola)
Serving
4

Hamburger Buns

1

Red Onion

(cut into rings)

12

slices

Dill Pickles

4

leaves

Lettuce

Mustard

Mayo

(Optional)
Instructions
After trimming any fat off from edges, cut pork into 4 equal pieces and butterfly each slice so only a thin piece of meat connects them. Put each butterflied slice between pieces of plastic wrap and use a meat hammer to pound the slice until is flattened but not torn (~⅓" thick).

Mix together flour, cornmeal, salt and black pepper.

Heat ½ inch of oil in a deep, wide skillet to 365 degrees F.

Dip each slice of pork in milk, then in flour mixture. Fry tenderloin, turning once, until golden brown on both sides, about 5 minutes total.

Drain on paper towels or wire rack.
Serving
Serve on buns with desired condiments (mustard, mayonnaise, dill pickles, sliced onion, lettuce).
Nutritional Information
Calories:
437
kcal
|
Carbohydrates:
57
g
|
Protein:
34
g
|
Fat:
8
g
|
Saturated Fat:
2
g
|
Cholesterol:
76
mg
|
Sodium:
4358
mg
|
Potassium:
1068
mg
|
Fiber:
8
g
|
Sugar:
11
g
|
Vitamin A:
940
IU
|
Vitamin C:
6.5
mg
|
Calcium:
317
mg
|
Iron:
5.4
mg
This recipe was originally published on FoxValleyFoodie.com April 1, 2016.
If you enjoyed my Midwestern Breaded Pork Tenderloin Sandwich recipe then you should probably like me on Facebook and follow me on Pinterest too. That's what I would do at least, because if you don't get to know me but you still use my recipe it is kind of like taking candy from a stranger, and your mom taught you not to do that. Don't disobey your mom, subscribe to Fox Valley Foodie today.