This creamy Portobello Swiss Chicken Bake is an effortless comforting meal. There is no prep work needing to be done, just throw 4 ingredients in a baking pan and let roast in the oven till bubbly and browned!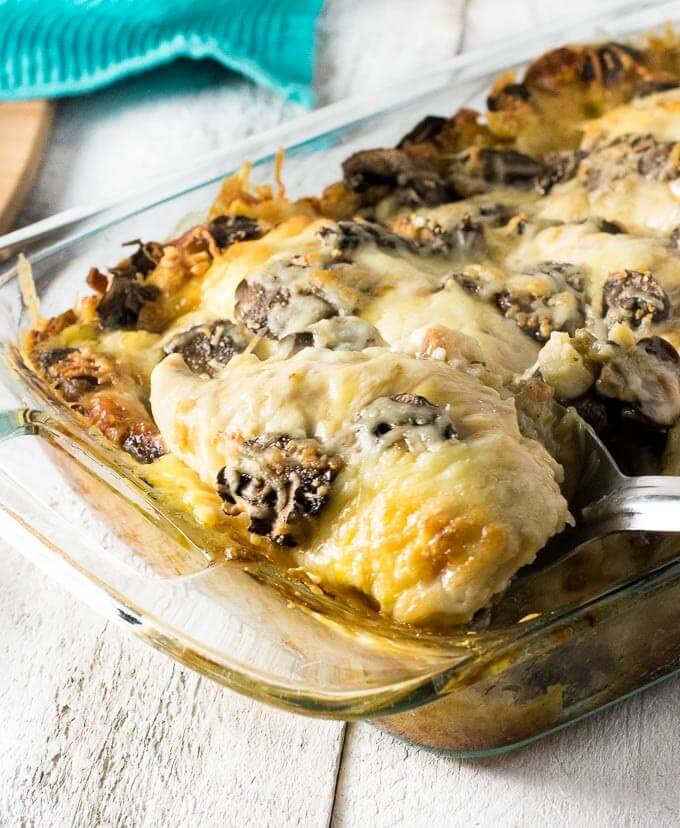 Is there anything more classic Americana than a creamy chicken bake? Are there any flavors that pair better together than meaty portobello mushrooms and swiss cheese? This Portobello Swiss Chicken Bake recipe has it all, plus it is so simple to make it is unbelievable!


First of all, there are only four simple ingredients needed to make this comforting meal: chicken breasts, baby portobello mushrooms, cream of chicken soup, and Swiss cheese. Quite honestly, you can easily use regularly portobellos if you wish, just make sure to chop them down a bit.
When making any chicken bake, one of the biggest questions is what to serve as a side. Rice is the typical answer, but I wholeheartedly recommend stuffing! I'll let you in on a secret: I actually baked this Portobello Swiss Chicken Bake on TOP of the stuffing. I didn't include it in the recipe because I know not everyone will enjoy the mushy texture of stuffing swimming in the juices of the chicken, cream, and portobellos. But OHHHH that flavor!!!
Another way you can do it is to simply make the stuffing separate and spoon the sauce over the stuffing when you serve dinner. The flavor is out of this world! Alternatively, you can actually top the chicken with stuffing while it bakes to form a crispy crust like TheCookieRookie.com does in her version.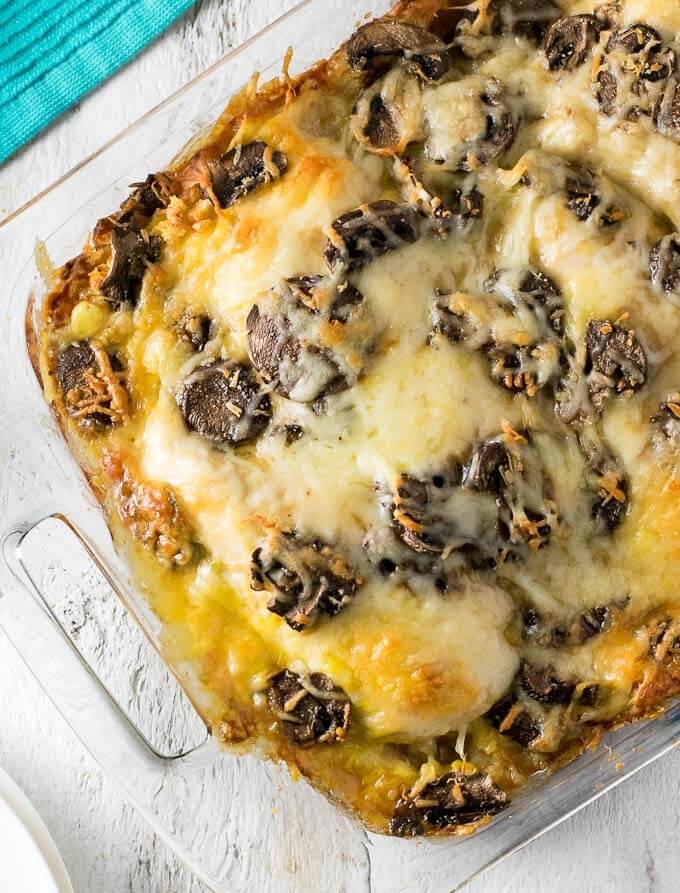 How to Bake Chicken
It sounds like a simple question, but to better understand this recipe you should understand how to bake chicken in the oven, at what temperature, and why we are doing it. I often bake chicken anywhere between 350 - 400 degrees. What you need to understand is the higher the temperature, the faster it will cook but the more likely the chicken is to dry out. Baking at a lower temperature allows the interior of the chicken to come to temp before the exterior dries out.
So why does this recipe call for 375 degrees? It is a good balance between a lower temperature, yet hot enough to brown the cheese.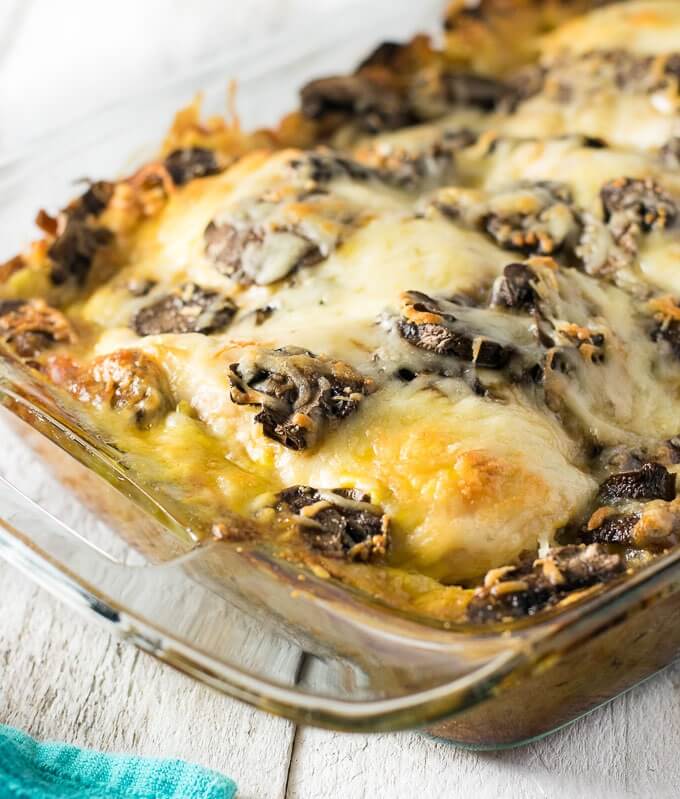 Speaking of the cheese, there are also a couple ways this Portobello Swiss Chicken Bake can be baked. You can cover the pan in foil, or leave the top exposed. If you've wondered why you bake in foil it is to prevent the cheese from burning to a crisp during a long baking session. Leaving it uncovered allows it to brown. Some recipes call for covering the pan in foil for a portion of the baking, then uncovering for the last leg of the journey.
My Portobello Swiss Chicken Bake recipe is baked uncovered the whole time. This allows the mushrooms to roast better, as they will be exposed during cooking, and more moisture can escape. The cheese is then added at the optimal time to allow for melted and browned perfection!
Your chicken bake is done when a Digital Meat Thermometer reads 165 when inserted into the thickest part of the meat. Do yourself a favor and buy one, if you don't have one. It is the best way to ensure food safety because chicken cooking times can vary considerably depending on the thickness of the breast.
The above link is an affiliate link. Any Amazon purchases made through this link helps support FoxValleyFoodie.com at no additional cost to you.
Portobello Swiss Chicken Bake
This Portobello Swiss Chicken Bake is an effortless family meal that will leave you coming back for more. Simply add 4 ingredients to the pan, toss in the oven and gather the family around the dinner table!
Print
Pin
Rate
Save
Saved
Ingredients
5

chicken breasts

(or enough to fit a 9x13 lasagna pan)

10.5

oz

can cream of chicken soup

8

oz

baby portobello mushrooms,

sliced

5

oz

shredded Swiss cheese

(about 1 ⅓ cups)
Instructions
Preheat oven to 375 degrees.

Lay chicken in the bottom of a 9x13" lasagna pan and evenly spoon over cream of chicken soup.

Sprinkle sliced portobello mushrooms evenly across the pan.

Bake in the oven for 40 minutes, then top with cheese and bake 20 more minutes, or until internal temperature reaches 165 degrees.

Let cool for 5 minutes and serve.
Nutritional Information
If you enjoyed reading my Portobello Swiss Chicken Bake recipe then you should probably like me on Facebook and follow me on Pinterest too. That's what I would do at least, because if you don't get to know me but you still use my recipe it is kind of like taking candy from a stranger, and your mom taught you not to do that. Don't disobey your mom, subscribe to Fox Valley Foodie today.