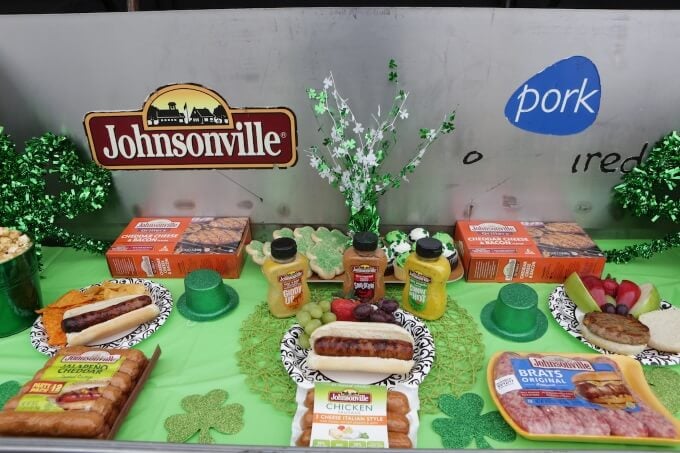 Yesterday I was walking around the woods, and though there is still a layer of snow clinging to the earth, something became abundantly clear to me: Winter is on it's way out. Patches of brown earth were shining through the snow like radiant diamonds, and the previously sturdy ice now cracked under the weight of my foot. As I slogged around the forest my mind turned to spring.
And to a foodie like myself, spring only means one thing: Grilling season!
Yes, it is time to come out of the dark period ladies and gentleman! The 2017 grilling season offers us outdoor grill masters a new beginning! Get ready to load up the charcoal because there are juicy brats just waiting to be bathed in the flames of your grill, and then mopped with a delectable beer brat sauce of course!

Johnsonville is ready too, of course. Actually, they teamed up with the Special Olympics and line backer Brian Urlacher to sponsor this year's polar plunge! After each participant jumps in the freezing water they get to warm up with a piping hot Johnsonville brat. I wish I got a Johnsonville brat each time my foot plunged through the ice yesterday!
Johnsonville rolled out the big guns for this event. The Big Taste Grill is a 20-foot tall, 65-foot long grill, that cooks 2500 brats an hour! I wonder if they'll rent that to me...
A little cold weather in Chicago didn't stop people from enjoying fresh brats off the grill, and it shouldn't stop you either. It is time to gear up for grilling season people! The best way to get ready is to enter to win Johnsonville's #FirstBrat contest! One lucky winner will receive snow removal or lawn care for a year (a $1500 value)!
There are multiple ways to enter to win:
#1 Enter online by visiting www.FirstBratsContest.com, and follow the instructions to register. Be sure to enter all of the information requested. After registering upload one photo of your "first grill of the season"!
#2 Enter to win on Twitter or Instagram. You can log into your Twitter or Instagram account and follow @Johnsonville on Twitter or @jvillesausage on Instagram and publish a photo of your "first grill of the season" with hashtag #FirstBratContest.
#3 Enter to win on Facebook. Simply visit Johnsonville's Facebook page and post a comment in response to Johnsonville's Invitation Post that includes a photo of your "first grill of the season" as well as the #FirstBratsContest hashtag.
Photos will be judged on creativity, photo quality, and how well it captures your passion for grilling in any weather! The contest period runs from 12:00 PM Eastern Time on March 8, 2017 and ends at 11:59:59 PM ET on May 15, 2017.
So what are you waiting for? Dust off that grill and fire up the season!
This is a sponsored conversation written by me on behalf of Johnsonville. The opinions and text are all mine.