The sweet aromatic kiss of Limburger Cheese on your nose has the power to transport you back to treasured memories like changing for gym class in that poorly ventilated locker room in Jr High, or that time your sewer backed up on a hot July day. Its pungent intoxicating essence makes one wonder how cheeses like cheddar and mozzarella were able to steal the lacto limelight instead. Luckily this stage is big enough for even Monterey Jack's fat sweaty cousin.
What's this? You refuse to try Limburger because of its, let's say, alternatively-fragrant aroma? Nonsense! Unlike the time when you ignored the smelly kid in elementary school, leaving Limburger as an outcast only does a disservice to yourself.
Despite the smell, this semi-soft cheese boasts a creamy spreadable texture and a mild, slightly salty, taste. Plus it's great to have around for power outages because you don't need to see it to find it! Though, once the outer rind is cut away the remaining cheese releases a much gentler fragrance.
I enjoy eating Limburger as a snack (it needs to be room temperature to fulfill its full creaminess and flavor) , but I found myself enjoying it so much I started feeling like eating it by itself was just limiting its potential. I decided it needed to star in a recipe. However, there are just not many suitable supporting actors for such a domineering star.
The most traditional way to eat it as part of a meal is as a sandwich on rye with red onion and deli mustard. This was the way Wisconsin's German ancestors enjoyed it. I actually was able to order this sandwich at a bar in New Glarus, WI and I enjoyed it greatly, however I wanted something more.
Then the other week I was making mac and cheese and it hit me… "Why not Limburger?!" I already know I love Limburger cheese, and I want to incorporate it into a meal that showcases it; what better way to create a heartier fare than to turn it into a cheese sauce and slather it over pasta! With some brief thinking I realized I could transform the whole traditional Limburger, Onion and Rye sandwich into an amazing mac and cheese dish.
As I often do with new recipe ideas, I headed to Google to test my hypothesis and see if others have made similar attempts and then learn from their recipes. I was pleased to discover not only did someone else have a recipe for Limburger Mac and Cheese, they also shared my idea to base the dish off of the ingredients of the traditional sandwich. Madame Fromage's recipe seemed perfect to use as a template for my own.
The ingredient list and the recipe instructions are pretty simple. If you can make toast, boil water, sautee onions and make a basic béchamel sauce (adding cheese makes it a 'mornay'), you can make homemade mac and cheese.
Gather your ingredients:
8oz Macaroni
4 tablespoon Butter, divided
¼ cup Flour
2 cups Milk, warmed
8oz block Limburger cheese, large cubes
1 tablespoon oil
½ large Red Onion, diced
1 tablespoon Deli Mustard
~1 teaspoon Kosher salt
Fresh ground black pepper
¼ cup grated Parmesan Cheese
3 slices stale Rye Bread, crumbled and buttered
Preheat oven to 350 degrees.
Place crumbled stale rye bread in a pan with ~1 tablespoon of butter and cook over medium heat until lightly toasted. Remove breadcrumbs from heat and set aside.
Place oil in a pan and add onions, sautéing until onions are translucent and slightly charred (Darker than shown in the picture below). Remove from heat and set aside.
Bring water to boil and add macaroni, cooking it two minutes fewer than the package instructions (it will finish cooking in the oven). Remove from heat and set aside.
In separate saucepan melt 3 tablespoon butter on medium heat and gradually add flour, cooking until a smooth light blond (about 6 minutes), stirring continually. Gradually add warmed milk and stir smooth.
Once sauce is smooth and thickened place the heat on low; stir in cheese cubes, mustard, onions, salt and pepper. Combine with macaroni and then place in a 7x11" baking dish. Top the dish with breadcrumbs and Parmesan cheese and bake for 30 minutes.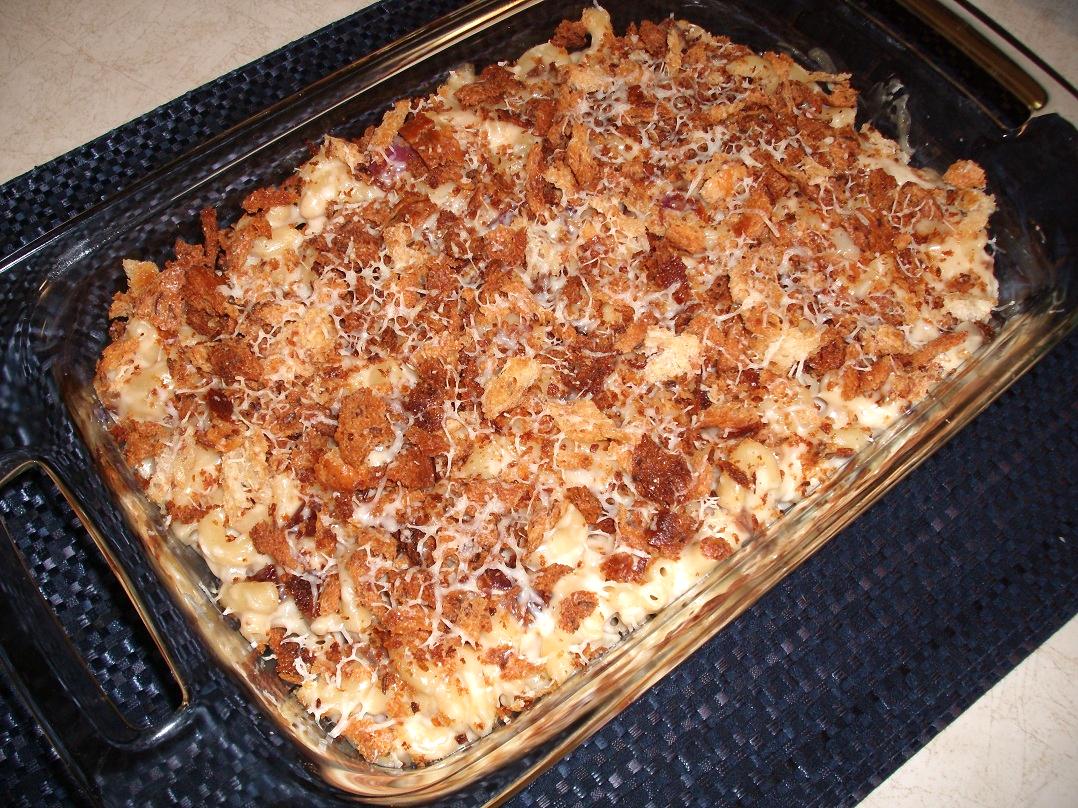 This will yield a dish that would make your German Great Grandmother slap your face and exclaim, "Wunderbar!" We live in Wisconsin after all, the home of the only American cheese factory that even produces Limburger, embrace it! Truly I tell you, it is the closest we will ever come on earth to smelling the feet of God.
I love to hear feedback, so please let me know what you think if you try this recipe!