This incredibly creamy Limburger mac and cheese is a must-try for any lover of stinky cheeses!
The sweet aromatic kiss of Limburger cheese on your nose has the power to transport you back to treasured memories like changing for gym class in that poorly ventilated locker room in Junior High, or that time your sewer backed up on a hot July day. Its pungent intoxicating essence makes one wonder how cheeses like cheddar and mozzarella were able to steal the lacto limelight instead. Luckily this stage is big enough for even Monterey Jack's fat sweaty cousin.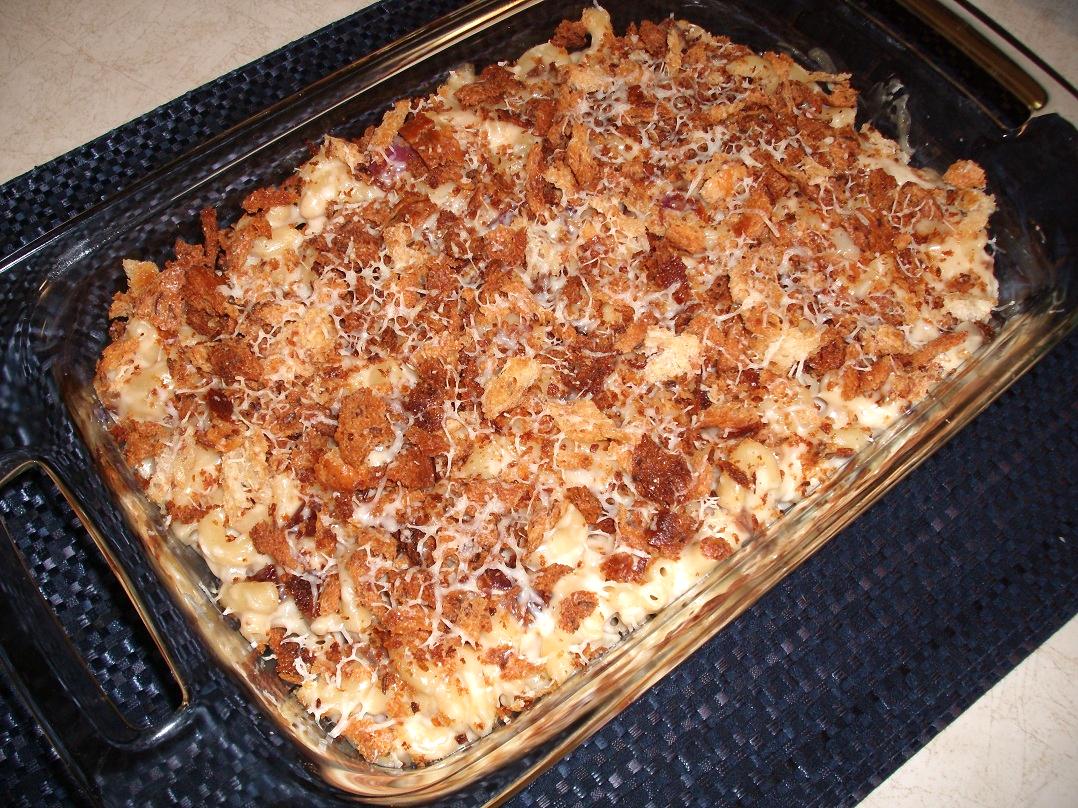 Despite the intense smell, this semi-soft cheese boasts a creamy spreadable texture at room temperature, and a mild, slightly salty, taste. Plus it's great to have around for power outages because you don't need to see it to find it! Although, once the outer rind is cut away the remaining cheese releases a much gentler fragrance.
The most traditional way to eat Limburger as part of a meal is as a sandwich on rye with red onion and deli mustard. This was the way Wisconsin's German ancestors enjoyed it. I actually was able to order this sandwich at a tavern once, and I enjoyed it greatly. However, I wanted something more.
What is it?
Recently I was making mac and cheese and it hit me… "Why not use Limburger?!" I already know I love Limburger cheese, and I want to incorporate it into a meal that showcases it; what better way to create a heartier fare than to turn it into a cheese sauce and slather it over pasta? After a little contemplating, I realized I could transform the whole traditional Limburger, onion, and rye sandwich into an amazing mac and cheese dish.
The ingredient list and the recipe instructions are pretty simple. If you can make toast, boil water, saute onions, and make a basic béchamel sauce (adding cheese makes it a 'mornay'), you can make homemade mac and cheese.
Limburger mac and cheese is a dish that would make your German Great Grandmother slap your face and exclaim, "Wunderbar!" We live in Wisconsin after all, the home of the only American cheese factory that even produces Limburger, embrace it! Truly I tell you, it is the closest we will ever come on earth to smelling the feet of God.
Ingredients and Substitutions
Elbow macaroni noodles - Any other small pasta noodle can be substituted.
Butter
All-purpose flour
Milk
Limburger cheese - You can swap out a less stinky cheese, but if doing so I would recommend just using my Homemade Mac and Cheese recipe.
Cooking oil - Olive oil is the best choice, but any vegetable oil is fine.
Red Onion - You can use a yellow onion if you desire a more mild flavor.
Deli Mustard - Dijon mustard or brown mustard are your best choices.
Kosher salt
Fresh ground black pepper
Grated Parmesan Cheese - Shredded Parmesan cheese works equally well.
Rye Bread - Rye breadcrumbs are perfect if you can find them.
How to make it
Begin making this Limburger macaroni and cheese recipe by placing your crumbled stale rye bread and one tablespoon of butter in a pan set over medium heat and lightly toast the crumbs. Then remove from heat and set them aside.
Next add cooking oil to the skillet along with the onions. Saute the onions until they are translucent and beginning to brown. Then remove from heat and set aside.
While onions are cooking, add macaroni noodles to a large pot of salted boiling water and cook until al dente. Remove from heat and set aside.
In a separate saucepan melt the remaining butter over medium heat and gradually stir in the flour. Cook, while stirring, until a smooth light blond roux forms (about 6 minutes). Then slowly add warmed milk and stir smooth.
Once the cheese sauce is smooth and thickened set the burner to low and stir in cheese cubes, mustard, onions, salt, and black pepper. Combine the cheese mixture with the noodles and place everything in a large baking dish. Finally, top everything with breadcrumbs and Parmesan cheese and bake for 30 minutes.
Storing Leftovers
It is important to store leftovers in an airtight container in your refrigerator or everything in your fridge will quickly soak in the odor of Limburger cheese. Leftovers can be reheated in the microwave and should be enjoyed within five days.
Can you do me a favor? If you enjoyed my post would you mind sharing it with your friends? You can see more of my recipes by liking me on Facebook and follow me on Pinterest too. Otherwise, stay up to date by getting each new post sent directly to your inbox by subscribing today.
Ingredients
8

ounces

macaroni noodles

4

tablespoons

butter

divided

¼

cup

flour

2

cups

milk

warmed

8

ounces

Limburger cheese

large cubes

1

tablespoon

vegetable oil

½

large

red onion

diced

1

tablespoon

Dijon mustard

1

teaspoon

kosher salt

Fresh ground black pepper to taste

¼

cup

grated Parmesan cheese

3

slices

stale rye Bread

crumbled
Instructions
Preheat oven to 350 degrees.

Place crumbled stale rye bread in a skillet with 1 tablespoon of butter and cook over medium heat until lightly toasted. Remove breadcrumbs from heat and set aside.

Place oil in a pan and add onions, sautéing until onions are translucent and slightly charred. Remove from heat and set aside.

Bring water to boil and add macaroni, cooking it two minutes fewer than the package instructions (it will finish cooking in the oven). Remove from heat and set aside.

In separate saucepan melt 3 tablespoon butter on medium heat and gradually add flour, cooking until a smooth light blond (about 6 minutes), stirring continually. Gradually add warmed milk and stir smooth.

Once the sauce is smooth and thickened place the heat on low; stir in cheese cubes, mustard, onions, salt, and pepper.

Combine cheese sauce with macaroni and then place in a 7x11" baking dish. Top with breadcrumbs and Parmesan cheese and bake for 30 minutes.
Nutritional Information
Calories:
452
kcal
|
Carbohydrates:
38
g
|
Protein:
18
g
|
Fat:
25
g
|
Saturated Fat:
14
g
|
Polyunsaturated Fat:
1
g
|
Monounsaturated Fat:
6
g
|
Trans Fat:
0.3
g
|
Cholesterol:
71
mg
|
Sodium:
829
mg
|
Potassium:
268
mg
|
Fiber:
2
g
|
Sugar:
5
g
|
Vitamin A:
782
IU
|
Vitamin C:
1
mg
|
Calcium:
419
mg
|
Iron:
1
mg