This Easy Crock Pot Honey BBQ Chicken recipe only requires four ingredients. It is perfect for feeding a large crowd, or whipping up a hassle free supper.
OK, you connoisseur of the crock pot, you sultan of the slow cooker. I am going to let you in on the best tip you'll ever receive for making amazing crock pot chicken: Don't slow cook skinless chicken breasts.
Yes, I know, most every crock pot chicken recipe on Pinterest calls for chicken breasts, but most of them are wrong. Yes, I know, you would also prefer to use chicken breasts.  Don't do it.
By their simple design, crock pots naturally overcook your meat. This is actually beneficial for tough, fatty cuts of meat, like stew meats, which need the long slow cooking time to render into tender morsels. My Slow Cooker BBQ Pulled Pork recipe is a good example of this. However, lean chicken breasts are already tender, and don't contain enough fatty moisture to withstand overcooking. 
Maybe I'm just overly fussy about this stuff, but I hate overcooked chicken. Its dry stringy texture smacks against your teeth with each underwhelming chew.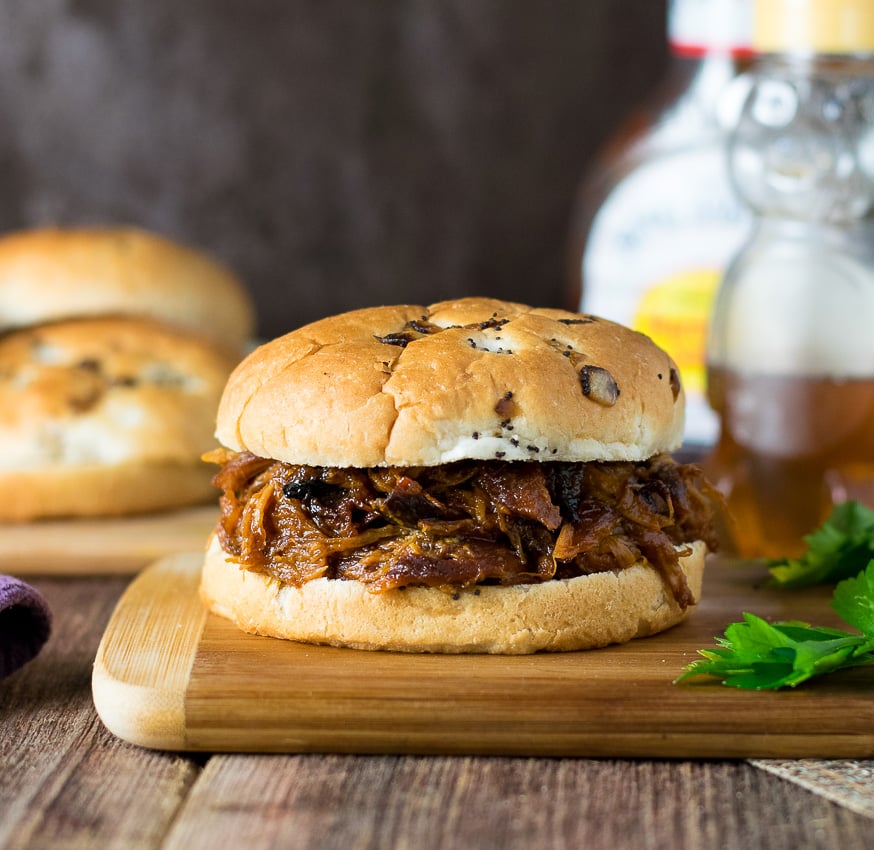 This is why I use chicken thigh meat for my Easy Crock Pot Honey BBQ Chicken.
Thigh meat not only has more flavor, it is slightly fattier (even with the skin removed), allowing it to stand up to hours of slow cooking without turning into stringy bubblegum. 
The only time I think it is a good idea to throw chicken breasts in the slow cooker is when they are being cooked with something fatty to give it moisture, such as a brick of cream cheese, for example.
That being said, can you still use skinless chicken breasts for my Easy Crock Pot Honey BBQ Chicken recipe? Yes, however it will taste better with chicken thigh meat, in my humble opinion.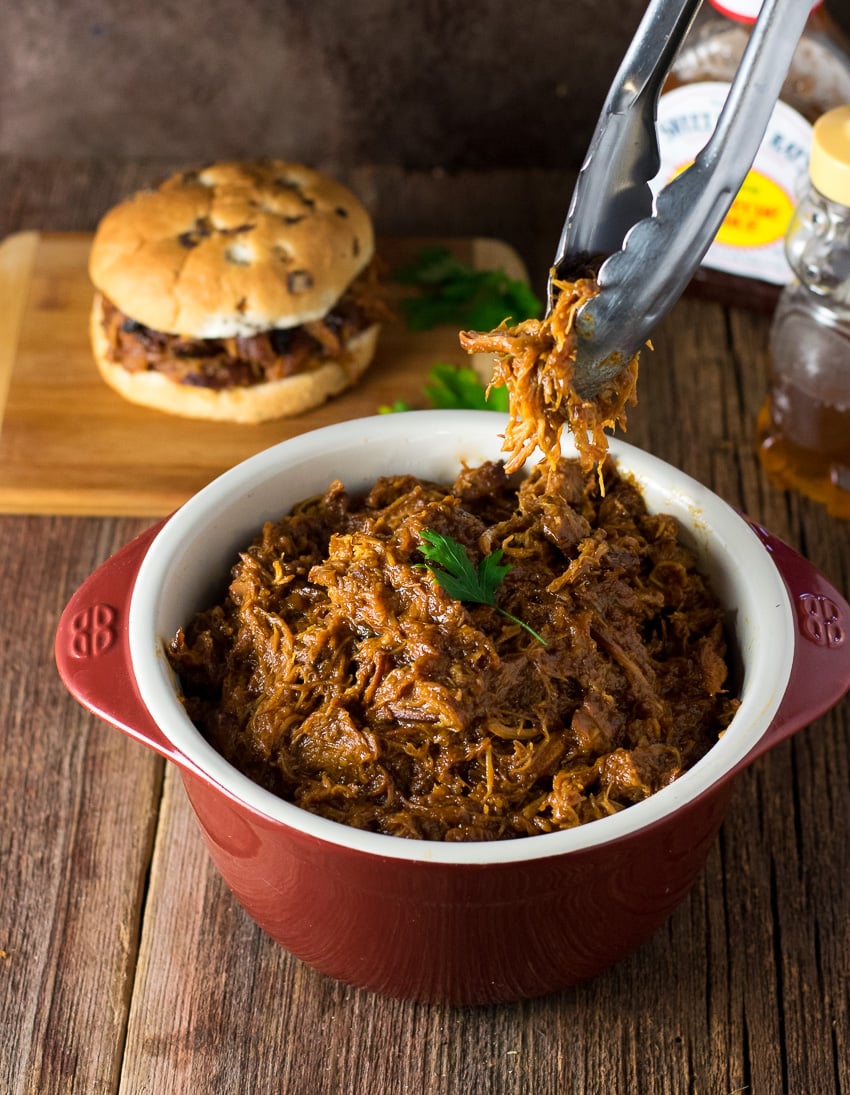 Using a fork to shred meat is labor intensive and time consuming. I found two better ways of doing it. Using these simple bear claws shred much faster, with less effort. Although they work better outside of the crock pot. For shredding inside the crock pot, use a simple hand mixer. It works amazing!
The above links are affiliate links. Any Amazon purchases made through these links helps support FoxValleyFoodie.com at no additional cost to you.
Print Recipe
Easy Crock Pot Honey BBQ Chicken
This Easy Crock Pot Honey BBQ Chicken recipe only requires four ingredients. It is perfect for feeding a large crowd, or whipping up a hassle free supper.
Ingredients
2.5

lbs

Boneless Skinless Chicken Thighs

1

cup

BBQ Sauce

(I used Sweet Baby Ray's)

1/2

cup

Honey

2

tbsp

Ketchup
Instructions
Combine BBQ sauce, honey, and ketchup together.

Add chicken into crock pot and turn on high.

Pour in the sauce mixture and let cook 4-5 hours, or until the chicken is easily shredded.

Serve on its own or as sandwiches.
Notes
I found boneless skinless chicken thighs at Walmart. However, if you can't find them just buy a 3.5 lb package of regular chicken thighs and remove the skin. The bones can easily be taken out after the chicken is done cooking.
You can use chicken breasts, but they dry out easier. Chicken thighs will be more moist and flavorful.
The sauce will appear runny by the end of cooking, but the more you shred the chicken the more the sauce incorporates into the chicken.
Loved this recipe?

Be sure to rate it and share you thoughts below!
*Calories listed are a vague estimate and accuracy should not be assumed.
If you enjoyed reading my Easy Crock Pot Honey BBQ Chicken recipe then you should probably like me on Facebook and follow me on Pinterest too. That's what I would do at least, because if you don't get to know me but you still use my recipe it is kind of like taking candy from a stranger, and your mom taught you not to do that. Don't disobey your mom, subscribe to Fox Valley Foodie today.