Crock pot pork and sauerkraut features tender pork loin slowly cooking in tangy sauerkraut and seasonings in this classic German New Year's meal. 
Whether you are preparing this as a New Year's tradition, or simply craving an effortless family meal, busy families will love this crock pot pork and sauerkraut recipe because it could not be easier to prepare for dinner. The ingredients for this traditional dish simply get added to your slow cooker and simmer away while you worry about more pressing matters of the day.
What is it?
Eating pork and sauerkraut is a popular New Year's Day tradition in Germany thought to bring blessings and wealth in the coming year as bountiful as the number of shreds of sauerkraut in the pot, which is why this dish is also called good luck pork and sauerkraut. Like many other ethnic cuisines and traditions, the great flavors of this meal have taken root in America as well, being particularly popular with the Pennsylvania Dutch.
Ingredients and Substitutions
I recommend using a 6-quart crock pot for this slow cooker pork and sauerkraut recipe.
Pork Loin Roast - I find boneless pork loin to be the best cut of pork for this meal. It is flavorful, lean, cooks up perfectly tender, and is inexpensive to purchase. What more could you want? Some people use a whole pork tenderloin instead, and it will certainly work well, but it has a much higher price point at the grocery store and the final result won't taste much different. Pork chops also work well, as they are typically cut from the loin. You can also use pork shoulder, but it will be much fattier.
Sauerkraut - Using bagged or canned sauerkraut works perfectly well, however, try making homemade sauerkraut if you really want to make this meal exceptional. Oh, and don't worry about the flavor of sauerkraut overpowering this dish, it doesn't.
Caraway Seeds - These are optional but recommended.
Brown Sugar -

The brown sugar and apple really tame down the tanginess of the kraut.

Granny Smith Apple - You can substitute any other baking apple.
Butter - Feel free to use some bacon fat in combination with butter for a smokier flavor. A mixture of apple butter and bacon fat would be phenomenal.
Table Salt
Fresh ground black pepper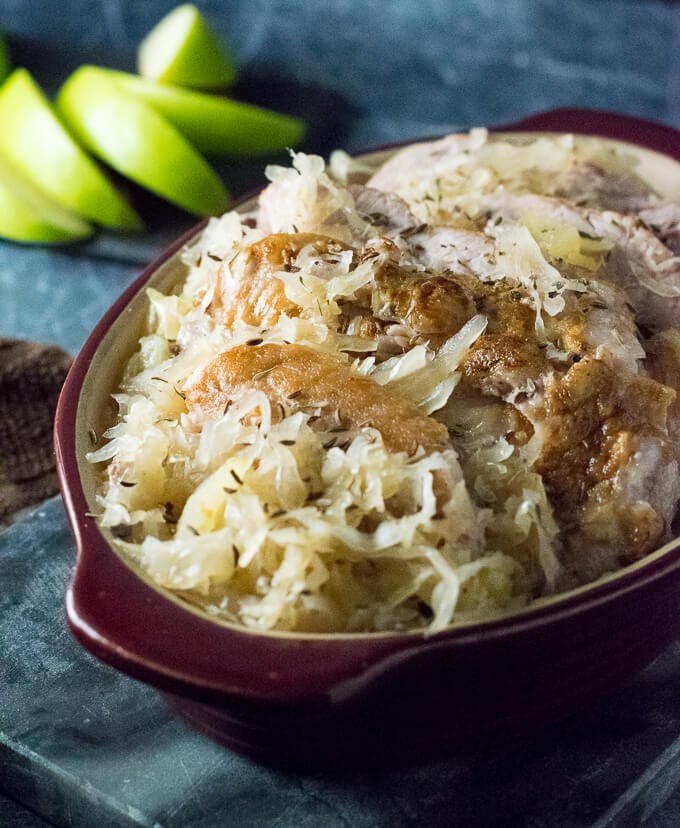 How to make it
Pork and sauerkraut is well suited to make in the crock pot. Begin by placing the raw pork in the slow cooker with all of the remaining ingredients and let everything cook for 6 hours on low heat, but it is even better if you take the time to brown the exterior of the pork loin by searing it in a large skillet prior to placing it in the slow cooker. The browning of the meat adds a great layer of flavor.
The pork is done when it is tender but not falling apart. Remove it with a slotted spoon and slice the pork into individual servings then serve with the sauerkraut mixture and cooking juices.
Note: You do not need additional liquid when cooking pork in a crock pot. Juice will render out of the meat as it cooks and combine with the sauerkraut juice to ensure everything stays moist.
Can I make it in the oven?
If you don't have a slow cooker, you can easily make pork and sauerkraut in the oven. When using this cooking method, the best equipment to use is a Dutch Oven.
The pork can be seared in the Dutch Oven on the stove top with a little oil, then the remaining ingredients can be added, and the Dutch Oven can then be covered and placed in a 350-degree oven until tender. Expect this to take about 2-3 hours.
How to serve it
The best side dish to serve with pork and sauerkraut is mashed potatoes.  Light and fluffy mashed potatoes are perfect for soaking up all of the delicious cooking liquid pulled from the crock pot. Place a slice of pork on top of a scoop of potatoes, ladle over some kraut and juice, then enjoy by the forkful! Roasted potatoes are also another great option to make a complete meal!
Storing & Reheating Leftovers
This easy pork and sauerkraut recipe is perfect to make in advance because it stores and reheats well. It also tastes even better on the second day. The leftover pork should be stored in an airtight container with the sauerkraut mixture and set in your refrigerator to be enjoyed within five days.
The leftovers can easily be reheated in the microwave in individual servings, however, if you made this in advance to serve a crowd you can bring it back up to temperature in your slow cooker, but expect this to take an hour or longer.
Crock Pot Pork and Sauerkraut
Crock pot pork and sauerkraut features tender pork loin slowly cooking in tangy sauerkraut and seasonings in this classic German New Year's meal.
Print
Pin
Rate
Save
Saved
Ingredients
3-4

pound

Pork Loin

2

pounds

Sauerkraut

(with juice)

1

teaspoon

Caraway Seeds

(optional but recommended)

2

tablespoons

Brown Sugar

1

medium

Granny Smith Apple

(cored, peeled, and chopped)

¼

cup

Butter

1

teaspoon

Salt

½

teaspoon

Fresh Ground Pepper
Instructions
Add pork loin to a 6 quart slow cooker and top with sauerkraut, sauerkraut juice, caraway seeds, brown sugar, chopped apple, butter, salt, and black pepper.

Turn slow cooker on low and cook for 6 hours, or until pork loin is tender but not yet falling apart.

Cut the pork loin into individual serving sizes and serve topped with sauerkraut and cooking juices.
Notes
-For added flavor, brown all sides of the pork loin in a hot skillet prior to adding to the crock pot.
-This recipe can be cooked on high as well if needed, expect the cooking time to shorten by a couple of hours.
-Pork tenderloin can be substituted as well.
IF YOU LIKED THIS RECIPE check out my Slow Cooker Sauerkraut and Dumplings recipe too!
Nutritional Information
Calories:
321
kcal
|
Carbohydrates:
11
g
|
Protein:
39
g
|
Fat:
12
g
|
Saturated Fat:
5
g
|
Cholesterol:
122
mg
|
Sodium:
1175
mg
|
Potassium:
853
mg
|
Fiber:
3
g
|
Sugar:
7
g
|
Vitamin A:
210
IU
|
Vitamin C:
17.7
mg
|
Calcium:
50
mg
|
Iron:
2.6
mg
This recipe was originally published August 29, 2018, on FoxValleyFoodie.com.
Can you do me a favor? If you enjoyed my post would you mind sharing it with your friends? You can see more of my recipes by liking me on Facebook and follow me on Pinterest too. Otherwise, stay up to date by getting each new post sent directly to your inbox by subscribing today.
More Pork & Sauerkraut Recipes