Sauerkraut and Dumplings is classic European comfort food. This dish has meaty chunks of Kielbasa intermingled throughout for a complete one-pot meal!
I come from a family with a strong German heritage on both sides. As such, meals such as Sauerkraut and Dumplings were commonplace in our home growing up. Though I contend this recipe is German in nature, you will find similar recipes for Polish Sauerkraut and Dumplings, as well as Czech Sauerkraut and Dumplings. The truth is, this low-cost meal is a classic European staple among many nationalities.
Sauerkraut and Dumplings
My parents didn't grow up rich by any means, so I suspect this is a recipe my mother also ate as a child. Sauerkraut and Dumplings is a hearty dish that is void of any costly ingredients, making it ideal to serve large families on a shoestring budget. Though I make my version with Kielbasa, my mother would add ham hocks, or even hot dogs.
Sauerkraut and Dumplings with Roast Pork is a popular alternative as well. This makes a great crock pot dish since the sauerkraut and dumplings can simmer in the slow cooker while the pork cooks.
The point is, this is a very versatile dish that will not dent your budget. If you like sauerkraut, this needs to go on your shopping list!
The protein is not the only versatile portion of the dish. You can get equally creative with the dumplings.
The way I show you how to make Sauerkraut and Dumplings includes traditional dumplings. However, shortcut methods include making dumplings with Bisquick, or even potato dumplings. Potato dumplings are simply gnocchi. Though perhaps not traditional, I bet tender gnocchi dumplings would taste phenomenal in this dish!
If you want to try your hand at making gnocchi, check out my tutorial on making gnocchi from scratch!
One thing to note, my recipe calls for using a 12" skillet, which I suspect you have. However, I also recommend covering the skillet with a lid during cooking since that will help cook the dumplings. I am aware everyone may not have a lid that fits a 12" skillet. If you don't, you can either buy one cheaply from Amazon, or you can cook your sauerkraut and dumplings in a pot. This won't give the dumplings as much room to spread out, but the recipe will still turn out great!
The above link is an affiliate link. Any Amazon purchases made through this link helps support FoxValleyFoodie.com at no additional cost to you.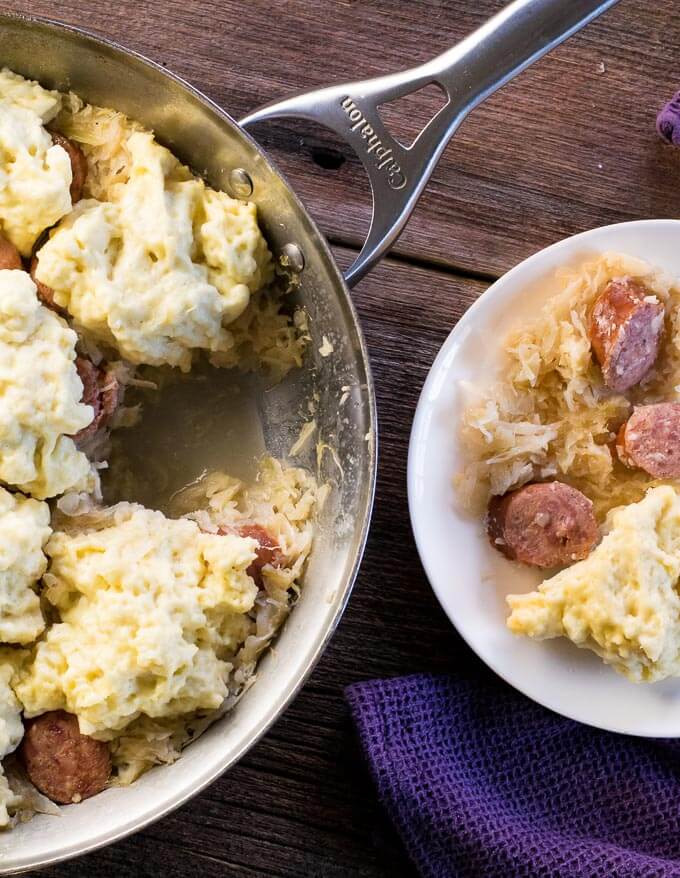 Sauerkraut and Dumplings with Kielbasa
Sauerkraut and Dumplings is classic European comfort food. This dish has meaty chunks of Kielbasa intermingled throughout for a complete one-pot meal!
Print
Pin
Rate
Save
Saved
Ingredients
48

oz

sauerkraut

14

oz

Kielbasa,

sliced into 1" chunks
Dumplings
3

eggs

½

cup

milk

2

teaspoon

baking powder

2

cups

flour

½

teaspoon

salt
Instructions
Add eggs to a bowl and beat.

Add remaining dumpling ingredients to the bowl and stir to combine into a batter.

Pour sauerkraut with its juice into a 12" skillet and add kielbasa chunks. Spread out evenly in the pan. Heat to a simmer.

Scoop dumpling batter with a spoon and dot the skillet with dumplings of your preferred size, spacing them out to allow room for expansion.

Cover skillet and cook for 25 minutes.
Nutritional Information
If you enjoyed reading my Sauerkraut and Dumplings with Kielbasa recipe then you should probably like me on Facebook and follow me on Pinterest too. That's what I would do at least, because if you don't get to know me but you still use my recipe it is kind of like taking candy from a stranger, and your mom taught you not to do that. Don't disobey your mom, subscribe to Fox Valley Foodie today.