Minimal prep and the rich flavor of sharp cheddar cheese makes this Creamy Crock Pot Broccoli Cheese Soup the ultimate comforting soup!
I don't know about you, but I am my own worst critic. Particularly when it comes to food. I have a long-standing rule that I do not test food out at gatherings. Basically, that means I will only bring tried and true dishes to pass at potlucks and other events. Any new recipes need to be tested and tweaked in my own home before I share them with others.
This Creamy Crock Pot Broccoli and Cheese Soup was a good example of that. I was really excited about my recipe idea, however, the first attempt was a complete failure. I wanted to create a simple 'dump ingredients and go' crock pot version, but the sauce wouldn't come together without some assistance. I then made a new batch the next day with some tweaks, and it was perfect!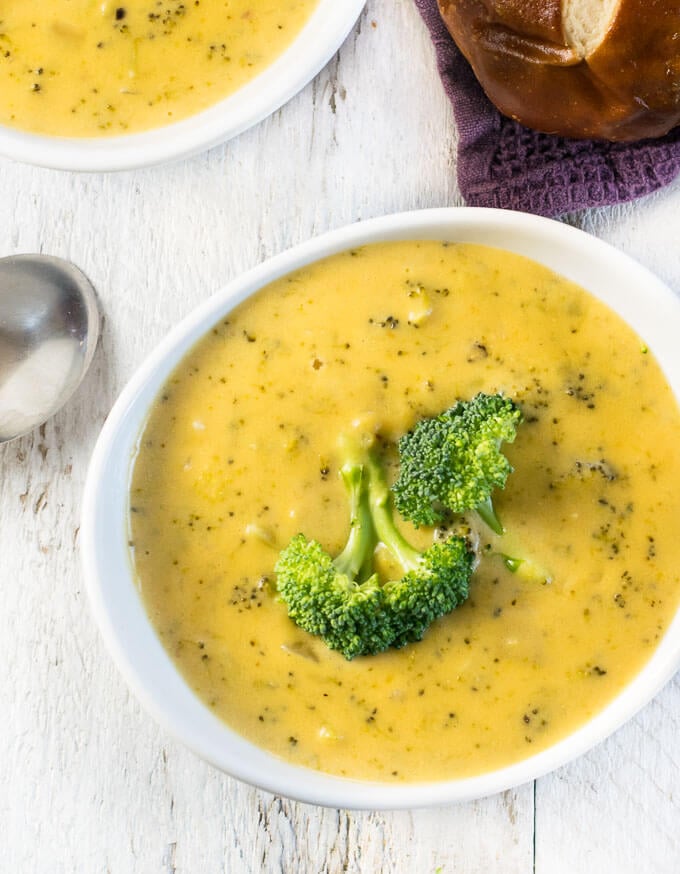 It was so good, in fact, that I decided to bring it as a dish to pass at a friend's cookout last weekend. However, by the time we got there, it had cooled down and needed to be heated up. Though to my dismay, after my Crock Pot Broccoli and Cheese Soup was reheated in the microwave I discovered that the sauce had begun to break, and though it was still good, it was no longer decadently rich and creamy.
I kept my mouth shut and served it, but I wanted to scream, "DON'T JUDGE THIS AS IS, IT SHOULD BE SO MUCH BETTER!"
The reality is, cheese sauces that use real cheese don't reheat well, and since my recipe calls for sharp cheddar, I should have remembered that. The cheese heats up quicker than the sauce around it and it causes it to "break", turning a perfectly creamy sauce into a lumpy oily mix.
Despite, these pitfalls people still raved about the soup. Luckily, I use a balance of Velveeta and sharp cheddar. Velveeta adds creaminess and prevented the sauce from completely breaking, while sharp cheddar adds amazing flavor!
Like I said, I'm my own worst critic.
When creating recipes for the crock pot, my ideal recipe allows you to just dump the ingredients in and go. Though, as I mentioned, that didn't work well with this recipe. If you don't melt the Velveeta and stir it into the half & half and cornstarch, the sauce never fully incorporates. So instead, my recipe requires you to first heat the sauce on the stovetop.
I know that may be a turn off for some people looking for the simplest of recipes, but trust me. IT IS NOT HARD. It takes a total of 3 minutes. Yes, I timed it. Velveeta melts exceptionally quickly, so you will find your sauce has come together before you are even done chopping your onion!
This article contains affiliate links. Any Amazon purchases made through this link helps support FoxValleyFoodie.com at no additional cost to you.
Creamy Crock Pot Broccoli Cheese Soup
Minimal prep and maximum flavor makes this Creamy Crock Pot Broccoli Cheese Soup the ultimate comforting soup!
Print
Pin
Rate
Save
Saved
Ingredients
6

tablespoon

butter

1

onion

chopped

32

oz

frozen chopped broccoli

4

(14.5 oz)

cans chicken broth

16

oz

processed cheese product

Velveeta, cubed

16

oz

shredded sharp cheddar cheese

2

cups

half and half

4

cloves

garlic

minced

⅔

cup

cornstarch

1

cup

water
Instructions
In small saucepan add cheese product (Velveeta) and half & half. Cook until melted, stirring as needed. Once melted add chicken broth and bring to temperature.

While cheese is melting, add cornstarch to bowl and stir in water a few tablespoons at a time to prevent clumping.

Once cornstarch has turned into a slurry temper it by ladeling warm cheese sauce into it to bring up its temperature.

Once slurry is warm, add it to the crock pot with the sauce and stir to combine.

Add remaining ingredients, minus the sharp cheddar cheese, and let cook on high for three hours, stirring occasionally.

Before serving, add sharp cheddar cheese to the crock pot and stir to melt the cheese into the sauce.

If soup gets too thick, you can thin it out by adding a tablespoon of water at a time to reach your desired consistency.
Nutritional Information
If you enjoyed reading my Creamy Crock Pot Broccoli Cheese Soup recipe then you should probably like me on Facebook and follow me on Pinterest too. That's what I would do at least, because if you don't get to know me but you still use my recipe it is kind of like taking candy from a stranger, and your mom taught you not to do that. Don't disobey your mom, subscribe to Fox Valley Foodie today.