Six years ago I lived with my sister and her husband renting out their basement (because I was cool like that). Between my time spent not having to go to work and giving up a video game addiction I was trying to find some activities to occupy my time.
Though I wasn't into cooking at all at the time, a lasagna recipe in a cookbook piqued my interest and told my sister I would make that for her. Well, I got busy doing my best impersonation of a productive member of society, I moved out, and I never actually made lasagna. No, I don't mean I never made it for my sister, I mean I never made lasagna in my life.
Earlier this spring, after digging my sister's garden she offered to cook me dinner. What did she offer to make? Lasagna of course. She claims it is her go-to dish when she needs to whip something up because she always has the ingredients on hand. However I suspect, like the widowed captain's wife who still spends her days looking out to sea, my sister is keeping the ingredients on hand in hopes that someday I will return and fulfill my vow to cook her lasagna.
Now I'm no psychologist, but to me that sounds like some deep seeded issues that needs to be resolved. Luckily for my sister, she is a psychologist so I'm sure she can work herself through it.
Anyways, I got lost on a tangent… Oh yeah, the point of that story was that I helped my sister make the lasagna. (See? That isn't really as interesting as my tangents.)
Capitalizing off of my momentum, I finally made lasagna for myself recently! This was no ordinary lasagna either; it was chicken and artichoke lasagna with basil! I saw a photo of it on Pintrest, the idea sounded tantalizing so I tweaked the recipe a bit to make it my own. I was very pleased with how it came out and I wouldn't hesitate to recommend it to you. More importantly it inspired me to make the most amazing soup in the world, but that tasty teaser is a story for another day.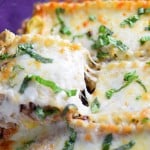 Print Recipe
Chicken and Artichoke Lasagna with Basil Recipe
This is a tangy twist on the lasagna classic. The sharp flavors of artichokes and sundried tomatoes are a nice accent to the fresh basil and creamy base sauce.
Ingredients
2

boneless skinless chicken breasts

cooked and shredded

12

lasagna noodles

cooked

14

oz

can artichoke hearts

drained and chopped

½

cup

sundried tomatoes

12

oz

mozzarella cheese

½

cup

shredded parmesan cheese

shredded

16

oz

cream cheese

softened

1

cup

milk

1/2

cup

basil

chopped

1/2

tsp

garlic powder
Instructions
Preheat your oven to 375 degrees.

While the oven is preheating combine chicken, artichokes, tomatoes, 1 cup mozzarella and Parmesan. In another bowl mix cream cheese, milk, and garlic powder until well blended; then add in all but 2 TBSP of basil.

Spread half of the cream sauce onto the bottom of a 9×13″ dish and then combine the remaining sauce with the chicken mixture.

Lay three noodles in the pan, topping with 1/3 of the chicken mixture, and then repeat with two more layers of additional noodles and chicken mixture.

Finally, cover the top layer with mozzarella cheese and cover with aluminum foil.

Bake 20 minutes covered and then uncovered for an additional 20 minutes to allow cheese to brown.

Sprinkle with remaining basil and let rest 15 minutes prior to serving to allow juices to redistribute.
Loved this recipe?

Be sure to rate it and share you thoughts below!
*Calories listed are a vague estimate and accuracy should not be assumed.
All I require as payment for this recipe is that you double the batch and take the extra dish over to my sister's.  Then tell her it was from me. Or you can just like me on Facebook and follow me on Pinterest too.