This is not your typical shredded hash browns recipe, these Cheddar-Crusted Homemade Hash Browns are shatteringly crispy and bursting with the intoxicating flavor burnt cheddar cheese.
Yes, that's right. I said "burnt cheddar cheese." Have you ever topped a burger with a hearty slice of cheese and watched it melt down the edges, transforming into a crisp cheese cracker as it dances on the hot skillet?  Don't tell me you have never indulgently popped that delectable morsel in your mouth as spoils for the chef, I wouldn't believe it. Now imagine an entire shredded hash brown patty infused with cheese searing on the stove top until your tastebuds can't tell where the crackling cheese ends and the crisp hash brown shreds begin. Yeah, breakfast just got real!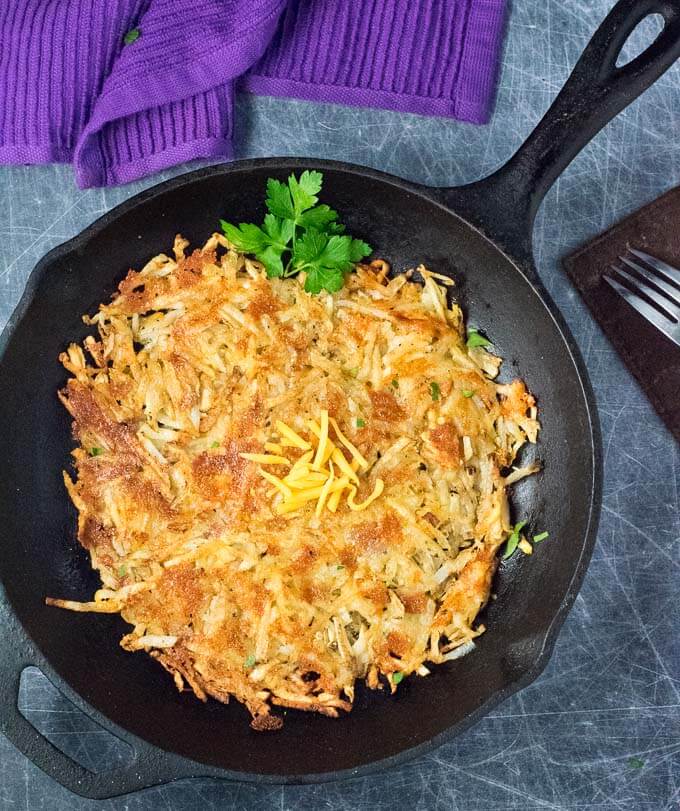 Homemade shredded hash browns have long been an obsession of mine. My Treatise on How to Make Homemade Shredded Hash Browns was my first popular post on this website, and it still one of my strongest performers today. I highly recommend the read if you want to truly understand how the best hash browns are made. However, I'll give you the cliff notes below:
How to Make Homemade Hash Browns
Making hash browns from scratch will always lead to disaster if you don't tackle a few important steps. First of all, you need russet potatoes or the hash browns won't crisp properly in the pan and have the wrong taste. To make great hash browns it is best to shred the potatoes using the large holes of a box grater.
After shredding the potatoes they need to be rinsed under cold water. Not only will this stave off oxidation, but it also rinses off excess starch. If the starch isn't rinsed off, your potatoes will turn gummy as they cook. Yuck.
Finally, it is important to squeeze out all of the excess moisture from the potatoes after rinsing them. Potatoes hold a lot of water and they will not crisp in the pan if you don't do this.
How to Make Hash Browns Crispy
You can't make crispy hash browns without an exceptional amount of fat. The hot oil and butter fries the individual potato shreds as they cook until they are encapsulated in a tantalizing golden crust. These Cheddar-Crusted Homemade Hash Browns are exceptionally crispy because the melting cheese adds additional fat to the party for an unreal level of crispiness. I didn't say this recipe was going to be healthy!
It is important not to stir, or shuffle the hash brown mixture around the pan while it cooks. Simple press it firmly together with a spatula, into a thin layer, and then leave it alone until the bottom is a deep brown. Flip and repeat.
Cheddar-Crusted Homemade Hash Browns
I made this recipe with multiple kinds of cheese and the tanginess of Sharp Cheddar stood above the rest. Honorable mentions that are worth trying include Parmesan cheese and any other cheddar cheese you have on hand. Really, this recipe will taste great with whatever your favorite cheese is. Let me know in the comments below if you use another cheese that hits it out of the park!
You will notice the amount of cheese called for in this recipe varies from ⅓ cup to ½ cup, this is because every potato varies in size. It isn't important that your potato yields exactly 1 ½ cups of shreds. If you get more use ½ cup of cheese, if you get a little less, use ⅓ cup of cheese. Don't over think this, it is going to taste great either way.
Cheddar-Crusted Homemade Hash Browns
This is not your typical shredded hash browns recipe, these Cheddar-Crusted Homemade Hash Browns are shatteringly crispy and bursting with the intoxicating flavor burnt cheddar cheese.
Print
Pin
Rate
Save
Saved
Ingredients
1

medium

shredded Russet potato

(approximately 1 ½ cups)

⅓ - ½

cup

shredded Sharp Cheddar Cheese

(depending on potato size)

¼

teaspoon

salt

¼

teaspoon

fresh ground pepper

1

tablespoon

butter

2

tablespoons

cooking oil
Instructions
Shred potato with the largest holes of a box grater and quickly rinse under cold water in a fine mesh strainer to remove excess starch. Water should run clear after passing through potatoes.

Working in batches a handful at a time squeeze out all excess water from potatoes and place in a medium-sized bowl. You can also use cheesecloth to squeeze out moisture.

Add cheese, salt and pepper to bowl with potatoes and mix to combine.

Heat non-stick skillet over medium-high heat, add butter and oil and heat till shimmering.

Add hash brown mixture and spread evenly in the pan, firmly pressing flat so it holds together.

Once the bottom shows signs of deep browning, flip hash browns in the pan. Continue cooking until this side browns as well.

Remove from pan and serve immediately.
Nutritional Information
Calories:
258
kcal
|
Carbohydrates:
19
g
|
Protein:
2
g
|
Fat:
19
g
|
Saturated Fat:
4
g
|
Cholesterol:
15
mg
|
Sodium:
345
mg
|
Potassium:
444
mg
|
Fiber:
1
g
|
Vitamin A:
175
IU
|
Vitamin C:
6.1
mg
|
Calcium:
14
mg
|
Iron:
0.9
mg
If you enjoyed my Cheddar-Crusted Homemade Hash Browns recipe then you should probably like me on Facebook and follow me on Pinterest too. That's what I would do at least, because if you don't get to know me but you still use my recipe it is kind of like taking candy from a stranger, and your mom taught you not to do that. Don't disobey your mom, subscribe to Fox Valley Foodie today.