This baked bbq chicken drumsticks recipe is deliciously simple to make in the oven, uses only simple ingredients, and will be a sure family favorite. Making delicious barbecue chicken is as easy as dusting drumsticks with seasoning, painting them with sauce, and then roasting the legs to perfection. Finally, we finish them off under the broiler.
You can do this! Let's get ready to enjoy an easy dinner the whole family will love!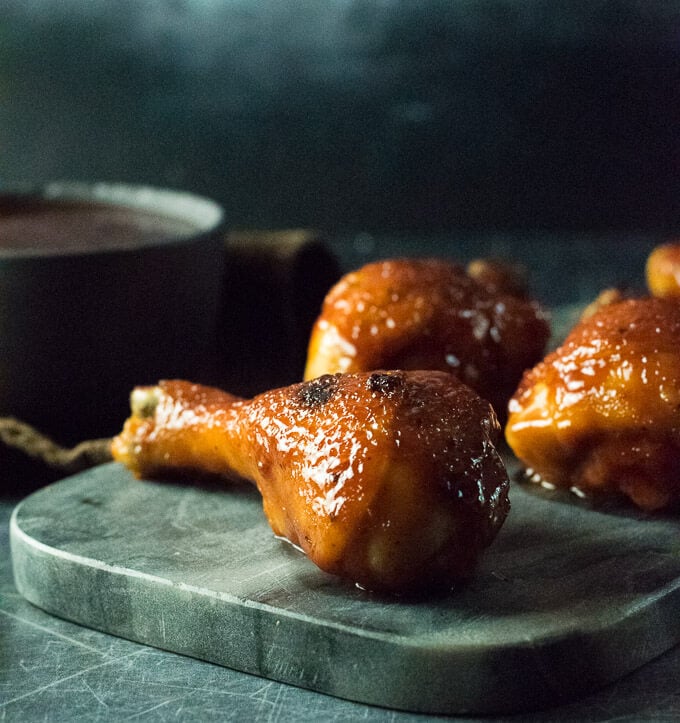 What are they?
There are different ways to bake BBQ chicken drumsticks in the oven. Some recipes apply the BBQ sauce right at the beginning, others apply it at the end. The benefit of applying it at the beginning is that allows the sauce to thicken in a jam, however, the skin on the chicken stays rubbery and soft. The benefit of applying the sauce at the end is it allows the skin to crisp up, but the BBQ doesn't have time to caramelize and thicken.
My baked BBQ chicken drumsticks recipe overcomes these challenges by baking the flavorful chicken at a high temperature to firm up the skin, then broiling the sauce at the end to thicken it. Broiling the sauce is the real secret to this easy recipe because as the sauce broils it thickens into a jam, radically intensifying the flavor.
Ingredients and Substitutions
Chicken Drumsticks - This simple recipe also works for baking chicken legs, so feel free to grab whatever is on sale at the grocery store.
Olive Oil - Any other vegetable oil can also be substituted.
Onion Powder
Salt
Fresh Ground Black Pepper
BBQ Sauce - You can use your favorite kind of BBQ sauce for this recipe, however, if you are motivated enough to make your own, I recommend my tangy BBQ sauce recipe.
How to Make BBQ Chicken Drumsticks in the Oven
Set all of your chicken pieces in a large mixing bowl along with the olive oil, paprika, garlic powder, onion powder, salt, and black pepper. Toss the drumsticks with the seasoning until well coated.
Place the chicken drumsticks on a rimmed baking sheet, leaving space in between each piece. Place the baking sheet in an oven preheated to 450 degrees and let bake for 40 minutes.
Take the chicken out of the oven and turn the broiler to high heat. Then paint the chicken with BBQ sauce and set the chicken on the middle oven rack under the broiler and broil for 10 minutes, rotating the chicken as needed. (You can use the upper rack, but you risk the sauce burning quickly.)
Let the chicken cool for a few minutes and then serve with your favorite sides, such as mashed potatoes, potato salad, roasted green beans, or a simple salad.
Chicken Drumsticks FAQs
What Temperature to Bake Chicken Drumsticks
Recipes for baked chicken drumsticks vary from 375 degrees to 450 degrees. 450 degrees is the best oven temperature for baking chicken drumsticks because the high heat is needed to prevent the chicken skin from being rubbery and soft.
How Long to Bake Chicken Drumsticks at 450 degrees?
It takes 40 minutes at 450 degrees to bake chicken drumsticks. However, this cooking time can vary depending on the size of your drumsticks. Drumsticks baked at a lower temperature will take longer to cook. It is always recommended to use an instant-read thermometer to check for doneness.
How to Get Crispy Chicken Skin

?
Baking chicken drumsticks at 450 degrees is a great way to firm up the skin. However, if you want truly crispy skin the secret is to broil the skin after it finishes baking by waiting to apply the BBQ sauce until after you first broil the skin.
How to store leftover chicken drumsticks
Leftover BBQ chicken drumsticks should be stored in an airtight container in the refrigerator and eaten within five days for the best flavor and texture. The leftovers can easily be reheated by baking the BBQ drumsticks for 15 minutes at 400 degrees.
Easy Baked Chicken Drumsticks
If the idea of messing with your broiler intimidates you, or you just decide that you don't have the energy for it, the easiest way to make this recipe is to apply the BBQ sauce directly to the drumsticks after 30 minutes and then return them back to the oven to bake for another 15 minutes. Easy peasy, hassle-free, and still delicious!
Can you do me a favor? If you enjoyed my post would you mind sharing it with your friends? You can see more of my recipes by liking me on Facebook and follow me on Pinterest too. Otherwise, stay up to date by getting each new post sent directly to your inbox by subscribing today.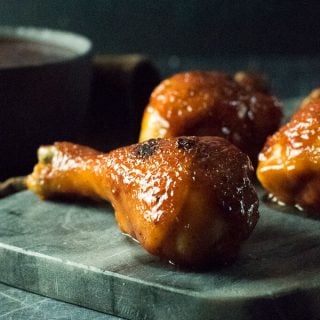 Baked BBQ Chicken Drumsticks
These baked BBQ chicken drumsticks are roasted to perfection and lacquered with a finger-lickingly sticky BBQ sauce.
Print
Pin
Rate
Save
Saved
Ingredients
10

Chicken Drumsticks

(~4 lbs)

2

tablespoons

Olive Oil

¼

teaspoon

Paprika

¼

teaspoon

Garlic Powder

¼

teaspoon

Onion Powder

¼

teaspoon

Salt

¼

teaspoon

Fresh Ground Pepper

1-2

cups

BBQ Sauce

(click link for my recipe, or use your favorite)
Instructions
Preheat oven to 450 degrees.

Place chicken in a large bowl and add oil and seasonings then toss to evenly coat.

Set drumsticks on a large rimmed baking sheet so they are not touching each other and place in the oven. Bake for 40 minutes.

Remove chicken from the oven and set broiler to high.

Generously slather BBQ sauce over the chicken and place on the middle oven rack and broil for 5 minutes, rotating and removing from heat as needed to prevent burning.

Flip drumsticks over and slather the other side with BBQ sauce and repeat the broiling process again for 5 minutes.

Chicken is done when it reaches an internal temperature of 165 degrees and the BBQ sauce has thickened into a sticky jam.

Let cool briefly and serve.
Notes
You can broil on the top rack if desired. It will broil much faster but it also has a higher risk of burning. I like broiling on the middle rack because the sauce seems to thicken more evenly when broiled slowly.
The amount of BBQ sauce needed will vary depending on how thickly you apply it on the chicken, but figure between 1-2 cups. However, extra sauce can be added if you want to broil layers of BBQ sauce onto the chicken.
For easy cleanup, I recommend lining your baking sheet with aluminum foil. 
If you liked this recipe you will love my crispy Baked Chicken Wings recipe too!
Nutritional Information
Calories:
487
kcal
|
Carbohydrates:
29
g
|
Protein:
33
g
|
Fat:
25
g
|
Saturated Fat:
5
g
|
Cholesterol:
174
mg
|
Sodium:
1076
mg
|
Potassium:
587
mg
|
Sugar:
23
g
|
Vitamin A:
310
IU
|
Vitamin C:
0.4
mg
|
Calcium:
43
mg
|
Iron:
1.7
mg
This recipe was originally published on October 3, 2018, on FoxValleyFoodie.com.