These baked BBQ chicken drumsticks are roasted to perfection and lacquered with a finger-lickingly sticky BBQ sauce.
I am pretty sure sticky BBQ sauce is the true nectar of the gods. No, I am not talking about any ol' BBQ sauce, I am talking about BBQ sauce the bubbles and boils under intense heat until it thickens into a sticky jam, clinging to your chicken drumsticks with more fervor than a southern revival evangelist clinging to the good book as he proclaims God's will. I'm telling you, one bite and you'll be singing "Hallelujah!"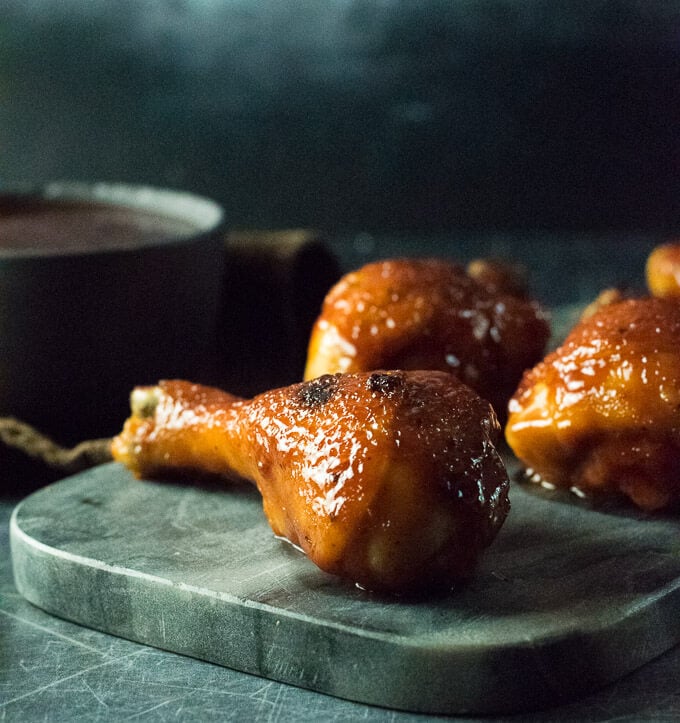 Baked BBQ Chicken Drumsticks
These baked bbq chicken drumsticks are deliciously simple to make, and a sure family favorite. You can use your favorite BBQ sauce for this recipe, however, if you are motivated enough to make your own, I recommend my Homemade BBQ sauce recipe. The amount of BBQ sauce needed will vary depending on how thickly you apply it on the chicken, but figure between 1-2 cups.
How to Make BBQ Chicken Drumsticks in the Oven
There are multiple ways to make BBQ chicken drumsticks in the oven. Some recipes apply the BBQ sauce right at the beginning, others apply it at the end. The benefit to applying it at the beginning is that allows the sauce to thicken in a jam, however, the skin on the chicken stays rubbery and soft. The benefit to applying the sauce at the end is it allows the skin to crisp up, but the BBQ doesn't have time to caramelize and thicken.
My baked BBQ chicken drumsticks recipe overcomes these challenges by baking at a high temperature to firm up the skin, then broiling the sauce at the end to thicken it. Broiling the sauce is the real secret to this recipe because as the sauce broils it thickens into a jam, radically intensifying the flavor.
What Temperature to Bake Chicken Drumsticks
Recipes for baked chicken drumsticks vary from 375 degrees to 450 degrees. 450 degrees is the best oven temperature for baking chicken drumsticks because the high heat is needed to prevent the chicken skin from being rubbery and soft.
How Long to Bake Chicken Drumsticks
It takes 40 minutes at 450 degrees to bake chicken drumsticks. However, this cooking time can vary depending on the size of your drumsticks. Drumsticks baked at a lower temperature will take longer to cook. It is always recommended to use a meat thermometer to check for doneness.
How to Get Crispy Chicken Skin
Baking chicken drumsticks at 450 degrees is a great way to firm up the skin. However, if you want truly crispy skin the secret is to broil it.
Bonus Tip: I did not include this in the recipe, to keep it simple for everyone, however, if you want maximum crispiness, after 40 minutes of baking broil the drumsticks on all sides until the skin is crisp. Then add the BBQ sauce and broil until the sauce thickens into a jam.
Easy Baked Chicken Drumsticks
If the idea of messing with your broiler intimidates you, or you just decide that you don't have the energy for it, you can make this recipe easier by just applying the BBQ sauce directly to the drumsticks after 30 minutes and then return them back to the oven to bake for another 15 minutes. Easy peasy, hassle-free, and still delicious!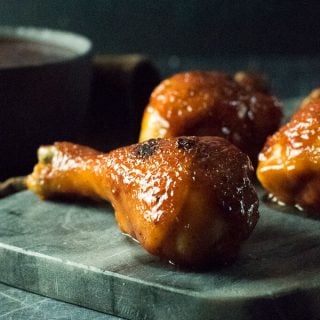 Baked BBQ Chicken Drumsticks
These baked BBQ chicken drumsticks are roasted to perfection and lacquered with a finger-lickingly sticky BBQ sauce.
Print
Pin
Rate
Ingredients
Instructions
Preheat oven to 450 degrees.

Place chicken in a large bowl and add oil and seasonings then toss to evenly coat.

Set drumsticks on a large rimmed baking sheet so they are not touching each other and place in the oven. Bake for 40 minutes.

Remove chicken from the oven and set broiler to high.

Generously slather BBQ sauce over the chicken and place on the middle oven rack and broil for 5 minutes, rotating and removing from heat as needed to prevent burning.

Flip drumsticks over and slather the other side with BBQ sauce and repeat the broiling process again for 5 minutes.

Chicken is done when it reaches 165 degrees and BBQ sauce has thickened into a sticky jam.

Let cool briefly and serve.
Notes
You can broil on the top rack if desired. It will broil much faster but it also has a higher risk of burning. I like broiling on the middle rack because the sauce seems to thicken more evenly when broiled slowly.
IF YOU LIKED THIS RECIPE you will love my crispy Baked Chicken Wings recipe too!
Nutrition
Calories:
487
kcal
|
Carbohydrates:
29
g
|
Protein:
33
g
|
Fat:
25
g
|
Saturated Fat:
5
g
|
Cholesterol:
174
mg
|
Sodium:
1076
mg
|
Potassium:
587
mg
|
Sugar:
23
g
|
Vitamin A:
310
IU
|
Vitamin C:
0.4
mg
|
Calcium:
43
mg
|
Iron:
1.7
mg
If you enjoyed reading my Baked BBQ Chicken Drumsticks recipe then you should probably like me on Facebook and follow me on Pinterest too. That's what I would do at least, because if you don't get to know me but you still use my recipe it is kind of like taking candy from a stranger, and your mom taught you not to do that. Don't disobey your mom, subscribe to Fox Valley Foodie today!