This mouthwatering venison cheesesteak is piled high with thinly sliced venison, sauteed peppers, onions, and mushrooms and topped with melty provolone. Loaded this all onto a hoagie roll and you have the best thing outside of Philly!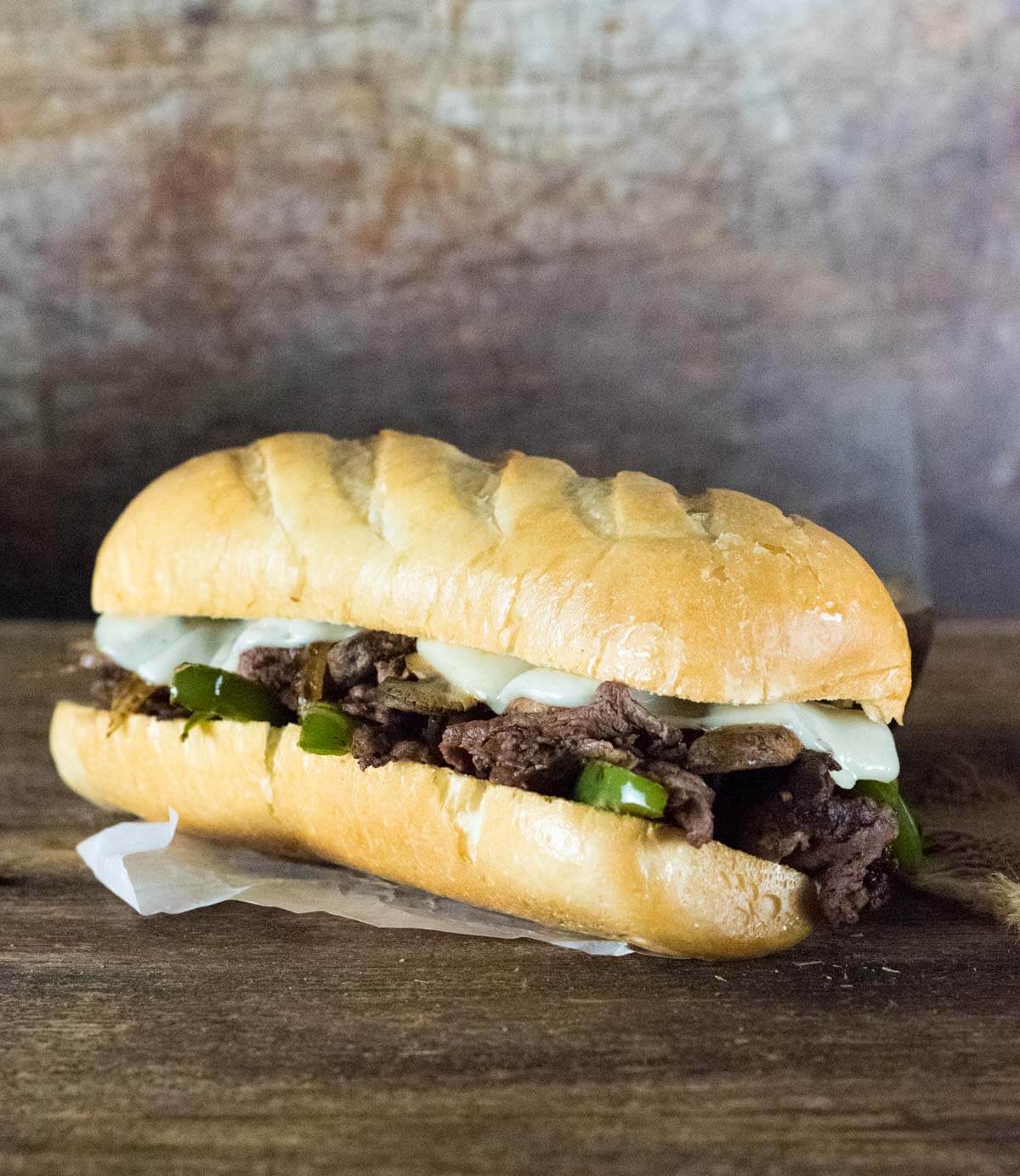 What is a cheesesteak?
This recipe is inspired by the classic Philly Cheesesteak consisting of thinly sliced beef, onions, and cheese on a special hoagie-style roll. The cheese is most commonly provolone or cheese whiz.
You may be thinking right now that I forgot to mention peppers, but authentic Phillys don't typically have peppers. Mushrooms are another addition that is questionably authentic, but certainly taste great.
What cut of venison should I use?
Your venison cheesesteak can be made out of a variety of cuts, but some are better than others. Personally I don't recommend using premium cuts like loin or backstrap. It would be a waste to thinly slice up such a tender cut and cook it until crisp. Instead, use steak cut from the hindquarter, or the front quarter.
The front quarter of the deer is tougher than the rear end, making it less suitable for steaks, and better for stews. However, since we are slicing this so thinly, the difference in tenderness is indistinguishable. This sandwich is a great way to use up the less desirable roast and steak cuts!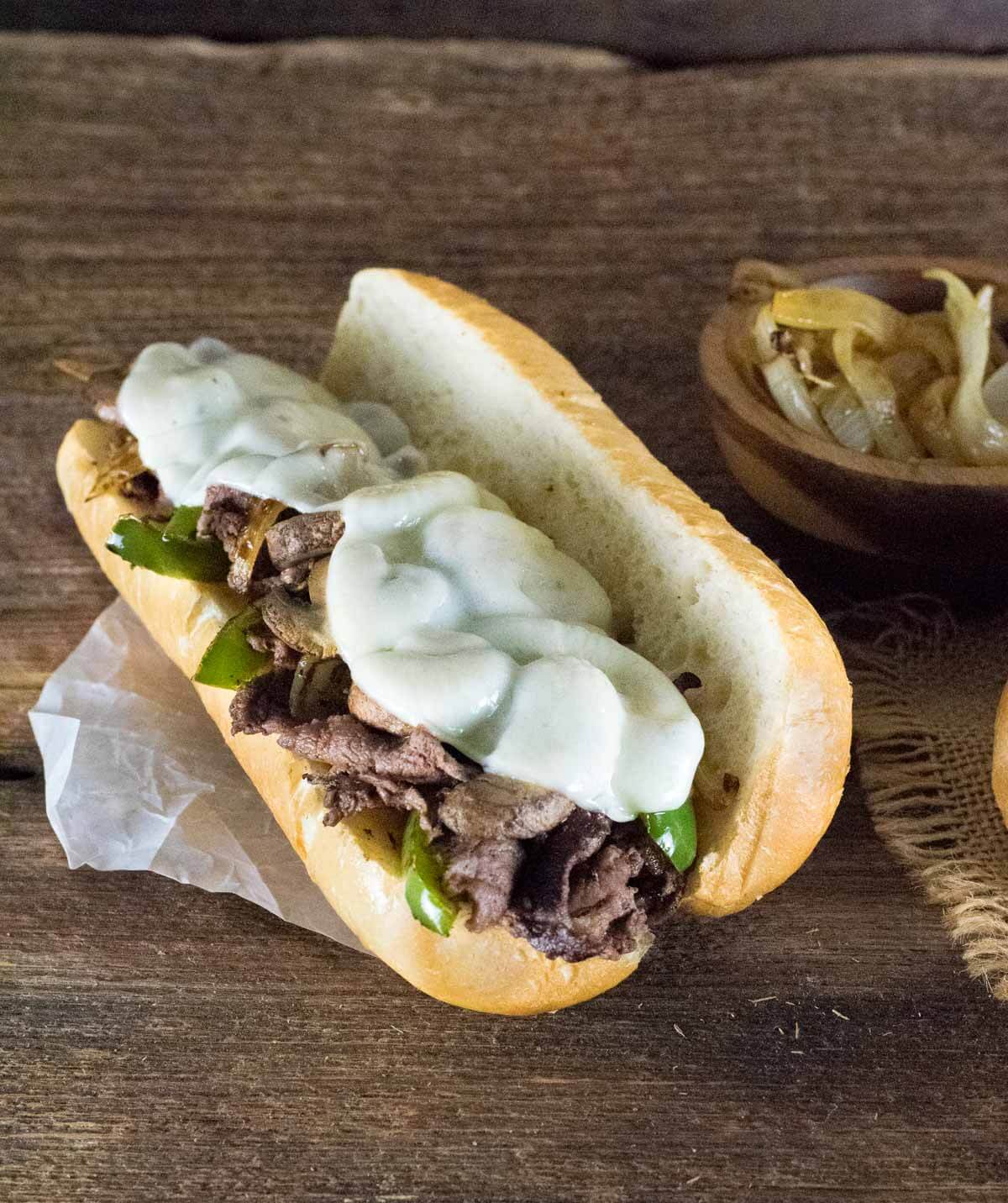 How to thinly slice the meat
Thinly slicing the meat properly is the key to making this sandwich outrageously delicious. If cut too thick, it becomes chewy and the texture of the sandwich will be way out of balance. However, cutting it thinly will make it just as good, if not better, than any restaurant cheesesteak.
Cut it by hand - This is the hardest way to do it. You need to partially freeze the meat to make this easier, then take your time to thinly slice it. Take your time and it can be done well, but the results are often inconsistent.
Use a deli slicer - This is my favorite way. Most people don't have a deli slicer at home, but if you buy one you will start kicking out some amazing cheesteaks! Just watch your fingers and set it to about ⅛" thick.
Both of these methods work best when the meat is still partially frozen, but that is less important when using a deli slicer. I typically get my venison out of the freezer in the morning and let it thaw on the counter for a few hours, then slice it when it is half frozen.
How to flavor the meat
My secret to making this sandwich as flavorful as possible is to give the venison a quick marinade for about an hour. After thinly slicing it I add olive oil, Worcestershire sauce, a couple of dashes of liquid smoke, and fresh ground pepper. This not only deepens the flavor of the meat, but the thin slices really soak up the flavor well!
Cheesesteak toppings
My personal recommendation is to use sliced sweet onion, green pepper, and mushrooms. However, feel free to eliminate any of these according to your tastes. I also think provolone cheese is the best on these, accompanied by a generous smear of mayo. Although my chipotle mayo would be a flavorful twist!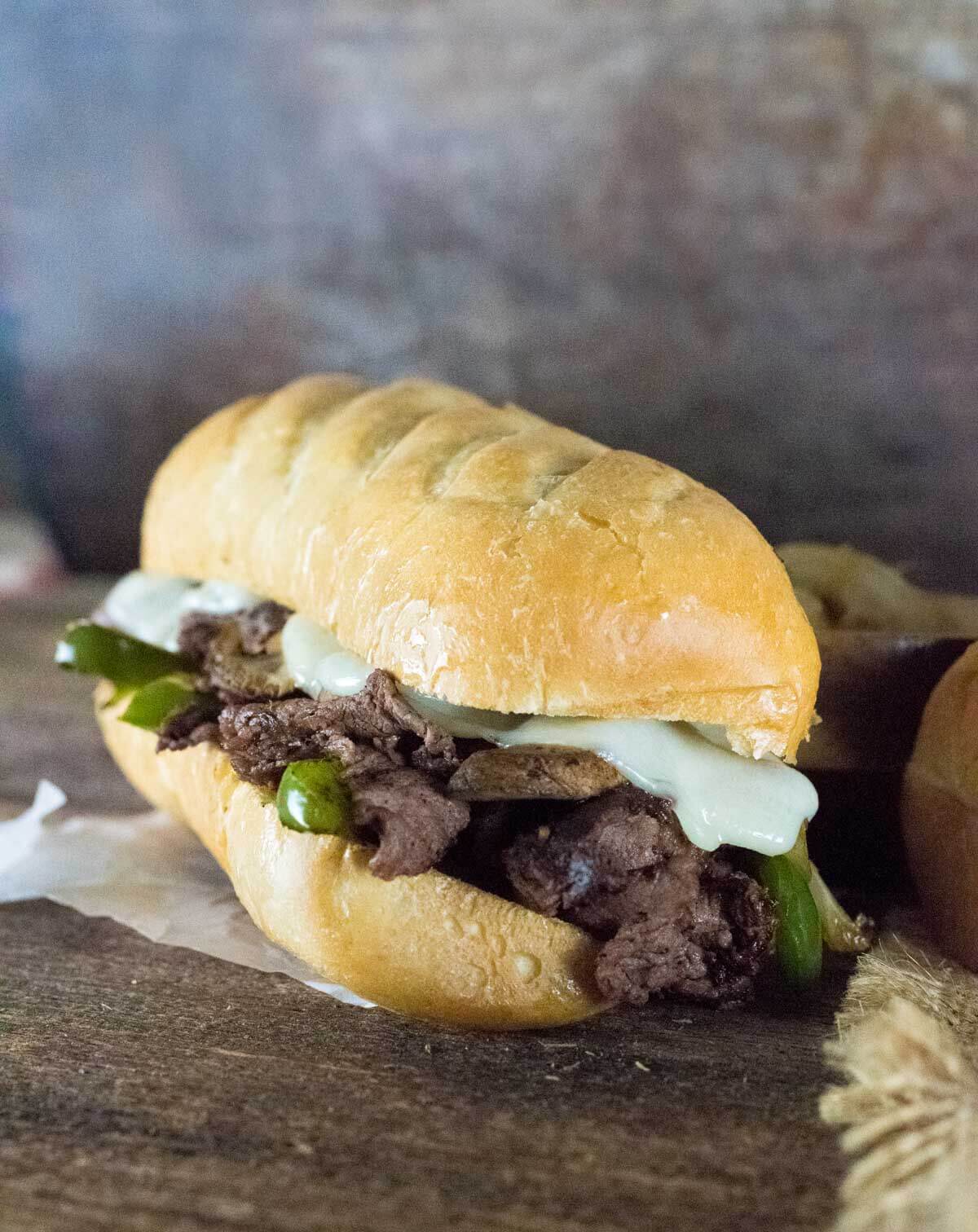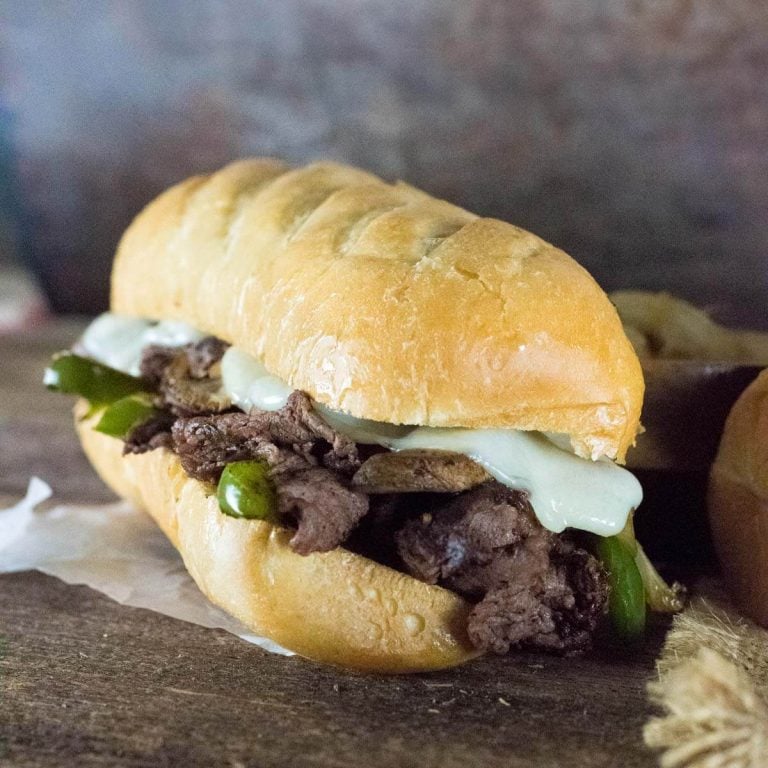 Venison Cheesesteak
Mouthwatering venison cheesesteak piled high with thinly sliced venison, sauteed peppers, and onions, then topped with melty provolone.
Print
Pin
Rate
Save
Saved
Ingredients
2

tablespoons

butter

(divided)

1

green pepper

(sliced)

½

sweet onion

(sliced)

4

ounces

mushrooms

(sliced)

1

pound

venison steak

(sliced ⅛" thick)

4

teaspoons

olive oil

(plus more for cooking)

1

teaspoon

Worcestershire sauce

2

dahses

liquid smoke

¼

teaspoon

fresh ground pepper

4

slices

provolone cheese

2

hoagie rolls

2

tablespoons

mayo

salt
Instructions
Thinly slice the venison and place in a ziploc bag with olive oil, Worcesershire sauce, liquid smoke, and black pepper. Let marinate for one hour.

Add 1 tablespoon of butter to a saute pan set over medium heat and add green peppers when melted. Let green peppers cook for 5 minutes, or until tender-crisp. Remove from skillet, saute the onions and mushrooms until tender.*

Set aside peppers, mushrooms and onions and add the second tablespoon of butter to the skillet. and turn up the heat to medium-high. Add venison and spread out evenly in the pan. Let cook until the underside is seared, then flip and repeat. Continue cooking until meat is no longer pink and is nicely browned. Taste for salt and light salt as needed.

Lightly toast the interior of the hoagie rolls in a separate skillet, toaster, or under the broiler.

Assemble the sandwich by adding half of the meat into each hoagie and topping generously with pepper, onions, mushrooms, two slices of cheese and a smear of mayo.

Place sandwiches briefly under broiler to melt the cheese, approximately for one minute. Be sure to watch the sandwiches, as they will burn quickly.
Notes
*All of the vegetables can be cooked together, but peppers take the longest to cook and will need a headstart, or you will have to pick the other vegetables out as they finish cooking.
Nutritional Information
Calories:
771
kcal
|
Carbohydrates:
45
g
|
Protein:
87
g
|
Fat:
26
g
|
Saturated Fat:
10
g
|
Cholesterol:
205
mg
|
Sodium:
798
mg
|
Potassium:
1362
mg
|
Fiber:
3
g
|
Sugar:
12
g
|
Vitamin A:
555
IU
|
Vitamin C:
53
mg
|
Calcium:
330
mg
|
Iron:
21
mg