Craving some outrageously creamy potato soup? This recipe is winter comfort food at it's finest!
I am currently being robbed as I sit here writing this. Not so much by a masked intruder, but rather Old Man Winter. That nefarious devil. I was promised 5 inches of snow today, and I don't see any. I was already preemptively cherishing the memories of settling in to write this Creamy Potato Soup recipe with a hot cup of coffee while a blanket of snow softly falls outside my window. It was going to be magical.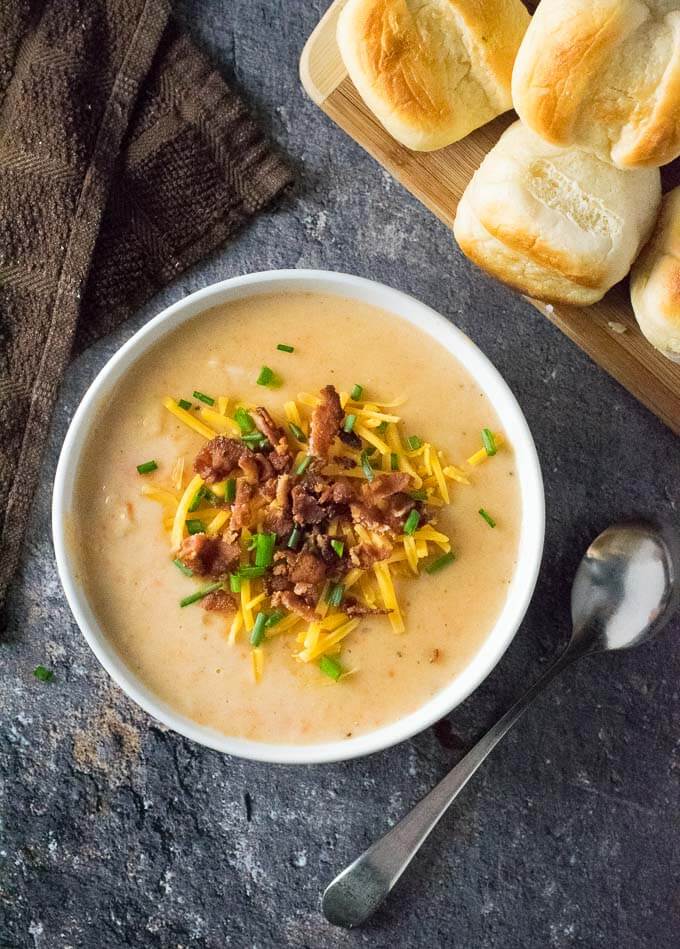 Instead, it is just a dreary December day with grass mockingly protruding from the thin dusting of snow, serving as a thousand green reminders of Old Man Winter's laziness. At least I still have some leftover potato soup in the fridge that I can cozy up with for lunch.
If you should so happen to have leftover potato soup as well, you will find it thickens as it sits in the fridge. You can thin it back out to your desired consistency with a few splashes of water or milk.
Potato Soup with Bacon
There are a variety of toppings you can use with potato soup, but I think bacon, cheddar cheese, and chives are essential. I almost made this recipe without bacon, but that would have been a mistake. A sprinkle of bacon on top of the soup really adds a lot of flavor. I don't recommend cooking the bacon with the soup, as some recipes call for, unless you really enjoy the gummy texture of soggy bacon. Mmm...
How to Thicken Potato Soup
Potato soup will thicken as it cooks, since the potato will gradually break down and soak in with the liquid. However, making a proper roux is the key to achieving the ideal consistency. A roux is simply a mixture of fat and flour that is cooked gently in a pan until the flour taste has been eliminated. The darker the roux gets, the more flavor it will take on, but for this creamy potato soup recipe, a light brown roux is perfect.
How to Make Creamy Potato Soup
The secret to making this potato soup outrageously creamy is using an immersion blender. You can also mash the potatoes in the soup with a potato masher at the end of cooking, but you will have more grittiness and lumps. An immersion blender will puree the tender potatoes and fully incorporating them into the liquid. You can also use a traditional blender to do this, but an immersion blender is the right tool for the job.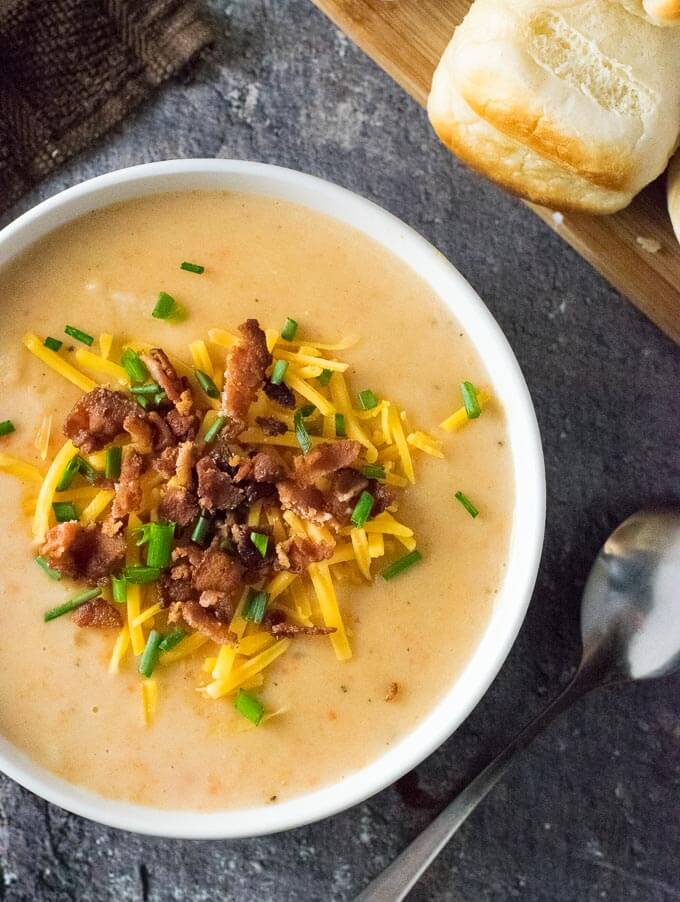 If you are craving a flavorful soup with fewer ingredients, try my simplified 4 ingredient potato soup recipe.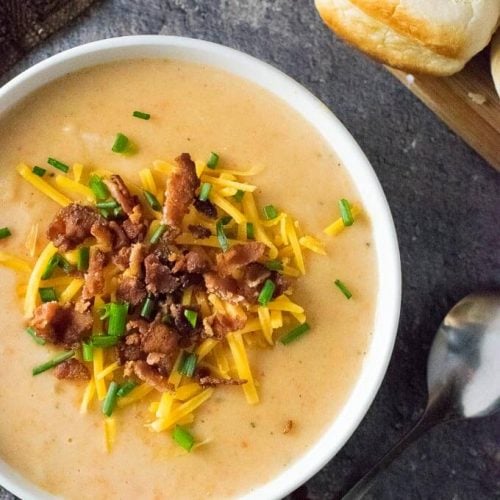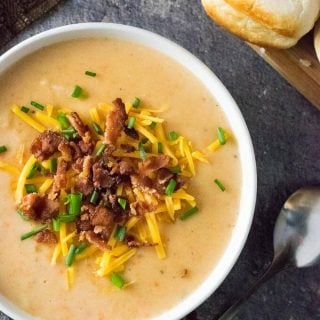 Outrageously Creamy Potato Soup
Craving some outrageously creamy potato soup? This recipe is winter comfort food at it's finest!
Print
Pin
Rate
Save
Saved
Ingredients
5

cups

peeled and chopped Russet potatoes

(~4 potatoes)

5

cups

chicken stock

6

tablespoons

butter

(divided)

1

onion

(diced)

2

carrots

(diced)

2

stalks celery

(diced)

3

cloves

garlic

(minced)

¼

cup

all-purpose flour

3

cups

milk

8

oz

sour cream

Dash celery salt

½

teaspoon

freshly ground black pepper

Salt to taste
Serving
16

ounce

bacon

chives

(chopped)

shredded cheddar cheese
Instructions
Add potatoes to large pot with chicken stock. (there should be enough stock to cover the potatoes, but you can add water if you need a little more liquid). Cover with lid, bring pot to a boil and reduce to a simmer.

While potatoes are cooking melt 2 tablespoon of butter in a separate saute pan on medium heat. Add onion, celery, and carrots and saute until tender. Add garlic and cook for two minutes more, then add content of the saute pan to the soup pot.

Add bacon to the saute pan and fry until crisp. Remove from pan and allow to cool slightly then crumble. Discard grease.

With saute pan on low, melt remaining 4 tablespoons of butter and sprinkle in flour to make a roux. Stir roux continuously until it turns a light brown, approx 5 minutes.

Slowly add milk to the roux, allowing it to fully incorporate before adding additional milk.

Add roux to the soup pot and stir to combine.

Place sour cream in a medium-size bowl and temper with hot soup by adding a few splashes of soup with the sour cream and stirring to incorporate together. Once the sour cream is runny and hot it can be added to the soup.

Add fresh ground pepper, celery salt, and then salt to taste.

For chunkier consistently, mash soup with a potato masher till it reaches your desired consistency. For creamier soup, puree with an immersion blender until smooth.

Serve in bowls topped with cheddar cheese, bacon and chives.
Nutritional Information
Calories:
579
kcal
|
Carbohydrates:
34
g
|
Protein:
17
g
|
Fat:
41
g
|
Saturated Fat:
18
g
|
Cholesterol:
88
mg
|
Sodium:
750
mg
|
Potassium:
920
mg
|
Fiber:
2
g
|
Sugar:
9
g
|
Vitamin A:
3200
IU
|
Vitamin C:
8.5
mg
|
Calcium:
171
mg
|
Iron:
1.7
mg
If you enjoyed reading my Outrageously Creamy Potato Soup recipe then you should probably like me on Facebook and follow me on Pinterest too. That's what I would do at least, because if you don't get to know me but you still use my recipe it is kind of like taking candy from a stranger, and your mom taught you not to do that. Don't disobey your mom, subscribe to Fox Valley Foodie today.