Nashville Hot Chicken is a regional specialty popularized in Tennessee, but this spicy fried chicken is so flavorful it needs to be on dinner plates across America!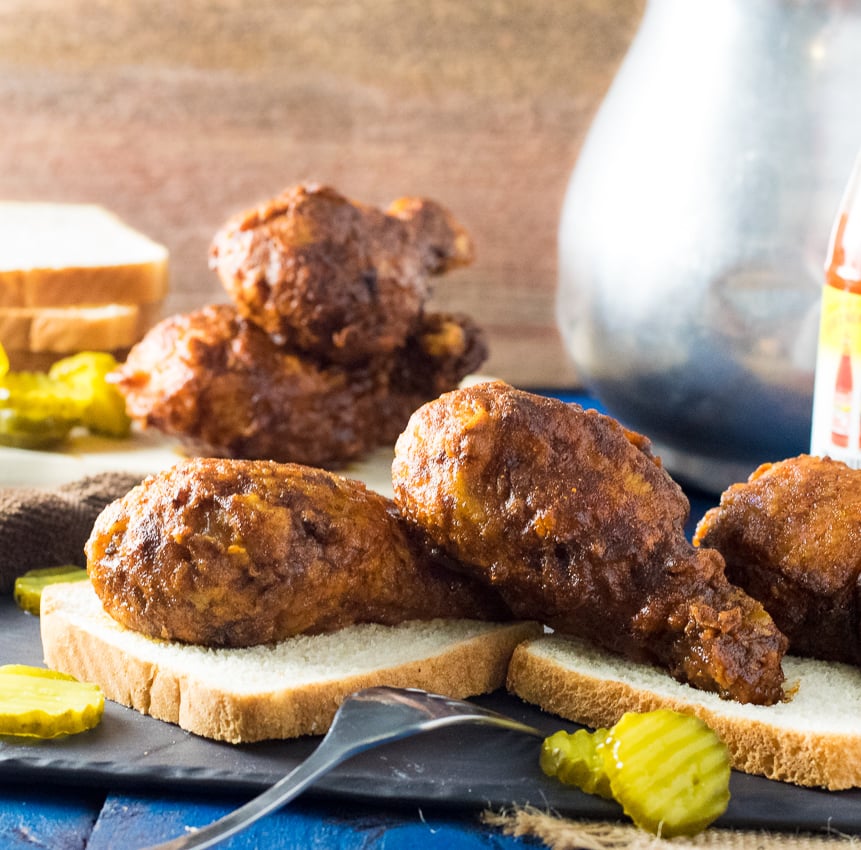 Words cannot describe how delicious this Nashville Hot Chicken is, which is unfortunate because I'm a food blogger and that's my job. So instead, let's just pause and take a minute to conceptualize what makes this fried Tennessee treat to tasty...  
Are you conceptualizing?
Conceptualize harder! You aren't even trying!
Ok, I give up on this whole conceptualization thing. Maybe I should whip up a few thousand drumsticks and just mail you all out free samples to try this Nashville Hot Chicken for yourself. Hopefully the mailman can get it to you within four hours, before food poisoning sets in.  However, for another heavenly bite of this flavorful bird, I would probably be willing to take on food poisoning and die a happy man.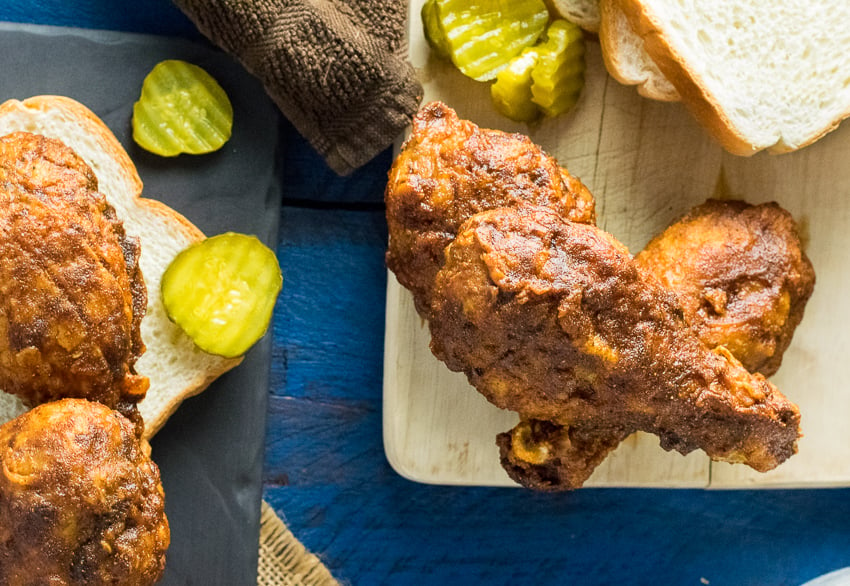 As the name "Nashville Hot Chicken" implies, this recipe is spicy. If you don't like spicy food, or flavor in general, this may not be the fried chicken recipe for you. However, if you can stand a little heat in the kitchen, this chicken will knock your socks off! My wife, who has a considerably lower tolerance for heat than I do, now craves this spicy fried chicken as well, despite her initial trepidation.
Nashville Hot Chicken is a regional favorite, popularized in Tennessee.  Chicken pieces are dry brined, coated in a flour breading and fried to golden brown perfection. Then the magic happens.  A cup of frying oil is whisked together with a heavy blend of spices and then painted on the fried chicken to create a coating that infuses the breading with a fiery flavor that is tepidly tamed by a hint of sweetness.
Does the chicken taste hot, yes, but there is so much additional flavor brought to the party with the lacquering of frying oil, it is unlike any fried chicken you've ever sunk your teeth into.  Speaking of sinking your teeth… the final breading is shatteringly crisp as well, as the hot oil helps it crisp further. Not a single bite found extra skin pulling off like a bad dinner party tablecloth trick, ensuring each bite is as flavor packed as the last.
I used a cast iron chicken fryer to cook this chicken, but using a 12" cast iron skillet wouldn't be a bad idea either since you can fit more chicken in each batch. However, regardless of what you use, you do want to make sure you have a good digital thermometer to monitor your frying temperature and ensure your chicken is fully cooked.
I own each of the products highlighted in the affiliate links above. Any Amazon purchases made through these links helps support FoxValleyFoodie.com at no additional cost to  you.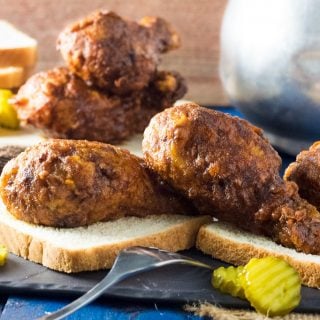 Nashville Hot Chicken
Nashville Hot Chicken is a regional specialty popularized in Tennessee, but this spicy fried chicken is so flavorful it needs to be on dinner plates across America!
Print
Pin
Rate
Save
Saved
Ingredients
3-6

lbs

chickens breasts

thighs, and/or drumsticks

1

tablespoon

freshly ground black pepper

2

tablespoon

kosher salt

plus 4 teaspoon salt (divided)

4

large eggs

2

cups

buttermilk

2

tablespoon

vinegar-based hot sauce

4

cups

all-purpose flour

Vegetable oil for frying

6

tablespoon

cayenne pepper

2

tablespoon

dark brown sugar

1

teaspoon

chili powder

1

teaspoon

garlic powder

1

teaspoon

paprika
Instructions
Place chicken in a large bowl and coat with 2 tablespoon salt and 1 tablespoon pepper, toss to ensure even coverage, cover and place in refrigerator for 3+ hours.

Set up your dredging station by whisking together eggs, buttermilk and hot sauce in a large bowl, and combine flour and 4 teaspoon salt in a separate bowl.

Add oil to your deep sided cast iron pan and fill with 2" of oil. Heat on medium high until the temperature reads 325 degrees.

Pat chicken dry with paper towel then dredge in flour mixture, shaking off excess, then dredge in buttermilk mixture, letting extra liquid drip off, and finally dredge in flour mixture again. Set each coated piece on a wire baking rack as you work in batches to complete the remaining pieces.

Place chicken in frying oil, working in batches as needed, and fry till golden brown and temperature reaches 165 degrees, turning chicken as needed to ensure even frying. ~15 minutes. Place cooked chicken on separate wire rack until all chicken has been fried.

Turn off heat and let the oil cool slightly and mix together cayenne, brown sugar, chili powder, garlic powder, and paprika in a bowl. Add 1 cup of frying oil to the mixture and whisk to combine.

Let oil cool slightly.

Brush oil mixture over each piece of chicken and serve on top of white bread with pickles.
Notes
This recipe was inspired from Epicurious
Reheating leftovers in a 350 degree oven works quite well.
Frying temperature will drop when chicken is added. Be sure to monitor the temperature and increase the heat as needed.
If you enjoyed reading my Nashville Hot Chicken recipe then you should probably like me on Facebook and follow me on Pinterest too. That's what I would do at least, because if you don't get to know me but you still use my recipe it is kind of like taking candy from a stranger, and your mom taught you not to do that. Don't disobey your mom, subscribe to Fox Valley Foodie today.