This sweet and sticky Mongolian Beef recipe is as good as any restaurant's!  Enjoy it at home without the cost of eating out!
I recall, years back, when I first started enjoying Asian food I was happily nomming down on some Mongolian Beef and stopped for a moment to contemplate how the restaurant got that great texture encapsulating each piece of sliced beef.  The flavors were intoxicating, the texture was entrancing, and I was perplexed.  In the end, I just chalked it up to voodoo and happily went about munching on my meal.
Fast forward a number of years, and I now know a thing or two about cooking, and have decided to tackle this Asian food classic for myself! And oh man am I happy I did!  This recipe is every bit as good as anything I've ever ordered in a restaurant, and it is one of those meals that give you an irreplaceable sense of satisfaction after you cook it.  Plus, the waiters always look at me funny when I wander into the kitchen looking for seconds.
What is Mongolian Beef
A traditional Mongolian Beef recipe features thinly sliced steak that is browned in a hot skillet and coated with a sweet and sticky brown sugar and soy-based sauce. This is most often served over white rice, though vegetables can be added. Since there is not really any such thing as 'authentic Mongolian Beef', you can customize this recipe with whatever vegetables you prefer to add if you wish to transform it into a Mongolian Beef Stir fry, 
What Kind of Steak Do You Use for Mongolian Beef
Thinly sliced flank steak, cut against the grain, is the best steak for Mongolian Beef. This cut is reasonably priced, tender when cut against the grain, and perfect for slicing thin. The wide flat cuts have a lot of surface area to form a great crust while searing.
How to Make Mongolian Beef
Though the most popular and well-known version of this dish can be found on the menu at P.F. Chang's, you can easily make this in your own kitchen. I promise it will be a crowd-pleaser! It is great to make if you have a wok in your kitchen, however, this is not required.  I use a 12" skillet, personally, and I am happy with my results.  However, if you cook a lot of Asian style meals, you may want to consider buying a good wok. (affiliate link)
To make Mongolian Beef you prepare your thinly sliced steak by coating it in cornstarch. This adds a wonderful texture to the final dish. The meat is then sauteed in oil to brown. Don't worry if the interior of the meat isn't cooked through when it has sufficiently browned. It will finish cooking with the sauce.
The most important thing to remember about the sauce is it will thicken as it cooks. If it is too thin for your tastes, simply cook it longer. If it is too thick, just add a little moisture back into the pan.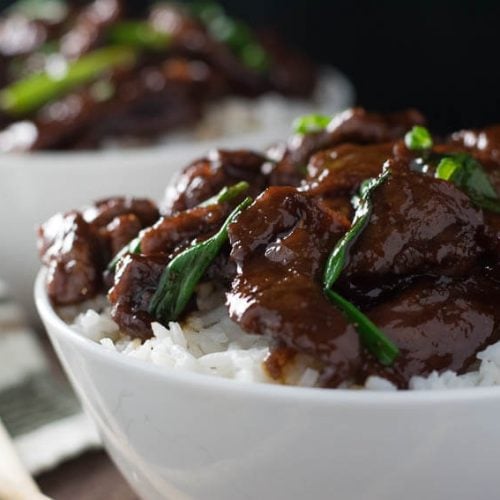 Mongolian Beef Recipe
This Mongolian Beef recipe is as good as any restaurant you will eat at! Enjoy it at home without the cost of eating out!
Print
Pin
Rate
Save
Saved
Ingredients
Sauce

2

teaspoons

vegetable oil

½

teaspoon

minced ginger

1

tablespoon

chopped garlic

½

cup

soy sauce

½

cup

water

¾

cup

dark brown sugar
Mongolian Beef
1

cup

vegetable oil

1

pound

flank steak

¼

cup

cornstarch

4

large green onions

sliced into 2" pieces
Serving
White rice or Noodles for Serving
Instructions
Sauce
Heat 2 teaspoon of oil in a saucepan over medium/low heat and add ginger, garlic, and then soy sauce and water. Next add the brown sugar and stir it in till it is fully dissolved and raise the heat to medium and boil the sauce until it thickens then remove the sauce from heat.
Beef
Slice the steak thinly into ¼" slices, cutting against the grain. Once steak has been cut toss the pieces in cornstarch to ensure both sides are evenly coated. Let rest for 10 minutes to ensure the cornstarch fully adheres.

While the steak is resting heat 1 cup of oil in a wok or 12" skillet over medium heat until it is hot. Saute the beef in the oil for 3 minutes or until the beef is starting to brown. Don't worry if the beef is not cooked through yet.

Using a slotted spoon remove the beef from the skillet and pour oil out. Place the pan back over the heat and add the beef back in and add the sauce as well. Cook for 2 minutes, stirring frequently, and then add the green onions. Cook for an additional minute then remove the beef and onions with a large spoon onto a serving place, leaving excess sauce in the pan.

Serve over rice or noodles.
Nutritional Information
Calories:
424
kcal
|
Carbohydrates:
49
g
|
Protein:
27
g
|
Fat:
13
g
|
Saturated Fat:
8
g
|
Cholesterol:
68
mg
|
Sodium:
1693
mg
|
Potassium:
503
mg
|
Sugar:
40
g
|
Calcium:
64
mg
|
Iron:
2.7
mg
This recipe was originally published on FoxValleyFoodie.com Nov 11, 2015.
If you enjoyed reading my Mongolian Beef recipe then you should probably like me on Facebook and follow me on Pinterest too. That's what I would do at least, because if you don't get to know me but you still use my recipe it is kind of like taking candy from a stranger, and your mom taught you not to do that. Don't disobey your mom, subscribe to Fox Valley Foodie today.