This flavorful beef and mushroom stew recipe is loaded with tender chunks of beef, pillowy gnocchi, and hearty mushrooms swimming in a luxuriously thick and silky both.
My ideal comfort food is a hearty bowl brimming with meat and vegetables swimming in a silky gravy-like broth. The flavorful stew broth basically transforms the dish into an intoxicatingly delicious condiment, perfect for sopping up endless amounts of fresh-baked bread rolls or baguettes.
The meat and mushrooms are supposed to be the star of the show, but there is just something about dipping crusty bread in stew that just hooks me!
What is Beef and Mushroom Stew?
This gourmet beef stew recipe with mushrooms is comfort food at its finest - hearty, richly flavored, and incredibly satisfying! It is everything you crave on a cold winter's day.
Although this certainly is a deliciously hearty beef stew, it is not your mom's classic beef stew recipe. My recipe for beef and mushroom stew is brimming with bite-size cubes of beef, sliced mushrooms, and gnocchi in a thick and silky gravy-like sauce flavored with wine and fresh herbs.
Ingredients and Substitutions
Beef stew meat - Using a boneless beef chuck roast is my preferred cut of beef because it is inexpensive and the fat will render out as it cooks, creating a more luxurious stew.
Cooking oil - Olive oil or canola oil are my preferences.
Sweet onion - A yellow onion is a good substitution. I think red onions are too strongly flavored for this dish.
Fresh mushrooms - When making beef stew with mushrooms I prefer using baby portobellos, but sliced button mushrooms or even wild mushrooms work well too.
Fresh Garlic cloves - You can substitute ½ teaspoon of garlic powder.
Butter
All-purpose flour
Beef stock - Beef broth and mushroom stock are both great substitutes.
Dry red wine - Melot or Cabernet Sauvignon are my preferred dry red wines to cook with. However, this recipe would also work well using a stout beer instead (similar to my Guinness Beef Stew

).

Don't worry, the alcohol cooks out as the stew simmers, but you can omit all of the alcohol and just use more stock instead.
Tomato paste - You can substitute 2 tablespoons of tomato sauce.
Worcestershire sauce
Fresh thyme sprigs - Dry thyme will work, but I strongly recommend using fresh thyme.
Fresh sage - I recommend using fresh sage rather than dried sage.
Bay leaves
Fresh ground black pepper
Kosher salt
Gnocchi dumplings - These can be purchased at the grocery store or making your own homemade gnocchi is great.
How to make it
Begin making this beef mushroom stew recipe by adding oil to a large pan or skillet set over medium-high heat on the stovetop. Add your cubed stew beef in a single layer and give it a good sear, ensuring it is nicely browned on all sides. Then remove it from the pan with a slotted spoon, keeping any rendered fat in the skillet.
Saute your onions next in the beef fat over medium heat, cooking until they begin to turn brown, then add the minced garlic and cook for an additional two minutes. The cooked onion and garlic can be set aside with the beef. Then add your beef stew mushooms to the skillet, and saute until they are heated through and tender.
In a separate large pot or Dutch oven, melt butter over medium-low heat and whisk in flour to form a roux. Gently cook the roux for three minutes while whisking to remove the raw flour taste. Then the beef stock can be added in small splashes and incorporated into the roux, followed by the wine, Worcestershire sauce, and tomato paste.
Now your browned beef, mushrooms, onion, and garlic can be added to the stew pot along with the thyme, sage, and bay leaves. Bring the stew to a gentle simmer and let cook uncovered for two hours, or until the beef is tender and the stew has thickened to your liking. Add your black pepper and taste for salt at this time.
Fifteen minutes prior to serving the gnocchi can be added. You don't want to add the gnocchi too soon or they can turn mushy. Once the gnocchi dumplings are tender ladle the stew into bowls and serve with crusty bread or dinner rolls.
Tip: As the beef simmers, it will continue to get more and more tender, and the stew will continue to thicken up as liquid evaporates. If you get to a point where the stew is thickened to your liking, but the beef is not tender yet, you can put the cover on your pot to limit the evaporation. If your stew gets too thick you can thin it out to your desired consistency by adding water or beef broth.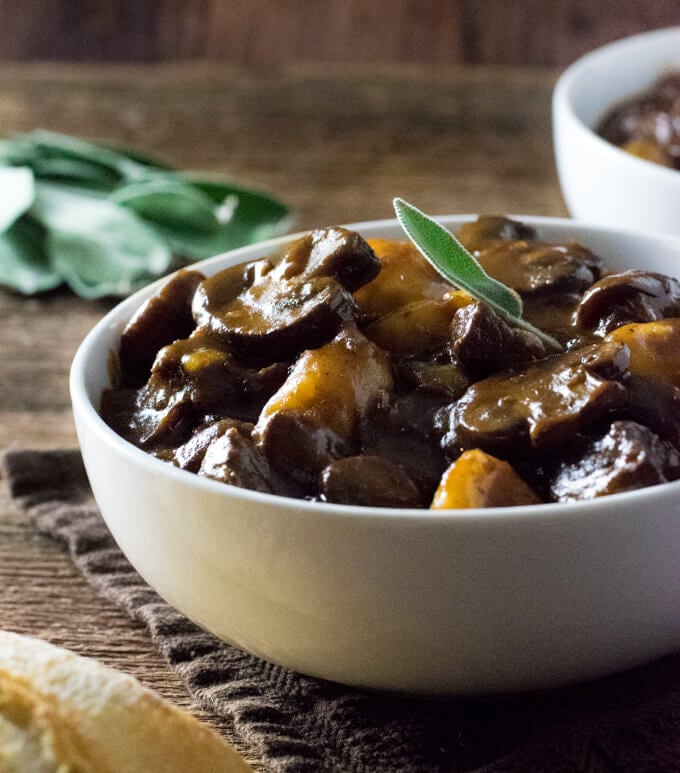 Storing and Reheating Leftovers
This recipe does reheat well for leftovers, and will still have great flavor the next day, however, I think it is best enjoyed when first served. Otherwise, the gnocchi soaks up a lot of liquid from the broth, thickening the soup considerably. Feel free to add additional liquid to it when reheating to thin it back out some.
Leftovers should be stored in an airtight container and kept in your refrigerator for up to one week. Reheat your leftover beef mushroom stew in the microwave in individual servings for approximately two minutes on high (the exact time depends on the size of your bowls). Alternatively, you can gently reheat the whole stew in a large saucepan set over medium-low heat.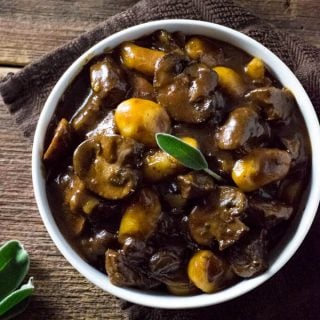 Beef and Mushroom Stew
Beef and mushroom stew is loaded with tender beef, pillowy gnocchi, and baby bella mushrooms swimming in a thick and silky both.
Print
Pin
Rate
Save
Saved
Ingredients
1 ½

pounds

beef chuck roast

(cut into 1 inch cubes)

2

tablespoons

cooking oil

(divided)

1

medium

sweet onion

(chopped)

1

pound

baby bella mushrooms

(sliced)

4

cloves

garlic

(minced)

¼

cup

butter

¼

cup

flour

4

cups

beef stock

1

cup

dry red wine

1

tablespoon

tomato paste

1

tablespoon

Worcestershire sauce

1

sprig

fresh thyme

1

sprig

fresh sage

2

bay leaves

¼

teaspoon

fresh ground pepper

kosher salt to taste

8

ounces

gnocchi
Instructions
Swirl one tablespoon cooking oil into a large skillet set over medium high heat and brown the beef on all sides. Remove the beef with a slotted spoon and set aside.

Add additional oil to the skillet as needed and saute the onions over medium heat until tender and beginning to brown. Add garlic and cook for an additional 2 minutes. Then remove garlic and onion from your skillet and saute the mushrooms until tender.

While browning and sauteing ingredients in the skillet, add butter to the bottom of a large Dutch Oven set over medium low heat. Once butter has melted whisk in flour and continue to stir for 3 minutes to cook out raw flour taste.

Pour in beef broth a couple splashes at a time and stir to incorporate into the butter/flour mixture. Continue to do this until all beef broth has been added. Next, add wine, Worcestershire sauce and tomato paste.

Add beef, mushrooms, onion, and garlic to the Dutch oven. If there is any burnt on fond in your sauteing skillet, deglaze the browned bits by whisking beef broth or wine in the skillet until all bits have loosened, then add deglazing liquid to the Dutch Oven.

Add sage, thyme, bay leaves and fresh ground pepper. Set Dutch oven to a low simmer and let simmer uncovered for 2 hours, or until the beef is tender. Taste for salt and add as needed.

15 minutes prior to serving stir in the gnocchi. Once tender, ladle the mushroom and beef stew into bowls and serve.
Notes
You can brown the meat, and saute the vegetables in the Dutch Oven, however, for time efficiency I often dirty multiple pans and saute onions, mushrooms, and (brown) beef separately. If you do this, it is a great idea to deglaze the bottom of the pan to ensure you don't leave any flavor behind.
Nutritional Information
Calories:
488
kcal
|
Carbohydrates:
29
g
|
Protein:
30
g
|
Fat:
26
g
|
Saturated Fat:
11
g
|
Cholesterol:
99
mg
|
Sodium:
642
mg
|
Potassium:
1107
mg
|
Fiber:
2
g
|
Sugar:
5
g
|
Vitamin A:
261
IU
|
Vitamin C:
4
mg
|
Calcium:
76
mg
|
Iron:
5
mg
Can you do me a favor? If you enjoyed my post would you mind sharing it with your friends? You can see more of my recipes by liking me on Facebook and follow me on Pinterest too. Otherwise, stay up to date by getting each new post sent directly to your inbox by subscribing today.
This recipe was originally published on FoxValleyFoodie.com on November 5, 2019.