The ultimate BLT is one you make yourself, perfectly tailored to your particular tastes. Follow this guide to take this classic sandwich to the next level.
Most of us likely grew up eating BLTs. With their combined flavors, they are a quintessential summer experience in my opinion. The BLT can be as simple or as gourmet as you would like to make it. This guide dissects each component of this sandwich and gives you options to make it as flavorful or gourmet as your tastebuds desire.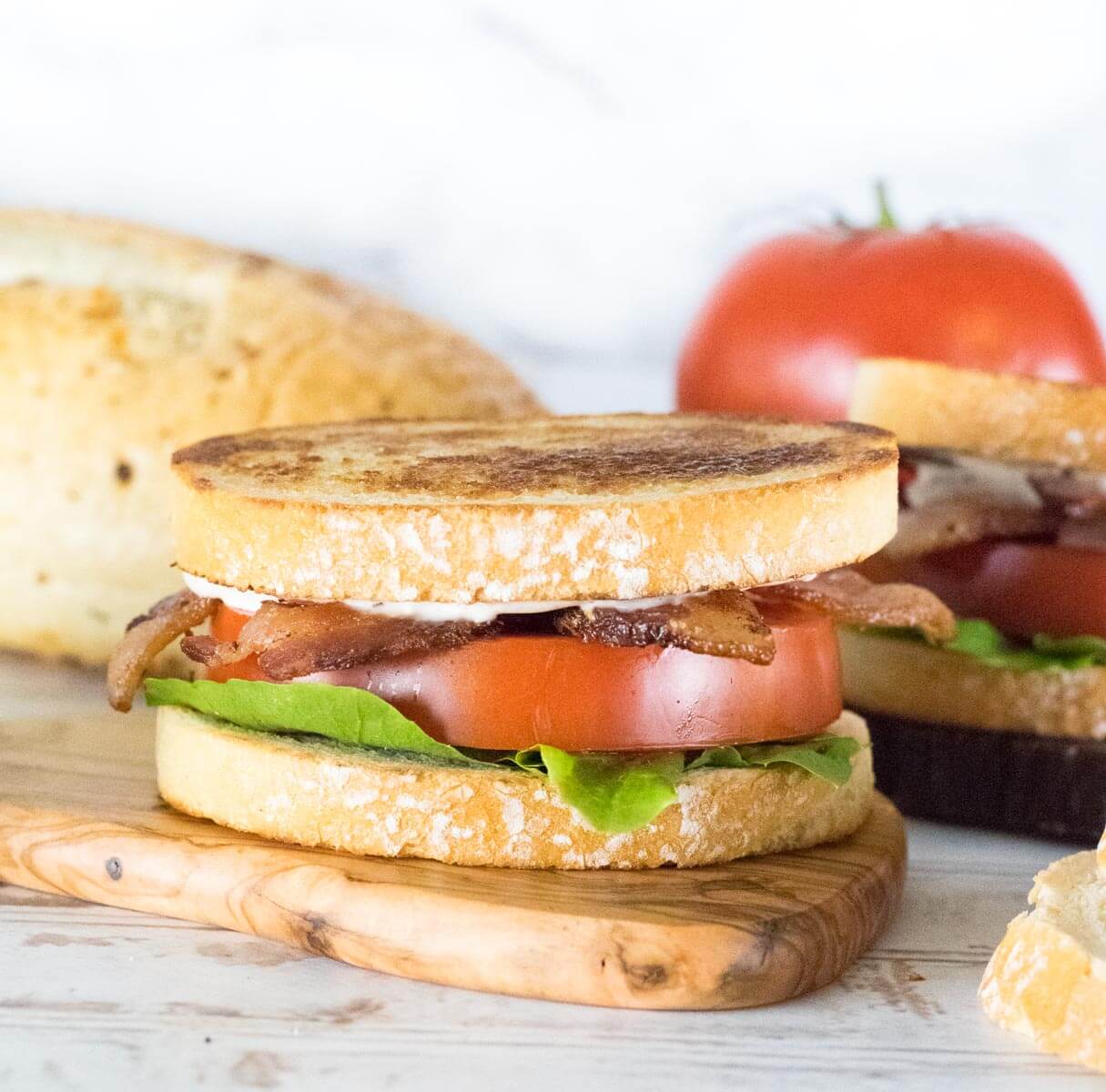 What is a BLT?
Before we dive into trying to upgrade this sandwich, let's set a baseline for what exactly a classic BLT is. Most commonly a BLT is a sandwich comprised of bacon, iceberg lettuce, and tomato. The classic sandwich we grew up eating was likely served on white bread with a smear of mayo or Miracle Whip.
Best Bacon for Sandwiches
The best bacon for BLTs is thick-cut bacon. Thick cut bacon is heartier so it stands out in each bite. Traditionally I use two strips of bacon per sandwich, but when crafting the ultimate BLT feel free to load it up with as many as your heart desires.
Ultimate BLT Tomato
The tomato is the star of this sandwich, so it is important to get it right. Ideally, you want to reach for a beefsteak tomato for your ultimate BLT. Beefsteaks are the largest tomatoes, so one slice can cover an entire slice of bread, and they are meatier, so there isn't excessive liquid that will leak out and make your bread soggy.
Beefsteaks are ideal, but the BEST tomato is whatever is fresh off the vine. Grocery store tomatoes are typically picked green, which stunts their flavor. This is why most store-bought tomatoes taste like absolutely nothing. Ideally use fresh picked tomatoes from your garden, or a local farmer's market to get the best flavor.
You can typically find heirloom tomatoes at most farmer's markets. These not only have phenomenal flavor, but they also come in a stunning array of colors. A few of my favorites to be on the lookout for include Mr. Stripey, Cherokee Purple, and Black Krim.
Marinated Tomato BLT
At a minimum, your tomato should be dusted lightly with salt to enhance the flavor, but taking the extra step to marinate it will make it even better. In my original Gourmet BLT recipe, I incorporate a marinade featuring 2 T olive oil, 2 teaspoon red wine vinegar, 1 teaspoon balsamic vinegar, 1 clove minced garlic, salt, and pepper. I let the slices of tomato bathe in this for at least two hours, however, I have also been known to simply paint it on the tomato slices immediately before crafting the sandwiches.
Best lettuce for a BLT?
Iceberg lettuce is the traditional choice, but it is also the least flavorful.
Butter lettuce is wonderfully tender and has a slightly sweet mild flavor.
Arugula is one of my favorites for BLTs. Its peppery flavor really adds a great accent to this sandwich.
Romaine lettuce is great if you enjoy the crunch of iceberg, but want something a little more upscale.
What bread to use?
White bread is the classic choice, if you are looking to recreate your childhood.
Sourdough is my personal favorite. The tangy flavors mingle well with the acidity of tomatoes.
French baguettes or any crusty artisan bread is perfect to slice up for BLTs.
Ciabatta bread is another hearty bread that works well for soaking up all of the juices from your tomato.
Regardless of which bread you choose, I find the texture of the sandwich improves greatly when the bread is toasted. Additionally, adding a smear of butter or mayo to the exterior of the bread and then browning it in a skillet really adds a lot of flavor.
BLT Condiments
Mayo - This is the simplest option, but also the most boring.
Miracle Whip - A step above mayo, but still not the best you can do.
Chipotle Mayo - The deep smoky flavor really adds a great punch to each bite!
Peppered Balsamic Mayo - A mixture of fresh ground pepper, balsamic vinegar, and mayo. Feel free to substitute red wine vinegar instead.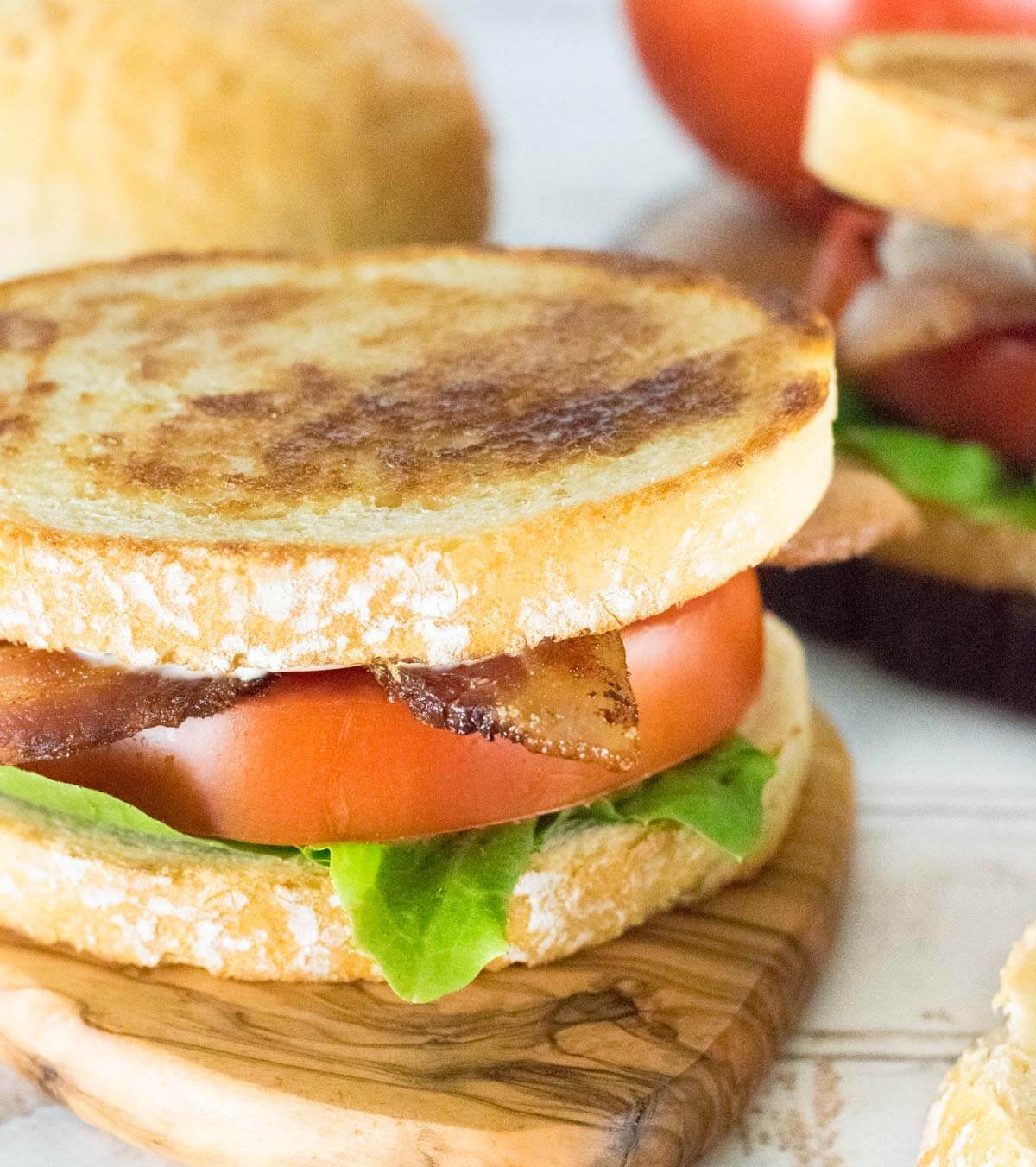 BLT Addons
A BLT may simply be bacon, lettuce, and tomato but that doesn't mean you have to stop there. There are an endless array of additions you can add to this sandwich to pack in even more flavor.
Avocado - Avocado slices transform this sandwich into the increasingly popular "BALT".
Bacon jam - Sweet, sticky, and smoky bacon jam could be added in addition to the bacon, or in place of it.
Caramelized Onions - Not a traditional option, but these would add great flavor!
Quick pickled Onions - Quick and easy to prepare, these add a sweet and tangy punch.
Ultimate BLT
The ultimate BLT is one you make yourself, perfectly tailored to your particular tastes. Follow this guide to take this classic sandwich to the next level.
Print
Pin
Rate
Save
Saved
Ingredients
Bread (Choose One)
6

slices

sourdough

6

slices

crusty French baguette

6

slices

ciabatta bread

¼

cup

mayo
Bacon
6

slices

thick cut bacon

(cooked)
Tomato
1

heirloom beefsteak tomato

(sliced ¾" thick)
Lettuce (Choose One)
3

leaves

butter lettuce

3

leaves

romaine lettuce

½

cup

arugula
Marinade
2

tablespoons

olive oil

2

teaspoons

red wine vinegar

1

teaspoon

balsamic vinegar

1

clove

garlic

(minced)

¼

teaspoon

salt

¼

teaspoon

fresh ground pepper
Instructions
Slice the tomato into ¾"-1" thick slices.

Prepare marinade by mixing together olive oil, vinegars, garlic, salt, and pepper. Add into a gallon storage bag along with tomato slices. Let sit 2 hours, flipping periodically.

Choose your favorite type of bread and slather the exterior of both slices with mayo and brown in a skillet set over medium heat.

Remove tomato from the marinade and place on the toasted bread, topping with two slices of bacon and your choice of lettuce. Finally, add your desired condiment to the inside of the bread and serve.
Notes
Tip: The leftover marinade can be combined with mayo to make a condiment as well.
IF YOU LIKED THIS RECIPE you will also love my BLT pasta salad.
Nutritional Information