As a food blogger, I am inherently perfect at everything. I was born with an oven mitt in one hand, and a spatula in the other. My first words uttered were, "Bon Appetite!", coaxed out of me by none other than Julia Child who served as my nanny, feeding me a steady diet of sweet cream and clarified butter until I began creating my own baby foods from the garden I had the foresight to plant before I was born.
In preschool, I rejected Play Doh in favor of pie dough, which I crafted myself from an artisanal collection of hand milled pastry flour that I kept stored in my desk. I was credited with publishing the first food blog which was written in crayon and taped to a globe, though going viral just meant I gave my best friend chickenpox. Nonetheless, he forgave me and liked my page, or licked it. I forget.
However, I'm sure to your surprise; none of the preceding paragraphs are true.
Food bloggers are not perfect; we just tend to act perfect when you put a keyboard in front of us. I, for one, do not know everything about cooking. I just know that I love to cook, I love to celebrate the roots of cooking, and I love to share my passion with everyone. That doesn't mean that I know everything.
One thing I certainly don't know a lot about is baking.
I have joked about my mother's lack of finesse at cooking more than once on this blog. However, when it comes to baking I am still the little kid pulling at her apron asking if I can lick the spoon.
I attempted to make this blueberry and rhubarb pie, and to my luck my mother stopped by during the middle of it.
Without a KitchenAid mixer, a pastry cutter, or any real experience at baking, I was pretty much just a lost jungle explorer hoping to hack his way through to Cortez's gold. I had already fumbled my way through the formation of the pie crust when she arrived to at least help me assemble it all together.
To her credit she instructed me on how to create a lattice topped pie crust without any online notes. More importantly, she helped me make corrections to my dough's current bloated state, which no online source would have been able to assist with.
Even with my mother's corrections my pie came out craggy around the edges, from my overly sticky dough, with an excessively runny interior.
The flavor? It was delicious. The creator of the recipe was on to something. I, however, was off on my execution, I assume.
I have posted the recipe below, which I found on the Hint of Vanilla website. I know I can correct my pie crust with a little more practice, but what about the runny filling? How do I create the syrupy glue that holds all these delicious flavors in place? More cornstarch? Pre-cook the filling in a saucepan? Or just more practice at baking?
By the way, this wasn't my first kitchen mishap.  If you want a laugh, check out My Culinary Skeleton Closet, one of my earliest posts from 2012.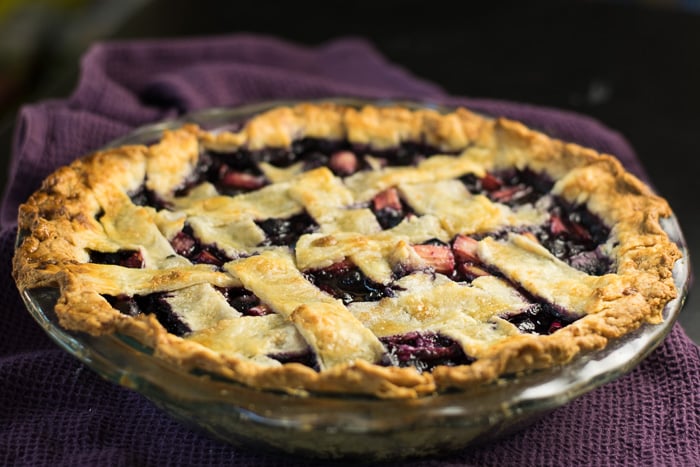 Blueberry Rhubarb Pie
I attempted to make this blueberry and rhubarb pie, and to my luck my mother stopped by during the middle of it and rescued me from myself.
Print
Pin
Rate
Save
Saved
Ingredients
Pie Crust
Recipe from Dahlia Bakery Cookbook

2 ⅔

cup

pastry flour

350 g

⅔

cup

all-purpose flour

100 g

2

tablespoons

sugar

1

tablespoon

kosher salt

1

cup

unsalted butter

freezer cold, cut into ½ inch dice, 226 g

¼

cup

vegetable shortening

freezer cold, cut into ½ inch dice, 60 g

½

cup

water

ice cold, 114 g

2

teaspoon

distilled white vinegar
Filling
21

oz

blueberries

frozen or fresh

9

oz

rhubarb

cut into 1 inch dice

1

tablespoon

fresh lemon juice

6.5

oz

sugar

3

tablespoons

cornstarch

½

teaspoon

lemon zest

¼

teaspoon

salt

1

oz

unsalted butter

cold, cut into ½ inch dice

Eggwash and coarse sugar for finishing
Instructions
For the pie crust, combine the flour, sugar, and salt in an electric mixer. Add the cold butter and shortening and mix on low speed until the mixture looks shaggy and the pieces of butter are slightly smaller than peas. Stop the mixer and check the size of the butter, sifting through the mixture with your hands. If you find bigger chunks, smear them between your fingers.

Put the ice-cold water and vinegar into a measuring cup and stir to combine. Add the water-vinegar to the flour-fat mixture on low speed and mix briefly with a few rotations of the paddle, but do not let the dough come together.

Turn off the mixture and scrape the sides and bottom of the mixer to make sure there are no pockets of dry ingredients. Squeeze a small amount of dough in your hand. The dough should come together in a clump. If it's too dry, add a little more water a few teaspoons at a time.

Remove the dough from the mixer, shape into two flat circles, wrap in plastic wrap, and refrigerate for at least 2 hours.

Unwrap one disk of dough and place it on a lightly floured surface. Using a rolling pin, roll the dough out to about 12 inches in diameter and about ⅛th inch thick. Transfer the dough to a 9-inch pie tin and gently press the dough into the sides of the pan. Trim the excess dough to a ¾th to 1 inch overhang.

If you wish to make a lattice top, take out the second disk of dough from the fridge. Roll the disk out in a roughly rectangular shape to a thickness of ⅛th inch. Using a ruler, cut 8 strips of dough, each about 1 inch wide. Transfer to a parchment lined baking sheet.

Chill the doughs.

For filling, combine the blueberries, rhubarb, and lemon juice in a large bowl. In a separate bowl, combine the sugar, cornstarch, zest, and salt and stir to combine. Sprinkle the sugar mixture over the berries and rhubarb and toss to coat evenly.

Transfer the filling to the pie shell. Place the small pieces of butter over the top of the fruit. Create your lattice top using the strips of dough. Trim the strips and fold the overhang up and over towards the inside of the pan and use your hands to gently press on the dough all around the circumference to form a neat pastry rim about ½ inch thick. Create your desired edge.

Preheat the oven to 375 F.

Refrigerate the pie for 15 minutes, until the dough is firm. Eggwash the crust and sprinkle coarse sugar generously over the top.

Bake the pie for 50-60 minutes, until the filling is bubbling and the crust is golden brown. Remove from the oven and cool on a wire rack until completely cool, about 2 hours. Serve at room temperature or rewarm in a 350 F oven for 10-15 minutes before serving.
Nutritional Information
Calories:
829
kcal
|
Carbohydrates:
104
g
|
Protein:
10
g
|
Fat:
45
g
|
Saturated Fat:
24
g
|
Cholesterol:
92
mg
|
Sodium:
1270
mg
|
Potassium:
416
mg
|
Fiber:
9
g
|
Sugar:
45
g
|
Vitamin A:
1160
IU
|
Vitamin C:
14
mg
|
Calcium:
72
mg
|
Iron:
3
mg
If you enjoyed reading about my attempt at a blueberry rhubarb pie then you should probably like me on Facebook and follow me on Pinterest too. That's what I would do at least, because if you don't get to know me but you still use my recipe it is kind of like taking candy from a stranger, and your mom taught you not to do that. Don't disobey your mom, subscribe to Fox Valley Foodie today.