Cottage bacon is a flavorful twist on traditional bacon, made with a meatier cured pork shoulder rather than pork belly. This creates a leaner bacon with an incredible flavor that is a cross somewhere between ham and bacon. Best of all, it is fully cooked when it is done smoking so you can be enjoy it cold out of the fridge, or fried up in a skillet.
I have made bacon alternatives in the past, such as venison bacon, which is actually more of a sliced sausage than a true bacon. However, cottage bacon is much closer to regular bacon, as it is a whole cured meat. It has a noticeably salty flavor, and smoke drenched into each bite.
Cottage bacon also goes by the name, buckboard bacon. Alternatively, you may have heard of back bacon, but that is different in that it is made with pork loin. In the United States, back bacon is more commonly known as Canadian bacon.
What do I need?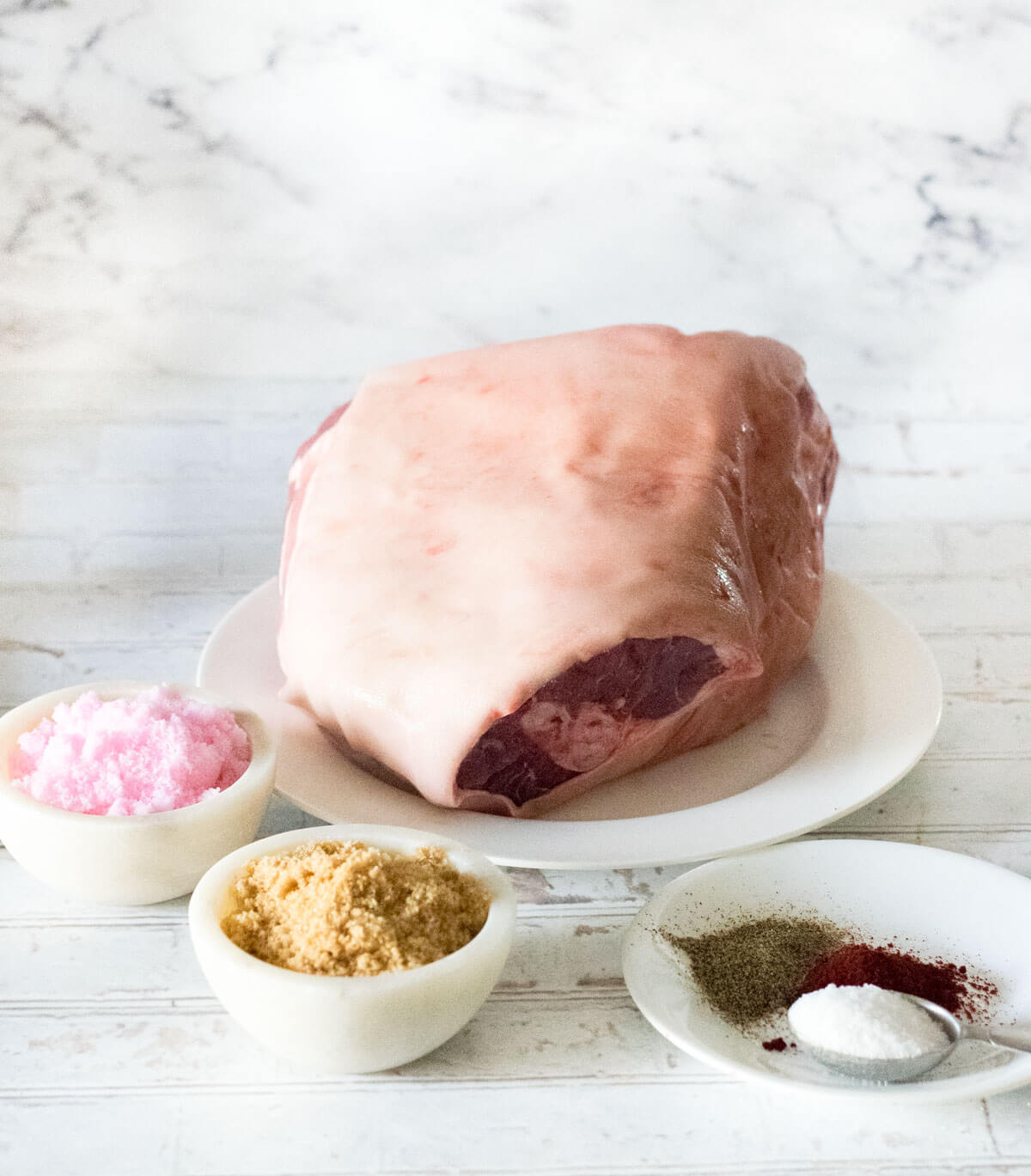 Pork Shoulder Roast - Look for labels such as Boston butt, pork butt roast, picnic roast, or picnic shoulder. Ideally, you want to find a boneless roast, but it is common for the bone to still be intact.
Prague Powder - Also known as curing salt, Cure #1, or Instacure #1. Specifically, it is 6.75% sodium nitrite in sodium chloride.
Salt
Black pepper
Sweet paprika - Sweet paprika is spicier than traditional paprika. If you cannot find it in your local store use standard paprika with a dash of cayenne pepper.
How to prepare the pork shoulder
You will need to break down your pork shoulder a bit to prepare it for curing. Many of the shoulder roasts you buy in the store have already had the fat cap removed. However, as you see in my photo, this isn't always the case. You will need to trim up the thick layer of fat prior to curing the meat.
The next thing you need to do is remove any bone. Pork shoulders are typically sold with bones in the roast, but if you can find a boneless roast that will make your job easier. Take your time trimming out the bone so you don't mangle the surrounding meat.
Finally, I recommend slicing the roast to be only one-two inches thick, give or take. You want a flatter roast so you can slice it like bacon. See the picture below as an example.
The Curing Process
When curing any meat, you will need to use a curing salt such as Prague powder. This salt contains sodium nitrite as a preservative, which keeps the meat safe to eat, and gives cured meats its recognizable pink color. However, it is important not to use too much curing salt due to potential adverse health risks.
I use the Equilibrium curing calculations to ensure I am using an appropriate amount of cure. For my recipe, you want to use 1.1 grams of Prague powder per pound of meat. Scale up the cure and seasonings for larger roasts.
Mix together the Prague powder with your salt, pepper, sugar, and paprika. Once it is well-combined use it to fully coat your pork. Don't worry if it looks like you have excess seasoning. The pork will release liquid as it cures, and before long all of the seasonings will be sticking to the meat.
Place the pork shoulder and any excess seasoning in a gallon size zip lock bag and place it in the refrigerator for 7-9 days. Flip the bag over every day to ensure it cures evenly.
Smoking your bacon
After a week you are ready to make your own homemade cottage bacon. Take your cured pork butt out of the refrigerator and rinse it throughout under running water to remove the seasonings off the meat. Then pat dry with paper towels. The flavor will now be penetrated into the meat and your meat will have taken on a considerably darker color, as shown in the photo.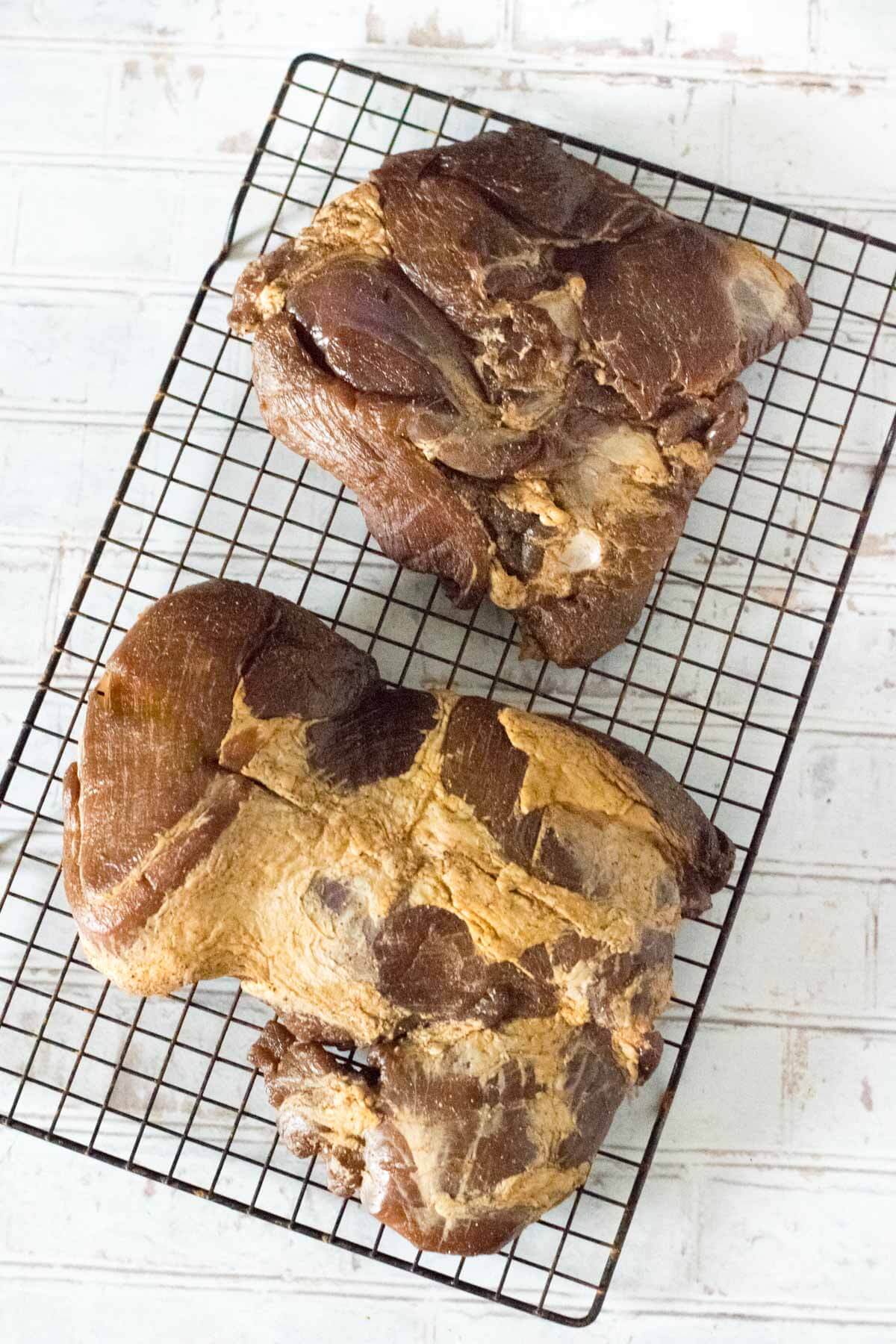 Now it is ready for smoking. Fire up your smoker to 200 degrees and add your favorite flavor of wood chips. Place the pork roasts in the smoker and smoke for approximately 2 hours, or until the internal temperature reaches 150 degrees. It is important to use a digital thermometer to check this.
At this point, your bacon is fully cooked. Let it cool, then slice it thinly and enjoy. You can slice it will a standard chef knife, but using a deli slicer really makes this easier.
How to store it
Any bacon you expect to consume in the next week can be stored in an airtight container in your refrigerator. The rest should be portioned out into multiple freezer-safe containers and frozen until ready to enjoy.
How to serve it
Cottage bacon is more versatile than regular bacon. You can eat it cold out of the refrigerator, or fry it up. Here are some of my favorite ways to enjoy it:
Egg Sandwich - I fry it up like bacon and top an egg sandwich with it.
Deli sandwich - I pile cold slices of bacon on bread and eat it like a traditional ham sandwich with Dijon mustard.
Omelet - Fry it up and serve it inside your favorite omelet.
Salad - Chop it up cold or hot and sprinkle it on your favorite salad.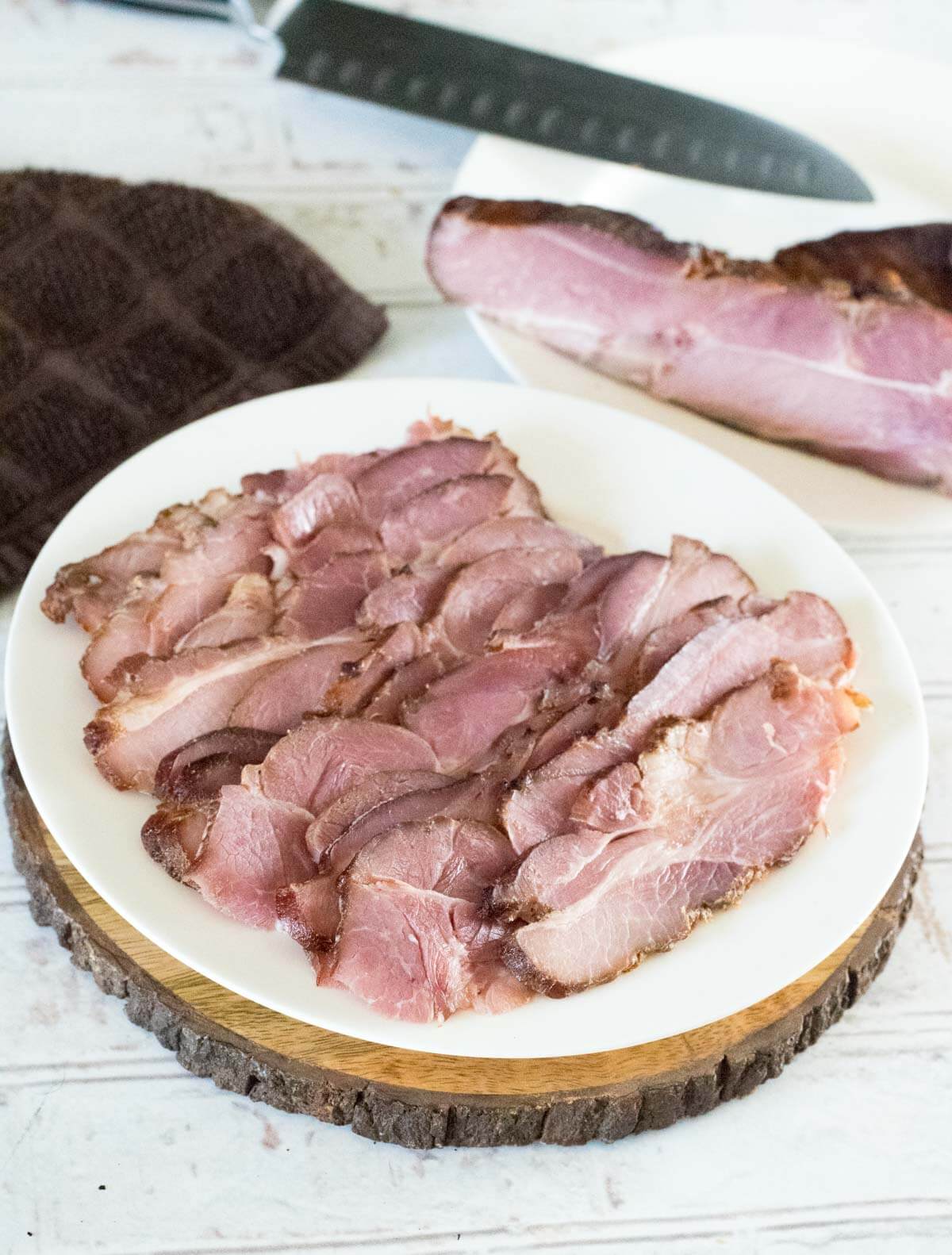 Can you do me a favor? If you enjoyed my post would you mind sharing it with your friends? You can see more of my recipes by liking me on Facebook and follow me on Pinterest too. Otherwise, stay up to date by getting each new post sent directly to your inbox by subscribing today.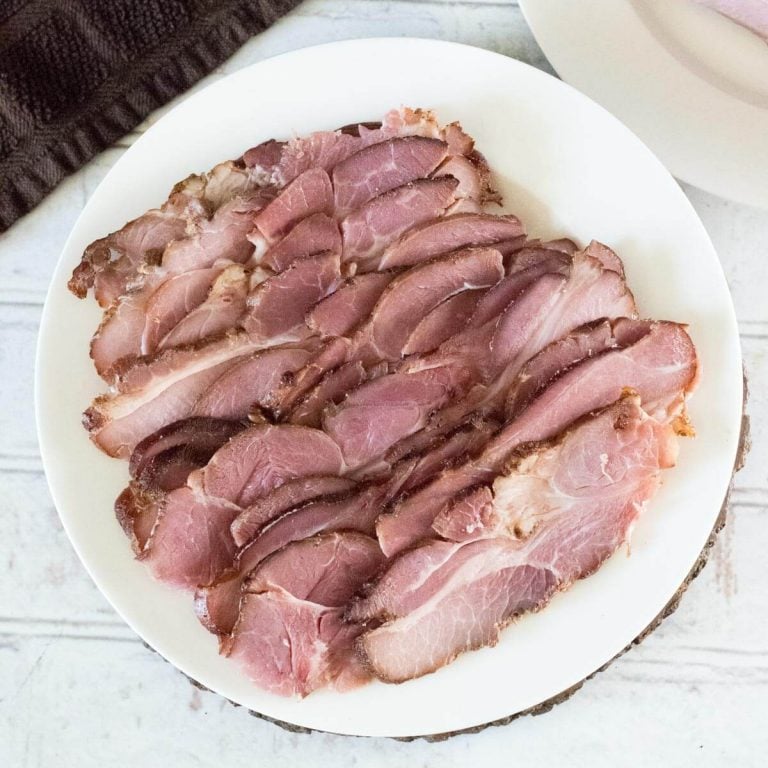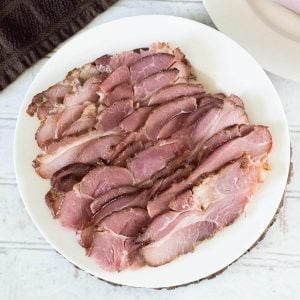 Cottage Bacon
Cottage bacon is a flavorful twist on traditional bacon, made with a meatier cured pork shoulder rather than pork belly.
Print
Pin
Rate
Save
Saved
Ingredients
2

pounds

pork shoulder

2.2

grams

Prague powder

16

grams

salt

14

grams

brown sugar

12

grams

black pepper

8

grams

Sweet paprika

(or use regular paprika with a dash of cayenne)

wood chips for smoking
Instructions
Prepare your pork shoulder by trimming off the fat cap and any large chunks of exterior fat.

Trim out the bone from the pork shoulder by carefully cutting around it to remove it, being careful not to cut up the surrounding meat excessively.

Slice the pork shoulder into flats 1-2" thick, similar to a pork belly.

Mix together all of the cure and seasonings until well combined then use the mixture to fully coat the meat.*

Place your pork in a large sealable bag and set in the refrigerator for 7-9 days. Flip the pork each day to ensure it cures evenly.

Remove the meat from the bag and rinse off the seasonings under cold water. Then pat it dry with paper towels.

Preheat your smoker to 200 degrees and add your favorite wood chips.

Smoke the cured pork until the internal temperature reaches 150 degrees. This will take approximately 2 hours, depending on how thick your meat has been cut.

Remove bacon from the smoker and let cool, then slice thinly with a meat slicer or chef knife.
Notes
*Don't worry if all of the seasonings won't stick to the meat initially. As the pork cures liquid will be released that will soak up the remaining seasoning.
Nutritional Information
Calories:
39
kcal
|
Carbohydrates:
1
g
|
Protein:
5
g
|
Fat:
2
g
|
Saturated Fat:
1
g
|
Cholesterol:
15
mg
|
Sodium:
276
mg
|
Potassium:
94
mg
|
Fiber:
1
g
|
Sugar:
1
g
|
Vitamin A:
168
IU
|
Vitamin C:
1
mg
|
Calcium:
7
mg
|
Iron:
1
mg