If you want the ultimate savory breakfast, slather a generous dollop of this Cheesy Chorizo Gravy over freshly baked biscuits! Your family won't be able to get enough of these!
I am reasonably certain gravy was invented by the gods, or at least their grandmother. I wonder if Jesus has a grandmother? She'd be all like, "Oh Jesus, you're just so perfect!" And Jesus would roll his eyes and be like, "Yes, grandma, I know…. It's pretty much what I do." Then grandma would be like, "Jesus, come over here and have some Cheesy Chorizo Gravy, it is absolutely heavenly!"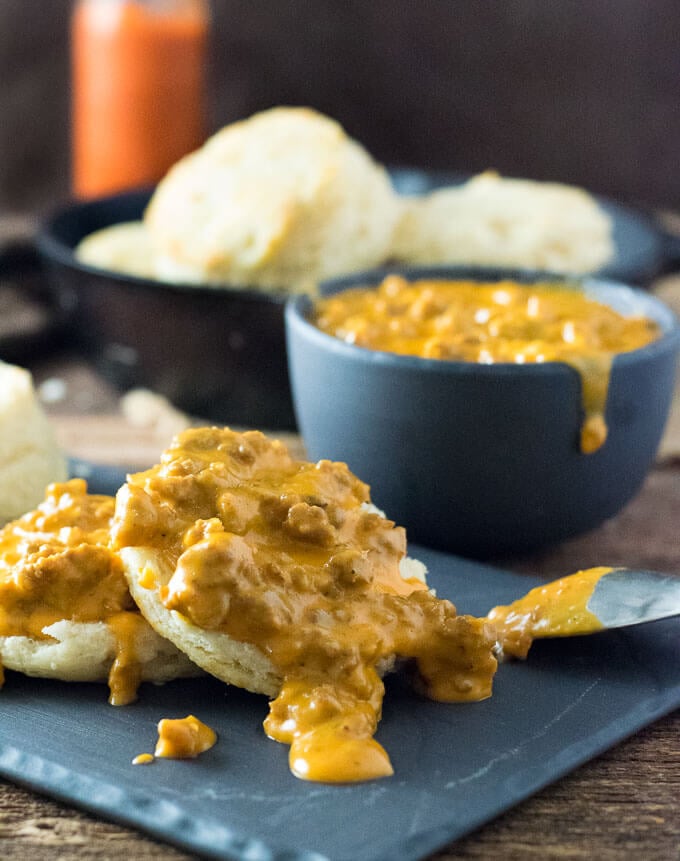 Unfortunately, the writers of the Bible get a little distracted by miracles and saving mankind, and whatnot. By and large, they forgot to include Jesus's favorite recipes, which is a shame because I'm sure Cheesy Chorizo Gravy would be in there.
Making any gravy from scratch should not be as intimidating as some people fear. It is actually quite simple. Let me break it down for you:
How to Make Gravy
Pretty much every gravy recipe starts out with browning meat. This Cheesy Chorizo Gravy is no different. If you are using Chorizo sausages in casings, simply cut open the casing and push the meat out. While cooking the meat you want to develop some browning on it because that will yield more flavor.
As the meat cooks, it releases fat drippings. You need a 1/4 cup of this to mix with flour to serve as the base of your gravy. Drippings mixed with flour is no different than creating a basic brown gravy. If you ever don't get enough fat you can add butter or oil to make up the difference.
When flour is added to the fat you want to continually mix. If you stop mixing you run the risk of scorching the flour, which will cause your gravy to have a burnt taste. Cooking the flour mixture is essentially cooking out the raw flour taste before you add other ingredients.
Adding milk to your gravy is what turns it into a sauce. Initially, the gravy will be thin and runny from the milk, but as you continue to cook it the sauce will thicken up. If it is ever too runny, just cook it longer. If it gets too thick, add a few splashes of milk to thin it slightly.
The best way to enjoy gravy is over freshly made Flaky Buttermilk Biscuits. Sure, you can buy them from the store, but if you want a real sense of accomplishment, check out my recipe and make biscuits from scratch!
Any respectable individual makes their gravy in a proper cast iron skillet. If you don't have one, a saute pan will suffice, but somewhere in the distance you'll likely hear a grandmother crying.
The above link is an affiliate link. Any Amazon purchases made through this link helps support FoxValleyFoodie.com at no additional cost to you.
Print Recipe
Cheesy Chorizo Gravy with Biscuits
If you want the ultimate savory breakfast, slather a generous dollop of this Cheesy Chorizo Gravy over freshly baked biscuits! Your family won't be able to get enough of these!
Ingredients
1

lb

chorizo sausage

(casing removed)

1/4

cup

fat drippings

1/4

cup

flour

2

cups

milk

1/2

cup

shredded cheddar cheese

1

tsp

hot sauce

(optional)

1/4

tsp

black pepper

(or to taste)

1/4

tsp

salt

(or to taste)
For serving
12

freshly baked biscuits

(see link in notes for recipe)
Instructions
Brown chorizo in a saute pan until cooked through and fat has rendered out.

Remove chorizo from skillet, reserving 1/4 cup of fat drippings in the pan. Turn off heat to allow pan to cool slightly.

Sprinkle flour in the pan and whisk continually while cooking on medium heat to prevent burning. Cook for 5 minutes (this eliminates the raw flour taste).

Slowly add milk to flour mixture, stirring as it is added to prevent clumps.

Sprinkle in cheese in batches while continuing to stir.

Add sausage back to the skillet and continue cooking until gravy has thickened, then add hot sauce and salt and pepper to taste.

Serve on top of freshly baked biscuits.
*Calories listed are a vague estimate and accuracy should not be assumed.
If you enjoyed reading my Cheesy Chorizo Gravy and Biscuits recipe then you should probably like me on Facebook and follow me on Pinterest too. That's what I would do at least, because if you don't get to know me but you still use my recipe it is kind of like taking candy from a stranger, and your mom taught you not to do that. Don't disobey your mom, subscribe to Fox Valley Foodie today.