This hearty Slow Cooker Beef and Barley Soup is loaded with tender cubed beef, diced vegetables, and a luxurious broth that you will be eagerly sopping up with your favorite bread!
My favorite thing about painting is how much more you increasingly hate it with each laborious stroke. I could never be a professional painter because I would have to charge $1000 an hour because I doubt I would do the job for any less. Yet, here I am painstakingly repainting EVERY room in my house. And. I. Am. Almost. Done… Slow cooker recipes like this Beef and Barley Soup have been my savior the past few weeks as I pretend to know how to remodel our new home.

How to Make Slow Cooker Beef and Barley Soup
This Beef and Barley Soup is a really flexible recipe. It can be ready in about 5 hours if cooked on high or let it simmer for 8-10 hours on low. Quite honestly, you could cook it longer too if needed, the worst that will happen is the beef will become fall-apart tender.
Though it is called a soup, its beefiness makes it eat more like a stew. The best beef to use in this soup is chuck roast. Chuck roast is not only fairly inexpensive to purchase, but the long cooking time transforms this particularly tough cut into melt-in-your-mouth tender morsels, while the fat renders out to create an exceptionally luxurious sauce!
I make my Beef and Barley Soup without tomatoes, but instead, I add tomato paste to add richness to the broth. You can certainly add stewed or diced tomatoes if you wish. Some people even make this soup with mushrooms or potatoes.
If you aren't the slow cooker type, this Beef and Barley Soup can be made on the stovetop as well. I would use a Dutch Oven to brown the chuck roast, remove it from the pot, then saute the vegetables and add everything back into the pot. Like the slow cooker recipe, I would hold off adding the barley until the final hour of cooking. Making Beef and Barley Soup in the slow cooker is easier, but following the directions I listed for the stovetop will develop additional flavor. The choice is yours!
The above link is an affiliate link. Any Amazon purchases made through this link helps support FoxValleyFoodie.com at no additional cost to you.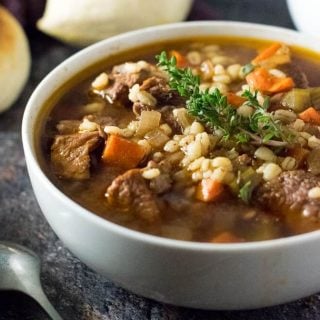 Print Recipe
Slow Cooker Beef and Barley Soup
This hearty Slow Cooker Beef and Barley Soup is loaded with tender cubed beef, diced vegetables, and a luxurious broth your whole family will love!
Ingredients
2

lbs

Chuck roast

(cut into 1″ cubes)

3/4

cup

Barley

8

cups

Beef broth

3

Carrots

(diced)

1

Onion

(diced)

2

Celery

(diced)

4

cloves

Garlic

(minced)

3

tablespoons

Tomato paste

1

tablespoon

Worchestershire Sauce

2

sprigs

Thyme

2

Bay leaves

½

teaspoon

Black pepper

salt to taste
Instructions
Add all ingredients to 6 quart slow cooker, except barley.

Let cook on high for 4 hours, or low for 8 hours, then add barley and cook for 1 hour longer. Individual slow cooker times can vary, it is best to add barley as beef is becoming tender.

Taste for salt and adjust as needed.

Ladle soup into bowls and serve with buns for dipping, if desired.
Notes
I recommend a [easyazon_link identifier="B003HF6PUO" locale="US" tag="foxvalfoo-20″]six-quart slow cooker[/easyazon_link] for this recipe. Five-quart also works, but will be very full.
IF YOU LIKED THIS RECIPE you will love my Beer Braised Short Ribs recipe too!
Loved this recipe?

Be sure to rate it and share you thoughts below!
*Calories listed are a vague estimate and accuracy should not be assumed.
If you enjoyed my Slow Cooker Beef and Barley Soup recipe then you should probably like me on Facebook and follow me on Pinterest too. That's what I would do at least, because if you don't get to know me but you still use my recipe it is kind of like taking candy from a stranger, and your mom taught you not to do that. Don't disobey your mom, subscribe to Fox Valley Foodie today.