This easy alfredo sauce recipe without heavy cream uses milk, Parmesan, and a simple mixture of butter and flour to form the sauce. This wonderful sauce is as creamy and delicious as it is easy to make, and can be used to add a homemade touch to your favorite pasta dish.
Traditional Alfredo Sauce
Most commonly a classic alfredo sauce recipe is made with a mixture of heavy whipping cream and Parmesan cheese. Heavy cream is thicker and fattier than milk, making it a wonderful addition to any sauce. It adds body and a wonderful mouthfeel. However, the problem with using heavy cream in alfredo sauce is few people keep heavy cream on hand. However, I always have milk on hand!
Alfredo sauce with milk
By using a roux as the base for this simple sauce, milk can be added in with Parmesan cheese and still create an incredibly creamy sauce, even without heavy cream. Making my homemade alfredo sauce with regular milk is the best way for me to do it because I always have these simple ingredients on hand. There is no need for a special trip to the grocery store when I am craving an impromptu pasta dinner. Best of all, I find this to be one of the easiest ways to make a creamy alfredo sauce.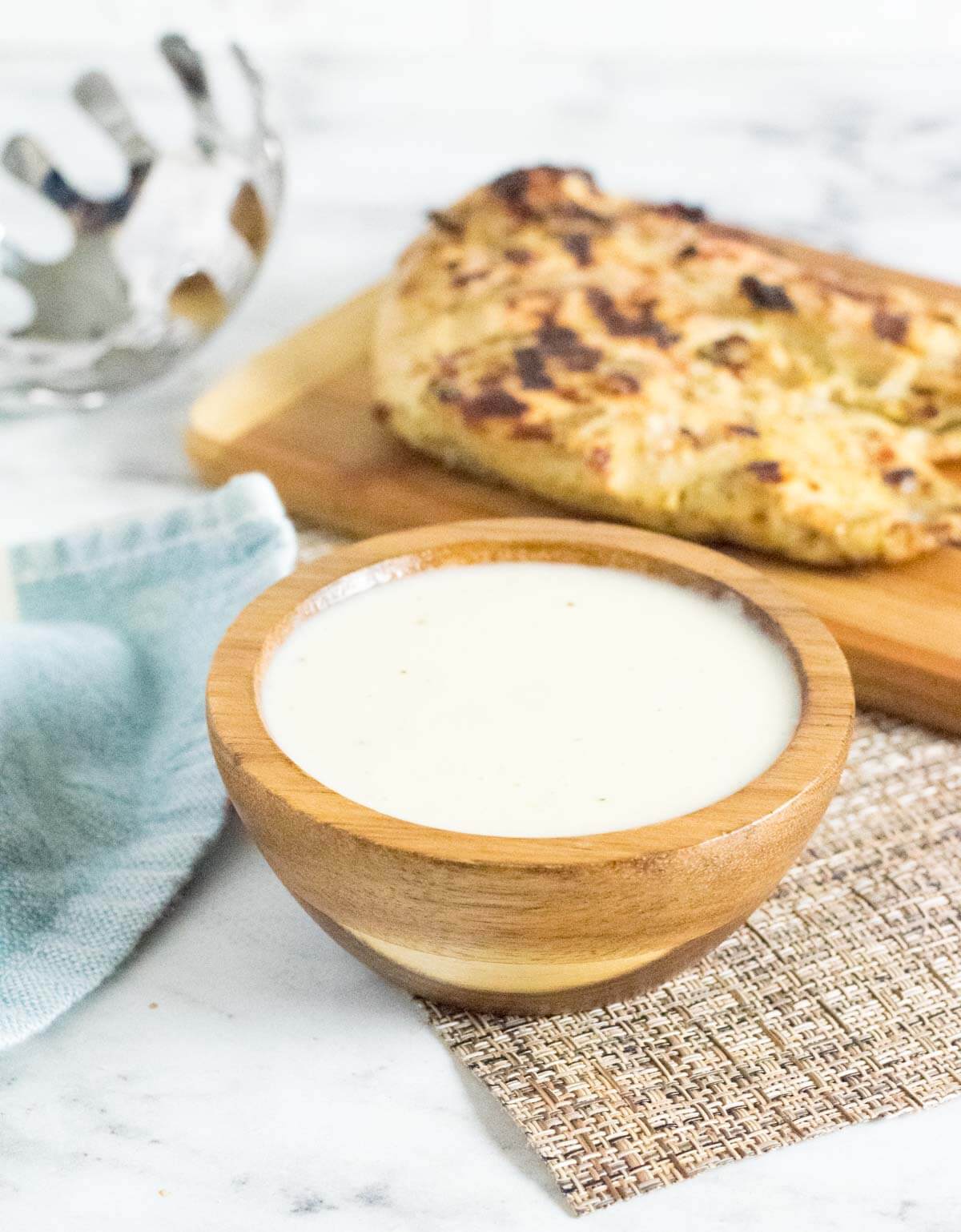 Alfredo Sauce Ingredients
Butter - You want to use butter for the flavor it provides. I would avoid substituting olive oil.
All-purpose flour
Garlic - Feel free to add extra garlic if you love the flavor. However, I highly recommend using fresh garlic rather than garlic powder for this recipe.
Milk - Whole milk is best, followed by 2%, and 1%. The milk with the highest fat content is best for making a sauce.
Parmesan cheese - Grated is easiest to work into the sauce, but I have successfully used shredded Parmesan cheese as well.
Seasonings - Kosher salt and fresh ground black pepper
Important: Use REAL Parmesan cheese, found in the refrigerated section, not cheap the shelf-stable Kraft Parmesan cheese. You want the real thing.
Optional: Additional seasonings like crushed red pepper or Italian seasoning can be added to fit your tastes.
How to make alfredo sauce with milk
To get started on this easy recipe, the first thing we do is melt butter in a medium saucepan set over medium low heat along with minced garlic and flour. The garlic will saute as the roux cooks. It is important to keep stirring your flour mixtures so it doesn't burn. You want to cook it for approximately three minutes to ensure the raw flour taste is cooked out of it.
Next, the milk is added to transform the roux into a sauce. Don't add all of the milk at once or it will not incorporate into the roux properly. Instead, begin by adding a few splashes of milk at a time and stir them into the roux. Once the milk is blended in more can be added. Repeat this until all of the milk has been added and you have a creamy white sauce.
We will do the same thing with the fresh grated Parmesan cheese. Begin by stirring one handful into the sauce, then add more. Repeat until all of the cheese has been added, then stir in salt and black pepper. I highly recommend using fresh ground black pepper for the best flavor. The sauce is ready to be served over your favorite pasta noodles.
Tips for Making Alfredo Sauce without Heavy Cream
Use the fattiest milk you can. I would avoid using skim milk if possible.
Use real Parmesan cheese, not the Kraft-style cheese in a shaker.
If the sauce is gritty the Parmesan likely hasn't fully melted it. Let the sauce simmer longer while stirring.
If the sauce is thin, simmer it longer to thicken.
If the sauce sits too long it will get thicker. Stir in a splash of milk to thin it out.
Delicious Pasta Recipes
Can you do me a favor? If you enjoyed my post would you mind sharing it with your friends? You can see more of my recipes by liking me on Facebook and follow me on Pinterest too. Otherwise, stay up to date by getting each new post sent directly to your inbox by subscribing today.
Alfredo Sauce without Heavy Cream
This easy alfredo sauce recipe without heavy cream uses milk, Parmesan, and a simple mixture of butter and flour to form the sauce.
Print
Pin
Rate
Save
Saved
Ingredients
¼

cup

butter

¼

cup

all-purpose flour

1

clove

garlic

minced

2

cups

milk

2

cups

grated Parmesan cheese

¼

teaspoon

kosher salt

⅛

teaspoon

fresh ground black pepper
Instructions
Heat a medium saucepan over medium-low heat and add butter, flour, and minced garlic. Whisk to combine, and continue to cook for 3 minutes while the roux cooks. At this point, the garlic should be very fragrant and the roux should begin to darken in color slightly.

Begin to stir in the milk a few splashes at a time. Ensure each batch fully incorporates into the flour mixture prior to adding more. Continue until all milk has been added. Heat the sauce to a gentle simmer.

Add Parmesan cheese a handful at a time, stirring fully into the sauce until you have a smooth and creamy consistency.

Remove from heat and serve over fettuccine noodles with sliced chicken breasts to create your own homemade chicken fettuccine alfredo.
Notes
If the sauce is gritty most likely the cheese has not fully melted yet. Let simmer longer while stirring to ensure it does.
If the sauce is too thin, simmer it longer to thicken.
The sauce will thicken as it sits. Dribble in a little milk to thin it out.
Use the best quality Parmesan cheese you can find.
Nutritional Information
Calories:
281
kcal
|
Carbohydrates:
9
g
|
Protein:
16
g
|
Fat:
20
g
|
Saturated Fat:
12
g
|
Trans Fat:
1
g
|
Cholesterol:
58
mg
|
Sodium:
709
mg
|
Potassium:
159
mg
|
Fiber:
1
g
|
Sugar:
4
g
|
Vitamin A:
657
IU
|
Vitamin C:
1
mg
|
Calcium:
466
mg
|
Iron:
1
mg