These creamy peanut butter granola bars are loaded with the bright sweetness of dried cranberries, and tantalizing crunchy clusters in every chewy bite!
I won't say this is the best granola bar I've ever eaten because it is rude to talk with your mouth full, but I cannot put these granola bars down. Seriously, you won't stop at one bite when you sink your teeth into these chewy peanut butter granola bars. The best part is, you can customize them a million different ways to fit your own tastes!
Peanut Butter Granola Bars
Creamy peanut butter, the bright sweetness of dried cranberries, and tantalizing crunchy clusters are mixed in every bite of these peanut butter granola bars. These make a perfect snack to fuel your day, quick and easy breakfast, ideal for camping and hiking, or just great when you need food on the go!
How to Make Granola Bars
This is an easy no-bake granola bar recipe. All of the ingredients can be added to a mixing bowl to be combined, or use a stand mixer (affiliate link), then laid out on a large baking sheet to be flatted with a rolling pin. It is best to use greased parchment paper (affiliate link) to ensure the granola mixture does not stick to the pan when rolled.
Homemade Granola Bar Ingredients
Granola bars are popular for loading many hearty ingredients into a manageable, and tasty, handheld snack. I use cereal as the base of my granola bar. Honey Bunches of Oats is a great choice because it has a variety of textures and multiple ingredients traditionally found in granola bars. From there you want to add a variety of different textures, such as dried cranberries and sunflower seeds, and finally balance it out with some sweetness for palatability.
The ingredients used for my homemade granola bar recipe are shown below. You will notice that it incorporates a balance of the components I mentioned in the previous paragraph. However, in the next section, I will show you how to customize it to fit your tastes.
Post Honey Bunches of Oats with Almonds Cereal
Rolled oats
Dried cranberries
Sweetened flaked coconut
Sunflower seeds
Honey
Brown sugar
Salt
Creamy peanut butter
Vanilla
How to Customize this Peanut Butter Granola Bar Recipe
There is a wide variety of ingredients you can use in your granola bar recipe. You just need to keep the same skeleton structure in place and swap ingredients as desired.
Carbs: The base of most granola bars is some form of oats. As mentioned, I also add Honey Bunches of Oats cereal because I like the flavor and texture it adds to the bar. However, this cereal can be omitted and replaced with your preferred ingredients.
Texture: You can also substitute dried cranberries for your favorite dried fruit, such as cherries or even dehydrated bananas. Sunflower seeds can be replaced with walnuts, chia seeds or more almonds, and using toasted coconut would add another layer of depth.
Sweetness: I like using a mixture of honey and brown sugar for sweetness (such as with my honey roasted cashews recipe), but maple syrup can also be used. Or the addition of chocolate is preferred by many. To increase the healthiness of your granola bar you can cut back on the sugar as desired, it certainly helps the flavor to have it.
Binder: Peanut butter is not only a great flavoring agent for these granola bars, but it is also the main binder that holds everything together. I use creamy peanut butter because the cereal already contains almonds, but you can use chunky if you like the added crunch of peanuts. Alternatively, you can use a different binder, such as almond butter if you prefer.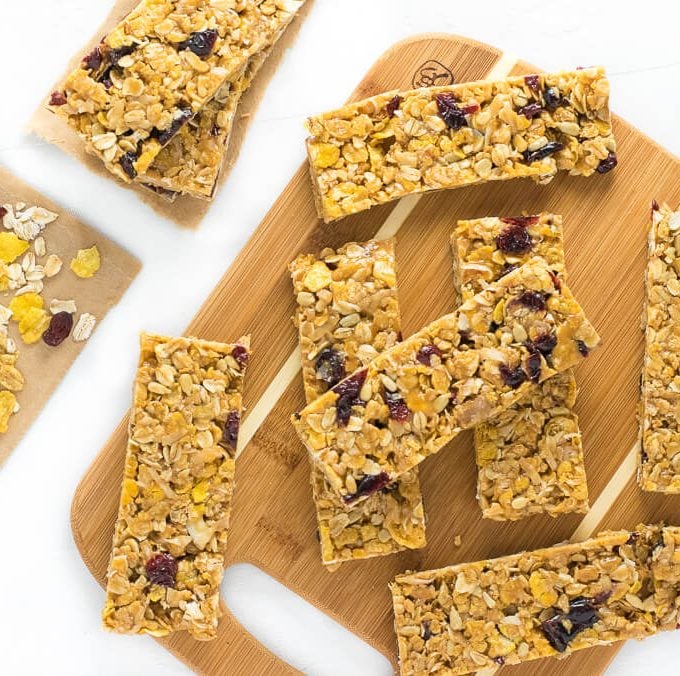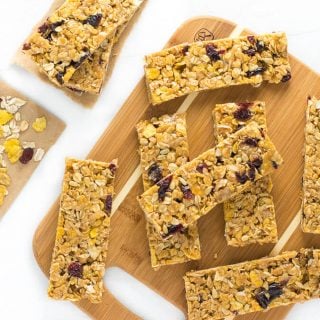 Peanut Butter Granola Bars with Cranberries and Almonds
Creamy peanut butter, the bright sweetness of dried cranberries, and tantalizing crunchy clusters are found in every bite of these Peanut Butter Granola Bars with Cranberries and Almonds.
Print
Pin
Rate
Save
Saved
Ingredients
3

cups

Post Honey Bunches of Oats with Almonds Cereal

1 ½

cups

rolled oats

¾

dried cranberries

½

cup

sweetened

flaked coconut

¼

cup

sunflower seeds

⅔

cup

honey

½

cup

brown sugar

¼

teaspoon

salt

¾

cup

creamy peanut butter

1

teaspoon

vanilla
Instructions
Add cereal, oats, cranberries, coconut, and sunflower seeds in a large bowl and mix to combine.

Add brown sugar, honey, and salt to a sauce pan and bring to a boil. Let boil for 1 minute to dissolve sugar then add peanut butter and mix to combine.

Pour peanut butter mixture into the bowl and combine all ingredients together.

Scrap mixture into 9x13 pan lined with greased parchment paper and spread evenly into ½" thickness.

Place mixture in refrigerator to set and cool.

Using a large knife, cut granola into rectangle bars and store in airtight containers or plastic bags. These can be frozen for longer term storage.
This recipe was originally published on FoxValleyFoodie.com February 15, 2016.
If you enjoyed my Peanut Butter Granola Bars recipe then you should probably like me on Facebook and follow me on Pinterest too. That's what I would do at least, because if you don't get to know me but you still use my recipe it is kind of like taking candy from a stranger, and your mom taught you not to do that. Don't disobey your mom, subscribe to Fox Valley Foodie today.