When you are craving a delicious breakfast, but don't need to feed a crowd, making French toast for one is a great way to enjoy your breakfast favorites without worrying about excessive leftovers!
If you ever wake up in the morning and think to yourself, "What I really need to get this day started right is some highly refined carbs coated in sugar and fat!" look no further! I have the perfect classic French toast recipe for you. This easy recipe is perfect for one but is also good enough you may want to scale it up to feed the whole family.
Ingredients and Substitutions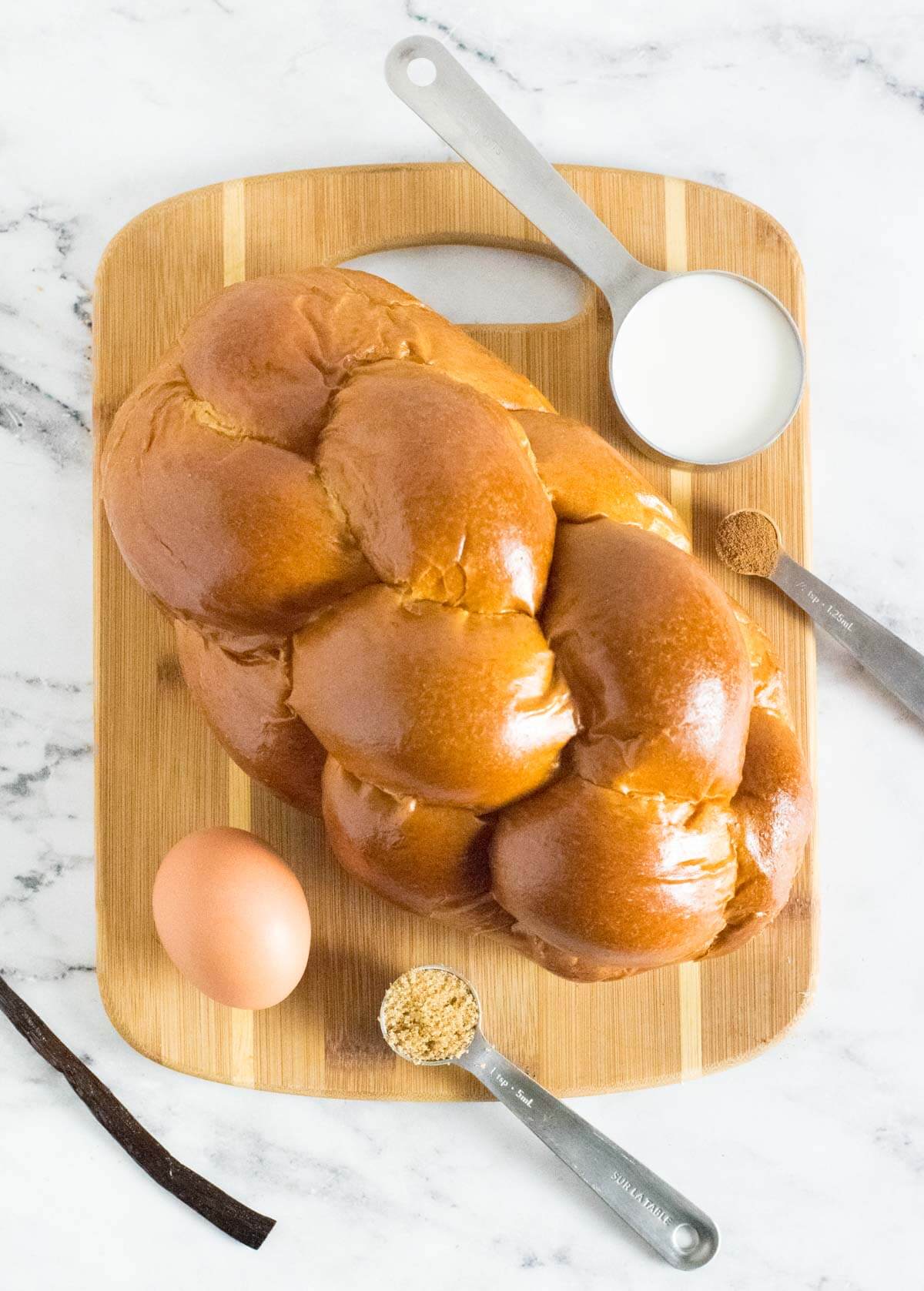 Thick slices of bread - Sweet bread is best type of bread for French toast. Challah bread is my personal recommendation, followed by a brioche loaf. However, any thick-cut loaf from the grocery store will work just fine. Finally, you can even use basic white bread if needed.
Large egg - You can also make French toast without eggs if needed.
Milk - I call for milk for simplicity (whole milk is best), but heavy cream or half and half will give you a more luxurious custard. Otherwise, you can use your favorite milk alternative, such as almond milk or even coconut milk.
Pure Vanilla Extract
Ground Cinnamon
Brown Sugar - An equal amount of honey can be substituted.
Salt - I recommend using a pinch of table salt, but kosher salt is fine too.
How to make it
Begin making this easy French toast recipe by adding the beaten egg, milk, vanilla extract, cinnamon, brown sugar, and salt to a shallow bowl. Beat the egg mixture with a fork to combine.
Dip each slice of bread into the custard mixture, ensuring both sides are fully coated. Raise it out of the bowl and let the excess liquid drip off, then place the slices on a hot griddle, or large skillet, greased with melted butter.
Cook your French toast for two or three minutes per side, or until they turn golden brown and develop crisp edges. Then flip to ensure the second side developed a golden brown crust as well. Remove cooked French toast from the griddle and serve on a plate while still hot.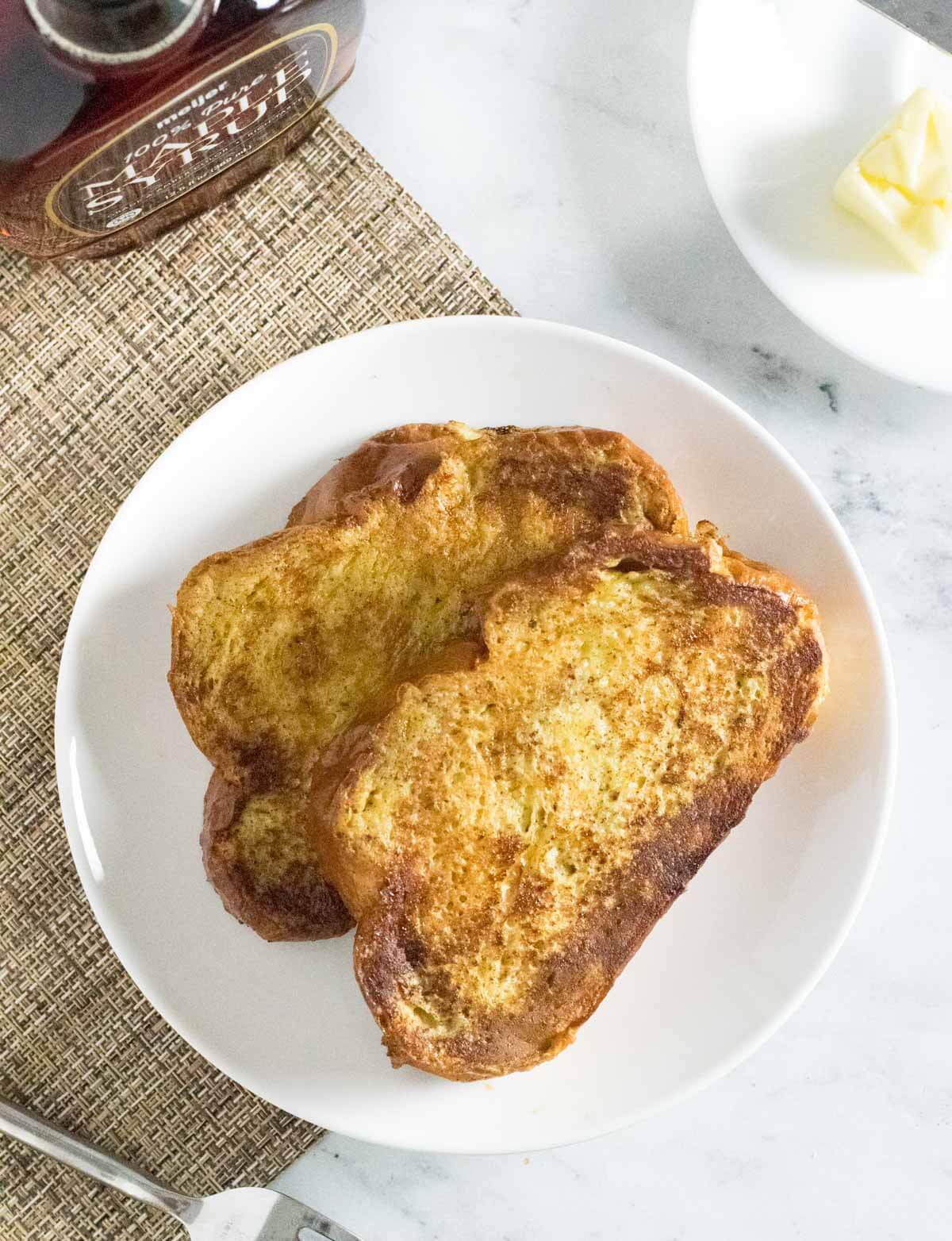 Tips and Tricks
Making French toast is a pretty simple process that we've likely been enjoying for years. However, this meal can quickly be elevated from your mom's basic fare to your favorite French toast recipe with these small steps.
Bread matters - Using sweeter bread such as Challah bread is the easiest way to improve upon your French toast recipe. Most people use a simple white bread for French toast; this creates a largely flavorless palette that lends nothing to the enjoyment of the meal other than serving as the delivery agent for its syrupy sweet coating.
Thick cut - I recommend having your baker slice the bread thick if possible. Texas toast style cuts have the best texture for French toast as they provide a fluffier pillow of sweetness entering your mouth rather than a saturated mush of syrup.
Stale bread is best - Seriously, for best results use stale bread! Stale bread is a bit hardier so it will absorb more custard (flavor!) and not get soggy. Fresh bread will be softer and more easily fall apart. If you are making French toast, let it sit out overnight before you make it in the morning. When you see how hard and stale it is the next morning you may think you have ruined it, but do not despair. It will turn out perfect!
Seasonings add flavor - My top secret trick when making French toast for one, or a crowd, is always to reserve a little brown sugar and ground cinnamon to sprinkle on the bread after it takes a bath in the egg mixture. That little extra dusting of seasoning is a big flavor booster!
French Toast FAQ
Can French Toast be Prepared in Advance?
Yes, the custard can be made the day prior and refrigerated in an airtight container until you wish to make your French toast. This can help save time in the morning. Alternatively, you can make all of your French toast and refrigerator or freeze the leftovers.
How do I reheat French toast?
Gently reheating your French toast in a nonstick skillet is the best way. Microwaving it works as well, but it will be soggier. If you freeze French toast I recommend reheating it in a 350 degree oven, on a baking sheet, until warmed through, approximately 10 minutes.
What should I serve with French Toast?
I recommend serving room temperature butter for spreading on French toast, as well as pure maple syrup and powdered sugar. Other options include fresh fruit, jam, or even whipped cream.
Can you do me a favor? If you enjoyed my post would you mind sharing it with your friends? You can see more of my recipes by liking me on Facebook and follow me on Pinterest too. Otherwise, stay up to date by getting each new post sent directly to your inbox by subscribing today.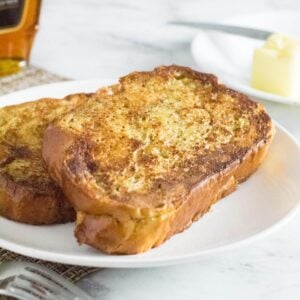 French Toast for One
When you are craving a delicious breakfast, but don't need to feed a crowd, this French toast recipe for one will become your go-to!
Print
Pin
Rate
Save
Saved
Ingredients
1

Egg

beaten

¼

cup

Milk

½

teaspoon

Vanilla Extract

¼

teaspoon

Cinnamon

1

teaspoon

Brown Sugar

1

pinch

salt

2

slices

Thick cut bread

stale is best
Instructions
Mix together the egg, milk, vanilla, cinnamon, brown sugar, and pinch of salt to form the liquid custard. (I like to reserve a little cinnamon and brown sugar to sprinkle on the toast slices just prior to grilling as well.)

Dip the thick bread slices in the custard to ensure each piece is evenly coated, allowing the excess liquid to drip off.

Butter griddle, or a nonstick skillet, set to 350 degrees (or medium heat), and place French toast on the griddle to cook.

Cook 2 -3 minutes per side, or until the bread turns golden brown, flipping once.

Place cooked French toast on a plate, topping with butter and generous pouring of Maple syrup.

Dust lightly with powdered sugar, additional cinnamon, or brown sugar if desired.
Notes
I recommend letting your bread set out overnight on the counter. Stale bread makes the best French toast because it can more easily soak up the flavor without getting soggy.
Any thick cut bread will work, but sweet bread like Challah or Brioche is the best bread to use for this easy recipe.
Nutritional Information
Calories:
275
kcal
|
Carbohydrates:
34
g
|
Protein:
14
g
|
Fat:
9
g
|
Saturated Fat:
3
g
|
Polyunsaturated Fat:
2
g
|
Monounsaturated Fat:
2
g
|
Trans Fat:
1
g
|
Cholesterol:
171
mg
|
Sodium:
391
mg
|
Potassium:
242
mg
|
Fiber:
3
g
|
Sugar:
10
g
|
Vitamin A:
339
IU
|
Vitamin C:
1
mg
|
Calcium:
178
mg
|
Iron:
3
mg