These gooey deep fried cheese curds are the perfect appetizer when the craving for some delicious melty comfort food hits.
For the longest time, breaded cheese curds have been the best-kept secret in Wisconsin. However, just like the cheese oozing from within the crisp golden-brown crust, news of this delicious treat is quickly spreading across the country in recent years. The good news is, you don't need to be from the Midwest to enjoy this treat. Anyone can make homemade cheese curds right in their own kitchen, using a few simple ingredients.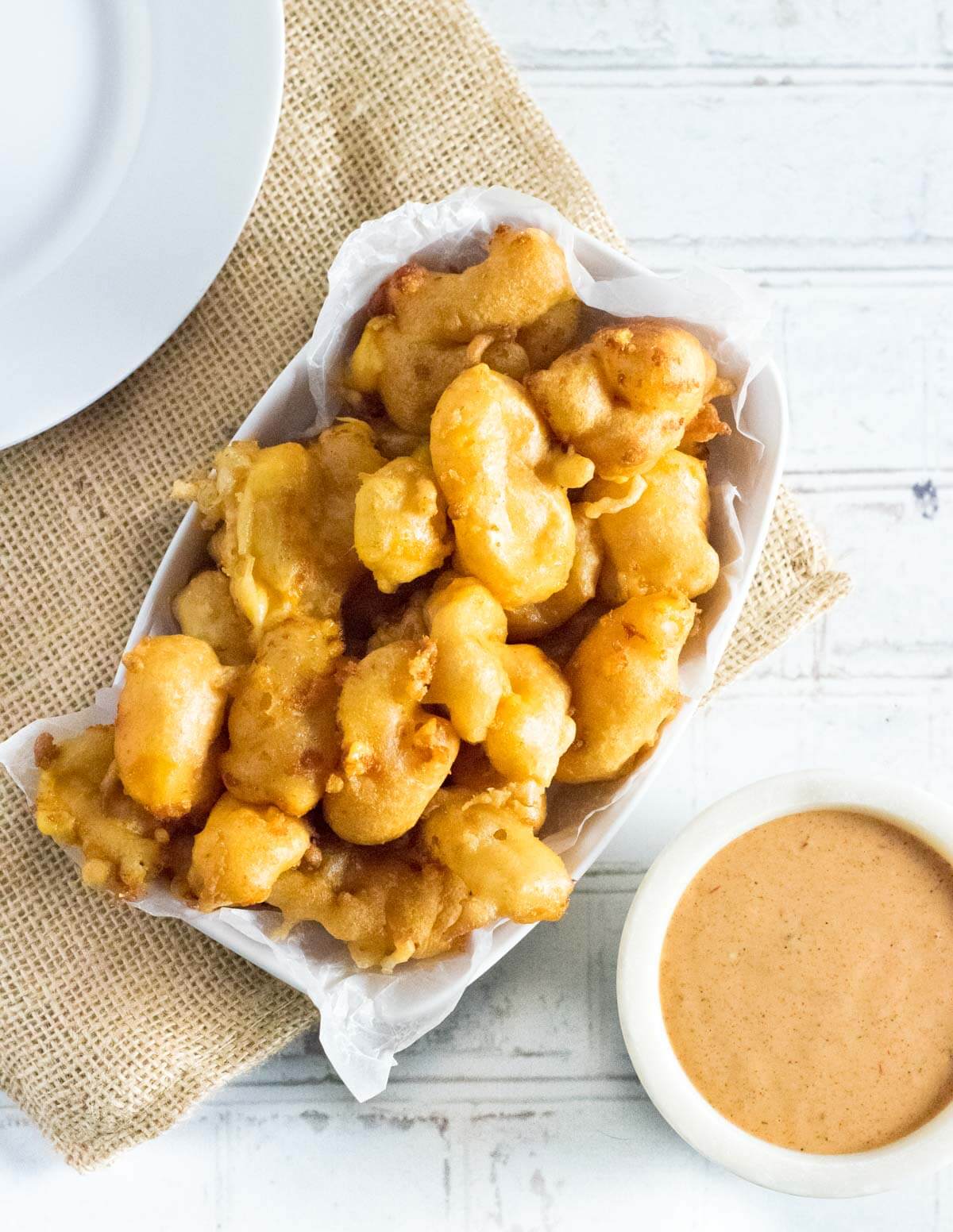 What are they?
Fried cheese curds are a classic Wisconsin appetizer popularly served at the state fair and restaurants across the state. This delicious treat features fresh curded cheese which is lightly battered, and fried until the crispy coating is golden brown and the cheese has melted inside.
In Wisconsin, your breaded and fried cheese curds are typically served one of two ways; either as beer battered cheese curds, which are insanely delicious, or the non-alcoholic version - classic breaded cheese curds made with milk rather than beer. This recipe is the latter.
Ingredients and Substitutions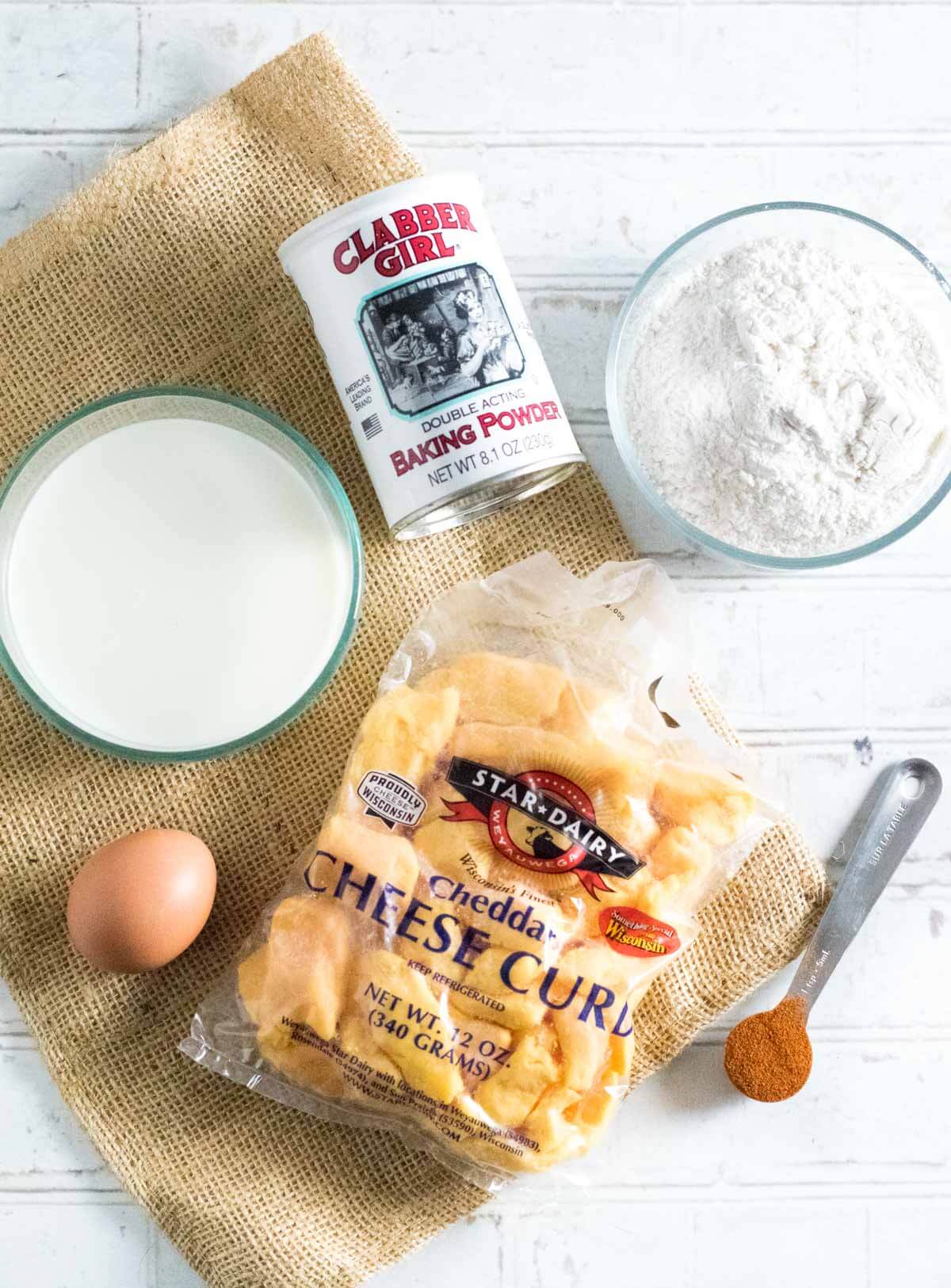 Fresh cheese curds - Fresh squeaky cheese curds are easily found at any local grocery store throughout Wisconsin, however, fresh curds can be difficult to find outside the dairy state. You can still make this easy recipe without cheese curds, just cube up some mild cheese like mild cheddar, or pepperjack.
Milk - Buttermilk can be substituted.
All purpose flour - If you like your batter to have more of a crunch, bread crumbs can be added in place of up to half of the flour.
Baking powder - If you substitute buttermilk, you can also use baking soda instead.
Table salt
Ground black pepper
Cayenne pepper
Large egg
Frying oil - I recommend canola oil or peanut oil due to their high smoke point.
How to fry them
This deep fried cheese curd recipe is ready in minutes. Begin by whisking together all of the batter ingredients in a medium bowl until no lumps are seen. Occasionally more milk or flour needs to be added to get the right consistency, so adjust as needed.
When deep frying I recommend using a tall-sided skillet such as a cast iron chicken fryer, or a large pot. Add enough cooking oil to fill the skillet one or two inches deep. Set it over medium heat and heat oil to 400 degrees.
Working in batches, add the cheese curds to the thin batter and turn to fully coat. Raise the coated curds out of the batter and let the excess drip off, then place the battered curds in the hot oil. Fry for one minute, or until turning golden brown and the cheese begins to ooze.
Place cheese curds on a wire rack to drain, or on paper towels, and let them cool briefly. Serve while they are still hot and melty.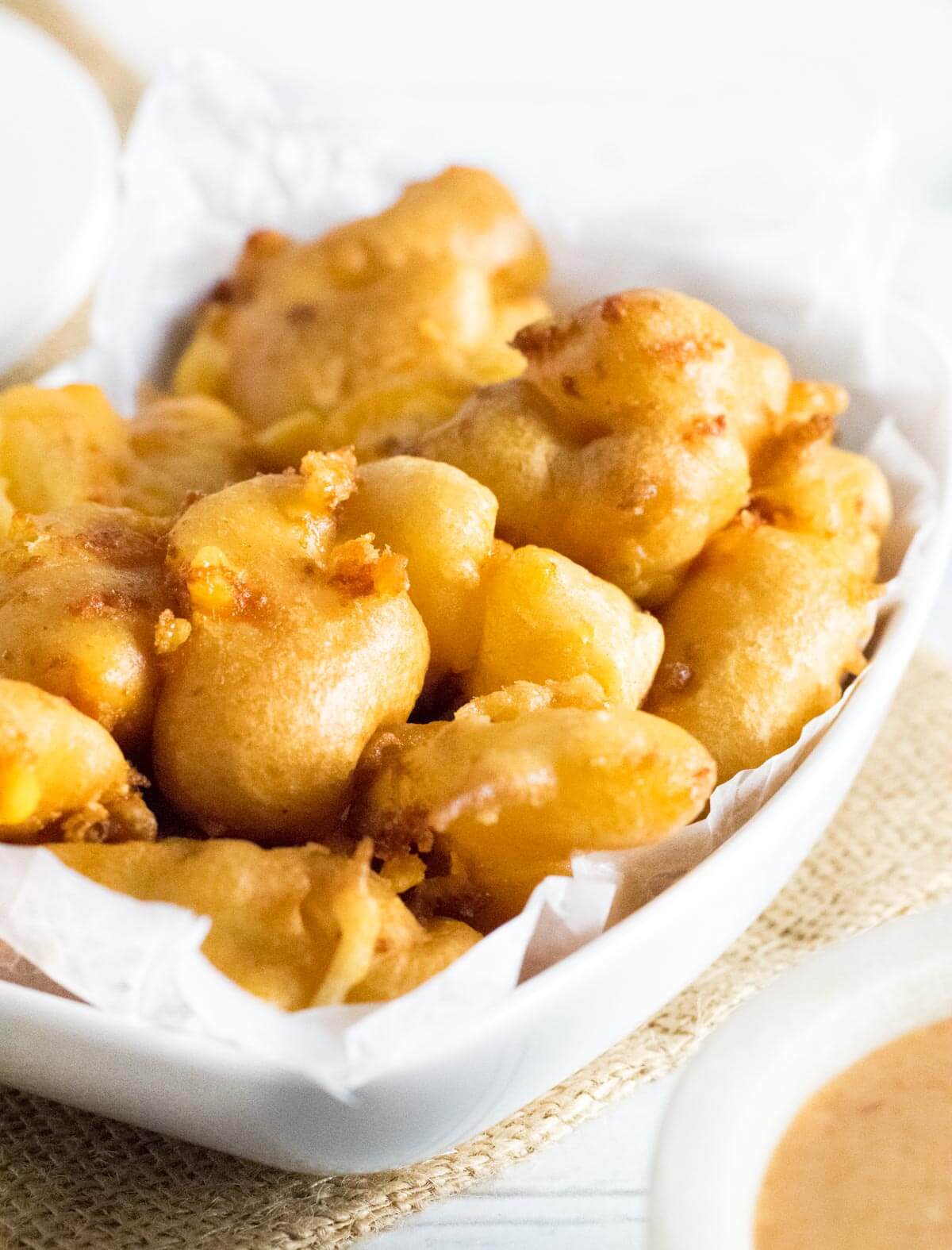 Dipping Sauces for fried cheese curds
Deep fried cheese curds are great on their own, and don't require a dipping sauce. However, they taste even better when paired with the perfect sauce! Try any of these condiments with your homemade curds, or use your own favorite dipping sauce:
Ranch dressing - This is the classic choice.
Spicy dipping sauce - This creamy creation is my favorite pairing.
Ketchup - Or you can kick it up with my Bloody Mary Ketchup!
Hot sauce - Sriracha in particular is a great pairing, otherwise buffalo sauce is great too!
Can you do me a favor? If you enjoyed my post would you mind sharing it with your friends? You can see more of my recipes by liking me on Facebook and follow me on Pinterest too. Otherwise, stay up to date by getting each new post sent directly to your inbox by subscribing today.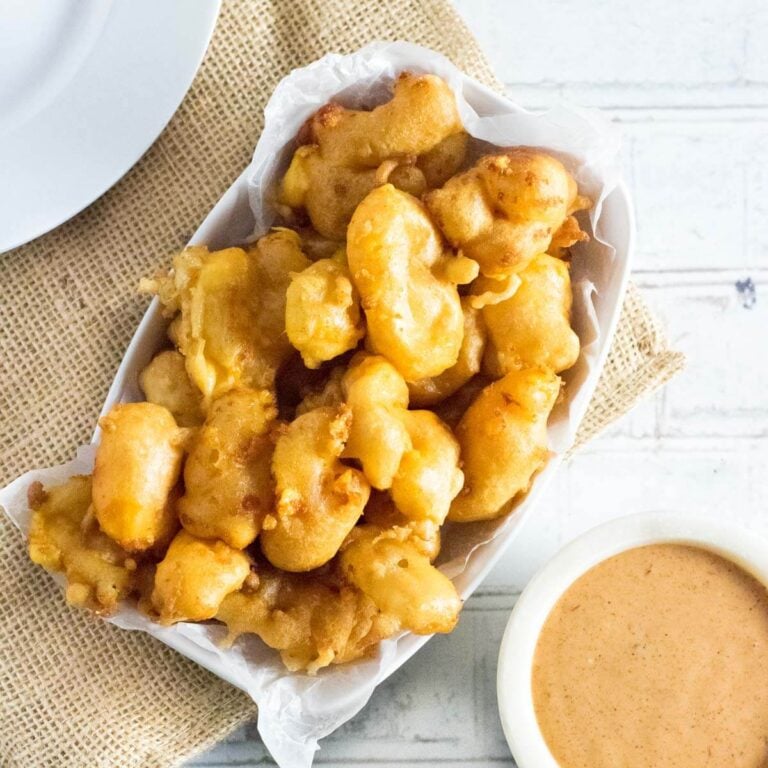 Ingredients
1

pound

cheese curds

1

cup

milk

1

cup

flour

1

teaspoon

baking powder

1

teaspoon

table salt

1

teaspoon

paprika

½

teaspoon

ground black pepper

½

teaspoon

cayenne pepper

1

egg

beaten

Oil for frying
Instructions
Add milk, flour, baking powder, salt, paprika, black pepper, cayenne pepper, and a beaten egg to a large bowl. Whisk all ingredients together until the batter is smooth and has the consistency of thin pancake batter.

Add frying oil to a tall sided skillet and heat to 400 degrees.

Working in batches as needed, dip cheese curds in the batter to fully coat, then let the excess batter drip off and put them in the hot oil.

Remove the fried cheese curds with a slotted spoon after frying one minute and they turn golden brown.

Set deep fried cheese curds on paper towels or wire rack to drain and cool slightly. Serve while still hot.
Notes
It is best to keep the frying temperature between 375-400 degrees. The oil temperature will drop when fresh cheese curds are added, which is why I recommend starting at 400 degrees.
Remove the cheese curds early if they threaten to burn, or if the cheese begins oozing out too early.
Important: I recommend test frying a single curd before you begin. This allows you to test the batter consistency and your frying temperature.
Add more milk in small amounts if the batter is too thick. Add more flour if it is too thin.
Some people prefer to fry frozen cheese curds because it gives them a little more margin for error than frying room temperature curds. Personally, I have never found this necessary, but if you are having issues with cheese melting too quickly it is an easy fix.
Nutritional Information
Calories:
616
kcal
|
Carbohydrates:
28
g
|
Protein:
35
g
|
Fat:
40
g
|
Saturated Fat:
22
g
|
Polyunsaturated Fat:
1
g
|
Monounsaturated Fat:
1
g
|
Trans Fat:
1
g
|
Cholesterol:
170
mg
|
Sodium:
1351
mg
|
Potassium:
261
mg
|
Fiber:
1
g
|
Sugar:
3
g
|
Vitamin A:
510
IU
|
Vitamin C:
1
mg
|
Calcium:
942
mg
|
Iron:
2
mg